Dark blue hair is a trendy hairstyle staple. It's been around for years, and it's not getting any less trendy, so the time to get on board with it is now. If you're looking to spice up your look with a little navy or deep, rich, royal blue, then we have just the thing for you.
You can pair the color with any other shades you like, and you can style your new locks in so many different ways. You're spoiled for choice when you're seeking this riveting dark blue hair color.
Unique Dark Blue Hair Color Ideas
Look below for 20 ideas to style your brand new colored tresses!
Blue and Green Pixie Cut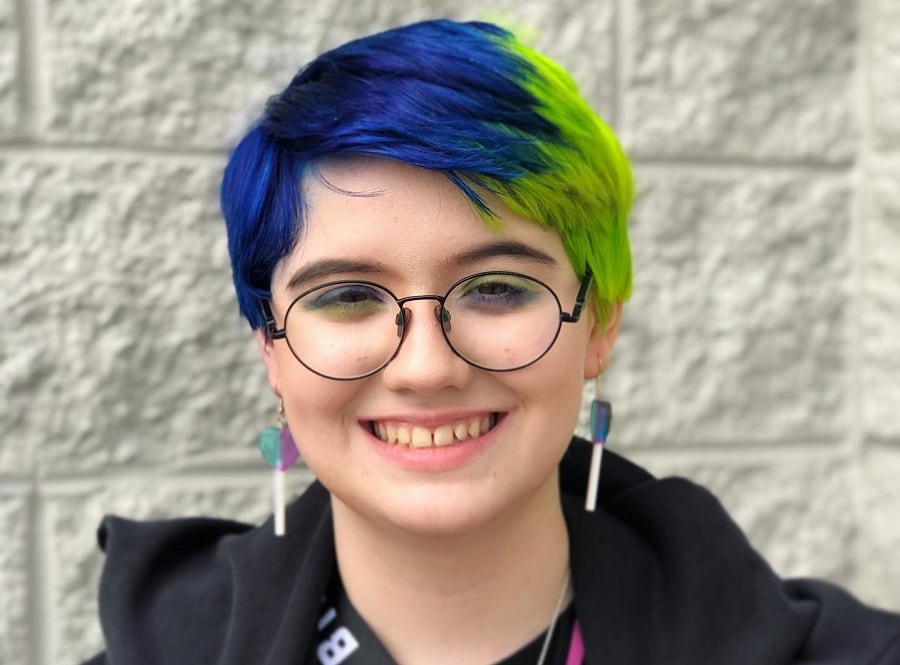 Is there anything better than one unique hair color? Yes! It's two unique colors. This rich, royal dark blue color pairs with an even more daring acid green to create a youthful and edgy style you'll enjoy.
The locks are cut short into a pixie cut with nice and choppy ends, giving the hair a little life.
Long Wavy Tresses
This shade is so dark it looks almost black, but you can see its true hue shining through when it catches the light. It's very long with thick, subtle waves that make it look alive with movement. Otherwise, it's a very chic and shiny look.
Curly Hair with Dark Roots
Dark roots are a great way to add depth to any style, and that's exactly what's going on here. The roots are almost black, and the rest of the hair is curly and dark blue.
It has a lot of volume on top and a side parting, so some of the tresses fall over one eye.
Wavy Hair with Orange Hues
If you like a salon-fresh style, then this is one you'll enjoy. The waves are formed so perfectly that they took totally professional, and with some practice, you can start doing this at home.
The rich navvy locks have some carrot orange at the front to have fun with the look.
Shaggy Waves
Big, thick hair is desirable, and it's easy to get there with shaggy hair. There are lots of layers to add thickness when you have some shagginess in your haircut.
There are also waves, especially towards the bottom of the locks, that add thickness. The ends of the waves are curled to amplify it even further.
Shaved Sides with Short Hair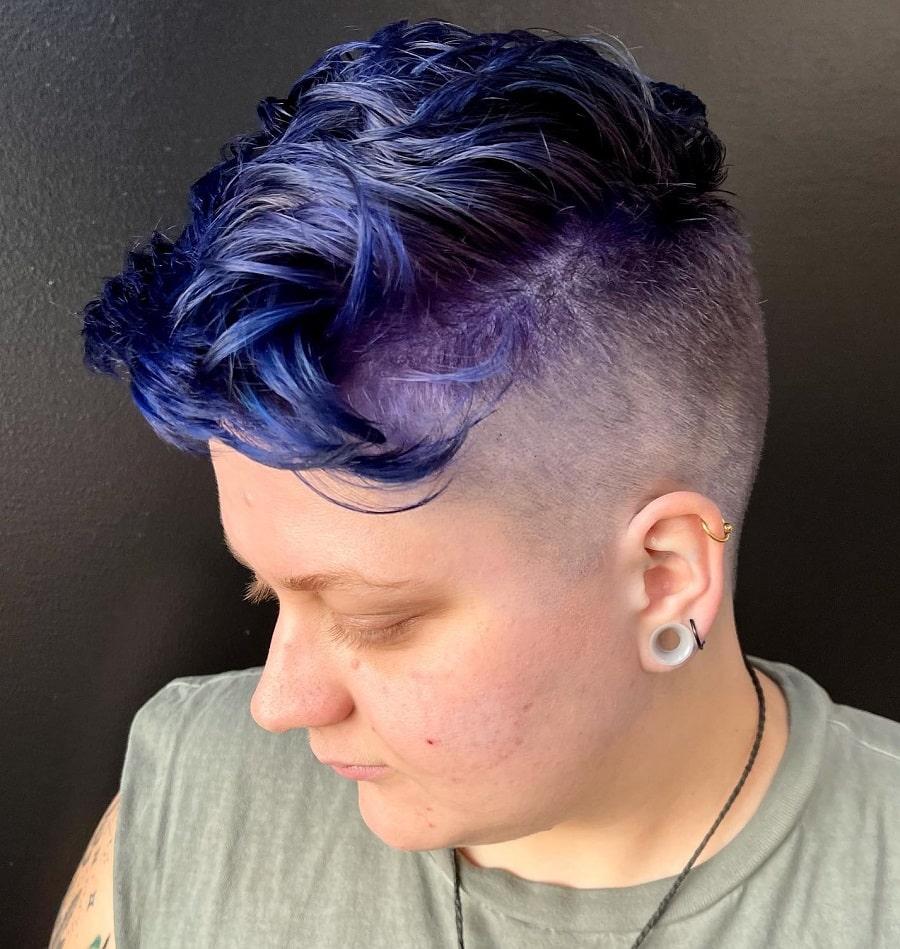 Edgy looks are totally in, and they go well with dark blue colors. The sides and back of this are shaved, leaving lots of very textured and shiny hair on top. There's a fade on the sides here, with the stubble thickening into bristles towards the back.
Indigo with Waves
Indigo is such a pretty shade. It's so dynamic when it's all over the head like you see it here, but with a tiny subtle hint of black roots along the side parting.
The tresses are full of thick waves, and a thick sheet of them covers one side of the face, giving you a very mysterious vibe.
Blue and Purple Subtle Waves
Subtle waves make every hairstyle look a little more exciting. Adding a second color into the mix, like this purple and dark blue hair, also helps. The front of the style is drawn back and tied with a knot, making the back look very interesting.
Midnight Shade with Big Waves
As midnight is one of the darkest shades you can get, it's also one of the most mysterious and shiny. You'll adore having these shimmering locks framing your face. There are some big waves in it, so there's a nice shape around the center of the style.
Mullet with Feathery Sides
Mullets are a popular hairstyle right now, and they look best with unique shades like dark blue. The back is long and has some layers, and the sides are cropped short, as is the front.
Here the sides have a feathered texture to make them appear messy, wild, and fun.
Highlights and Overlapping Waves
If you're not ready to commit to having a full head of a unique shade, then using dark blue as highlights on your regular dark color will work nicely.
It helps you stand out a little without being too bold. This messy look full of long, overlapping waves adds to the vibe.
Nothing could be simpler than a straight style. It's easy to take care of, and it looks great. It looks even better with this dark blue ombre, where the hair starts black and transitions into a delightful and more unique tone.
Peekaboo Highlights
If you can't have your funky tones visible, then hide them! This peekaboo look has some streaks of blue underneath it, so you have to lift the top layers to let them poke through. It looks great when you tie up the top layer.
Messy Textured Short Hair
Short styles are great if you have dyed locks because it's easier to care for them properly and keep that color looking vivid and shiny for longer. You can still have fun with these shorter styles, though. This one has a nice, choppy texture.
Smokey Waves with Blue Ends
Some shades of dark blue look very smokey and almost grey. The locks are nice and chic and shiny until the midway point, and then there's a wave that makes the ends stand out. A lighter and more vivid dark blue is slightly visible at the ends.
Two-Tone Messy Layers
Why have just one cool color when you could have two? Here the shade is paired with a turquoise one, and the haircut has a side parting and a lot of volumes. The top hairs are all shaken up and full of texture. The layers underneath are straight.
Bob with Bangs
This cut is slightly shorter and tighter than your average bob, but it's not quite a pixie bob. It hugs the head and is slightly longer than the ears. The vivid dark blue is all over the head and makes it stand out.
Full bangs with a choppy texture cover more than half the forehead.
Thick Dutch Braid with Streak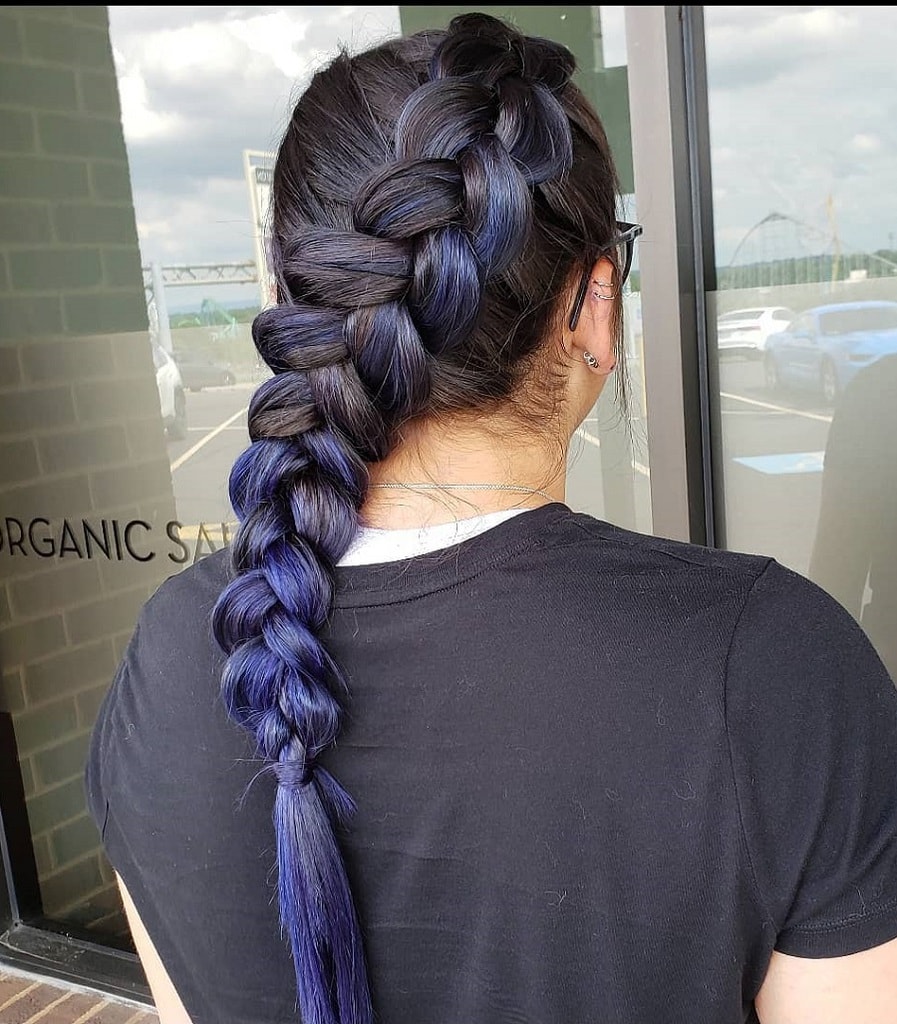 Dutch braids are a sweet everyday look, and they're great for controlling long, thick hair as you see here. The tresses are very dark as they're pulled into their sections, and there's a nice dark blue streak running through the entire style.
Long Bob with Bangs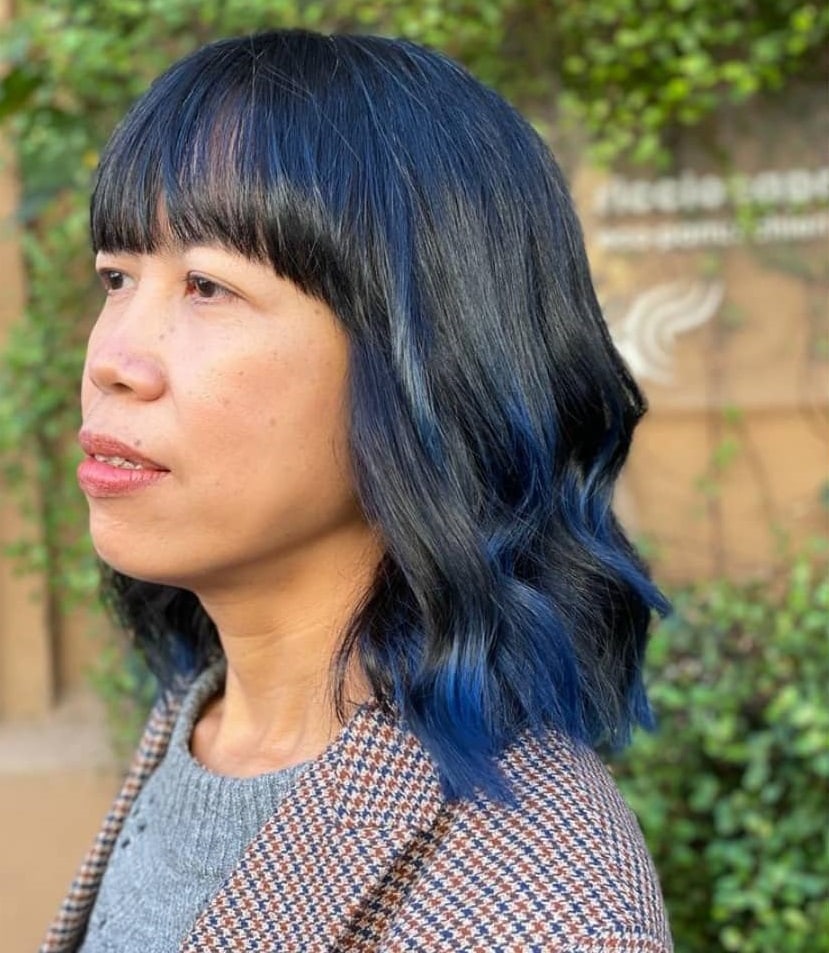 You can't go wrong with a bob. They're simple but chic, and they're easy to style. This almost blue black hair has some nice loose waves in it, and there are full bangs with blunt ends. It's mostly black, but there's dark blue running through it and covering the ends.
Blue and Purple Split Hair
Lastly, we have this totally fashionable look where there's a direct split between two colors down the middle of the head. The blue and purple locks fall straight and very long, making it easy to see where one color starts and the other begins.
Did these dark blue hair colors inspire you to change up your look? We're sure they did! You can have so much fun playing with your overall vibe when you add this shade to your beautiful tresses. So go out and see what you can do!