As the season changes, women tend to change their hairstyles. But there are a few styles that are perfect for all seasons. And blue ombre hairstyles are one of those styles which is sure to turn heads while adding some fun to your look.
From dark hues like navy and cobalt to lighter shades such as sky blue and baby blue, there are many possibilities for ombre hair. These daring color combinations will add a pop of eccentricity to any outfit and make sure you stand out in the crowd while still looking sleek and chic.
Love Blue? Here's The Top Blue Ombre Look
Throughout this article, we'll look at some stunning examples of blue ombre hairstyles.
Indigo Blue Ombre Hair
Indigo Blue is a great way to get a natural-looking color without having to bleach or dye your hair. There are many ways to achieve this look.
But the best way is to start with a greyish base color and then add highlights to it. This is also great for someone who wants to go for a light, subtle look.
Denim Ombre
This hairstyle is perfect for a girl who wants to add a little edge to her look but still wants to keep it classy. And this looks perfect on straight feather hair. The hair color is something dark on the top and gradually fades to a denim blue on the bottom.
Ultramarine Vibe
There are many different ways to do ultramarine ombre hair. One of the most popular ways is to go from a dark shade on the bottom to a lighter shade on the top. However, the colors can be blended together gradually or in a more abrupt way.
Long Middle Part Ombre
Pastel teal is one of the coolest hair color trends ever, with a variety of shades to choose from. Whether you are looking for a pastel hue or a bold shade, this hair color is perfect for any type of personality. If you style it on long bob hair, you will appear elegant.
Dark Brown to Blue Ombre
It starts with a simple dark brown hair color in the root and a full-blown blue ombre on the bottom. This color is the perfect way to change up your look and is currently trending in Hollywood. The trend is so popular that it has been seen by celebrities such as Demi Lovato.
Pigtails With Twist Braids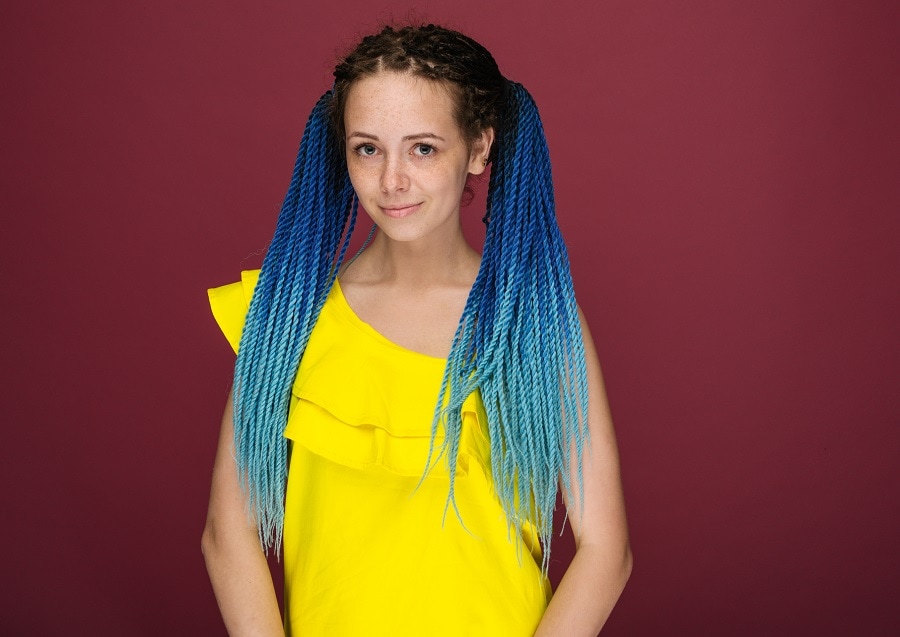 The sapphire ombre pigtails are a fun way to incorporate a pop of color on a twisted braid. The colors are so vibrant and will create the perfect summer eye-catching look. The hair is pulled on two sides and up to create a lovely teenage look.
Teal Blue Ombre
If you have naturally brown hair, trying teal blue on the lower half part will not harm you. Moreover, it is more on the greener side and is more subtle than a bright blue, which can be achieved with a simple hair dye. It will look great for any face shape and age.
Dark Blue Ombre Bob
Want a colorful summer hairstyle that is easy to do and will keep your hair cool and out of your face? A bob cut with a sapphire ombre is what you need.
It is a creative way to lighten hair gradually, starting with dark colors on the top and gradually moving to sapphire at the bottom. Hence, it has become a popular choice for women who crave something fun and edgy.
Brown to Royal Blue Waves
If you're tired of the same old brown hair, it's time to change it up with a new color. And coloring it with royal blue can be a game-changer. However, it is also suitable for black or brown hair.
Ocean Blue Hair
This is kind of wavy blue ombre style starts with a deep sapphire base color. From there, the stylist adds a few lighter shades in a gradient in the bottom part of the hair. Medium-length hair looks amazing on it.
Long Silver Blue Ombre
Women have always been fascinated with shiny, metallic hair. If you have long wavy hair and want to try something metallic, the silver share will surely match your requirements. It is originally intended to add visual interest to dark color hair.
Wavy Stacked Lob
When you think of summer hairstyles, you might consider a simple ponytail, a messy bun, or a braid. The one hairstyle you might not think of is neck-length wavy ombre hair.
However, this hairstyle is perfect for summer because it is simple, easy to maintain, and soothing to the summer heat.
Two-Tone Straight Hair
Pastel to deep sapphire coloring is a hot trend that's gaining popularity with women of all ages.
However, you need a lot of patience while working on this color, as it takes time to get the desired shade. But, the bluish shade on the bottom gives a voluminous look.
Faded Ombre Hair
A faded blue ombre hair is a dream come true for the ombre lover. It is usually a light shade of blonde at the bottom and gradually becomes darker and darker on the top until it eventually reaches a faded azure. As a result, the hair color creates a soft and natural transition from dark to light.
Galaxy Hues
This color style can create an unstoppable sense of glamour and chic and provide confidence for those who want to try something new but don't want to fear doing so.
The purple on the top and blue on the bottom gives a wave with some curls in the body. Hence, you can wear it casually and officially.
Whether you're looking for subtle or dramatic, there are a variety of blue ombre hairstyles that can help you achieve a new look. We hope you're able to find the perfect ombre shade for your hair.