Contrary to popular belief, Asian hairstyles for women have a lot of variances. Not everyone has the same ultra-silky, fine, smooth, straight black hair. Some have thicker locks, some have wavy locks, and lots of people love to add extra colors to their hair.
It doesn't matter if you want a long or short Asian haircut. There are plenty of options for both, and something here will definitely suit you. Some are natural, some are full of bright colors, and some are a mix of both. There's something for women from all walks of life!
Popular Asian Hairstyles for Women
Take a look at the 25 hairdos below to find the one that matches best with your style and hair type. Hopefully, you'll fall in love with one of them!
Long Brown Layers
For Asian women who want a simple hairstyle, then here's one you can do every day. The style has long brown locks that form waves midway down the chest. It's side-parted, and everything is very long and free.
Ombre Bob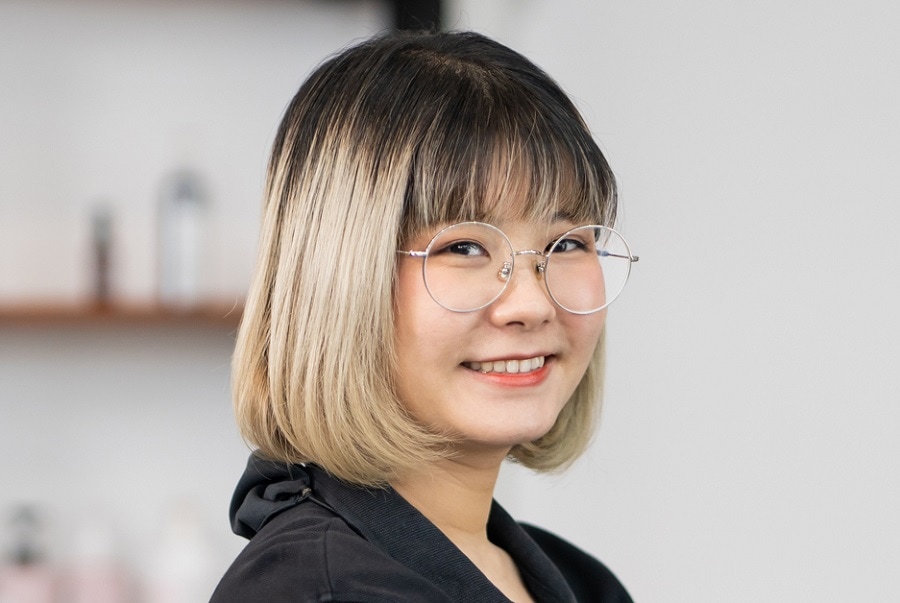 A cute little bob suits anyone, and this ombre makes it more interesting. The roots and bangs are very dark, but then a nice light blonde creeps into it. It's a fashionable twist on a classic style, and it creates a very youthful look for women that you'll enjoy.
Elegant Bun with Bangs
For thicker hair, bangs can look really elegant. The rest of the hair is pulled silky back into a neat bun that twists downwards.
Some more hair circles the base of the bun, so it looks seamless in its formation. It's a nice and neat everyday style that anyone can have.
Thick Blonde Bob
Bob's hairstyles also suit Asian women really nicely. Here there's a longer bob that curls in under the chin, and the hair sits nicely on the shoulders in a very sweet way. The bangs aren't quite as thick, but they have a lot of volumes.
Pigtails in Bright Colors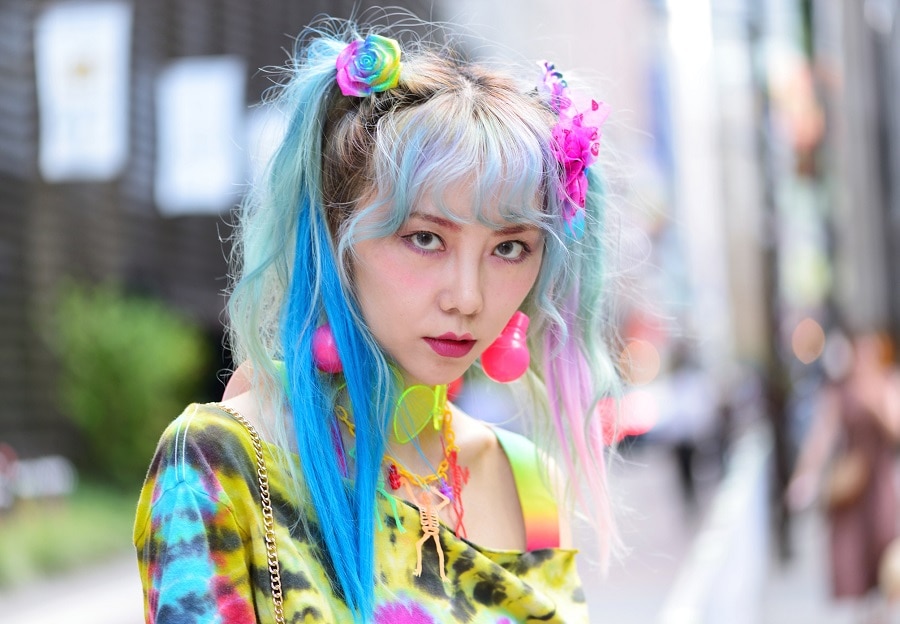 If you're looking for a more fun hairstyle, then here's one you'll love. The bangs are curly and colored blue and purple. There are pigtails in blue, purple, green, and turquoise. The style is decorated with big floral clips, and brown roots show through.
Long Silver Locks
Asian older women might prefer a hairstyle that showcases their natural silvery grey color. This one is a nice and simple look to the style. Its side-parted and very long, and the hair has a very slight waviness to it towards the ends.
Chic Pixie Cut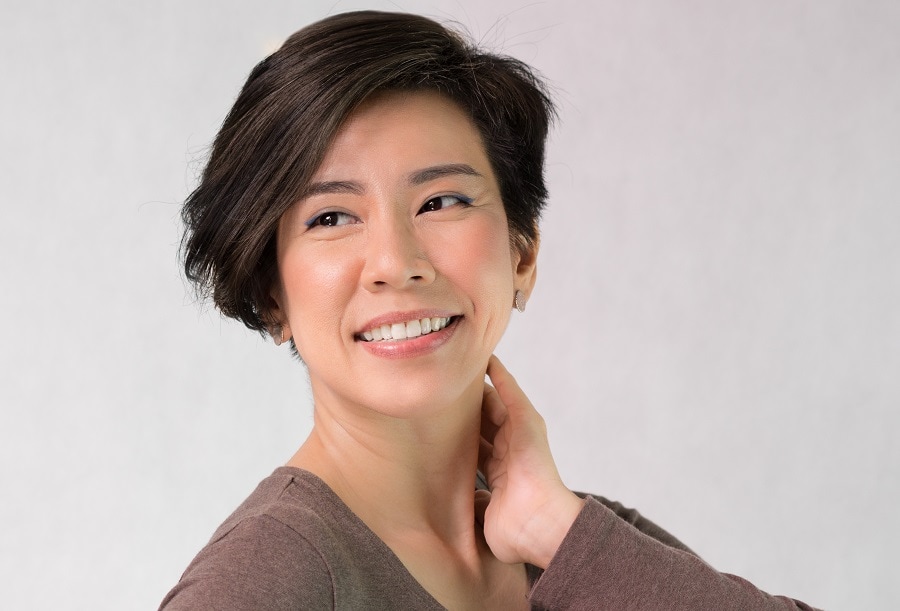 Pixie cuts create a very fun and put-together look. One side of the hair is cropped short, and the other side has the hair swooping over the forehead. There's a lot of volume on one side of the hairdo, too.
Bubble Pigtails
Very sweet hairdos like these are inspired by braids. However, instead of braided, the hair is sectioned into little round shapes.
Each section is tied with a cute hair tie in a different color. Some very light curtain bangs frame the forehead here, and there are clips decorating the hair.
Asian Blonde with Center Parting
You can really make a statement with platinum blonde locks. Here they're thick and shiny, falling to the upper chest. The center parting creates simplicity and elegance you can't deny. This is a very nice everyday look.
Long Curly Ponytail
Ponytails are perfect for wearing every day. You can throw your hair into one effortlessly. Here's an example of that. It's secured very loosely and high on the head. The hair that's tied up is curly and fun with lots of flyaway hair to create a casual vibe.
Undercut and Blunt Bangs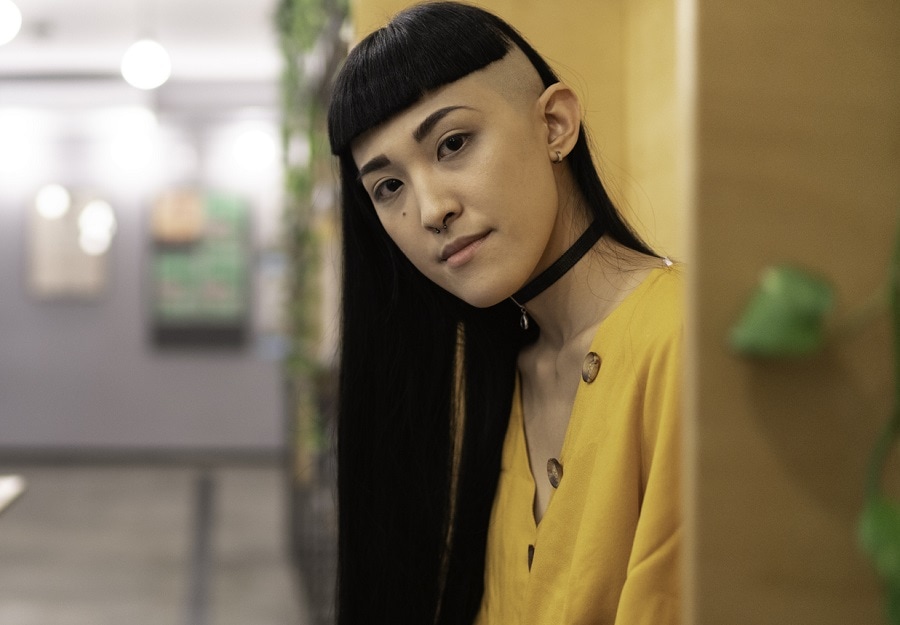 If you'd like an edgier Asian hairstyle, check this out! The sides of the head are bald, making this an undercut style. There are bluntly cut, short bangs covering half the forehead.
Most of the long locks fall down over one shoulder, perfectly straight and shiny.
Side Parted Bob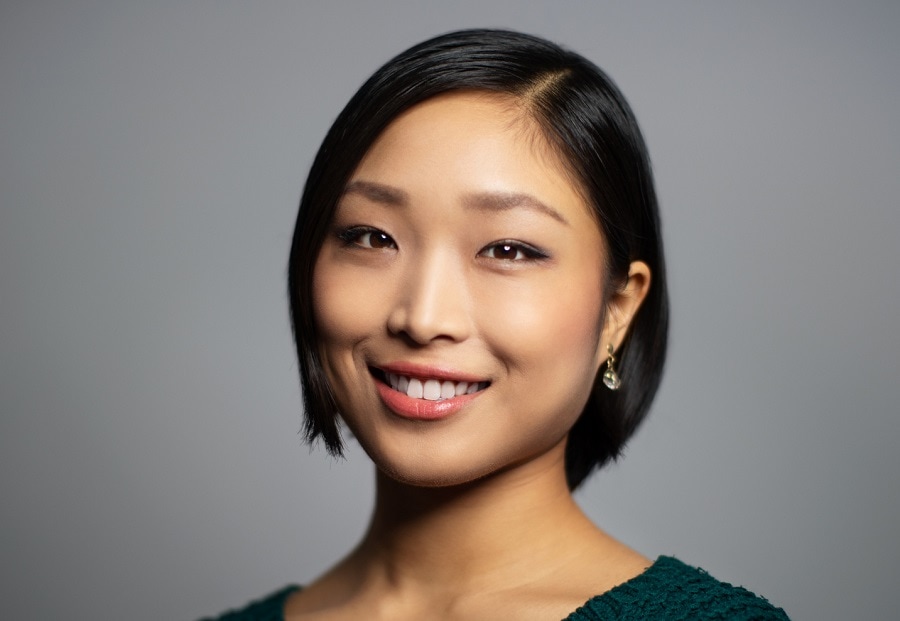 Now we have a classic look. The bob is parted at the side and it's slightly asymmetrical. It's longer on the side where it's pushed behind the ear.
It's a very tame and controlled hairdo, so it would suit someone who doesn't want to go wild or put too much work into their hair.
Brunette with Crown Braid
Brunette hair looks so beautiful on many Asian skin tones, whether they're light or dark. Braids look amazing on everyone, too. There's a large plait that circles the head then blends in with the lengths of the hair.
Thick Wavy Brown Bob
It's clear that bobs are very popular styles, and for a good reason. You can style them in so many ways. This one is thick and has wavy. It creates a very dynamic style that you won't be able to stop looking at. It tucks in neatly under the chin.
Side Parted with Highlights
Nice, chic shoulder-length hairstyle looks are very fashionable. This one has hair very thin, but it looks thicker on top thanks to the side parting. The highlighted bangs also make this 'do look thicker than it is. It's cleverly done.
Sleek Low Bun
Low buns that have the hair sleek and slicked back towards it are versatile. You can wear this as an everyday look, but it also looks great for formal occasions and parties. The bun is a perfectly round knot at the base of the skull.
Fanned Back Bob
Chic short hairstyles for Asian women are incredibly flattering, and this is another example of one. All the hair is blown back from the face, and it has a lot of volume on top. The hair is bob-length, and it's held in place very well. It's a great party style.
Purple Ombre
Purple hairstyles look really nice with many Asian skin tones, especially the lighter ones like you see here. It's a subtle addition to a light brown short haircut with bangs. It adds an edgy vibe to the classic women's style we see here.
Long Straight Hair + Brown Ombre
Ombre looks are usually dark brown and blonde, but this one is dark brown and light brown. The lightness adds lots of depth to the otherwise plain style. The locks are long and straight, but the front is pinned back. There's a curl at the back of the head.
Space Buns
Space buns are cute, fun, and suit everyone. Some bangs hang down by each side of the face and tuck under the chin, and the buns themselves are very simple looking as they're asymmetrical. This is an easy look to do at home.
Thick Curly Long Locks
Asian hairstyles for women with thick and long hair aren't very common, but they definitely exist. You can see an example of that here.
The chestnut locks fall down to the upper chest, and they're so thick and voluminous. Nice sleek bangs cover one side of the forehead.
Black and Blonde Waves
These chunky blonde highlights work so well in this black medium hair. The locks are long with very subtle waves in them, and it creates a very alternative vibe in your appearance. It's also modern and trendy.
Front Streaks
Edgy hairdos like this are increasingly popular. The front of this short, lightly curly bob has some dark blonde. The blonde is almost orange in tone.
There's some very subtle dark pink just beyond this blonde-orange shade. The rest of the hair is black and natural-looking. It's a very youthful hairstyle overall.
Long Light Brown Curls
Long, curly hair like this is delightful for women who like simplicity. It's such an easy and natural Asian hairstyle to achieve for all occasions, including everyday looks.
Shorter bangs curl by the face. The darker roots are shown to create depth to the look, too.
Pinned Curly Updo
A nice, formal updo is something every Asian woman should have in her arsenal of hairstyles. You can do this style for weddings, work gatherings, and other more formal social occasions.
The hair is pulled upwards loosely and forms very large circular curls on the head. The color is a vivid brownish orange, but you can do this style with any hair color.
As you can see, there's no shortage of unique hairstyles for Asian women. Some are best for thick hair, and others are best for thin locks. There are natural ones and fun ones that you can play with, too.
There's also a mix of formal Asian hairdos and everyday styles, so you can experiment and select which hairstyle suits you best for different occasions. You're sure to find a few that you wear, again and again, creating a signature look and vibrant beauty that nobody will be able to ignore.