Contrary to popular belief, there are numerous bob hairstyles for Asian women that can overwhelm you. But you need to choose the one which not only goes with your attire but also compliments your face and hair texture
With our suggestions, you can find different styles to try on with a twist. So whether you like long, short, or medium-length hair, we have listed something. Just get it done and have an awestruck look for every occasion.
Beautiful And Elegant Asian Bob Hairstyles
Each individual, personality, and face shape require a specific hairstyle that would suit them perfectly. So let's see which bob haircuts and hairstyles are ideal for Asian women.
Wispy Bangs with Short Bob
If you love the song Hye Kyo and desire to get the same look, then this is the hairdo for you. Just cut your bangs a little long, just enough to fall on your eyelids with hair cut short till your neck. It can help accentuate the beauty of your eyes.
Side Braided Short Hair
Get the right amount of freshness and comfort with this bob cut. Just go for neck-length hair and braid 2-3 small braids at the sides and pin it.
Let the rest of the hair open and fall to the other side. This will surely bring more attention to your eyes and lips.
Side Parted Long Bob
If you wish to have your girl-next-door look, then this is for you. It is also a great choice for Asian women as it makes their thin hair look more bouncy. The simple twist or soft curl at the end can make all the difference.
Razor Ombre Bob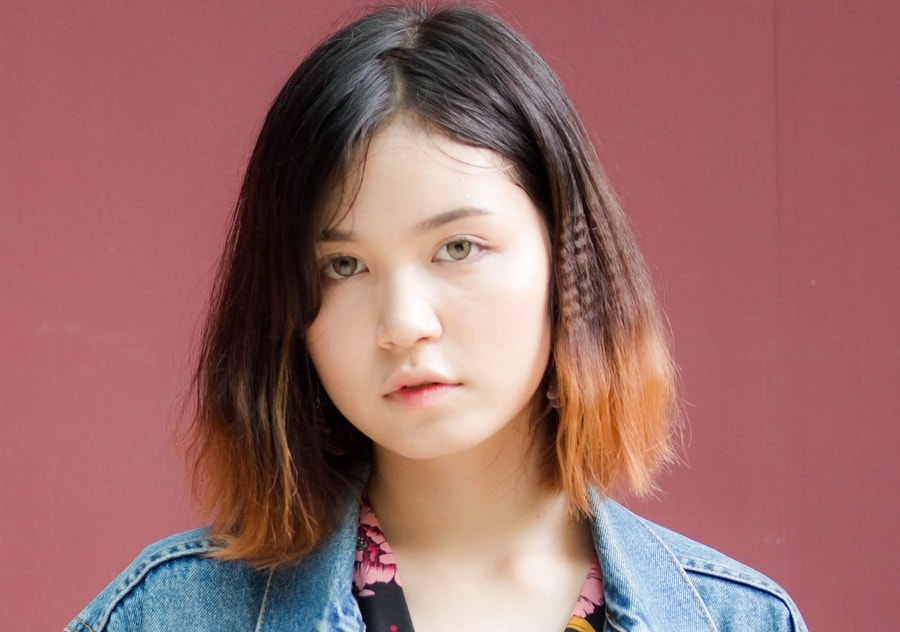 This is a jagged cut that is achieved with a razor and is one of the most beautiful bob cuts for gorgeous Asian women.
It looks perfect yet messy enough to look effortlessly gorgeous. You can just blow out your hair and be ready within a few minutes.
Caramelized Ombre Look
Scared of chopping your hair too short? Well, with this style you can both shorten your hair and look awesome together.
It looks perfectly structured, and colo looks more elegant on the face. Try to keep them natural or just turn slightly inwards to give more volume and bounce near your chin
Wavy Layers with Highlights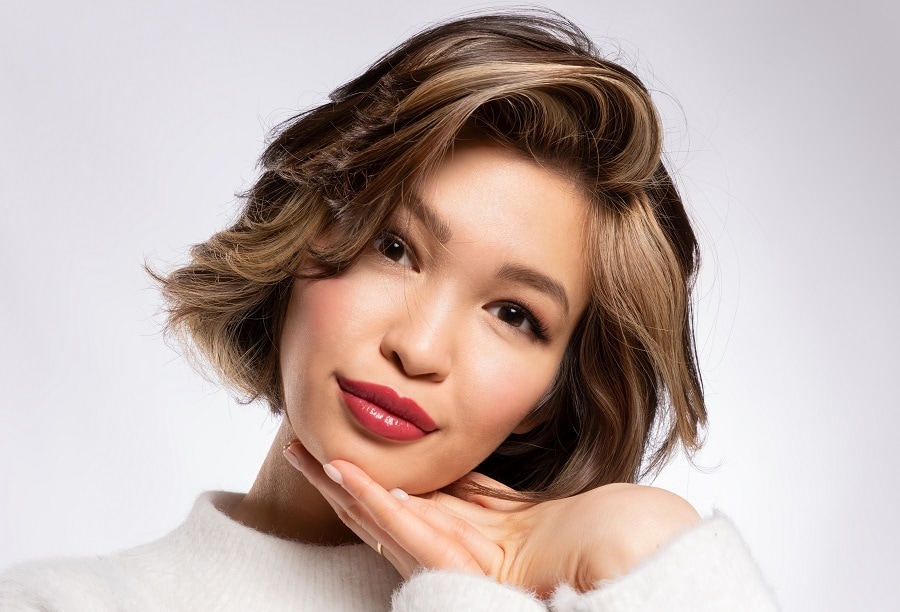 If you wish to have a dimensional as well as stunning hairstyle, then we think you should go for this one. It draws attention to the blonde highlights and makes them prominent. This is one of the most flattering Asian bob hairstyles.
Beautiful Brown Bob
The style completely frames your face with hair covering the ears and bangs swept to the side. It complements a fair complexion and is a great choice if you have a large forehead. It can also make thin hair look fuller as well as dense.
Pastel and Purple Love
Two-toned shades are quite a trend these days and can make you look like an exquisite beauty.
The fusion of pastel and purple looks enthralling and suits the Asian face and complexion. It works for all kinds of hair, be it straight, curled, or wavy.
Dark Auburn Lob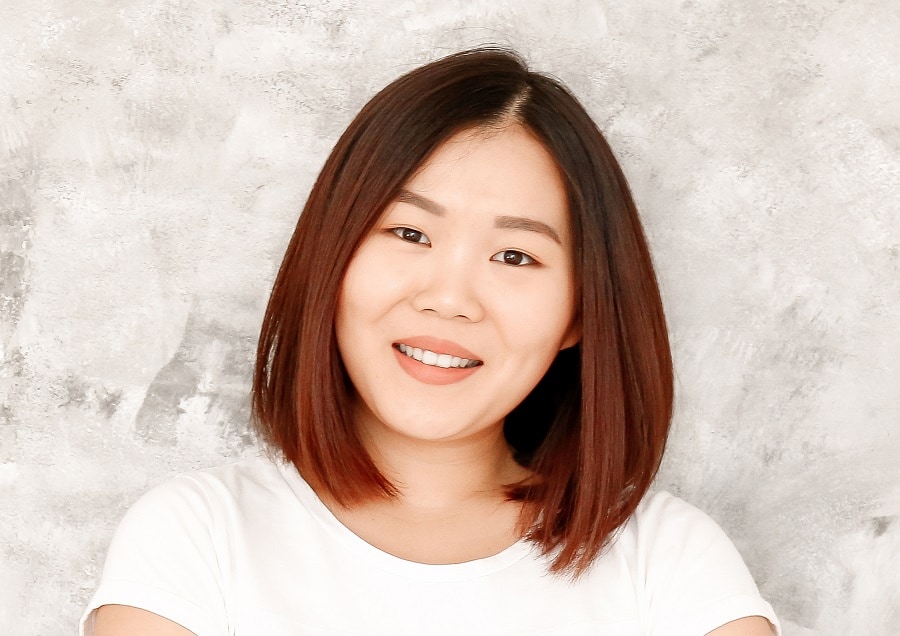 If you desire to have Auburn hair, this is perfect for you and perfect for all seasons.
Dark at the tips and fading into the roots, this hair shade is truly elegant and has the right amount of drama. It is also suitable for all kinds of skin complexion.
Blonde Blunt Bangs
They say blondes have more fun! If it's true, then why should Asian women fall behind? So join the fun club and get your hair dyed blonde today.
Added with bangs, this can give you a cute and exceptionally beautiful look. It is highly unusual yet one of the most fun Asian bob hairstyles.
Center Parted Wavy Hair
For those who love loose and textured waves, this one is for you. The shabbiness of the look makes it look cute and chic.
You can even add highlights to accentuate your skin tone and highlight your best features, such as your jawline. It looks cool and stylish with every kind of outfit.
Side-Swept Short Pony
If you think the bob cut is too short to make a pony, then this might change your perspective.
You can tie up your hair into a tiny little ponytail with side-swept hair at the front. You can even try out different hairpins and accessories with it.
Bangs with Shades of Grey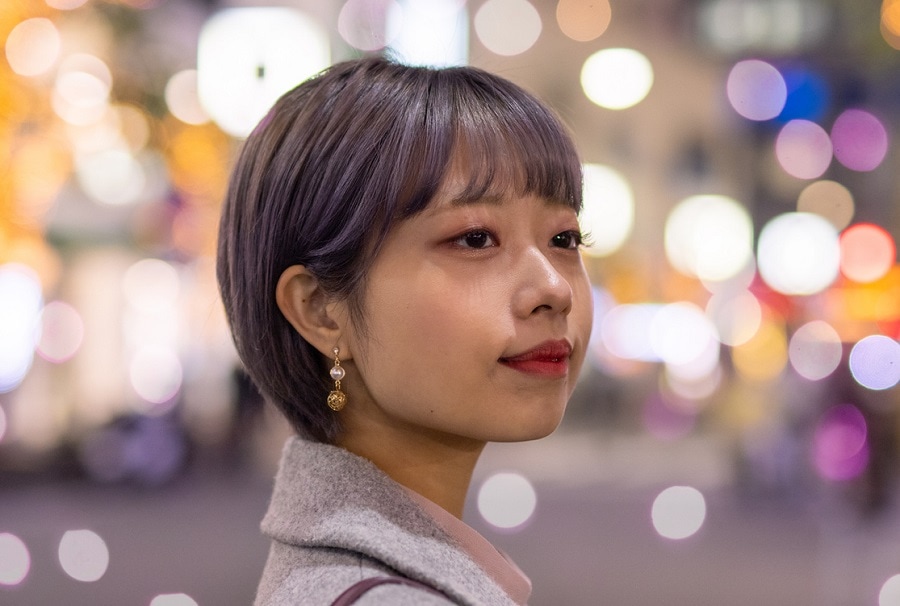 Muted colors are quite trending these days, and we can vouch for that. From the red carpet to the ramp, celebrities and models are acing it with style and elegance.
It is the kind of bold choice that you need to make if you wish to get a makeover. With bangs lining your lashes, you can choose various shades of grey to make your eyes pop.
White Bob
Hues of blonde are rare for Asian women, yet they have aced it with various hairstyles remarkably.
The white blonde is one of the unique shades that can set you apart from the rest and is a bold choice to make. This is the age of experimentation, and this style symbolizes it.
Short Hairstyle for Asian Beauties
Asian hair is perfect for trying out different hairstyles and can flawlessly pull off each style. The short bob paired with choppy bangs can take your style game to the next level.
We assure you that short hair can provide you with the versatility that long hair can. In addition, it looks stunning, making it one of the most opted for bob hairstyles.
Long Layered Bob with Highlights
If the thought of short hair scares you, then this is the Bob haircut for you. Simply, choose to go for neck-length hair which freely falls on the shoulders.
The style gives a complete look and is great on oval, heart, and diamond-shaped faces. Women in their 50s can also pull it off.
Black Blunt Bangs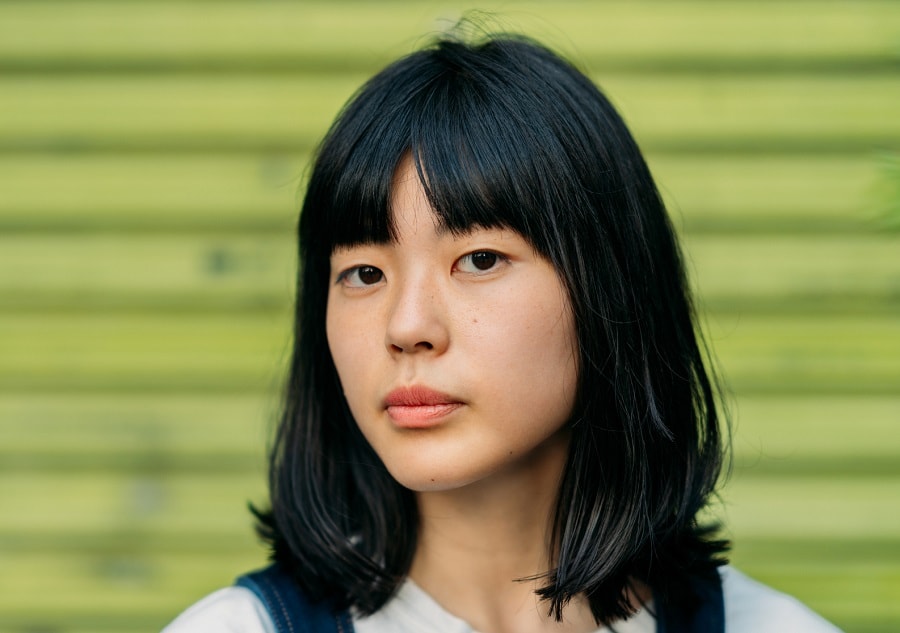 This hairstyle involves cutting the hair to the shoulders and a fringe till the eyebrows. It looks great on diamond-shaped faces as it makes the jawline look sharp and covers up if you have a high forehead.
Bob with Face-Framing Highlights
Your choice of shades and highlights can either flatter your complexion or make you look dull. Fringes covering your ears on the sides can give your face a perfect look.
You can wear this style to the office or on any casual day. It doesn't require much maintenance or time to style.
Braided Hairband with Bangs
Braided hairstyles look as if they are made for Asian women who also have a very gracious look. You can try out different braided styles, especially when you have bangs.
You can braid the middle part of the hair from ear-to-ear with back hair open and bangs lying on the forehead and a few loose strands.
Short Bob for Women Over 40
Fashion looks best and suits better when styled according to face types, structure, personality, and age.
This hairstyle with short layered hair is a better option for women in their 40s or above. It makes your face look younger as well.
Sleek Blunt Cut
This hairstyle includes cutting the hair straight, just below the ears, with bangs lining the eyebrows. It is perfect for women with a long or round face as it can create an illusion of a more structured face.
Pigtails for Teens
A bob cut does not restrict Asian girl from trying out different styles. One of the most adorable hairstyles among all is pigtails.
It includes parting the hair and making two little braids on both sides, added with bangs. Most suitable for teens or school-going girls.
Pixie Bob
Brown hair is a popular choice among Asian women. This particular hairstyle is perfect for those growing out a pixie or who like their hair cut too short. It is easy to manage and looks sensuous as well.
Different bob styles have always been in huge demand for many years now. It is primarily because of the comfort and elegance it gives and how it alleviates one's style game. Apart from that, it has become quite irresistible to Asian women to try bob hairstyles irrespective of their age.
It can be said with some certainty that the huge love for these hairstyles is here to stay because they look sophisticated, elegant, and lovely on almost everyone. All you need is a perfect stylist who knows what you need.