While blonde hair is quite gorgeous, black hair could be as stunning and attractive. Many people may think that black hair is out of trend, and it doesn't look as appealing as other hair colors.
It may look so faddish as locks in other colors. But Is it really true that black hair can't be fashionable? Definitely NO. It all depends on how well you carry the black hair color. Because brunettes look as gorgeous and classy as blondes, and all you really need is a good hairstyle that will perfectly complement your brunette hair and personality.
Black hair gives off a mysterious enchantment and classiness, which merely belongs to the black hair. And as we said, Just like locks in any other hues, black hair can also look fashionable as long as you pick out a right hairstyle that will show off the beauty of black hair. You can be a brunette and can also be cool and sexy, adorable and elegant, at the same time.
Whether you are born with black hair or you have been blonde all your life and therefore just want to try the black hue on your hair, you will need to find the right hairstyle for your black beauties. Therefore, this post is going to be very helpful, and you should not miss reading this.
We have bought you 35 pretty hairstyles that will work best for your black hair. These will help you upgrade your look and let others admire your stunning black tresses. These will definitely inspire you to go black. These hairstyles ideas could also be used for other dark hair colors. Now, check them out, and you will not regret that.
1. Brunette With A Blue Hue
Black hair is a good way to achieve a minimal look. But if you are someone who cannot work their way with the minimal things, but is still in love the black. You can go for this cool innovation. Add a dark color to your black. It will even give you benefits of black and brunette, but along with a cool chunk and trendy touch.
One of the great examples is this blue hue. How cool does this one look? It's not completely blue. Therefore, just add a funky touch to your minimal black. You can also add a cool haircut along with cool hair color. The layers will work best.
2. The Simple And Classy Brunette
The best thing about black hair is that they are very minimal. They will make you look gorgeous but also very minimal. You can go overboard with your makeup and dresses because your black hair will neutralize your entire look.
Black hair looks very classy with a center partition. Its like center partitions are made for brunettes. They complement each other very well. For a more casual and minimal look, keep your hair of the natural texture or just straighten them up.
For your brunette look to work best for you, try keeping your eyebrows also of black or dark brown color. It will help you enhance your overall look.
3. The Shoulder-Length Black Hair
The shoulder-length cuts suit every face shape and can be tailored to any situation. They can help you achieve different looks, from a chic and sophisticated style for work, to a sexy and playful date night look.
This hairstyle look very gorgeous as they enhance all the features of the face. They draw all the attention to your collar bones, which makes you look more hot and beautiful. They are also easy to maintain as compared to long hair.
Also, they are not as short that they will make you miss your long hair. Therefore, they are perfect. Also, side partition with a straight shoulder-length cut compliments black hair very well.
4. The 70s Brunette
You may feel that the brunette is not the modern trend, but there was a time when black hair was very famous and trendy. Taking inspiration from them is sometimes very much fun. Especially for a special occasion, going for these extra-ordinary and famous hairstyles from the past is a great idea.
This hairstyle, along with black hair, is definitely taking our hearts out. Its a must-try. You can learn more about this from google or just ask your hairstylist to copy it out. You may need hair sprays for this hairdo. It may not look regularly, as it may look a little extra.
5. A Side Part And Side Fringe Black Hair
Black hair provides you with a very girly look. It makes you look young. Another hairstyle that could be adopted by brunettes without any second thoughts is a simple side part with a side fringe. It provides a stunning edge and definition to your face.
You can keep the length of your hair, as you like. But shoulder-length hair cut works best. This entire combination will provide you with a very girly look.
At some times, To make it bold, you can add winged eyeliner or bold makeup to your look. You can add layers to your black hair, to hype your entire hairstyle.
6. Straight And Long Black Hair
Look how gorgeous this entire hairstyle looks. And how beautifully, the hairstyle is bringing up the entire look. Its a dream to have long black hair because agree or not; they do look the best and it is an all-time favorite hairstyle. If you are dying to get this, you can go for black hair extensions. Straight them up, and you are all good to go.
You are lucky if you already have long hair, now you just need to dye them up. This is a must-try for brunettes. Also, for the ones, planing to go brunette. You must consider this hairstyle.e you will not regret this.
7. Brunette With Bangs
Banga also looks good with black hair. So if you love bangs, and are planning to black, this is great news for you. And you don't need to worry about how will the entire look come up. Because bangs do complement black hair. In fact, as good as they look with other hair colors.
This hairstyle in the picture is an example. The sleek pony, black hair and bangs, make a classy and sexy combination. It is perfect for school and college girls. It will also work best for working girls. And as a professional hairstyle for office going girls.
8. Curly Brunette
There is nothing that will look bizarre with black hair. You can make everything work. Curls may look better with blonde or highlighted hair. But they can also work well with the black hair.
Like this one, shoulder-length black hair is curled with very bold makeup. This makeup for a great look for a very special occasion.
If you have black hair but want to leave its minimal aspect aside for a while. This is a good idea. Curl them up. It will change your look instantly. You can add curls to any length of black hair. They will look much better with long hair.
9. Dark Brunette Fine Hair
Hair coloring is in trend. Everyone loves to color their hair into different colors. The dark brunette is the best color, which is very close to the natural black color. Fine natural hair is very easy to style. Short to long haircuts like a layered, feather, step haircuts are best for routine.
This hairstyle is sleek and versatile style is perfect for every occasion. You can easily make a center partition, side partition, etc. and change your daily boring look. It effortlessly suits triangle or oval-shaped faces.
10. Try Blunt Fringes
Long hair with bangs is a new stylish hairstyle for those who don't want to cut their hair shirt. Front fringes change your entire look. It is a low maintenance look, and if you have thick long hair, then make sure to keep some volume on the front.
It shapes your round face and covers the broad forehead. Fringes come from Chinese or Japanese culture which is now popular in every country. If you are not satisfied with your natural hair color, then you should go for global hair color.
11. Jet Blackswoopy Layers
Every girl wants to look beautiful and feminine. Today's most liked hairstyle for every hair length, texture, color is the layered haircut. Layers add volume to your hair, and it comes in a lot of variety.
Swoopy layers feature volume at the ends. It looks fantastic on long jet black hair. Jet black is the latest shade for fair skin tone.
Layers do not trim your hair length, so it is the best option to maintain your hair length. The best part of this hairstyle is you can easily style your hair at home.
12. Dare To Be Bold
The short wavy hairstyle is quite impressive and gorgeous. Bob's style gives you a bold look. Bob hairstyles come in various options like inverted bob, pixy cut, etc. It requires minimal styling, which is best for persons who have busy schedules.
This haircut is ideal for the modern era of women and also preferred by various celebrities. To add a little shine to your natural hair, a shine serum can also be used. Wear and style your bold hairstyle with an off-shoulder dress.
13. Rocker Thin Chic
Having thin hair is not a hassle unless you know a few short hairstyles. You can easily style your hair with various hair styling tools. This simple natural haircut looks so smooth.
The only problem with thin strands is that accessories cannot be put on hair due to the texture of hair, so the best idea is to open them freely.
Your hairstyle is perfectly paired with a bold red lip shade. Mostly, working women choose this hairstyle because it is less time-consuming as compared to others.
14. Timeless Beauty
Take medium straight hair to a whole new level by adding side bangs or updo. Even adding a slight difference to your straight hair can make it eye-grabbing. Due to the nature of thick hair, their volume alone is enough, and no such tools are required to enhance their beauty.
This trimmed hairstyle with side bang is smooth and silky. If your jawline is perfect, then the medium length hair is perfect because it clearly shows the facial features of a person.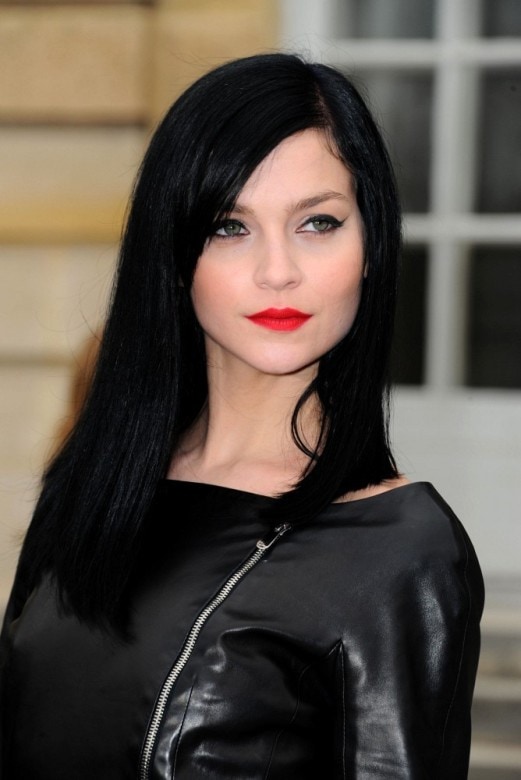 15. Fearless Natural Long
Long hair is true blessings because every woman wants one. Long hair requires a lot of maintenance to preserve its natural length. For busy routines, it is not possible to style your long hair with different updos.
According to your face structure, you can divide your long hair according to g to your desired taste. If your hair becomes, frizzy various products can be used to undo the effect. Open hair is not ideal for the summer season so, in summers, you can make ponytail or bun. Style it with bold, colorful eye makeup.
16. Gorgeous Feathery Locks
There are various hairstyles which give volume to your hair. Feathered hair can do their magic on almost every type of hair. A straight feather is a great option for heavier hair. It looks fabulous on a short bob.
Shag cut is manageable and easy to style. The overall hair looks messy but blended perfectly with your skin tone. This hairstyle is strong and versatile for every woman belonging to every age. Pair it with a winged eyeliner.
17. Shad In The Black
Black hair usually goes with every outfit. Natural curly hair is quite rare, but girls who don't have such gem in their hands can use a curler to get that curly hair. This black hairstyle is a combination of wavy and fine hair.
It is classy and can be worn with any type of dress. Famous figures like Kim Kardashian always choose this hairstyle because she is blessed with such beautiful hair. To make it fashionable and simple, pair it with a nude lip shade.
18. Side Swap With Ear Tuck
The hairdo is a quick and simple way to switch up your look. If you are tired of doing the same old hairstyle which consumes a lot more time and may cause damage to your soft sensitive hairdo, then we suggest you give a try to this simple cool casual everyday wear hairstyle for long and medium hair length.
The hairstyle is pretty simple and easy to achieve. Start with natural texture messy hair, or if you are a girl with straight hair, you can always add big soft waves to your hair to add a little more texture to your hairdo.
After that, you have to randomly side swap your front strands to one side and sleekly set your hair on the other hand behind your ear. If you have silky and messy hair, you can always use bobby pins to set the hair behind your ear all day long. The hairstyle is simple, that you are still ready to go.
19. Middle Partition With Open Hairs
Switching from your regular side part to something new like middle part hairdos can provide you just the right amount of change that you may be carving for a long time now.
Our one favorite thing about the middle hairstyles is that they are simple easy and, at the same time, they are beautiful dramatic, and elegant in every angel. Parting your hair simple in two equal parts along with sleek messy or middle length hair is mainly an eye-catching hairdo.
The other plus point you can have a bob cut, and still, you can try this messy elegant middle partition look for every day or your exclusive formal parties. The central partition can work with both the texture curly or straight, as done in the above image.
20. Straight Sleek Side Tuck
As we have discussed before, a side-swap with soft waves along with ear tuck side here s another one, but it is way different from that. With a glance at the picture, we can identify the difference between the two.
This hairdo is much more uncomplicated and easy to achieve as well as it does not contain any extra step to complete if you are a straight hair girl, whereas the other hairdo we have discussed before is simply not like this one. If you are a straight hair girl, then you defiantly have to go extra step to achieve that hairdo.
From the picture, we can gather that the ear tuck is done in this hairdo too, but the tuck is covered by hair in contras; if we overlook the previous coiffure, the ear tuck is apparent. If you are not of straight hair girl, you can achieve it by straitening iron which we know is a damaging process, but we can use it one in a while.
21. Messy Hair With Bold Makes Up Look
Immediate plans or invitation to a party always turn into a stressful event when you are not ready and sure about what to wear, how to style your hair, or what makeup looks to do. Then hair we bring you a solution to your these problems.
Bring out one of them can make it easy to solve the other ones meaning if you choose a bold dress, then we suggest you go with neutral makeup and hairdo along with it.
In this hairstyle, the young lady in the picture hair done something similar. She has gone with a ready bold makeup and simple dressing along with a simple hairdo. She opted for a messy slight middle partition. The soft waves are enhancing her look for not only her hair but her appearance all over.
22. Short Side Styled Hair With Flicks
We all now long hair are considered to b more elegant and beautiful, and short hair is much of casual fresh looks, but here we are again to break this belief. This short hairdo is sleek, classy, and perfect for spring formal coming up soon.
Your classic bob hair turns into a soft curly look and is placed at on side the crown area is designed by messy flicks which are left as unattended. This hairdo will perfectly go with your ball gowns and pearl necklaces.
This hairstyle is not correctly formed bob haircuts. Still, the length is a little longer than a traditional bob to achieve perfect side style hair along with a lot more layers at the crown area to give it an extraordinary amount of messiness with the help of flicks.
23. Nerdy Short Black Hair
As ear tucks look great with long curly hair here, we have tried the same with short and silky straight hair.
If you are a simple college going girl or someone who is looking for a simple casual everyday office going hairdo, then I may say you have landed on the perfect haircut which will defiantly go in hand with your nerdy personality as well as will be a stylish, trendy for your everyday office look.
The hairstyle belongs to girls with bob cuts. There is a side partition, and one part is tucked clearly behind your ear. The other side hair is also tucked, but it all depends on you.
This hairstyle has a befit that you don't have to wear lens every day, which is one of the irritating things to do while getting ready the look is complete with a stylish pair of eyeglasses.
24. Party Styled Short Black Hairdo
Here is one more hairdo, which is perfect for a party you are planning to go on. This hairdo involves a bob cut. Here the short haircut is special styled up for an elegant gorgeous party look.
You can overlook the above-provided image, which will give you a clear idea of what this hairstyle is going to look when all the steps are done. In this hairstyle, there is a side swap left but is not much clear; rather, you can say a messy side swap.
The hair at the right side migrated after the side partition is sleekly tuck at the back, which is compensating to other side fluffiness. To top the look all over the hair are given a soft wave, which is the first and foremost step to do if you are going for the exact same look.
25. Big Waves In Your Black Hair
Adding big waves or curls is always the best way to add a lot more strength along with volumes to one's hair. You are having constant struggles of adding a volumes hairstyle and yet look stylish, then this hairstyle maybe your next hairstyle on your list.
Considering the image above we can surely say that this hairstyle is for the medium as well as a long hair hairstyle. If you are a girl with short or bob cut, then this hairstyle maybe not for you, but you can always try these things out; perhaps you get something unexpected.
The hairstyle is done by adding big soft waves all over the head along with a big messy side swap. To make your hair shiny and glittery, you can always go for hairsprays and hair products available.
26. Chocolate And Caramel Balayage
Inspired by your favorite desserts, the warm chocolate highlights are woven throughout your hair with light caramel streaks carefully blended within.
The color melts from your black hair creating a beautiful effect, difficult to look away from. Mid-part your hair and let your long hair down.
27. Side Bun
A practical hairstyle for long hair during hot weather, style your hair in an off-center bun. Make a deep side part and gather all your hair to one side.
Roll your hair in a loose bun and secure it with a hair clip or hair tie. Bold eye shadow and lip color will make your look perfect for an evening party.
28. Buzzcut
It takes a courageous and outgoing personality to rock a buzz cut. Gorgeous thick and curly hair makes styling a buzz more fun. Chop your sorter on the sides than on the top resembling an undercut.
Make a clear separation of the sides from the hair on the top to create a gradient. Among black hair color hairstyles, a buzzcut is the shortest.
29. Messy Bun With Flowers
A soft and beautiful hairstyle that you can wear as a bride or bridesmaid. Blow-dry your hair to lift the roots. Backcomb your hair and create a puff.
Gather all your hair at the back and create a loose bun. Let out a few tendrils from your bun for a messy bun. Decorate with flowers to add romance to your hairstyle.
30. Long Thick Bangs
You can classify hairstyles based on bangs. With thick and dense hair, you can create long and deep bangs that cover your forehead almost entirely.
They highlight your eyes and help to shorten a long face. The face-framing long hair amplifies your bony face structure and makes your cheekbones prominent.
31. Luscious Curls
Thick black hair and luscious curls make a great team. Side-part your hair in an uneven pattern and sweep your hair.
Add layers to make your hair more voluminous and textured. Define those layers with a hair mousse. Shoulder-length curls grazing over your shoulders give a very charming look.
32. Grey Balayage
Grey and black together can create a beautiful contrasting effect. Grey color painted over dark black hair help to accentuate the natural curves of your hair.
Create curls at the ends using a fat curling iron to get those thick spirals. The curls flow down, making a gorgeous shiny cascade.
33. A Ponytail
Thick dark hair can be tied in a simple ponytail, and it will still look glamorous. Finger comb your hair and gather them at the back.
Tie your hair using a rubber band. Let your hair be messy and windy. Style thin curtain bangs falling over your forehead, highlighting your eyebrows.
34. Curls and Highlights
Curls are all drama and fun. An easy way to go high on fashion is to get a perm, and your hair will be completely transformed.
Curls add softness to a strong square-shaped face. Notch up the drama by fading your ends. The hair goes from black to blonde, creating a striking effect that will make heads turn.
35. Half And Half Hairstyles
This hairstyle among Black hair color hairstyles, no matter what style you pair it with braids, buns, pigtails, or simply leave it open, will create a vivid and unique look.
Perfect for women who cannot decide which hair color they love more. A mid-part creates a clear distinction, but you can part your hair any way you want for a different style each time.
Hair is an essential part of our daily life. And to stay up-to-date with everyday changing fashion styles, we need a hairstyle which we can have for like months without going through changes.
The problems and difficulties with hair coloring some people do not want to get involved in that type of high maintenance problem and choosing to stay out of the hair-color world can cause a lot more issues as staying out of fashion, so here with this article, we have tried to bring some trendy and stylish black hairdos too you.
According to these hairstyles are going to be effortlessly beautiful and perfect for the hustle and busy life secludes. We hope these 35 black natural texture hairstyles for every length long, short, along with a medium-plus for both the texture curly straight are perfect for ladies out there. We hope you liked it and stay tuned for more stylish and trendy hairstyles.