Women consider their hair as a part of their overall personality. There is nothing more attractive and appealing when it comes long hairstyles for thick hair. Whether it is a candlelight dinner, birthday party, or a wedding Long hairstyles are a big way to show the shine and glamour of natural hair.
Long hair is a treasure of all women, though it is quite monotonous to keep. Some may have thin and straight hair, while others may have very thick and coarse hair, some could have wavy and soft hair. No matter how you style your hair, having long shiny hair itself means luxury and sophistication. That is why women love to have thick, long and textured hair.
No one can resist turning their head when they see a lady with long shiny and healthy hair walk passed them. Long hairstyles for women are excellent for various occasions like dinner, wedding and. Women love this so they can update their look making it more appealing than ever.
The good news is there are various long hairs for women and men so one can choose based on their choice. Hairstylists are becoming more inventive and they have committed to the trend of people preferring long haircuts and styles.
For those people who are putting up with long hair, they have apparently tried several styles so that they can change their looks regularly. Several equipments are there like blower, flat iron, and curling machine which can help you with any style you like without visiting the salon.
It's quite easy if you want to go to a wedding or party. The hairstyles for long hair could range from curls, layers, waves, straight and others.
Let's have a look at some of the most stunning ones:
Side braid long hairstyle
This hairstyle is everything feminine with an old world magical charm. The length of the hair adds to the pretty factor. The hair can be taken in strands and with the help of a curler one can very well create the wavy look.
Also the front portion can be styled by side parting and creating a braid taking few strand of hair from the scalp area. Gives a more headband kind of a look.
The natural layers
Well a quintessential long hair look can be the letting the hair down. Comb it well after getting a layer cut from your hairstylist.
You can also go for a short fringe for the forehead area to get a cuter look. This hairstyle is easy and fuss free and can be dome in seconds.
The crown buffet
Comb the hair from the crown area and pin it or clip it up smoothly and rise the volume a bit for that subtle effect. You can use a tangle free serum that will help you achieve this. Let your rest of the hair down in two portion and take it in the front.
Mid waves
This hairstyle is done on long hair and comes out well when the length is somewhat medium. This had a more swirl kind of an effect to the style. The front portioned is portioned and the lower end is curled lightly in wards to give the effect.
The leaflet braids
It is simple take three section of hair strands and plate it. After every first cross of putting the three strand alternately tie a rubber band.
Repeat throughout the entire length maintain a center alignment with on the three strands leaving the rest of the hair as it is. After you are done stretch the sides to form tapered braids.
Rainbow curls
This hairstyle is for the bold women out there who just wants to flaunt their undaunted fun self. Dye your hair in various rainbow colors like yellow violet red and green and curl them and leave them down. You need an expert stylist to do with the color merging
The rose hue
Are you the kind who loves to flirt with curls? The feminine magic can be all surrounding with this rich pick hued hair colour. The front portion is cut in layers and the ends are lightly rolled. This hairstyle and colour looks indeed pretty.
The unicorn pink hair
What does real magic looks like/ Well a magic hair is this one. The colour of this hairstyle is the show staler. Women who have long and thick hair can style the hair like this. This hairstyle is an elegant and a very charming one.
Braid with the bow
This hair style is very cute. All you need to do is take the middle section of the hair and braid it till the middle of the length of the hair and then tie it up with a bow. Let the rest half of the braid hang lose and mix with other half of the hair.
The wavy streaks
This hairdo is all about flaunting a very rich and sophisticated style. The USP of this haircut is the light golden streaks and the rich chocolate brown colour. The Finer ends of the hairstyle is left in mild curls that ads that feminine appeal of the hairdo.
The casual hair down
From the name it is suggestive that the hairstyle is very simple and casual. The messiness adds to the carefree appeal of the hairstyle.
This hairstyle is yet another simple yet classy style that is very easy to put up. Tuck in the front fringe neatly behind your ear.
Gold curls
For this hairstyle all you need to do is just comb your hair and get it free from all tangles. This hairstyle incorporates very subtle styling. The front line is middle partitioned and the sides in subtle waves. This hairdo is very charming.
Side partition
The hair is combed clean and then side partition is done. After the side partition the hair is left in soft curls at the bottom. It is a perfect party hair style or a friend evening. It is chic and gracious.
Simply straight
The contemporary fashion world is ruled with this simple yet elegant styling. Straightening your hair makes it a lot less frizzy and also manageable lustrous and beautiful. Helps you put your hairs done as their will never be any knot in the straight hair.
The front section waves
This hairstyle is a bit rough, subtly messy and yet exuberates a very classy appeal. The look that this hairstyle imparts is classy and vivacious. It can be a hairstyle that can go well with any occasion ad such is its versatility.
Bold with burgundy
Well when you have hair that is both thick and long then this hairdo can be great for you. This hairstyle has a great colour that is the burgundy color. The hairstyle is not only fashionable but because of the color, it imparts brightness to the entire look.
The rapunzel look
Finding exciting hairstyles for long thick hair is fairly simple. To keep a neat impression of your style, but still have somebody, blow dry with a round brush. It will produce waves that look fantastic are long and wavy.
It's one of the most perfect long hairstyles for thick hair. Some of the best styles grow by taking a lead from how your hair requires to behave on its own. If you have a real wave, go with it!
Voluminous curls
Long thick hairstyles tend to be pretty voluminous just by default. To channel your inner diva and kick things up a notch, style with a deep part for added oomph up top.
Twisting small sections around a flat iron or blow drying with a round brush and then brushing through. Ask your stylist to simply add a few face-framing strands to your standard style.
Feathered layers
Feathering is a word used to represent the edges of the hair that have been finely textured. This cutting method produces a softer blending of the layers and gives interest without cutting up the overall length of the hair.
For a sophisticated style, leave the hair straight roots to the middle shaft and then go full force with curls at the bottom. Sea salt spray can all supplement waves to hair that isn't usually wavy.
Long cut with bangs
Some days, you just require it out of the way especially Ladies with thick hair know that full bangs straight across the forehead are super chic and can be incorporated into many different long haircuts for thick hair.
Rock these bangs with some sober waves, for a glam style. Try a layered look that reduces down somewhat front to back.
Straight hair with highlights
This hairdo is great in the sense it is downright classy. It is completely straight and comes with high lights. You need to maintain this hairstyle.
Something about straight hair is it imparts a very clean and posh look. This haircut works great on those with thick hair so that there's lots of hair to enclose your face
Side-swept pink bangs
With side-swept bangs, add some shape to your haircut. They can be added to your look despite the length of your locks and will look particularly beautiful if paired with long layers. It's a great option for constructing your face! Well, as gorgeous as this style is, the color is even better.
The rush of pink candy hues improves the layered waves beautifully. The color adds to the glamour quotient of the hairdo. Highlights enhance this style with definition and dimension.
Sassy layered with blonde shade
This cut is particularly stunning on those who have thick, long curly hair. To look amazing with your thick hair, you might consider trying some other hair care routine which can smoothen your hair, add shine to it and minimize the frizz as well as prevent any fly-away.
Make sure you pair it with an amazing makeup look as this striking haircut will have all eyes on you, so.
Long and sleek shag
This hairstyle can be perfect for formal events as it has a clean formal touch to it. Also with this hairstyle, you can flaunt your confidence like anything.
Rather of having longer layers in the back, her locks are truly longer in the front, which produces the image of having fuller hair without pulling down the back.
This cut looks sharp with highlights or a deft ombré. It's a classic cut for anyone who avoids broken ends but does not want to lose their length.
Mid-length layered curls
There are so several medium hairstyles for dense hair to choose from, whatever your hair type is. You can apply sea salt sprays or texturizing products on your damp hair just after shampooing to get soft, natural styles.
Sleep in some extra-large hair rollers, to save your time in the morning. This style is perfect for medium length haircuts as it shows the gradual difference in length best.
Sleek Blonde Ponytail
Keeping hair tied back and out of the way is a good idea when your hair is thick, so many long hairstyles for thick hair are updos like this one. The hair is sleek and simple with a knot of hair around the ponytail, holding it in place.
Large Chunky Braid
This is a slightly more interesting tied back hairstyle for thick hair. The braid is large and starts at the upper part of the back of the head, and it's loosely braided and falls down one shoulder. It's a charming and intriguing look for everyday wear.
Elegant Side Knot
Long hairstyles for thick hair can be extremely elegant, like this one. One side of the hair has a tiny portion left down, forming a curl. The rest of the hair is swept neatly into an intricate series of side knots. It's decorated with a flower and berry accessory.
Long Curly Ombre
This hair may be thick, but it doesn't mean it's unmanageable. The hair is left long and the thickness is emphasized using an abundance of curls that keep the hair looking fantastic. The ombre dye job helps add interest and beauty to this stunning style.
Space Buns
Thick hair is often too thick for space buns, but this gives a real Princess Leia look lower down on the head. The buns are large and full of volume, and the hair is symmetrical and looks absolutely perfect. It's great for Star Wars fans.
Chunky Colorful Braids
These chunky braids are a great way to tame thick hair. They start at the forehead and are braided down the sides of the head, the fishtail braid style extending long and thick. The hair is colorful with various shades of pink, purple and blue for a unique look.
Waves and Colors and Twists
This hair is utterly unique. The colors, waves, and twists come together to create a style that's all your own.
The hair is very wavy, and an intricate series of twists come together to form a knot at the back of the head, just above the back of the blue, pink, and purple hair, which flows free.
Top Knot
This top knot is a great way to keep your hair under control. It's a simple style where most of the hair is swept up into a bun on the top of the head, and the rest of the hair is smoothed flat for a highly manageable and sleek look.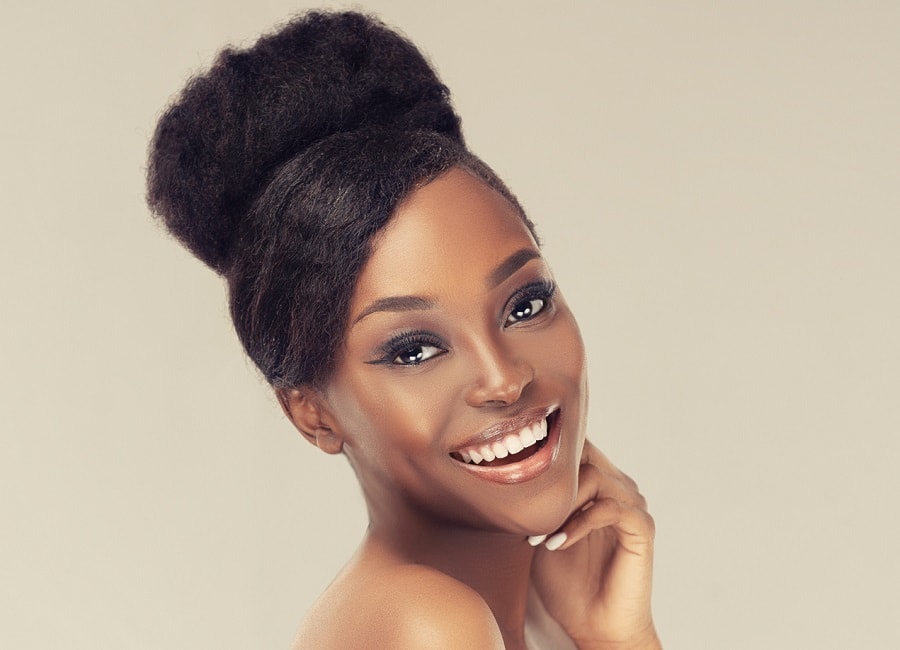 Crown of Braids
These braids keep the thick hair controlled as they circle the head. There's a thicker braid towards the center, and a thinner braid breaks free from underneath and circles an area near the crown. A small bun at the back of the head keeps much of the hair secure.
Small Free Curls
This is a freeing style where the thick hair forms lots of small curls and is let fall free. There's a side part that adds volume to the top of the hair.
The contemporary fashion trend spans over a range of hairstyles hence obtaining your perfect hairstyle is comparable to finding the perfect dress although you have a lot many options.
Women have always worked different styles on their long haircuts. You do of course require to find something that suits your body style, type, and temperament. In an even way with hair, although it is remarkable to find a style to suit your hair type, you can also work to improve it and move towards your desired look.
Having longer hair allows you to wear your hair down, in ponytails, bundled up or in classy styles. From long curls and comfortable layers to cute styles with flowing hair, which will give you a young look for daily wear. The options are vast. So what is the wait all about? Just grab the style that defines you best!