Mermaid hair color ideas can shake up your look a substantial amount. It lets you play with your hair by coloring it so many fun colors, and you'll make every heard turn your way with your style.
The wonderful styles that go with the colors are also real attention-grabbers.
These colors are always delightfully vibrant, and you'll love to play with your brand new hair when you have one of these styles on your head.
This type of hair can suit everyday looks, party looks, and more. And you'll be the person who attracts the most attention in any situation you enter.
Unique Mermaid Hair Color Ideas
How badly do you want this awesome hairstyle? Let's look at some of the styles that you could wear so you can go and get your dream hairstyle for yourself today.
1. Classic Blonde and Pink
Blonde and pink are a classic duo with it comes to mermaid hair. The colors pair so well together, especially these two shades.
This long, curly hair is mostly light blonde, and there are some nice pink parts of the hair underneath the hair, from the face down.
2. Straight Hair with Blue and Pink
This is a thoroughly modern mermaid hair look. The hair has dark roots and the underside of the hair is also dark, but there's some blue hair on top that quickly grows into a pink look.
The hair is straight and falls to the shoulders with bluntly cut ends.
3. Vivid Blue and Pink Waves
Here's a truly vivid and elegant look that will catch everyone's eyes. The hair falls in an array of loose curls down the back, and some of the hair is pinned back and secured with a nice floral clip.
The clip's color contrasts the hair color.
4. Long Pink Blue and Purple Hair
Overall, the hairstyle is simple. It's long and straight with a side parting.
However, the mermaid hair color is very strong and vivid. There's a purple base to the hair that's very subtle, but the pink and blue on top stand out a lot.
5. Vivid Blue with Dark Roots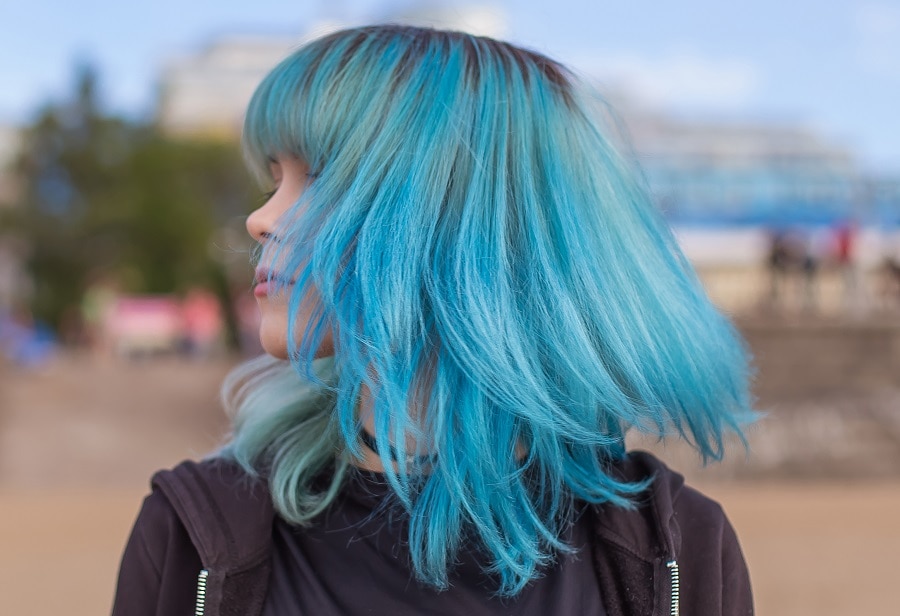 Half and half hair colors always draw the eye. Here it's vivid blue and half more muted blue with a turquoise tint.
The dark roots help bring out the bright colors even more. The hair has layers and full bangs and falls to the shoulders in a straight and simple style.
6. Colorful Silver Bob
Silver creates a base for this look. The front of the hair has pink, blue, and purple in it to help add depth and show off the mermaid element of the look.
It's a nice style to wear if you want a cut that's low-maintenance.
7. Multi-Colored Sleek Wavy Look
You won't be able to keep your eyes off this style. The hair is center-parted and sleek with a braided crown.
The hair's base color is silver and it has pink, green, blue, yellow, and purple mixed into it in various shades and patches all around the head.
8. Pink and Blue
Now we see a more classic mermaid hair configuration. The hair starts off pink with a purplish tone, and it melts into a light, frosty blue that's wavier towards the ends than it is on the top.
It's long and flows very freely for a casual, everyday look.
9. Blue with Black Roots
This is one of the simpler mermaid hair color tones as the hair is all blue, and there are two shades mixed in. One is more vivid than the other and the tones are placed randomly in the medium-length hair.
The style is very simple with a subtle wave.
10. Color ful Bob
If you like color, you'll love this wavy little bob that has a lot of color in it.
It has a saturated blue color towards the top with hints of green at the roots, then the ends of the hair are a rich purple hue that goes very well with the blue and matches blue eyes well.
11. Blonde Pixie Cut
Pixie cuts are uncommon in mermaid hair, but they're not unheard of. This is a very sleek pixie for thin hair, and it's platinum blonde.
The mermaid element comes in as there's a ring of purple around the hair, and there's some pink hair in the bangs.
12. Vibrant Blue Long Pixie Cut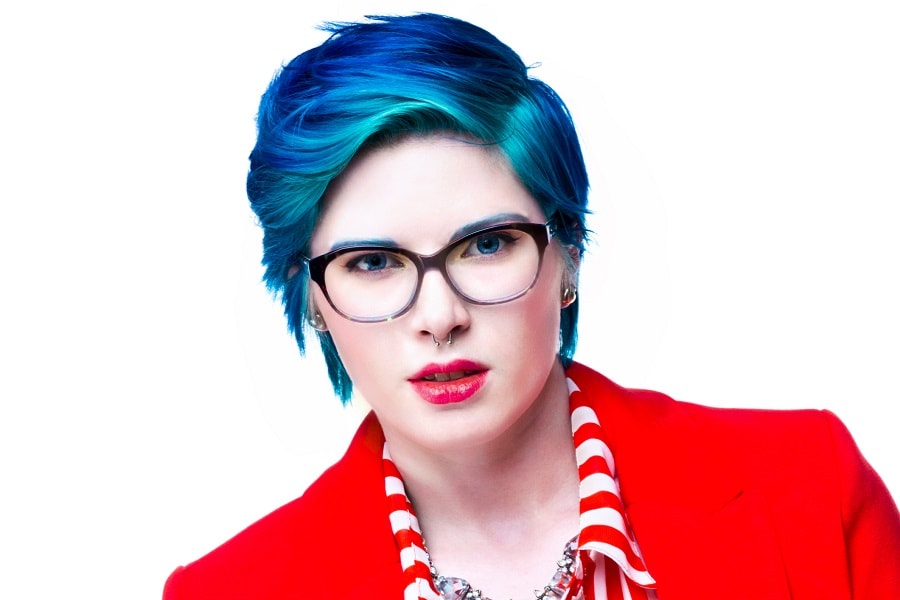 Here's another pixie cut, but this one is longer and thicker. And this is the most vivid blue haircut in the list so far.
There are two tones in the hair and they're both shiny and vaguely metallic. They really draw the eye, especially if you have blue eyes.
13. Curly Turquoise Bob
Turquoise is a very mermaid-esque hair color, and curls go well with the style, too.
This style is in a nice, thick, short bob so the style doesn't take a lot of effort and maintenance on a day-to-day basis, which is great for someone who's very busy.
14. Five Color Curly Cut
Long, elegant curls are always appealing in mermaid hair. There are lots of flyaways that make it look very natural.
It has five hair colors in even chunks throughout it starting with pink on top, then purple, then silver, then blue, then turquoise. The silver into blue transition is very subtle.
15. Colorful Layered Pixie
White-blonde as a base color makes it easy to lay lots of colors on top. You can't see much of the base here thanks to the mermaid-style colors.
Purple is the most prominent in this hair, with hints of blue oblong with it. The bangs are very pink.
16. Two Tone Bob
This is a simple hair color job as it's only two tone. The top of the hair is cotton candy pink, and the bottom of it is turquoise. It's also a simple cut as it's a layered bob that curls towards the face in that classic style.
17. Vivid Turquoise and Purple
If you love vivid colors, then this is a great style for you. The hair is thick, side parted and wavy, and the turquoise shade is the most vivid turquoise so far. There's some deep purple on the underside of this hair.
18. Long Rose Gold
These long locks have such a perfect blend of blonde and pink that it appears rose gold rather than two tone. It's a very sleek and subtle mermaid color, and the hair is nice and long and thick but casual enough for everyday wear.
19. Wavy Pink Long Bob
Most of the hair is pink, but there's some purple in the bangs and towards the end of the hair to add some depth to the nice little look.
This is another subtle style where the hair is short and wavy and perfect for everyday wear.
20. Turquoise Undercut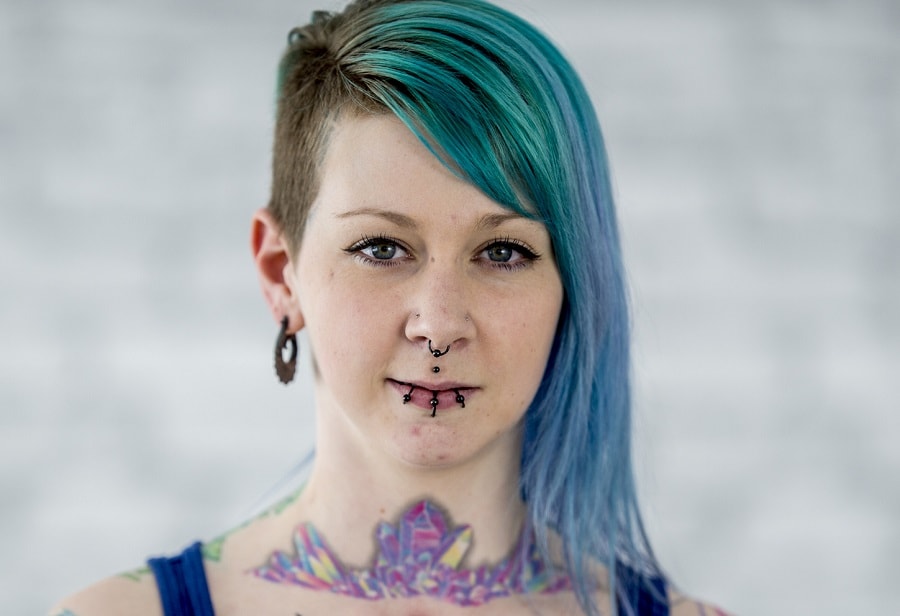 The brown is visible in the roots and on one side where there's an undercut. It's an edgy style that still has the mermaid vibe to it, so it suits a unique personality wonderfully. This hair is a blend of a vivid turquoise and a natural brown.
How many of these styles did you fall in love with? It's easy to fall in love with all 20, but you have to pick just a few to try out over the next few months or years.
Your hair can only handle so much dye, so you really have to be sure about the mermaid hair color you want. You'll also need to work hard to maintain this hair and keep it vibrant with no roots showing.
Recommended Topics