We know you want to cut or color your locks, but at times, it's hard to choose from. It's even harder when you have to decide between two of your favorite colors. But why choose? Select both, and go for half and half hair which is quite popular these days amongst those who love bold adventurous looks.
To get the perfect look, divide your hair into two equal parts, color each part with one of the colors and then style your hair as you like. The split hair color technique is used to transform your old look into a unique, loud and rocking look wherein the colors can be of your choice.
Gorgeous Split Hair Color Ideas
Break the normality, opt for these amazing yet unique styles only if you think you can wear them like a queen.
1. Green And Black
In order to get a bold or loud look, try darker hair shades like green and black. Such shades are most likely to highlight your facial features and give you an attractive look. This split hair color is likely to go well with any skin tone.
2. Baby Pink With Purple Lob
Let the family of colors be the same, with one side brighter and the other pastel purple with this split hair. Instead of choosing between the two extremes, you can plunge onto both of them and give your hair a cotton candy hue.
3. Barbie Blonde and Brown
Another subtle yet out-of-crowd look, the blonde and brown split, is most likely to suit medium skin tones. It is a great combo that goes smoothly with each other and is the perfect way to get a sleek and classy look.
4. Cotton Candy and Yellow Lob
A bold and bright, pink-yellow long combo is a popular and trendy look that is most suitable for fair skin tones.
It will give you a cheerful, young look that will likely create a head-turning effect. Keep the hair straight from the roots but add some bounce at the roots, to give a more voluminous look.
5. Blood Red and Grey Waves
Another example of highly contrasting half and half hair is this one. The ashy blonde with red combination adds warmth to one side and brightness to the other. Here, warm and cool tones are mixed to create a truly bold statement.
6. Golden and Orange Space Buns
A completely different look that will come as a surprise from the back. Apart from having this hair color, you can even color the shaved patches with the same shade on the opposite side. Burnt orange and the golden blonde is a great shade that goes well with each other.
7. Single Knotted Blonde + Red Split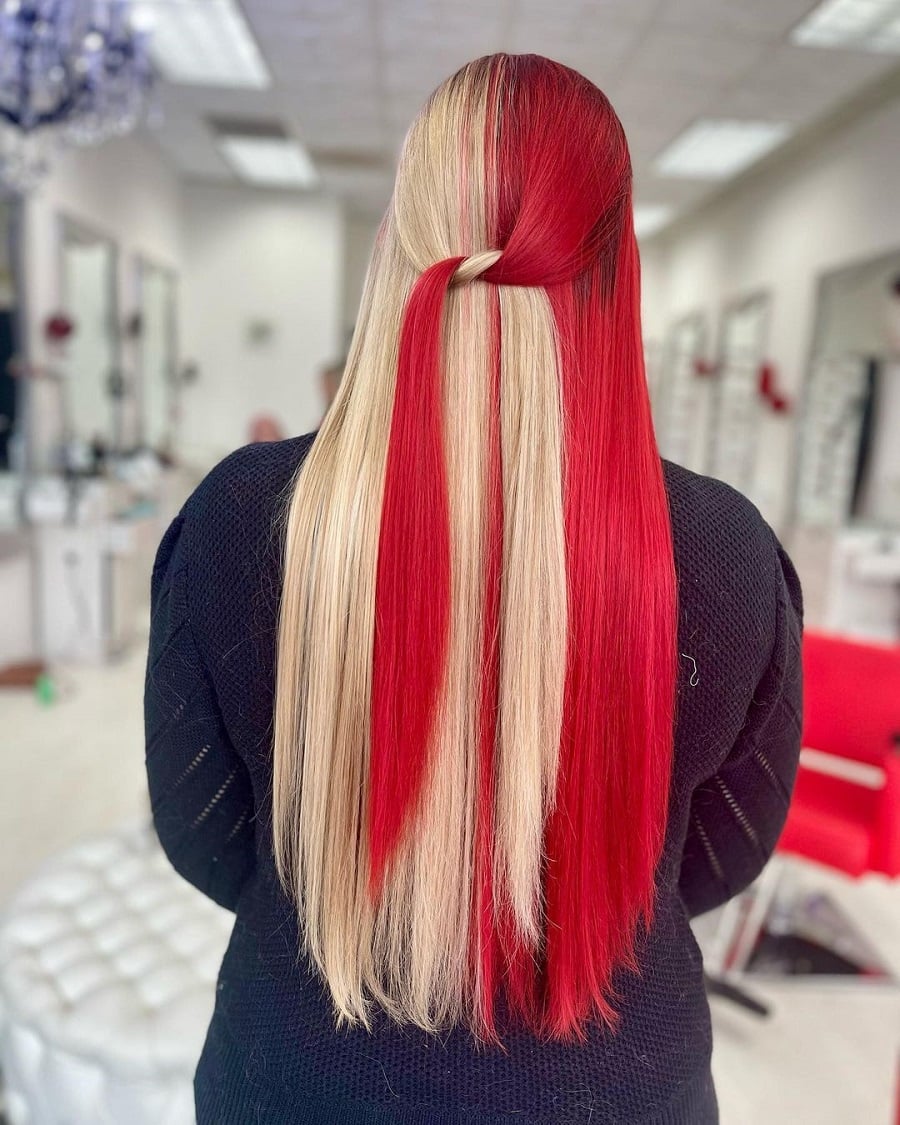 Warm blonde and dark red are other hair colors that are poles apart yet go well with each other. It is a cool and edgy way to style your hair. But, make sure to use a color-safe shampoo that will keep your vibrancy on 10.
8. Side Braided Unicorn Color
This split hair color will bring out your deepest color dreams and desires. By combining all your pastel hues with a brighter shade, you can get your best new unicorn hairstyle.
So, just go ahead with this amazing shade and flaunt your cuteness. Take a few tresses on both sides and make a braid that combines both hair colors at the back and in the middle of your head.
9. Greenish Pink Spilt with Highlights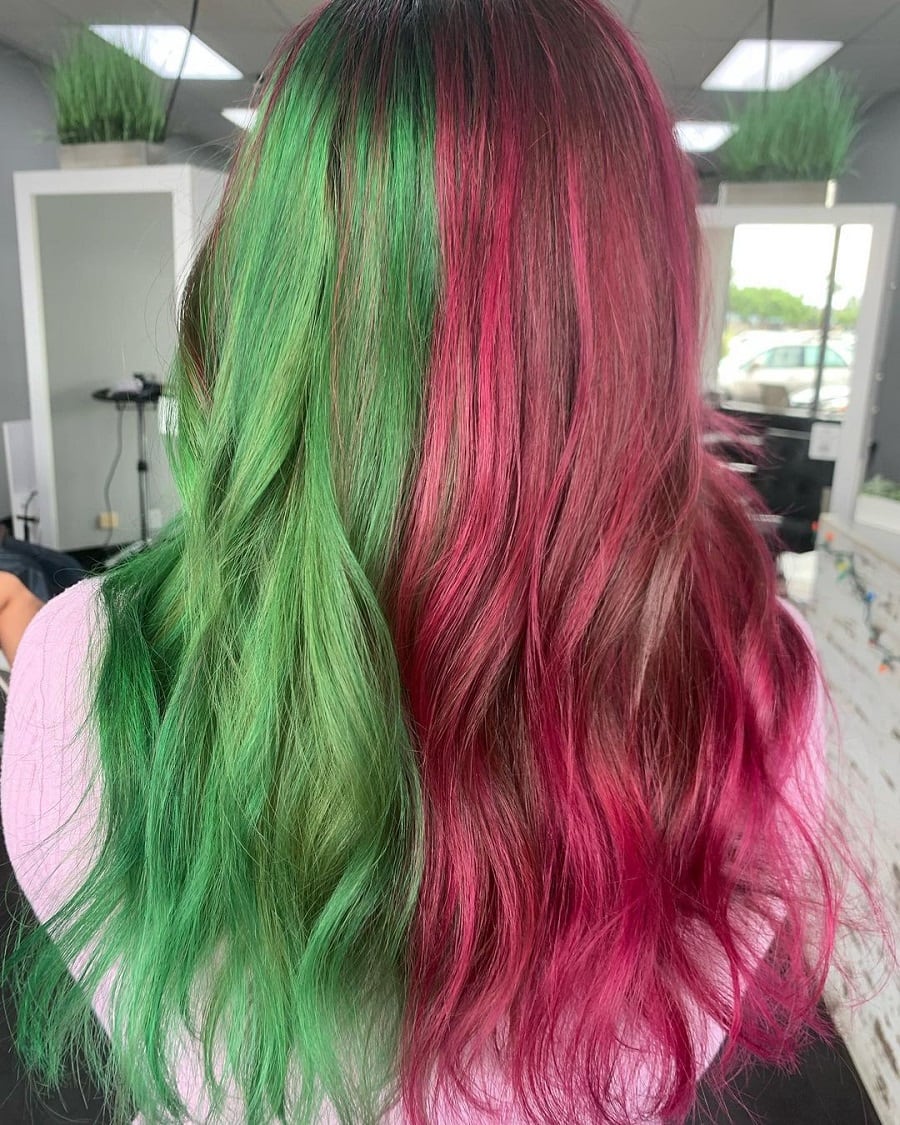 The subtle effect of this style is quite eye-catching. You can keep on staring at both sides, deciding on which one's your favorite as both of them are equally impressive. The style requires less maintenance than others due to its brownish undertones.
10. Blue And Purple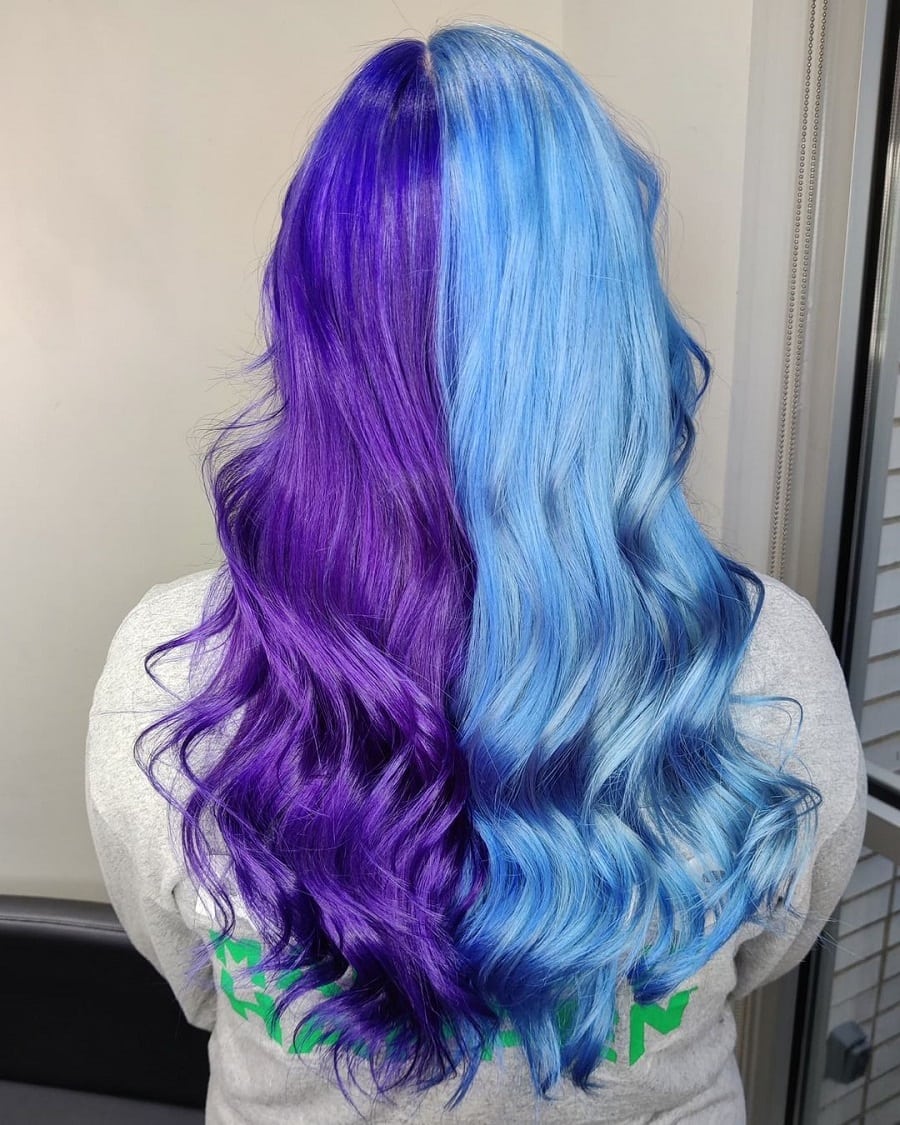 The blend of blue and purple will go well with all skin tones. Such a shade adds texture and shine to your hair without styling. So, if you like splashing with bright colors, this is the perfect option.
Although split hair color is definitely a unique and different style to try, be very sure to choose it. This is because it might lead to some minor challenges later on. For instance, it might be difficult for you to choose the right kind of makeup when you have two different hair shades. So, just be completely sure before trying a different look.