Bold and fun hair colors are all the rage right now. As this new post-pandemic chapter of our lives starts, many people want to experiment with their hair a little. If you're looking for new hair color, and orange is your favorite one, then these burnt orange hair colors are for you.
Orange is The New Black but when it comes to incorporating it as hair color, it can be trickier. But don't worry, we've got your back.
We have curated a list of all shades of burnt orange hair that will be perfect to show your hairstylist. Fair warning, though, you'll be too spoilt for choice.
Fierce Shades of Burnt Orange Hair
Burnt orange is orange with tones of red, resembling the tones of flames. Now that we have the basics out of the way, here is a list of 18 stunning hair colors that you can check out.
1. Burnt Ember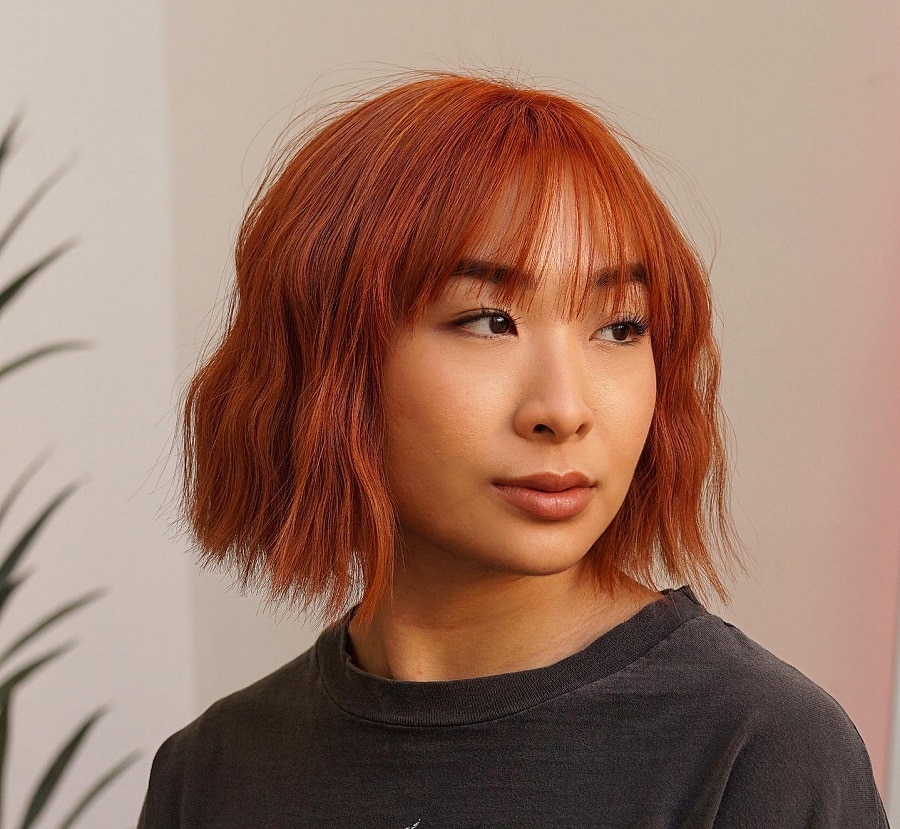 Warm tones are cool right now. And this warm-toned burnt orange color is perfect for anyone who wants to experiment with their style. People with yellow undertones can pull off this style the best.
2. Burnt Orange Ringlets
For our darker-skinned beauties, this cool-toned brownish-orange is just the right color.
The color is a sweet spot between brown and orange and brings back life to your beautiful face. Paired with these gorgeous locks, the hairstyle is sure to have girls asking you for your hairstylist's number.
3. Muted Side Part
This hair color is a classic. This stunning light orange mixed peach color is simple yet elegant. This color can surprisingly flatter all skin tones and all age groups.
You can try this no-brainer hair color if you don't want to experiment too much, but also want something new and stunning.
4. Curly Orange
This brown transitioning into burnt orange hair color looks so gorgeous with some curls. If you want something low maintenance yet stylish then this hairstyle is the right one for you.
5. Autumn Braids
If fall is your favorite season then this hair color with a tick all the boxes on your checklist. These autumn hues, red, orange, and brown, are a perfect combination for the hair color of your dreams.
6. Transition to Burnt Orange
If you want something bold, something to turn heads your way then this hair color is it.
Black base slowly transitioning into Reds and orange is just the right choice for daring souls. This orange and black ombre will give you the confidence you need to take over the world.
7. Silk Press Hair
This short brown-toned burnt orange hair with hues of red looks just like a pretty sunset.
This hair color brings out the color of your eyes and will surely act as a perfect accessory to any outfit. The hair color compliments all skin tones and the sleek hairstyle can give structure to your beautiful face.
8. Orange Shock
This bright orange hair color with hints of red is sure to turn some heads your way. This electric and bold hair color is perfect for the ones with an electric persona who make hold choices.
9. Braided Highlights
This pink color with light tones of orange is such a pretty color. When paired with boxy braids, it will create a multi-faceted and multi-dimensional look. If you want a hairstyle that has a bit of a character, then go for this one.
10. Vibrant Dreads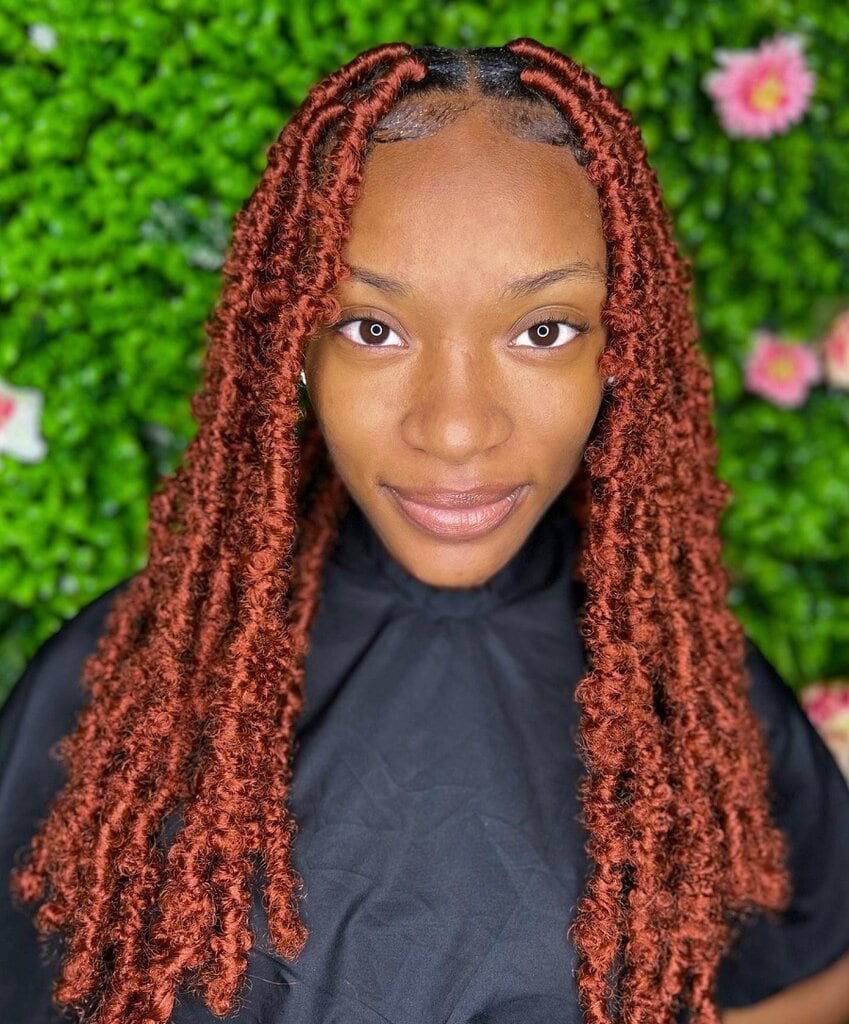 The perfect hair color is made with a blend of your favorite fruit and favorite dessert. The unique shade is a mix of brown and red that can bring out the color of your eyes. This color will suit anyone willing to rock some brainboxes.
11. Fire Highlights
As the name suggests, this burnt orange hair color is the perfect "crown" for anyone looking for one. These highlights look expensive and alluring.
With face-framing layers, this hair color will bring all the attention to your facial features and make you look stunning.
12. Side Trim Curls
This softer shade of red is the one for you if you're not looking for anything too bold.
This color will add a little bit of spice to your look without you standing out too much. This color will look especially gorgeous on anyone with Hazel or green eyes.
13. Princess Merida Color
If you want to live your Disney Princess dream, then this is it. The color was worn by Princess Merida in the movie "Brave", the hair color is what will make her stand out in any crowd.
14. Bold Orange Cut
If you never go wrong with bold orange because of its versatility. There are all kinds of varieties of this color but we chose a mix of peach and orange to go with the theme.
The color is funky yet feminine and if these two words define you, then BINGO! You've hit the jackpot.
15. Golden Ginger
If you neither want to go too warm nor too cold, then this neutral copperish brown shade is the one for you. This golden burnt orange hair will make sure you shine bright like a diamond wherever you go.
16. Ariel Dreams
This shade of orange mixed with golden is so out of the box, yet very wearable. The hair color, paired with a sleek bob hair cute looks expensive, exquisite and all things fine.
17. Sunset Dreads
This hairstyle has everything. It starts with pink at the base and gradually moves towards yellow and orange.
As the name suggests, the hair color has all shades of a pretty sunset. The hair color is funky, cool, experimental, and still, anyone can carry it off.
18. Dark to Orange Shades
The reddish-burnt orange blend is the perfect color, especially for autumn. Whether you want a deeper, darker red, or just light red highlights on a strong burnt orange base, you have all the choices in the world.
The hair color looks especially good on both, creamier complexions as well as cooler toned skin.
Life sometimes goes out of hand, and your affairs may seem uncontrollable. But it's good to know that you can always change your hair color whenever you crave a brand new start.
Here's to new beginnings and new hair colors. Be fierce, be bold and be the elegant lady of today by trying out these 18 burnt orange shades of hair color!