There's no secret that braids are the easiest as well as a stylish hairstyle which is loved by all of us. We all love doing a good braid. Three- strands braids are the traditional braid style and is simple to be formed but over the years this braid has be upgraded along with are world of fashion. The traditional braid has been piled up with more braids on top of it to form a different and unique braid which now known as Mermaid Braids. These braids are one of the latest as well as most trending braiding trends to sweep the hairstyling these days. Basically, this braiding technique is a French braiding technique indicating that it is necessary to know how to form the French plait first.
Mermaid Braids
If you are new to french techniques nothing to worry about as this article has covered it all. Before begging we promise that there is nothing crazy and difficult to create a French or mermaid braid. Here we present 40 versatile hairstyle which covers it all.
1. Flowery Highlighted Mermaid Braid
Adding different colors to your hair is the trendiest thing going on these days. The basic colors are blond, brown and chocolate and these three basic colors are used in this hairstyle to enhance its beauty. But if you are not in the mood or favor to get highlights and rather want to go with your natural hair color then there is nothing to worry about as this hairstyle will be beautiful when done with your natural hair color in the same way. This hairstyle is basic and you don't have to be professional in French braiding. Simply start taking strands of the hair from both sides and make a tiny French braid then add new strands from both sides and make tiny French braids repeat the steps till you reach the bottom of the hair from the crown area. This hairstyle is specifically for long hair Girls. To add a beach plus mermaid vibe to the hairstyle, the purple buds are added to it. The flowers can be real or fake or you have a choice to replace them with other accessories as per your choice.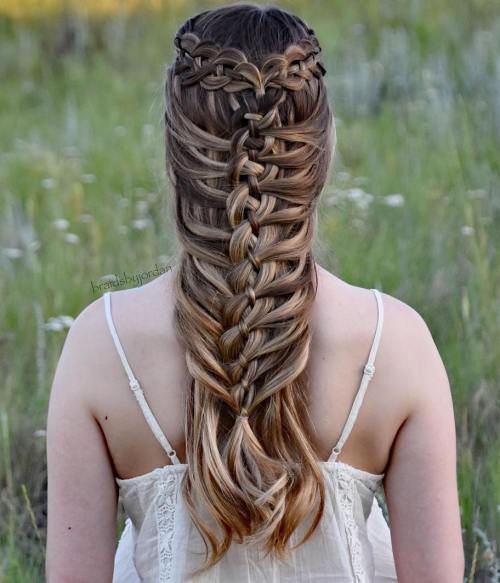 2. Red Waterfall Mermaid Braid
Waterfall braids are perfect for the upcoming summer months. This hairstyle is a quick and easy one to wear for a casual day out or a night out with friends. It can also be worn on a formal occasion. The addition of waterfall braids in this hairstyle advantages us in adding a lot of texture, volume and charming detail to the hairstyle. The hairstyle is beginning by creating a waterfall that will be creating French braids on both sides of the hair on the crown area. Both the braids are met at the center and continued to form French braids with intervals as shown in the provided image. The rest of the hairs are left open and messy. To add a more feminine look to the hairstyle, the red color is added by dye and dip technique but it is all upon you to choose other colors or no color at all.
3. Lose French Mermaid Tail
The basic French braid is formed by taking two chunky strands of hair. The tricky part is that the braid is formed by further taking light strands from this. The braid is formed by crossing the right strand over to the center and then following a cross of the left strand over to the center. Repeat these steps in row to for the braid. The other part where you have to pay attention to is that during the formation the new pieces of hair are to be added in. The look of the braid will be similar to the braid shown in the above-provided image.
In here the braid is done loosely to give it a messy and carefree look. The light blond and dark combination of hair is giving it a detailed and beautiful look.
4. Golden Highlighted Mermaid Tail
This hairstyle is for those girls who want to give a sophisticated look to their hairstyle but do not want to but extra effort and time to achieve it. The hairstyle includes three French braids that will be labeled at the center and sides. The hairdo may look difficult and time-consuming from the provided image but trust us it is not and that's the beauty of this hairstyle. Simply start with the side French braiding and follow by the center French braiding and end the hairstyle by bringing them to gather at the center, which will be followed by the main French braiding of the rest of the hairs. All the braids are done loosely to provide strength to the look. The golden and brown highlights are the focal point of the hairstyle but as always, they are your personal choice.
5. Messy French Tail
This Golden hairstyle is all about the messy hair day. This hairdo will work perfectly for lob bob cut people. Simplest and easiest hairstyle to do when you are in rush as it only includes losses and messy French braid. Perfect for office or college days.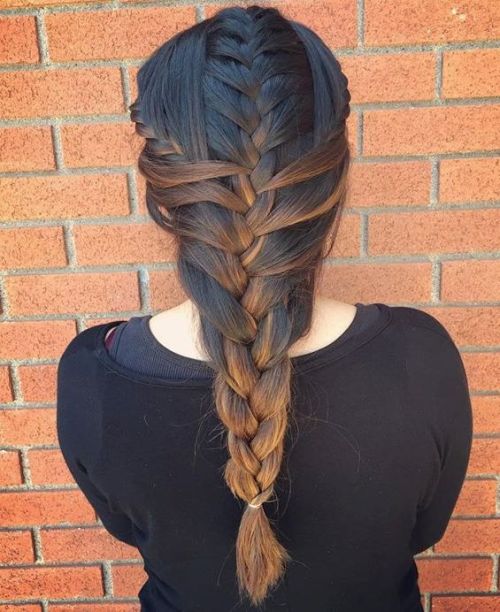 6. Swapping French Mermaid Tail
A complex but elegant hairdo is perfect for a party. This hair style is perfect if you are looking for party hairstyles but it's a complex one if you are new to this French braiding thing then you defiantly need a helping hand. The unique part about it is that it will give you new fresh look for party which is different from opening your hair or high ponytails. There are two French braids formed on the head which are swapping opposite to each other. Following by thick and messy French braid at the bottom. All in the hairstyle is giving bridal vibes. It will be perfect hairstyle for a bride to wear if having a beach weeding. Accessories the hairstyle in your own way.
7. Curly Half Mermaid Hairstyle
As we have disused above the waterfall is the pretties hairstyle to include while doing French or mermaid braid hairdo. In this hairstyle too the waterfall is added but in a different way. The first step is to form waterfall then taking the hair from the waterfall a center thin French braid is formed the last and optional part is to add big loose curls to the rest of hairs. The curls may be optional but they are the beauty to this simple hairstyle if think to skip them. Then we suggest you to rethink your decision.
8. Messy Curly Mermaid Tail
This hairdo may look much more complicate and impossible to achieve but in reality, its note. But if you are bigger, then we suggest taking help to achieve the same look of the hairstyle. It may be seen that these are all big curls combined together but actually it's not the first stem that may be to curl your hair then followed by French braiding of hair. The curls are there to provide bulkiness to the hair. If you have thin hair then this is definitely an answer to have that fluffy bulky look.
9. Silver Crown Braids
This hairdo involves lots of braiding and will be a time consuming hairstyle but it will be worth all this. From the above picture we can gather that the hairstyle started with the waterfall braiding leading into the braiding of the main braid till the end. In this hairstyle the rest of the hairs are not left open rather they are formed into a background braid. The silver colour of hair is popping out the braids.
10. Fishtail With A Mermaid Braid
Fishtail braids are very popular because it is very easy to make without the help of others. Mermaid braids are a little difficult to do because it has twists or sections etc. This hairstyle is the combination of these two braids. You can do this style daily and on special days you just add some flowers or colorful bands to create a different look. It works best on medium to long hairs. If you are searching for a simple but elegant hairstyle then this hairstyle is the best option. The front look of this hairstyle is quite simple but the sides and back of the hairstyle look lovely.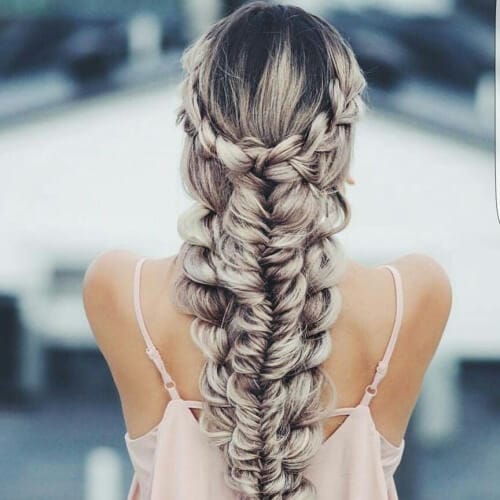 11. Messy Curly Mermaid
The messy look is popular nowadays. This hairstyle is perfect for occasions or wedding functions etc. It perfectly blends with every hair color, texture, etc. Messy and thick mermaid braids always look stunning and easy to create. Girls who have thin hairs but want some volume and texture then this hairstyle is ideal for you. Because of the waves, this simple hairstyle looks flawless. This hairstyle is not easy to maintain that's why it is not a routine hairstyle. Some little highlights add uniqueness in this hairstyle. This hairstyle is not summer-friendly because of its messy look.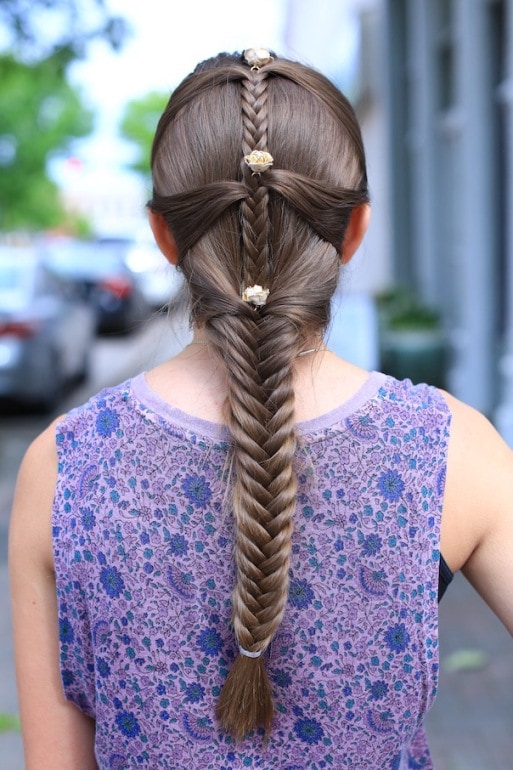 12. Twisted Mermaid
This twisted mermaid braid hairstyle is not easy to do. The appearance of this braid is very different than the classical mermaid braid. Girls love to look like a queen or princess and this hairstyle is a great option for stage shows or acts etc. To make this hairstyle hair strands are twisted so they look like a rope then tuck it with the help of pins on the back of the ears. Ladies who have short hair can go with this hairstyle. More than one person is needed to make this twisted mermaid hairstyle which consumes little time but the final look is mind-blowing.
13. Flawless Mermaid Tail
This flawless mermaid hairstyle is the epitome of perfection. It looks very sleek and executed. This hairstyle has many positive points than the other hairstyles. Most of the mermaid hairstyle is for fine hairs because every single detail adds perfection to your hairstyle. This gorgeous hairstyle is perfect for an everyday look. Just take three strands from the top of the head and make a tight plait. You can add hair accessories at the center of the tail. Little girls look superb in this hairstyle with a sparkly outfit.
14. Four Stranded Side Braid
As its name, it is simple and perfect for short hairs. A simple technique is used to make this braid. It is a good option for summers. Even if you are going to a gym or picnic then this is a very comfy hairstyle. You can convert this braid into a side bun according to your choice of outfit. If you have a lob cut then it is a better potion to change your regular hairstyle. Little girls' hair is most delicate so this four-stranded braid is an easy option because it doesn't require any pins or clips. Because of the side braid, this hairstyle hides your little messy hairs without using any gel or hair spray.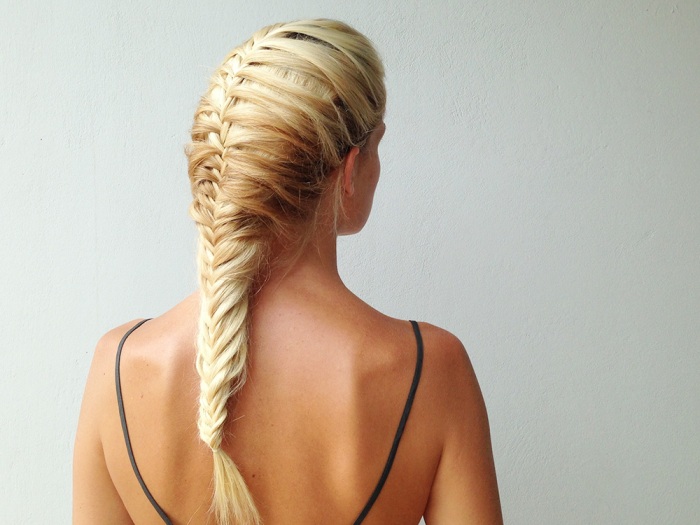 15. Boho Half-Braid
Boho half braid is a perfect hairstyle for any boho-chic girl. There are many techniques to make mermaid braids like in this hairstyle dutch braiding technique is used. The main charm of this hairstyle is in the center part and the loose waves. From the top part, mermaid weaving is started and at half of the braid it is secured with a cute rubber band and the rest of the hairs are loose freely. This hairstyle works well for every season. This hairstyle looks ravishing on any type of hair which is the best part of this hairstyle.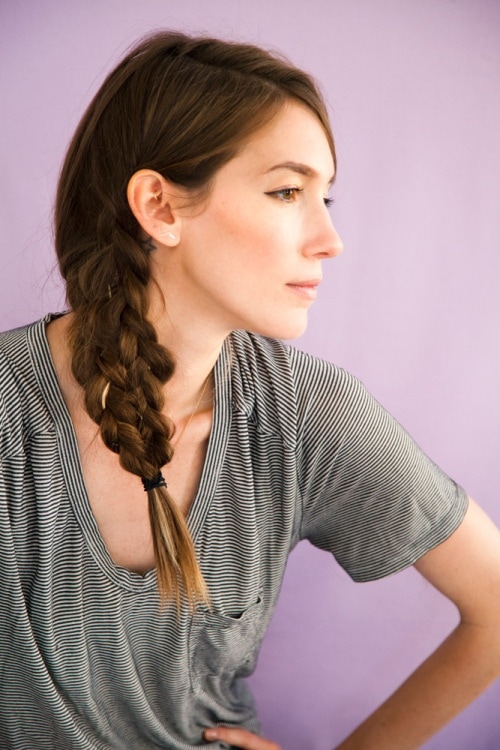 16. Corset Stacked Mermaid Braid
Stacked braids become popular and look dramatic than most typical braids. In this hairstyle, two mermaid braids are stacked into one. The hairstyle is inspired by fantasies and animated movies. Girls wanted that mermaid look so this hairstyle is something you can choose. There are many detailing in this hairstyle that looks stunning. It is a little time consuming for a beginner but practicing it is done easily. This hairstyle keeps your long hair secured in one place. This stacked hairstyle is suitable for any season.
17. Mermaid Inception Braid
This inception braid is the best option for short to medium hair. Some girls have straight natural hairs and love to do different unique hairstyles than give it try to inception braid. From the top part, two hair strands twisted in a way that it looks like a mermaid braid and rest of the hair are weaved onto fishtail braid. This gorgeous hairstyle is best for going to prom, school events, etc. Most of the hairstyles are easy to do if practiced daily. This hairstyle does not add volume or texture to your hairstyle but looks very classy.
18. Half Up The Mermaid With Bow
This interesting hairstyle is so cute because of its little details. This hairstyle is a little difficult to do by yourself. This is a combo hairstyle with a bow on the top and mermaid flurry braid on the end. It comes with little maintenance that's why it is not a routine hairstyle. This looks better on long fine or wavy hairs. You can add highlights or accessories to make your braid more fascinating or colorful. This hairstyle is suitable for different occasions or stage shows etc.
19. Mermaid Band With Rounded Curls
This hairstyle is full of style and dreamy. Most of the mermaid hairstyles look dramatic and this is one of that. It looks very heavy because of its texture and style but very lite on the head. From the top to sides and on the back it looks amazing. If you don't like a sleek simple hairstyle then this is the cool option for you. This beautiful hairstyle takes time but worthy of your time. You can use curls for making a headband and then twisted your hairs and secure it with pins. Mostly on weddings, women prefer this hairstyle and decorating with flowers and veil.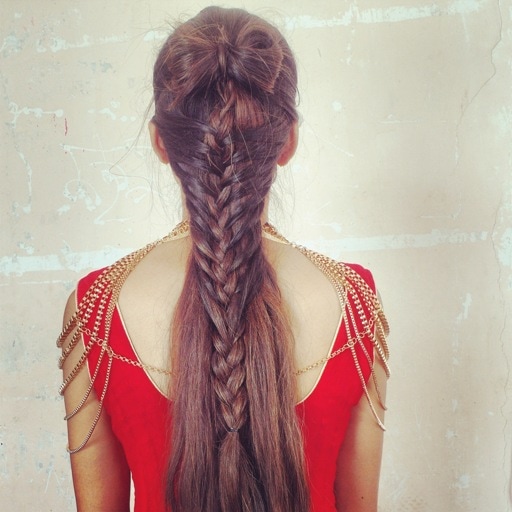 20. Nostalgic Knotted Mermaid
Nostalgic knotted mermaid hairstyle is very popular nowadays. Most of the brides and bridesmaids love this hairstyle. It is filled with details and a tiny bouquet. This hairstyle needs a perfect stylist because of its complicated style. This hairstyle is not comfortable for an everyday look. The front look is a little messier than another hairstyle which is part of this hairstyle. It frames your face which is the great quality of this hairstyle.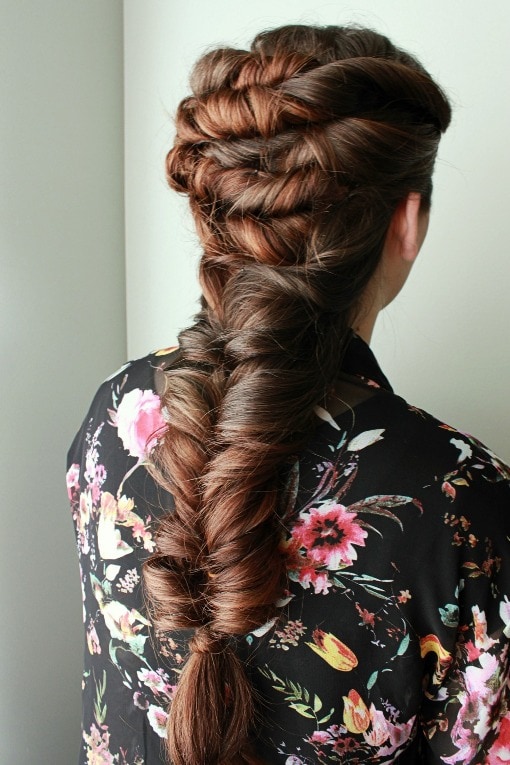 21. Pastel Focused Mermaid Braid
This is the post easiest as well stylish hairstyle of all time. It will make you pop out from the ordinary crowd. The hairstyle includes just pop up French braid. That is visible from the above image. Rests of the hair are left open to flow with the hair. The pastel touch to the hair is unique and versatile.
22. Open French Braid
French braid or mermaid braids can be done two ways loses or tight and both of them gives out a different look . in this hairstyle includes both. The crown hair are done in tight mermaid braid followed by lose French braid till the end. The different part is that the braid is done on the upper layer rest of the hair are open yet they are tide by the braiding. The hairdo is perfect for every day look.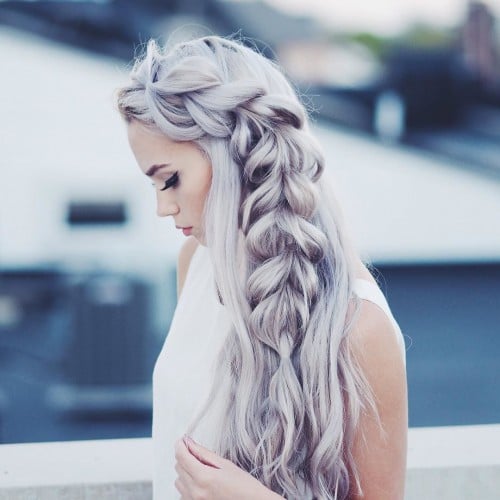 23. Accessorizing It With Mermaid Tails
Many times we think that a hairstyle looks good when we add a lot more accessory to it and for a particular look we often buy a lot of them and make the hairstyle heavy and complicated. Here with this hairstyle we bring the solution the accessory part. In this hairstyle the French braids are used as accessories and will make it a perfect hairdo for every day or casual day outs.
24. Blond French Braid For Crown Part
Sometimes we just want to highlight the crown part by hairstyling and end up doing waterfall braids, but here we bring you something unique and different from waterfall braids. Here the front hairs are formed in bulky mermaid braid but in the middle of the crown area, the bulky mermaid braid is divided into two separate French braids. The division is so accurate that it is clearly visible from the picture provided. The French braids are done in the middle area, and the simple braiding is done till the end. The hairstyle is perfect when you have long hair.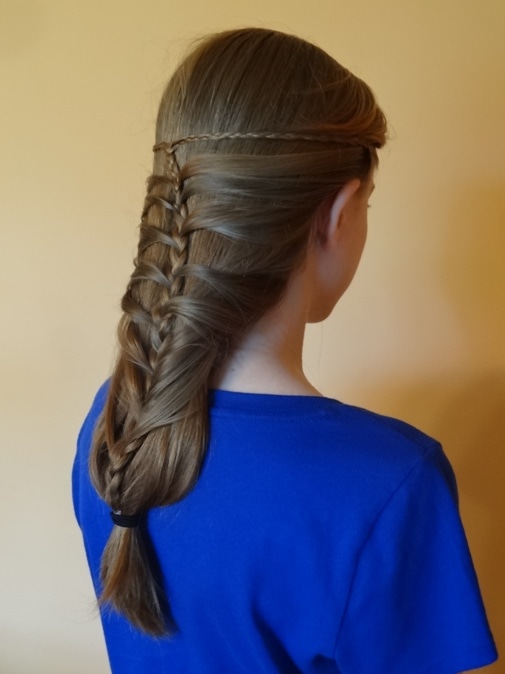 25. Rolling French Tails
If all the way till here you found French braid is difficult and not your cup of here then this is for you. The hairstyle includes French braiding but the technique does not include braiding rather the rolling braid technique is used. By rolling braids the fluffiness is added to your hair. The hairstyle is appropriate for big parties and your special day.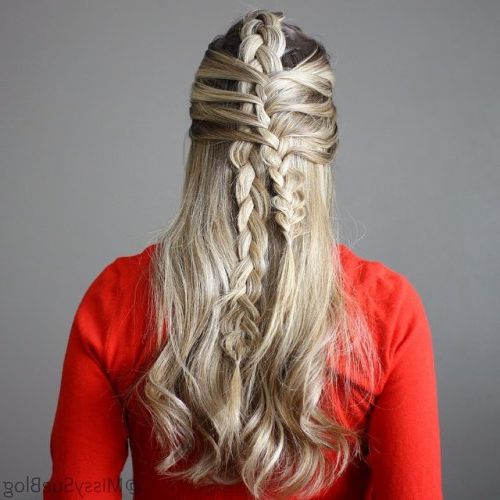 26. Twisted Mermaid Tail
Rolling and twisting is the simplest hairdo which does not require much time and effort to achieve. Similarly in this hairstyle the twisting braids. The strands French braids are replaced by the twist braiding and are formed till the end. The hairstyle is perfect for parties. The benefit about the hairstyle is that it is not complex and time consuming but the look is defiantly opposite to that.
27. Twisting, Curling And Braiding
The hairdo includes three different hairstyle together to form this unique party hairdo. The first phase of the hairstyle is Twisting. The hair at the crown area are twisted to fluff an messy look to it. The second will be the braid in the center and the rest of the hair are curled. Its defiantly a princess party hairdo. It will go perfectly with your bouncy dresses.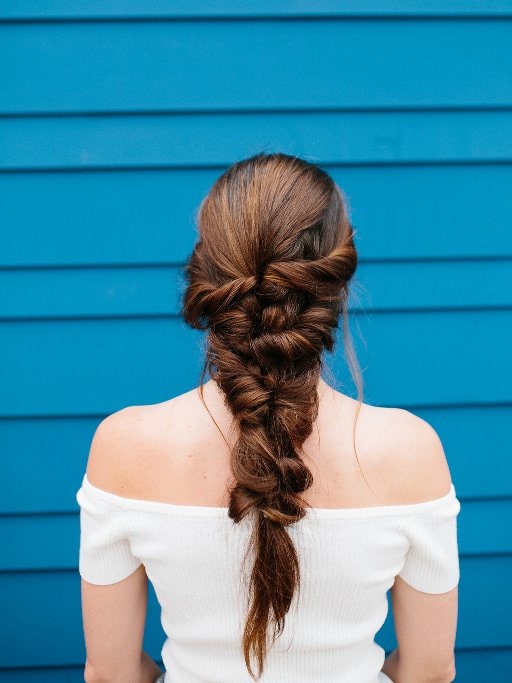 28. Princess Pink Mermaid Braid
Pink color is defiantly for princesses. Here is a princess hairstyle for all the princess out there. The hairstyle includes simple French braids but the different is the distance but the add on strands is much more than normal and traditional French braids. The pink color of hair is magical and versatile. Its defiantly a new and fresh look for 2023.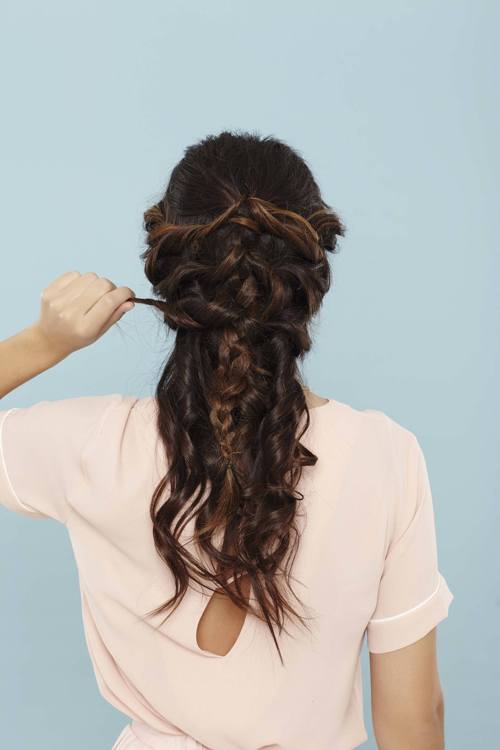 29. Bulky Messy French Braid
Strength of hair is the main problem for hair and their hairstyling. The hairstyle is perfect when your hair are thin. The bulky curly and messy is providing a fluffy outlook of the style. The first step is curling and then the French braid. There is twisting braid involve along with French braid. This is also party perfect look.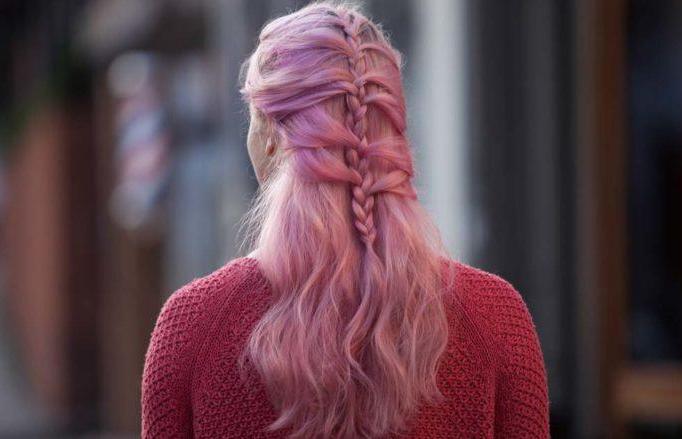 30. Pretty Pastel Braids
This hair is full of pastel colors. Most of it is turquoise, but there's also some pink, purple, and yellow in there. There's one thick fishtail braid and three smaller braids in the back of the hair, and it's a very sweet and mystical look.
31. Crown Braid
This mermaid braid is worn like a crown around the head, and lots of long, curly hair falls long and over one shoulder. It's secured away from the face using the braid, which blends seamlessly with the deep, reddish brown hair that draws the eye very, very well.
32. Blonde Elegance
This braid is long, thick, and elegant. There are several shades of blonde woven in here from light to dark, and the sides of the hair feature an interesting pattern as they're pulled back into this tremendous braid. You could do this style once and wear it for days.
33. Edgy Blonde and Black
This is a choppy, edgy braid that decorates hair full of dark brown-black and blonde shades. It's punkish yet sweet and girly all at once. It's a very interesting look that goes great with everyday outfits and situations.
34. Princess Braids and Rolls
This hairstyle has the hair rolled back from the face, and it falls down in a sectioned braid going down the back of the head and mixing in with the curls. The curls are loose and elegant. The hair color is natural and very regal at the same time.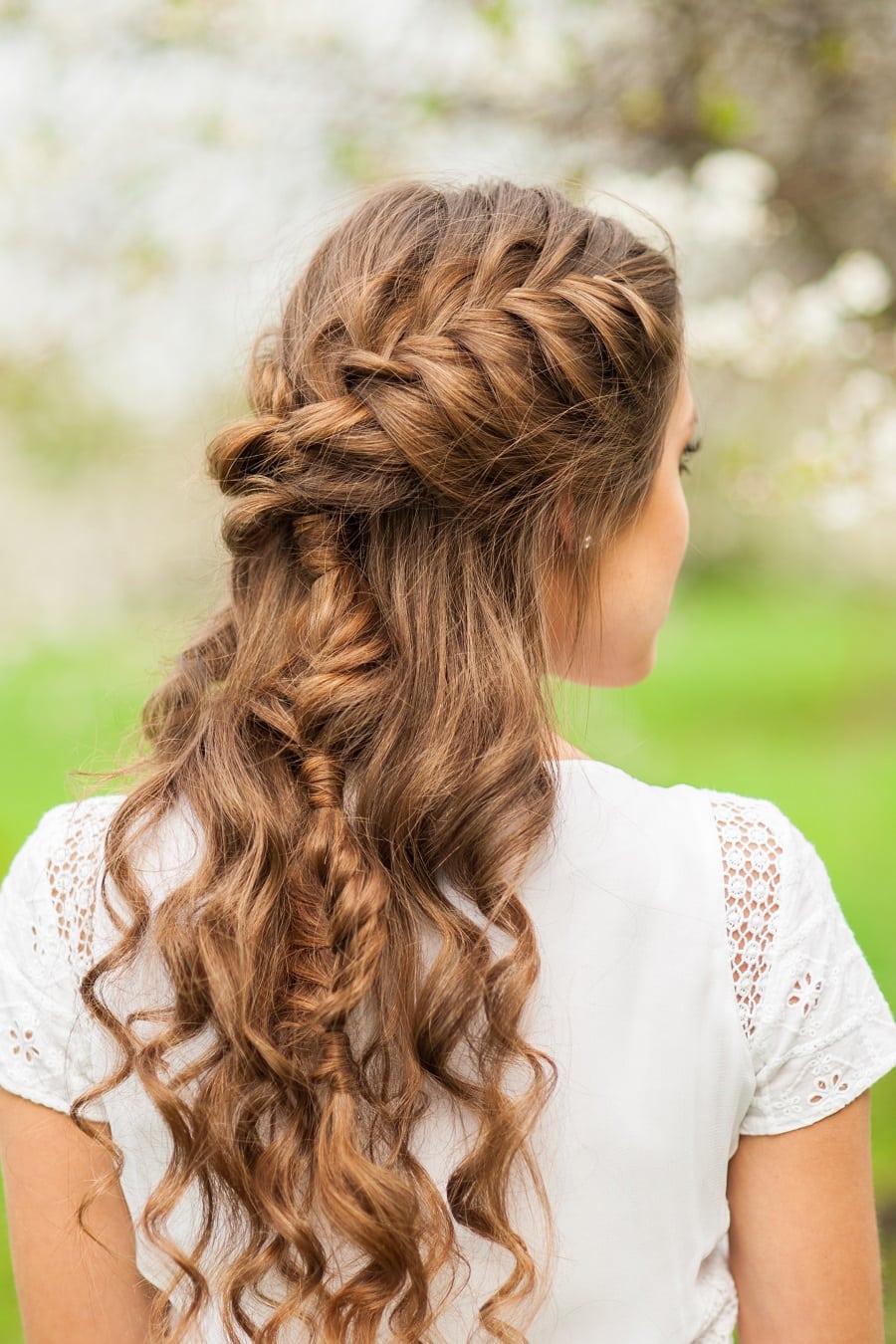 35. Sweet Thick Side Fishtail Braid
This braid starts at the hair's parting and goes all the way down the side of the head. The braid then has a twist in it and becomes a thick fishtail braid that falls over the shoulder nicely. The brown into blonde look stands out.
36. Heart Shaped Hair
You'll never find a mermaid braid hairstyle sweeter than one that uses a heart shape in it! Some pink hair is pinned into a gentle heart shape above a long fishtail braid in this hair. The hair is a mix of light blonde and pastel pink.
37. Very Large Braid
This is a mermaid braid hairstyle that has all of the hair drawn into a very large, thick, and loose braid. It's a complex look that will work great for parties, but you'll need someone to help you style it. It's a mysterious, eye-catching style.
38. Braided Heart
Here is another hairstyle with a heart in it, only this heart is braided and formed of brown and blonde hair. The rest of the hair is straight and untextured, so it's very easy for this heart shape to stand out. It will definitely get everyone's attention.
39. Long and Simple Look
This look has a very long, simple braid with an end that's all knotted up into the braid. There are two long free pieces falling by the face, and the bangs are cut nicely across the forehead. It's a very cute and sweet look that you'll love.
40. Simple Chunky Braid
This braid is simple and chunky, with large sections of hair pulled in to create it. A lot of the ends of the hair are left loose and form a perfectly straight line. The hair is blonde, and there's some slight shade variance in this style. It's an absolutely delightful style for women and girls alike.
The above provided 40 Mermaid braids hairstyles are all perfect for feminine as well as incredibly versatile at the same time. Mermaid braids are the prettiest ways to adore one's hair this spring of 2023. All these hairstyles are a quick and easy accessory to wear for an office day, casual day outs, a night out with friends, or even for more formal occasions. All the braiding techniques are not at all difficult or complicated to form as they look. Above we have nut shelled all the tricks and ways to achieve the hairdos at home. Now get ready to bring out your inner mermaid or just make a thick–ass braid with these hairdos. We hope you liked it and we will be back with a more gorgeous and easy hairstyle for you guys.