Chunky highlights were everywhere in the early 2000s, but then they fell out of popularity. These days they're coming back into fashion, and you can create many unique and striking looks with the chunky look to your highlights.
If you'd like to fill your hair with highlights of various colors in beautiful, distinct chunks, then you should. You can play with these highlight looks forever, as there are so many to pick from.
With these highlights, you're sure to look your best and feel confident.
Stylish Chunky Highlights for Women
Below, you'll find lots of chunky hair highlights that'll suit your look. These highlights are bold, and they're bound to do wonders for the appearance of your hair, making it very unique.
1. Caramel Blonde Highlights
Getting highlights in the ends of your hair is wonderfully common, and it's a way you can bring a touch of brightness to a dark look.
These caramel chunky highlights run through the ends of this simple, straight hairstyle making an eye-catching feature point.
2. Chunky Blonde Bangs
This hairstyle is given lots of texture and appeal by the chunky honey blonde highlights in the bangs, while the rest of the hair is a darker blonde that borders on brown.
It draws the eye to the straight bangs with a slight curl on the end, matching the rest of the curls in this hairstyle.
3. Black and Blonde Edgy Highlights
Getting chunky highlights of blonde through dark or black hair has always been an edgy, punk style of highlights. Pairing those highlights with a bluntly cut bob helps add to that edgy look.
The bangs are also bluntly cut as they fall across the sides of the face.
4. Highlights with Dark Roots
These highlights help lighten the hair as the blonde chunks lace through the darker hair.
It creates a varied look that draws the eye, but it doesn't draw the eye in a way that makes the hair the focal point of your whole look. It makes the style interesting without being overbearing.
5. Brown and Blonde Spiked Hair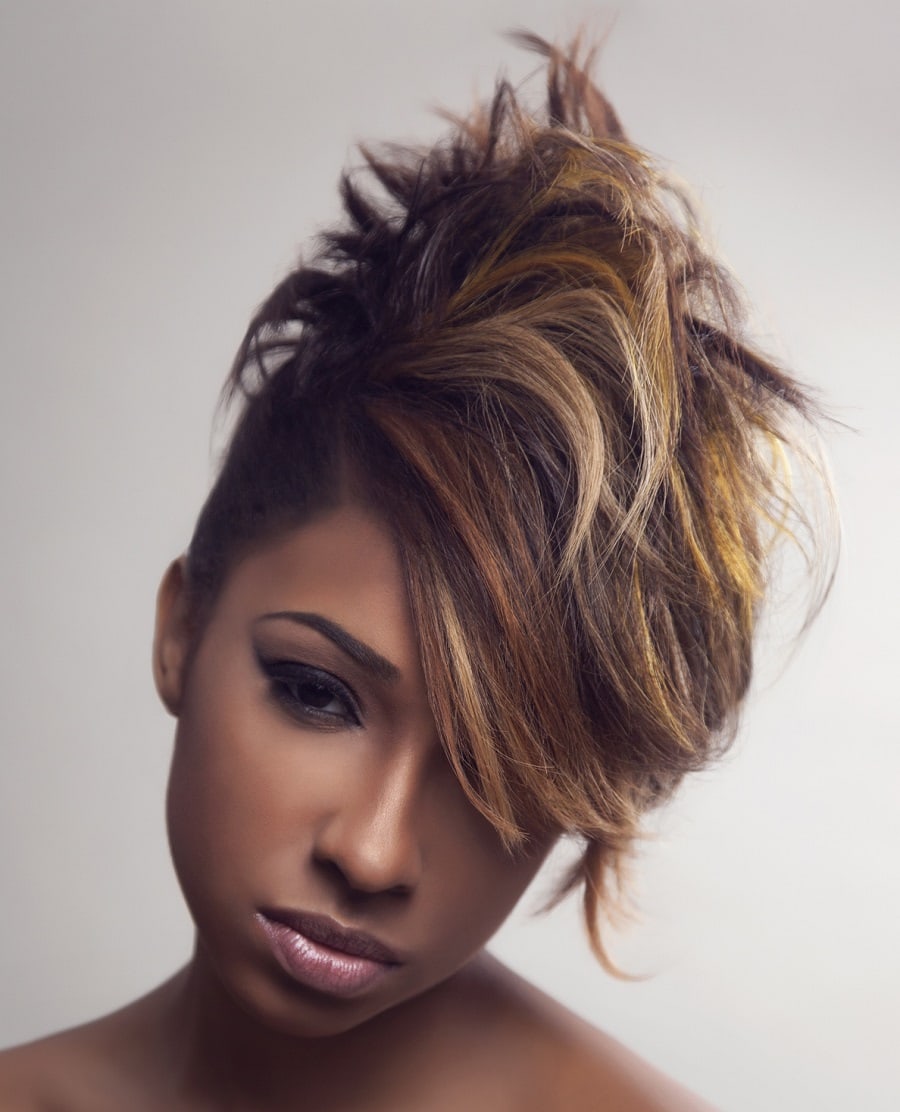 Here's a hairstyle that's styled high, with lots of hair fanning out above the head in a wonderful way that draws everyone's attention.
The thick hair contains chunky highlights in two shades of blonde that perfectly match the pleasant brown base color of this hairstyle.
6. Face Framing Highlights
A neat little bob looks wonderful with thick highlights. The black color draws the eye. However, there's some interesting contrast thanks to the bleached portions of highlights framing the face.
This helps draw the eye to the face, and it makes an otherwise plain haircut appear very fun.
7. Curly Hairstyle with Highlights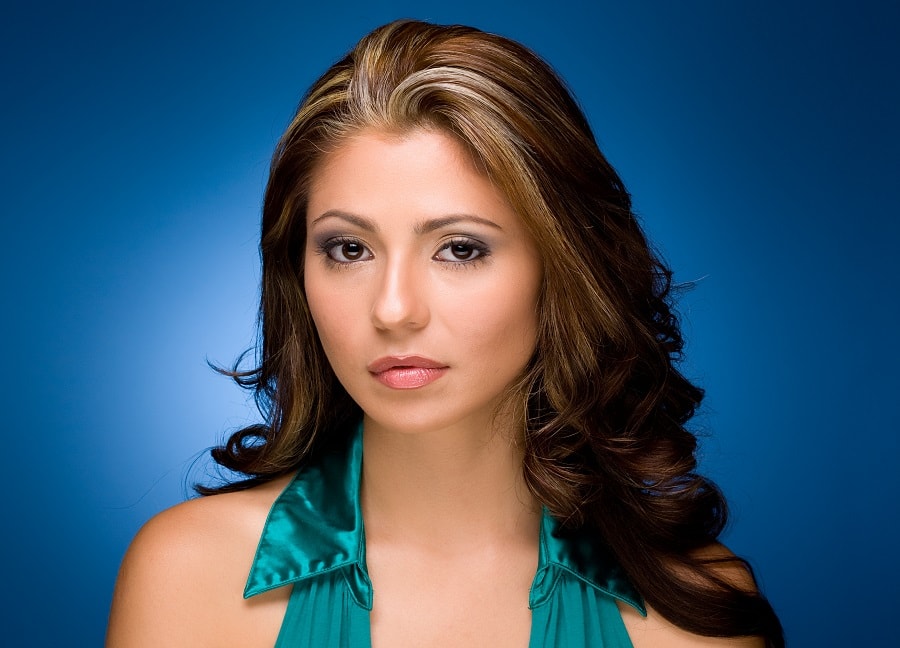 The highlights in this look are all on top of the hair, helping draw the eye to the otherwise plain top of this style.
The rest of the hair falls in thick, dark curls that have their own interesting points to them that compliment the highlights well.
8. Subtle Highlights in Spiky Hair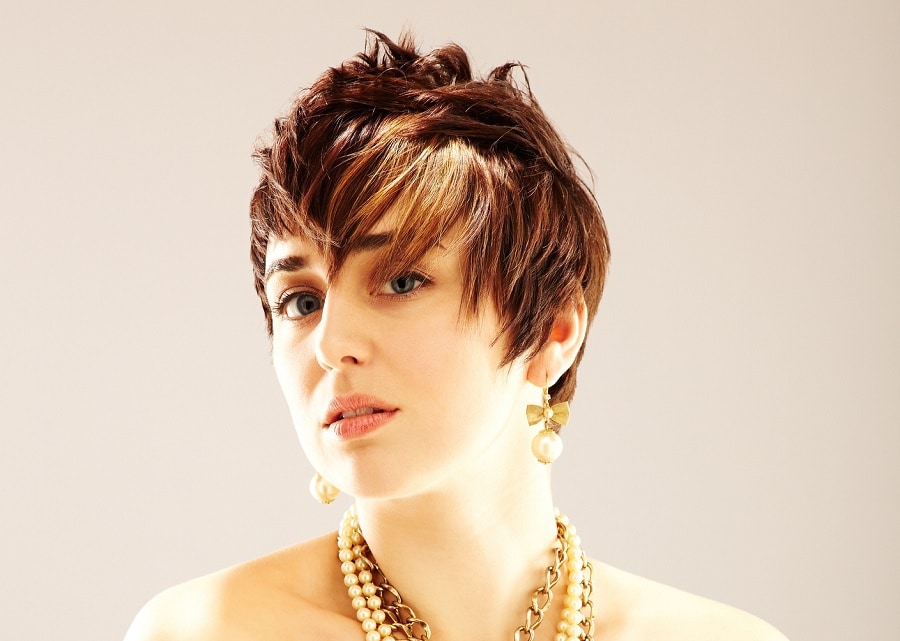 Spikes create such depth, and highlights help make it even more dynamic. This hairstyle has an overall chunk-like texture as it's ruffled and feathered and spiked above the head.
There are long sections of bangs that brush the forehead and sit across the eyebrows. These front sections of hair have some chunky highlights that are only slightly lighter than the rest of the hair.
9. Blonde and Brown
Yet again, here is a style where the highlights frame the face and decorate the front of the hair. The hair is in a graduated bob that's short at the back and has lots of layers.
The front section of the hair helps draw the eye to the face in a very alluring way.
10. Short Brown Hair with Pink Bangs
Our final hairstyle has the highlights contained in the bangs in a beautiful block of vivid pink.
The deep but blatant tone compliments the natural chestnut tone of the hair nicely, and it's a striking accent to an overall short and simple cut.
11. Pink Purple and Red
Speaking of chunky highlights that you can't tear your eyes away from, this style is on a whole other level.
The chunks of highlights form stripes of purple, pink and red in there. The hair is in a bob that's shorter at the back with an undercut.
12. Feathered Cut
Layered hair with feathers creates the illusion of delightful volume.
The chunky highlights are all on top of the hair in tremendous chunks of blonde that add a touch of lightness and life to the brown of the hair, making it a more dynamic look.
13. Vivid Red on Brown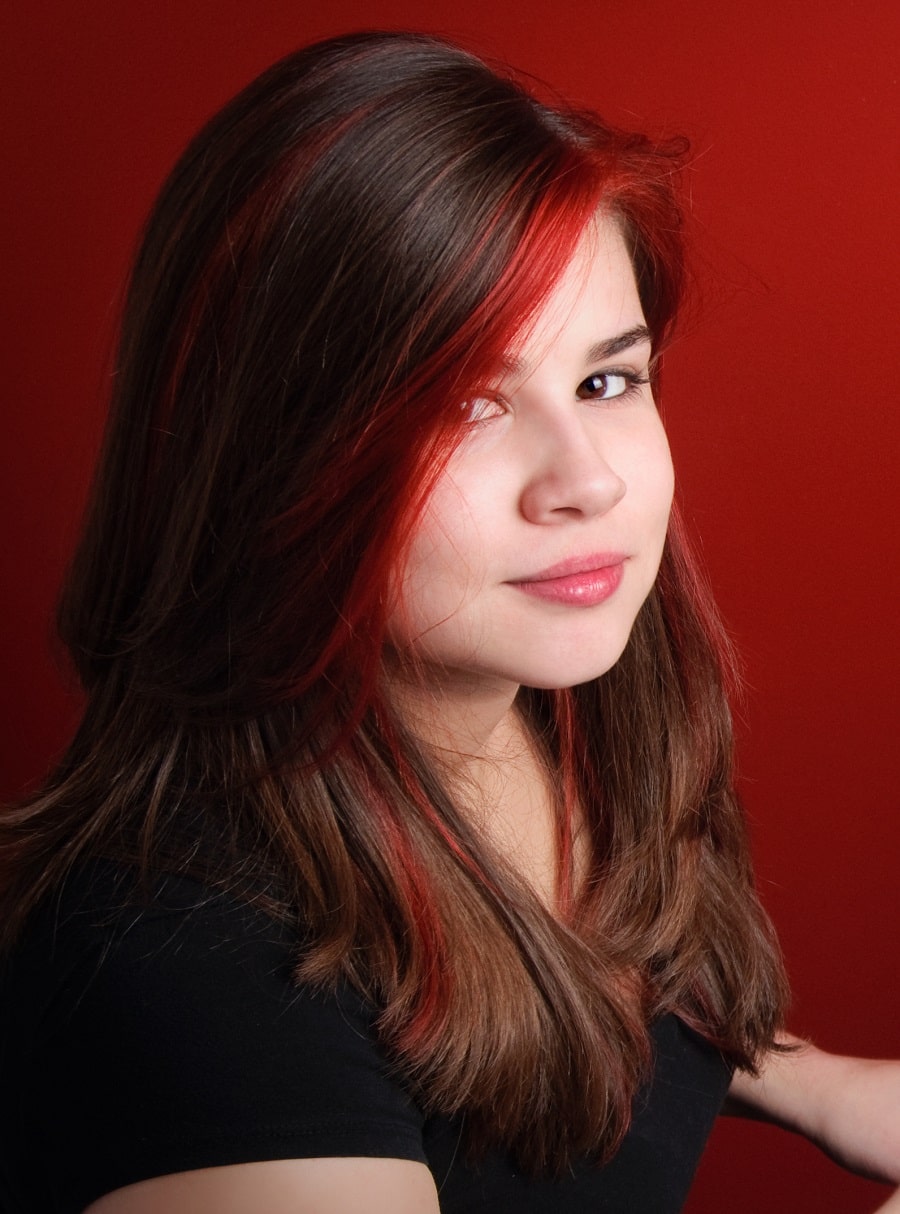 Are you going for an edgier and more unique aesthetic? Stripes of vivid red have been mixed into this long, straight brown haircut.
They're mostly in the front and around the face, so they draw the eye in an excellent way, and they help highlight the face, too.
14. Red and Orange
This blonde look is chic and simple. It's very long and parted at the side.
However, it's made even better by the chunks of red, dark red, orange, and dark orange that are running through it to create a delightfully vivid and unique look.
15. Brown and Blonde Look for Straight Hair
Eye-catching styles are always something to rave about. This is an unusual, striking look as usually, highlights are chunks of light into dark hair. This is the other way around.
The blonde highlights on reddish brown create an overall edgy look that's very difficult to tear your eyes away from.
16. Dark Brown and Blue
Blue is a common color for these chunky medium highlights, and they go very well with dark colors like here.
The hair is smooth and shiny, and the blue highlights go all around the head in large streaks that definitely create a look you won't want to miss.
17. Wavy Bob with Orange Highlights
Pairing light and dark versions of the same shade is fantastic. The hair here already has an orange hue as it falls in a wavy bob to just below the chin.
However, chunks of orange highlights have been laced through the front of it to add even more of a nice look to it that accentuates the color.
18. Curly Hair with Face Framing Highlights
You'll love this mass of dark, curly hair. It has white-blonde curls running through the front of it now, and a little in the back, to create some depth and dimension in the very, very thick curly look.
It works perfectly to draw the eye to the face.
19. Long Hair with Choppy Ends
Choppy ends and bluntly cut, long bangs make this look stand out. This is another instance of a look where the highlight color is the same as the overall color.
The hair is already a very muted and dark red, and a much brighter red highlight has been added in large chunks throughout the hair.
20. Long Hair with Three Tones
There are three colors decorating this long, wavy hairdo. You're sure to find that appealing if you love getting experimental.
There's black on one side and red on the other, and chunks of blonde highlights add depth to the black and mingle with the red in highly complementary styles that make this a highly desirable look.
21. Pink and Black
Not all chunky highlights are brown and blonde or black. These are distinct and vivid, as they're pink running through black.
They're impossible to miss and they create a really edgy look that's full of fun and personality. It's impossible to look away from a wonderful, eye-catching hairstyle such as this one.
The chunky highlights above all have their own flare, and it's a flare you won't want to miss. They suit anyone, so it's just a matter of finding the exact perfect one that meets your desires and suits your overall look.
Boost your confidence and enhance your look with one of the highlight styles above, and you're sure to have a good time. You'll dazzle yourself every time you look in the mirror when you have one of these alluring hairdos.