Medium length hairstyles are the most versatile hairstyle for women. Medium length hairstyles mean so many things other than the fact it's the most common hair length.
However, the hairstyles we can go for with medium length hair are average. To take all the advantages, medium length hair will provide us; we need the potential and willingness to experiment.
If you are thinking of going for medium length hair cut, here is all the inspiration you need to do so. You will also learn how differently they could be colored or styled to make the most of this length.
Also, they are comfortable to maintain, still doesn't make you miss your long hair as the short haircuts will do. They require very little maintenance and time to style.
Also, medium length hair hairstyles change your look instantly as they make you look a hundred times hotter. They bring all the attention to your collar bones or cheekbones. They also enhance your other features.
Now it's time to snag some style inspiration for medium length hair and get those medium-length locks with a fresh new signature look.
We have bought you below the hairstyles that you'll find everyone's favorites and hairstyles we come across looking through popular hair and beauty blogs. Here you will find many fresh ideas that you'll be tempted to try.
1. Middle Part Medium Length Hair
You can never go wrong with a center partition for your medium length hair. With this, you can easily part your hair down the middle. You can use blow dryers or combing to prevent them from looking flat and dull.
To Style, your long to medium locks in messy look, add uneven waves to it. This will give an effortlessly undone vibe.
Chocolate brown and blonde highlights make this hairstyle look more stylish and casual. It makes your locks highlighted and messy. To Top off the hairdo with a fresh and cool blonde color. This will add brightness to your hair.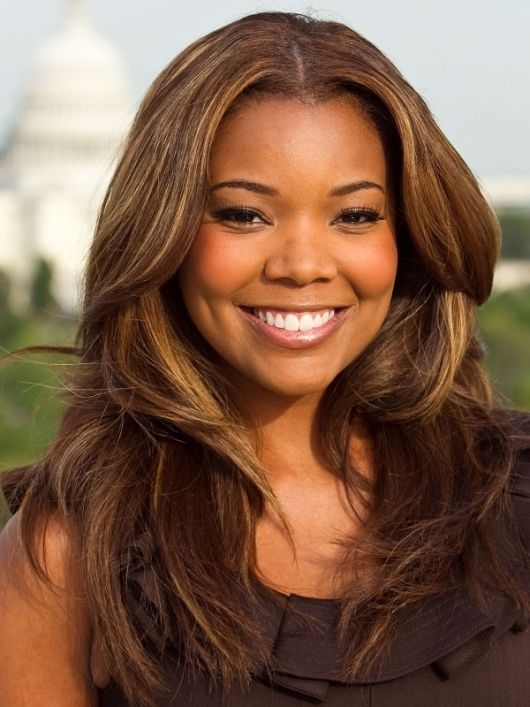 2. Peek-A-Boo Medium Length Hairstyle
This is a good way to shape or frame your face with medium length hair. With a center partition, tuck a couple of strands behind one ear while leaving the hair from the other side. This gives you a perfectly balanced long peek-a-boo bangs look.
The shoulder-length hair is given a feather cut at the end. The blonde highlights are enhancing the hairstyle even more.
This is a great hairstyle for people wanting to get a face-framing hairstyle. We recommend keeping the front fringes of your face length.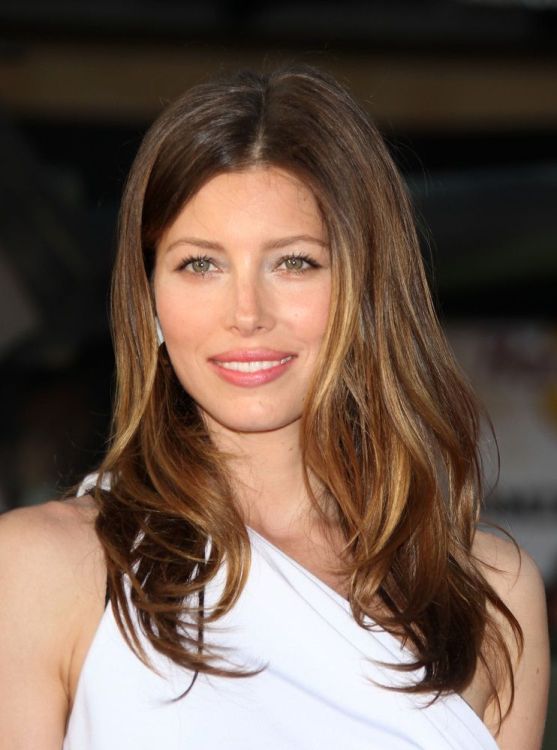 3. The Sleek Lob
Lobs are famous for their messy appearance with curls and waves. There's no doubt that they can also look this good with straight hair. It is also astonishing to see how easily they can change and give us a sleek look.
The light burgundy color along with blonde highlights is making the hairstyle look very trendy and stylish. You can wary the length of the hairstyle and also the type of haircut. Just straighten your medium length hair, and you are all good to go.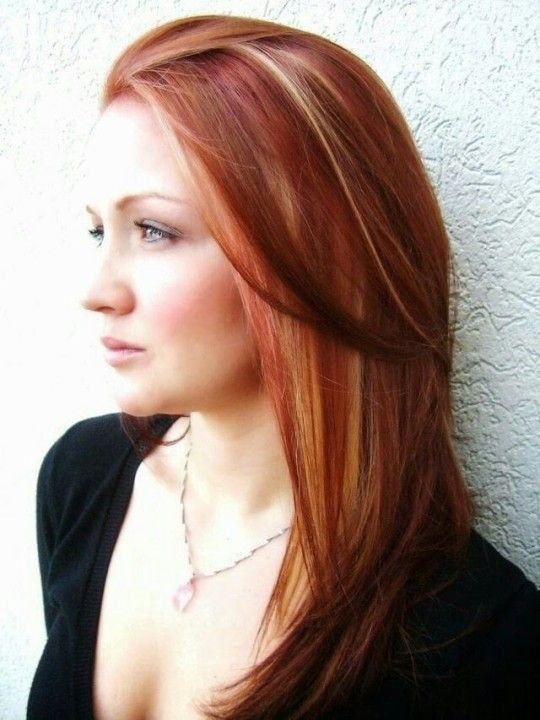 4. Shoulder-Length Comb-Over Lob
Here's a great idea for medium length haircuts for women who seek a carefree and sophisticated appearance. This is a very cute hairstyle. The lob is given a feather cut, and Feathered layers swirl around the head. This gives texture and movement to straight hair.
The brown-blonde balayage haircut hitting just below the shoulders can be parted on the side or down the middle.
This all-one-length lob can be made Sassy and sexy, by having no partition comb-over lob. This looks very gorgeous and funky. It is also a perfect choice when you want an easy-to-manage hairstyle.
This hairstyle will show off the angles of your jawline. The wavy tendrils created by feather cut can be tucked behind one ear or easily swept up and pinned in a pompadour style.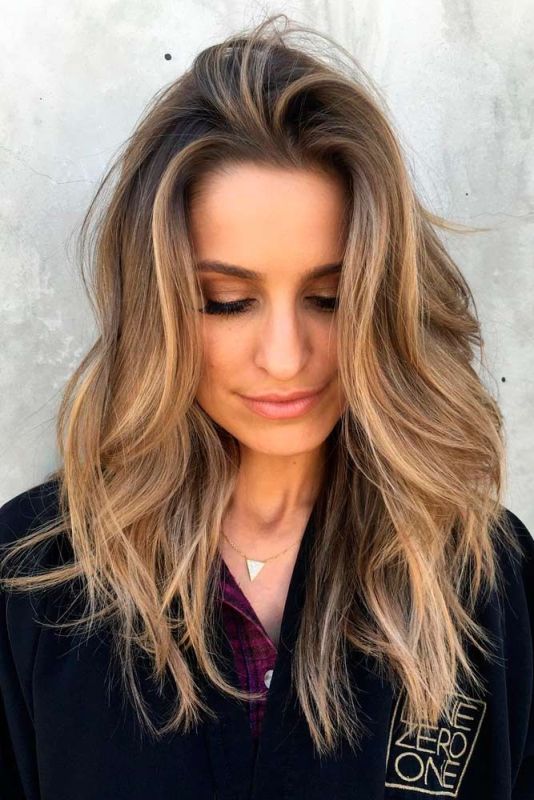 5. Soft Caramel, Soft Curls Lob
For a long time now, the lob continues to be the most stylish cut for women. This cut has made mid-length hair highly requested at salons everywhere.
Worn with balayage coloring, with colors like a caramel brown and dark brown, it becomes the epitome of an up-to-date.
Combine soft curls with this, and you will have the most beautiful medium length hairstyle. In particular, the soft caramel is the perfect shade, and along with soft curls, it just brightens up any face.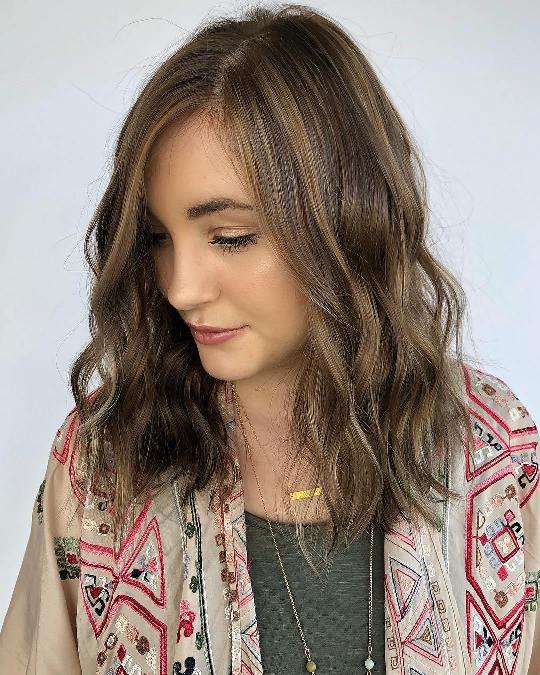 6. Messy Shoulder-Length Bob Cut
There were days when bobs would be prim and proper. But nowadays this is completely changed. Today's bobs have more casual and messier. They embrace choppy layers and modern dye jobs.
To make this more fun, you can play around with the faded-out highlights that are a new take on the ombre style. Cut choppy layers into a shoulder-length bob for the ultimate A-listed hairdo.
If you're new to the mid-length hair world, one of the best options here is the funky shoulder-length bobs. This makes you free from the upkeep of super short hair, but you can still enjoy the fun, carefree nature of your hair. Go for disconnected ends. This will amp up the texture and volume of your style.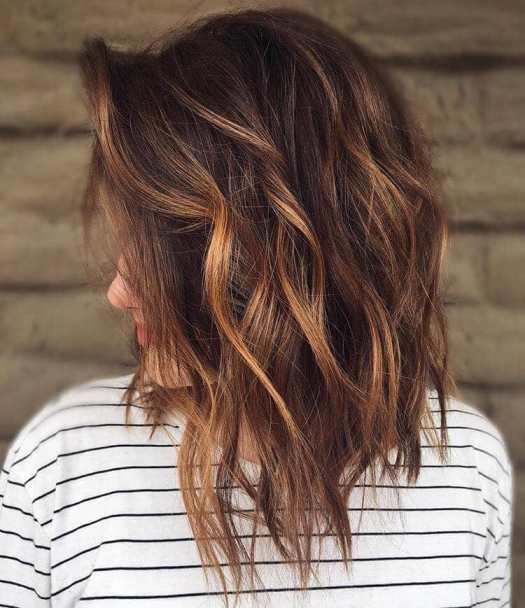 7. Sleek Large Curled Lob
Medium length haircuts for women automatically lend themselves amped-up volume or lift. This length of hair, automatically adds a lot of texture and volume to your hair. If you want to go with the trend but not yet ready for the traditional bob, go for lob instead.
The best part is that you can go shorter anytime you wish so. The best way to style these is by adding polished curls. You can do this by using a curling iron or large hot rollers. Create these swooping, polished waves that will last you all day long.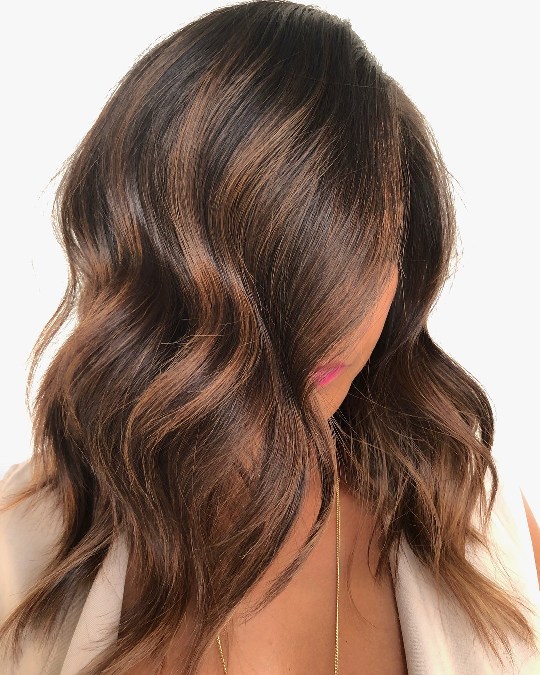 8. Pink Duster
Usually, most of the girls have a medium length of hair. Coloring your hair is the best option to style your hair. Blonde color with pink highlights looks adorable.
Blonde is a very versatile color; you can easily change your natural hair color into blonde color. It looks like ice cream. Straight hair perfectly frames your round face or chubby cheeks.
The pink color is available in many shades, from light to dark according to your root hair color. This hairstyle is simple but unique for working women, college girls, teens, etc.
9. Fringy Layers With Dimensional Highlights
The layered haircut gives bounce and volume to your hair. Sharp and edgy layers look more attractive. Dimensional highlights are consisting of two color tones. If it cut properly who will see how beautiful your hair is looking.
Natural hair color merged with very light blonde highlights with a touch of light brown color. It suits fair to brown skin tone.
This hairstyle is comfortable for professional workers, teachers, etc. Dimensional layers look so classy on middle-aged women.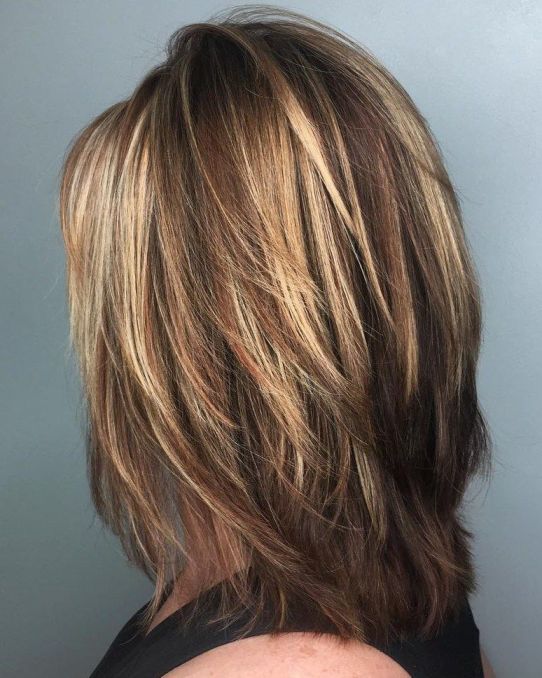 10. Medium Ash Blonde Shag With Highlights
Shags haircut looks stunning, but with ash blonde highlights, it becomes a next level hairstyle. Ash-blonde is a very bright hair color that only suits the fair skin tone.
Roots are untouched so that it does not look like artificial hair or wigs. Most of the pop singers or Hollywood actresses are seen in this unique hair color and give others some styling tips.
Wear some crop top with jeans to style your shag. Razor cut ends gives a messy look to your hairstyle. Bob cut is easy to maintain in busy routines.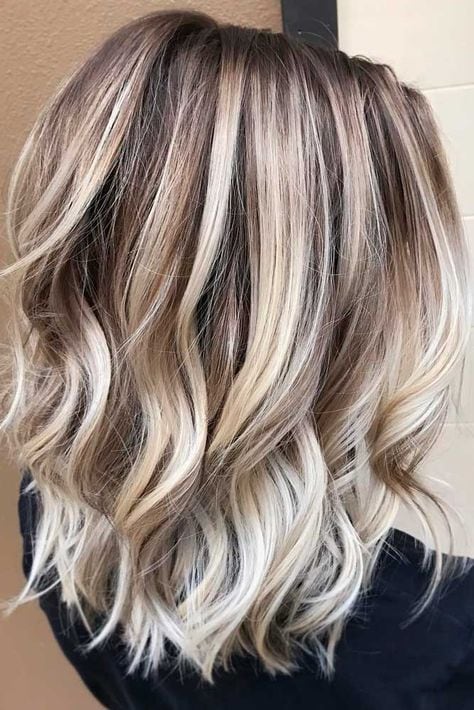 11. Honey Blonde Lob
Some colors are so flexible like blonde, caramel brown, burgundy, etc. Loose waves with shaggy layers were popular in the 70s which is now backing in fashion.
The lob is a short haircut that is easy to maintain or style for every aged woman. Messy waves provide volume in your regular fine hair. If your hair is naturally wavy, then you don't need any styling gel or tools.
Honey blonde is a little darker than a regular blonde, so it is great for every age and profession. Pair it with an office outfit or with a long dress for an attractive look.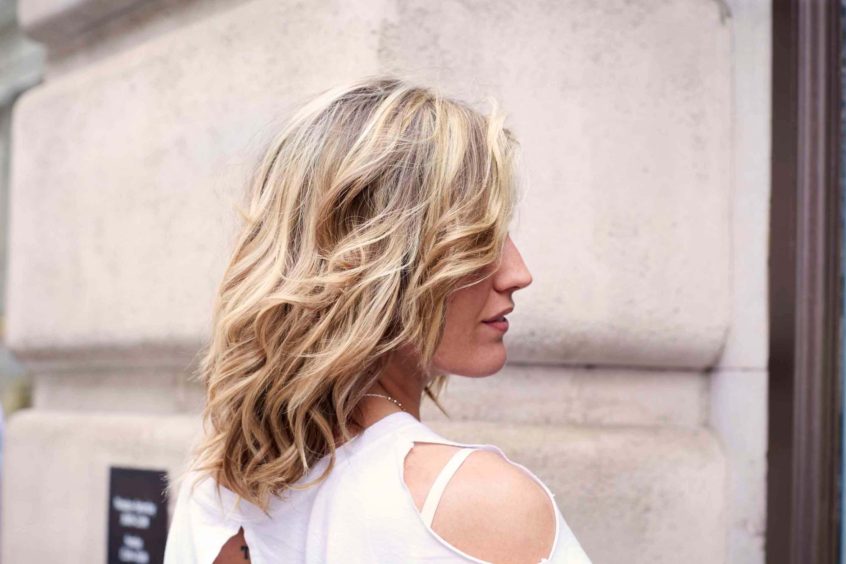 12. Caramel Highlights With Wavy Hair
Your hairstyle reflects your inner personality. Caramel is the right shade is you try hair coloring for the first time. Wavy hair without any frizz looks bold and beautiful on every occasion.
If your natural hair color is black or dark brown, then light caramel highlights are the best option. This sophisticated hairstyle takes a few minutes to style.
You can make a ponytail or bun for regular mornings. A dark nude lip shade looks perfect for any business meetings, etc.
13. Strawberry With Golden Blonde Ends
A unique blend of colors is popular nowadays. Girls who have short hair do not have many options to styling so by coloring; you easily change your regular style.
A golden blond is a very bright shiny color which is not everyone's cup of tea. Mostly balayage technique is in fashion but not everyone likes to change their natural hair color so adding texture just colored your ends.
Strawberry is not a pink or red color in the hair coloring industry; it is more like a tint of very light burgundy shade, which is the basic color for your grey hair.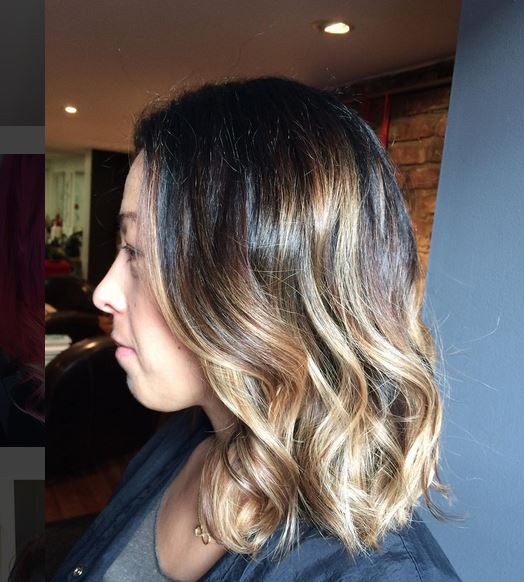 14. Natural Layers And Ombre Highlights
Thin hair is looking very light and weightless. To enhance their texture, you need to add layers in it. Ombre highlights are not very bright, so it is perfect for every aged woman. It covers your grey hair and shaggy layers add volume to it.
Front shaggy layers perfectly frame your face. This summer-friendly hairstyle looks great with a high neck dress. Simple and elegant hairstyles are always in trend. Ombre highlights last for many weeks without any touch-ups.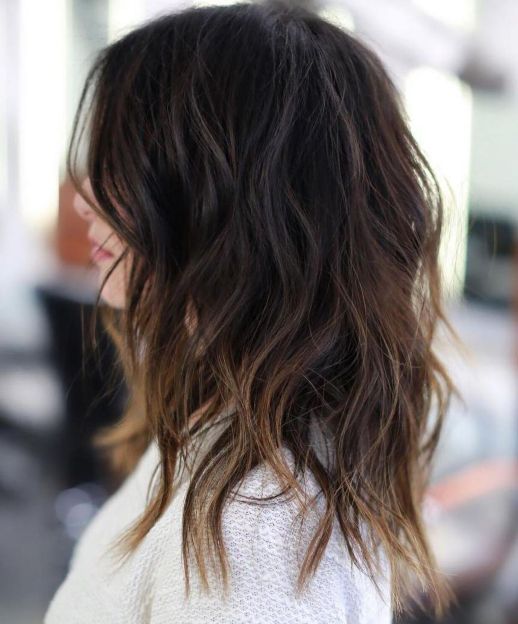 15. Cool-Toned Silver
Silver or grey is the new hottest color for girls. Some girls love to experiment with their hair, especially with different colors. All silver short hair give you a glamorous look.
A thick hair with cool color is not suitable for every occasion but shows your funky and strong nature. Silver highlights do not look nice, so global hair coloring is the best option. Most of the Hollywood celebrities promote silver highlights and give some styling ideas.
16. Fine Messy Bronde Lob
Fine natural straight hair looks so pretty if maintained properly. Front bronde highlights look amazing on natural brown hair color. On the back of the lob, it is a little bit shorter than the sides.
These messy fine locks are quite easy to style. It takes little maintenance because of the light color. It is quite suitable for teenagers and fashion freaks. Style it with a simple off-shoulder dress. Make sure your outfit and hairstyle perfectly in touch with each other.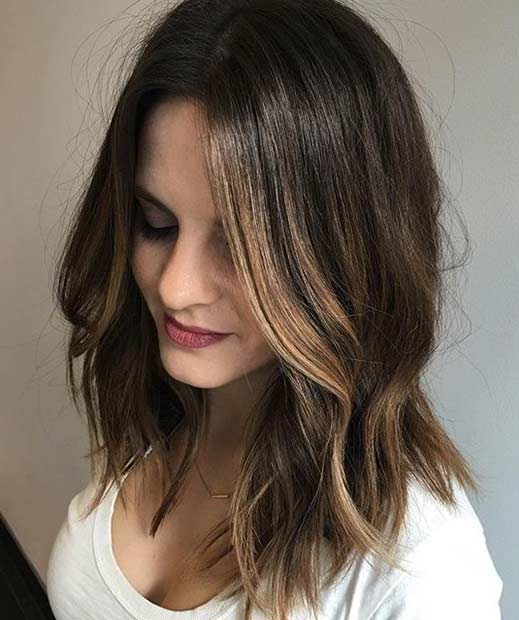 17. Brown Bob With Low Highlights
This effortless bob hairstyle with front fringes giving you major style goals. Low highlights are light but noticeable. Some colors are not suitable for dark skin tones.
Light and bright colors always prefer dark hair colors. Light-colored streaks look amazing in every hairstyle. This hairstyle only suits middle-aged women, and many celebrities wore this on special events. To make your hair more creative, try some high bun hairstyle for special occasions.
18. Chocolate Brown Subtle Hair
Brown color has many shades that belong to every hair type. Dark chocolate is a versatile color that goes with every type of hair. Women above 70s use this hair color to cover their grey hair.
The main outcome of coloring depends upon the hairstylist. So if the mixing of color not done perfectly, then your hair will be damaged.
Use moisturizers and hair packs for the growth and health of your hair. Style your medium-dark hair with any floral outfit.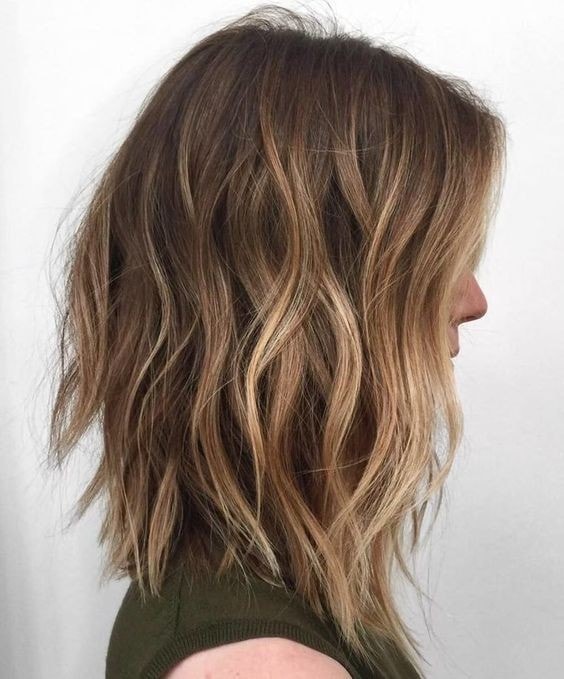 19. Caramel Highlights Soft Waves
Hair highlights are a popular choice now and then. Through this beautiful transformation method, you can go beyond with your looks. In this modern era, you can go with any type of highlights with various methods.
In this hairstyle, we are going to see one most demanded highlight colour that is caramel. This balayage highlighted hairstyle has caramel highlights that are the mixture of brown and blonde highlights which looks absolutely gorgeous on her medium haircutting.
The soft curls to this balayage hairdo can add a lot of volume to your hair. The added volume can easily provide a boost to your looks.
This hairstyle looks fabulous on anyone whether you are matured or young this hairdo will go with your charming personality.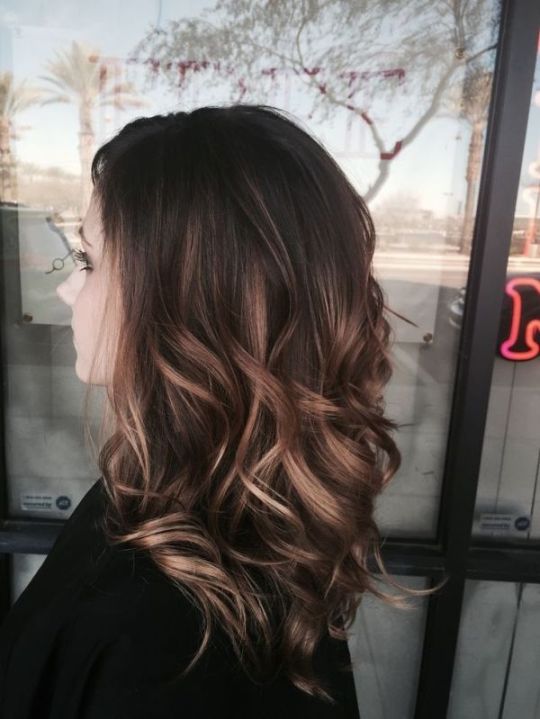 20. Natural Afro Curls With A Touch Of Gold Blonde
Highlights are an artificial way to style up your but with all these artificial ways, we sometimes forget about our natural hair texture. She is one hairstyle that can be both meanings; you can have an artificial hair styled with embracing your natural texture.
In the above image, we can see how gorgeously she has styled her natural afro texture bouncy curls with the touch of golden brown textured highlights.
There are no proper highlights but they are unevenly added which can be considered as a touch of them which is the attention-seeking thing from the whole hairdo.
21. Messy Bold Blonde Hair Colour With Un-Styled Bangs
Messy hairstyle with bold blonde highlights. This bold blonde golden highlighted can be further being a great inspiration for all the boss women out there.
The medium length hairstyle is making it more modern and stylish along with the messy natural bouncy curls. The soft unstyled tapered front bangs are adding a lot of charm to your hairstyle.
The hair color sunshiny blonde is done away from the roots which are a protective way to style and hair color your hair as the colour is away from the roots of the hair and does not damage your roots and weaken them. This hairstyle is perfect for a boss lady.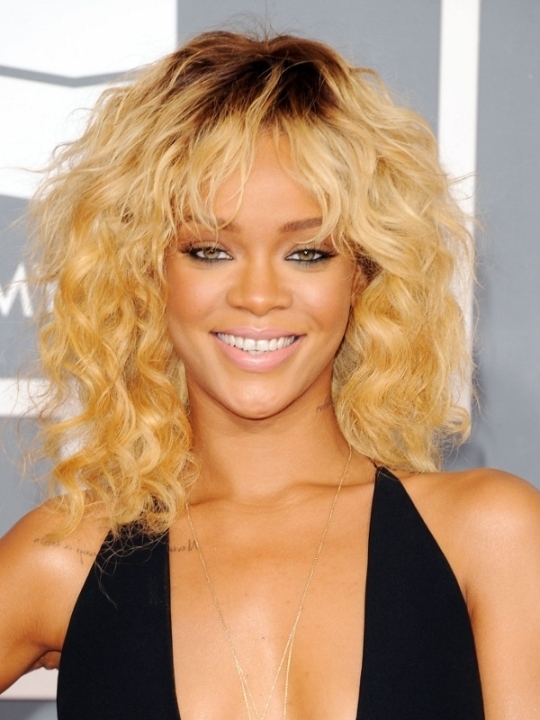 22. Highlights With Rosie Pinks And Strong Bouncy Curls
If you are naturally of blonde hair color and want something to level up your looks with highlighting but can choose, then according to me, this will be a great hairstyle to choose as your next one.
The medium length blonde hair is all styled up by adding Rosie pink hair colour to them. The shiny pink is perfectly making it girly as well as classy to wear them for all age people.
The strong bouncy big curls at the very bottom are making it a part wear as well a sweet look for young ladies.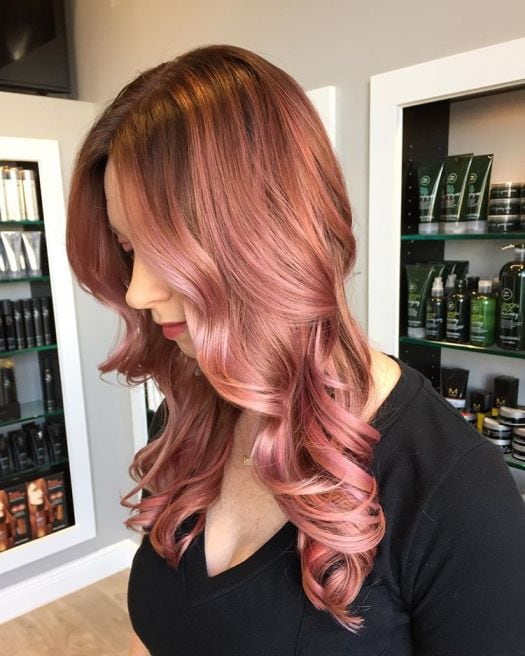 23. Golden Blonde Highlights On A Medium Messy Hairdo
The best things about the highlighted hairstyle are that you can go for contrasting colors. In this hairstyle, you can see from the above image we can see the two most demanded hair colors contrasted colors the two colors are brown and golden blonde.
The hairdo is perfect for a messy chic look. It is a hairdo for a girl next door. The contrasting colors in her hair are providing so much light and breeziness to her personality which is a plus point for this upcoming summer season.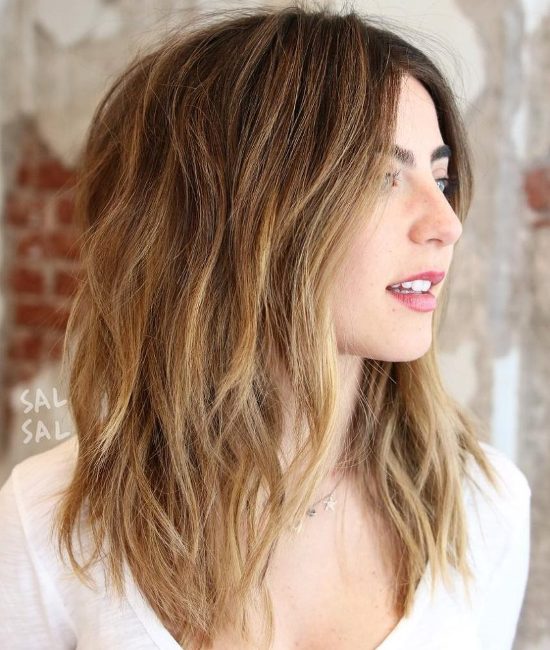 24. Side Swap With Soft Waves With A Touch Of Brown Blonde Highlights
Along with a good choice of hair colour you really should also go with the partition and styling of your coloured hairstyle. This hairstyle is a long lob hair cut, which is again a girl next door look.
The side swap partition is making it perfect for a breezy cool look. The brown touch at the bottom is making it much more beautiful and gorgeous.
The soft waves in the hair are perfect fit for summer and an easy way to add volume to your hair. The whole hairstyle is framing her hair and giving it a sharp look at her personality.
25. Pink Blonde Touch To Her Medium Hair
If you are looking for a fresh look but not want to go with more hustle to achieve it, then this is a good fit for your new look.
The straight natural is the focal point in this hair along with the contrasting colors. The colour choice for this hairstyle is versatile and fabulous.
The colors are blond and a touch of pink highlights in her gorgeous medium length hair. If you are not a straight-headed girl, then there are plenty of ways to achieve them.
This hairstyle is a gorgeous and beautiful hairdo for casual as well as a special event. The blow-dry styled at the bottom of her straight hair is perfect for a bouncy and fresh look.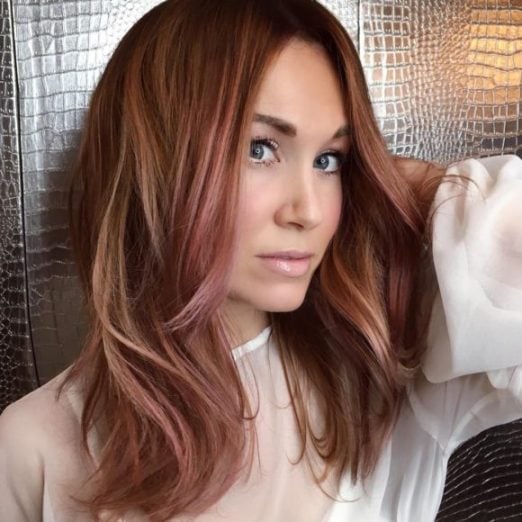 The best thing about one's hairstyle is that it speaks and displays your personality to others. These all medium hairdos we discussed are all speaks volumes as well as boldness with natural textures and the addition of highlighting colors.
These medium, gorgeous hair colors will overlook your bold and chic personality and defiantly make a statement when you walk into a room. This colorful bouncy hairstyle will catch all eyes to you.
As highlights make a popular choice and here we have narrowed down 25 beautiful highlighted medium length hair. We hope you liked these beautiful versatile hairdos. If they are your choice, then what are you waiting for go rush to your hairstylist for your new fresh look this summer.