Wedding is a very special occasion, and everyone loves a fancy hairstyle that makes you look stunning for the day. However, it can be tricky to find wedding hairstyles for medium hair that looks elegant, neat, and interesting.
There are many ways you can style yourself to look your absolute best on your special day. There are classic and more unique wedding hairstyles to try with your medium length hair, so don't worry. You'll find a look you love very soon.
Elegant Wedding Hairstyles for Medium Hair
Are you excited to discover these snazzy looks? Let's dive in and peek at 23 hairdos you're going to adore.
Side Braid and Curly Updo
Braids are classic in wedding hairstyles for medium length hair. Here's an example of one for medium hair that sits along the side of the head and tucks in under a curly bun. A nice spiral of bangs decorates the side of the face, and there's some volume near the crown of the head.
Bob with Floral Crown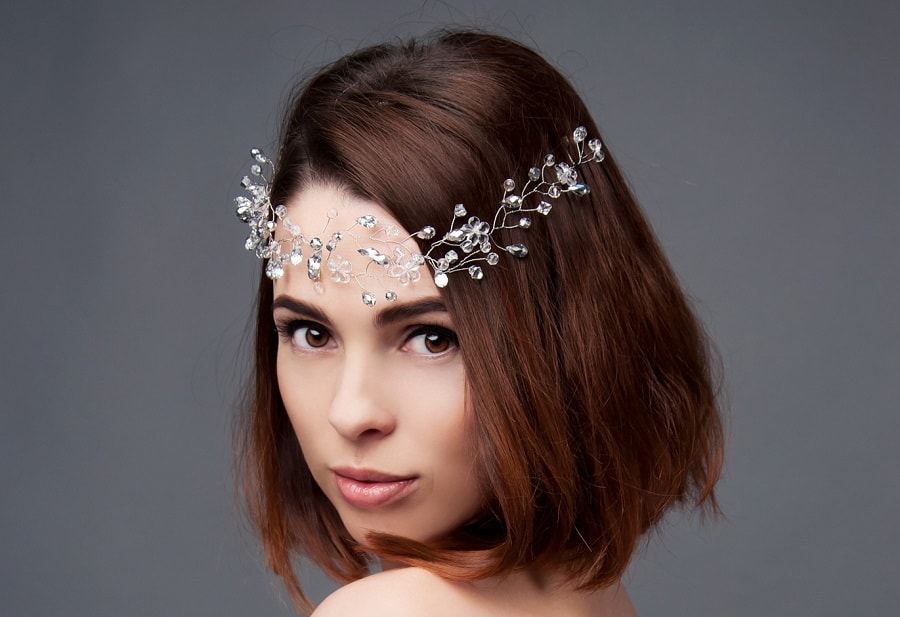 You don't need to do something too fancy with your medium locks just because it's a wedding. A nice simple medium bob that looks sleek and straight is more than enough to suffice.
This dark, reddish-brown look is captivating, and it's made even better by the little silver crown around the forehead.
Casual Bun and Ringlets
Complicated updo hairstyles are very common for hair of all lengths. This one sits low on the head and neck and is made of lots of different pinned spirals and free ringlets. One strand of hair in a ringlet curl falls down by the face to create a nicely decorated look.
Updo with Flower Crown
Are you having a spring wedding? This is a great hairdo to have if you have medium hair. A huge crown of daisies sits around the front of the hair, and at the back, the hair is very textured.
It's curly and tucked up very nicely. Some strands of curls hang by the face to create a very carefree vibe.
Here's another very simple medium wedding hairstyle with veil that'll make you look classy on your special day.
The sides of the hair are pulled back and pinned, and the lengths form large curls that sit on the shoulders. Some straight, sleek bangs cover half the forehead, and the whole thing is decorated with a shining diamond crown.
Simple Decorated Bun
Again, here's a nice bun that looks ultra-elegant. It's such an easy medium-length wedding hairstyle to do. The bun is formed out of three different sections tucked into the middle.
Some looser locks lay on top of it to add texture. Thick bangs are swept back on one side of the head.
Curly Updo with Bangs
There's something very regal about short bangs with little gaps between sections of hair, you can see that in this style. A crown sits right behind the bangs.
The rest of the locks form sections of curls that loop around and are pinned in place all over the head, forming a nice curve. This medium hairstyle will look very classy on your big day.
Twisted Updo
Little twists are so simple to create, but they make it look like your hairdo is very complicated. Here sections of hair are pulled back from the front, along the sides, and they meet to form a knot at the back.
Side Twist and Decorated Curls
Sweet styles like this are great for brides who want to look youthful. The bangs are twisted away from the face, and they blend in with some nice ringlet curls that are decorated with pearls. It's a beautiful wedding hairstyle focused on the crown of the head.
Tucked Braid
Another beautiful medium braided hairstyle for weddings. Large braids are one of the most glamorous but stylish ways to have on the big day.
This one goes from the crown of the head to the nape of the neck, and some of the braid is tucked up underneath itself. That adds volume and creates simplicity.
Curly Side Updo with Flowers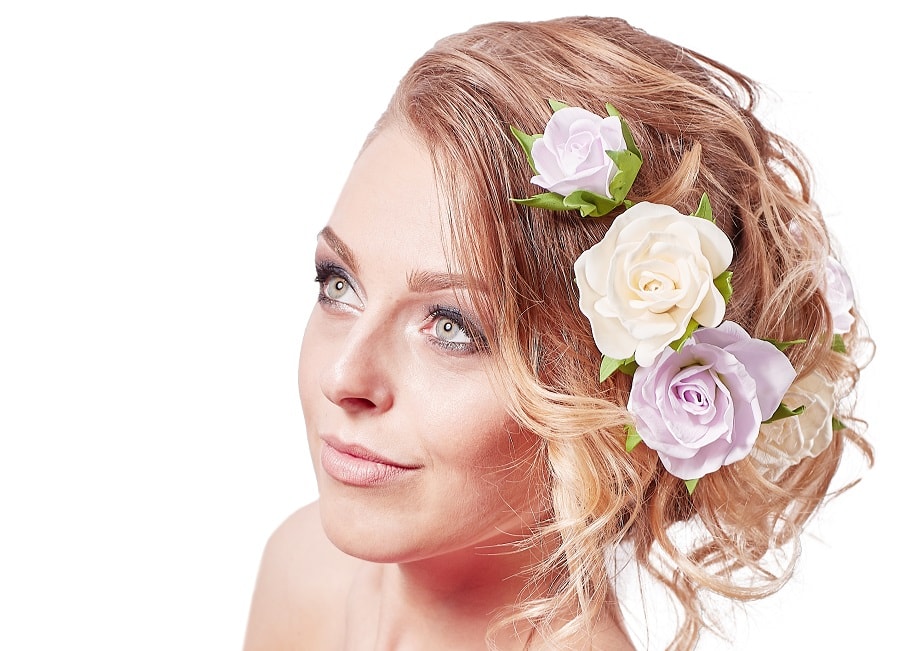 Messy looks are highly fashionable at formal events. This one has lots of curls pulled to one side of the head, and some are pinned up.
There are a lot of volume in the hair, and several large flowers are woven through the curls. Some bangs hang by the face in front of the flowers.
Long Curly Bob
Keeping the hair down is a wedding hairstyle that always looks fabulous. The medium length locks are curly and pulled back from the face on one side. A diamond hair clip with flowers and leaf designs in it fasteners to one side of the hair.
Wrapped Bun and Flower Clip
A normal bun is too common for some people, so you might like something more unique like this. The hair wraps around itself as it forms a bun at the back, creating a sectioned look.
The medium locks are pulled loosely from the front towards the back. A large flower of diamonds decorates it to give a bridal look.
Overlapping Easy Waves
Here are some waves that create such an easy look for a minimalistic big day. There's a center parting and the thick waves hang in curtains by the face, with some of their sections overlapping very nicely.
Voluminous Tall Updo
Lots of volumes always look good at weddings. Here the style is focused right across the top of the head. Medium curls and braids come together to create a very fluffy and textured appearance, and the rest of the hair is pulled into it.
Multiple Braids Updo
This is an amazing wedding hairstyle for medium locs. There are braids on each side of the head here, and they pull back and join in with a larger braided pattern on the back of the head.
Some pink flowers sit along the nape of the neck here, which is somewhat unusual but very beautiful all the same.
Long Ringlets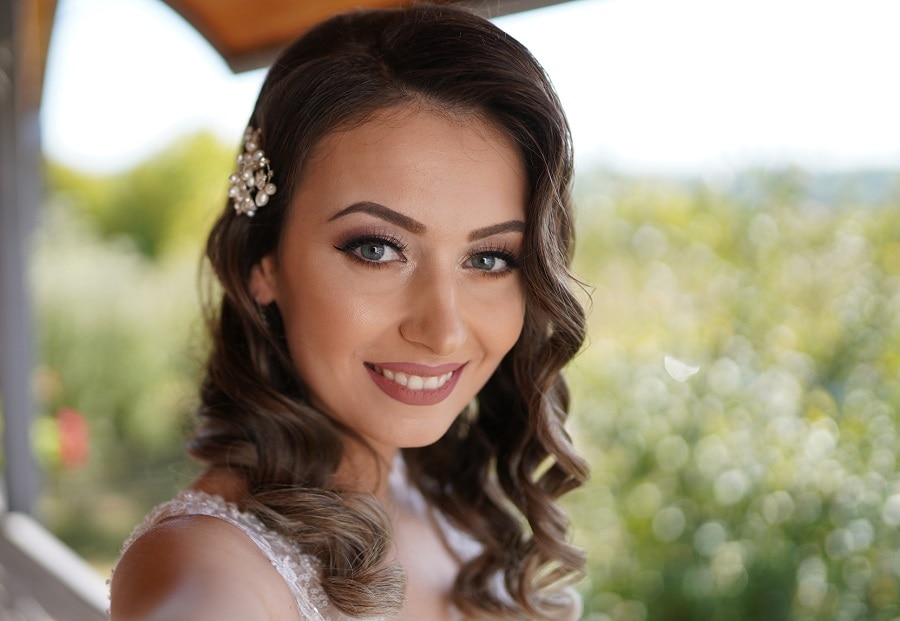 Ringlets make everyone look sweeter and more elegant. Here the thick sections of ringlets fall down the face in a very neat and controlled way. One side of this shoulder-length hair is pulled back slightly and secured with a clip covered in pearls.
Side Swirly Bun
White flowers will go very well with your white dress, and they're mixed into an array of swirls and curls on one side of the head here. The hair on top is teased slightly to create volume that matches the large updo on the right.
Low Updo with Flyaway Hairs
Sometimes it's nice to let your hair do its own thing and be very free. Everything here is swept back into an updo that's low on the head and covers the back of the neck.
There's a mixture of curls and flyaway hairs in it. A pearl-covered hairpiece decorates it to create a perfect wedding look.
Twists and Ponytail
A ponytail on its own isn't very elegant, but it looks so stunning when it's combined with twists. The twists start at the side and create a knot at the back.
The medium-length ponytail sneaks out under this knot, and it's decorated with a ribbon.
Curly Hair Pulled Back
Do you love modern looks? This wedding hairstyle is ultra-modern and looks elegant with your medium length hair. The ends of the hair are curled, and it's all brushed back and away from the face.
Natural Hair with Flower Crown
Mixed-race and black women often have hair that forms lots of very tight spirals like this, and that can create a delightful look for your special event.
Some flowers in muted tones sit atop the highly voluminous hairdo, making it even more dazzling.
Vivid Red
Brides and maids of honor can have unique and vivid hair colors too! You can see that with this wonderful bright red look.
The medium length wedding hairstyle sits on the shoulders in waves, and there's a small side parting that's very tame. A headband of pearls adds a formal touch.
As you can see, there are tons of looks that will make you look absolutely fabulous on your big day. Play with these wedding hairstyles with your medium length hair until you have the perfect one for you. We're sure you'll blow everyone away with how good you look.