There is always something very rebellious and Bohemian about the choppy bob haircut. The bob hairstyle was of the very famous short haircuts that women love at all times.
Fashion is all about variations and experimenting with novelty. One of such variations that Bob cut has gone through is the choppy Bob haircut. This kind of haircut is done with the implementation of a lot of layers, shags, and feather cuts. The layers seem to add a lot of volume and texture in return.
So it is not just a plain Bob haircut, but something very trendy which suits women of all ages appending with beauty and grace. The choppy Bob haircut adds a lot of density to your hair and also makes it look very intense and full of volume.
Another advantage of having choppy bob hair in case you have thin hair is that it adds thickness and makes your hair look all pumped up. Abiding in the style forum this haircut is trending in contemporary times.
With thick and thin layers being incorporated into the haircut, you can make a lot of variation in a simple choppy Bob haircut. Thus in a permutation and combination manner, this hairstyle is pretty versatile.
Here are the top 35 variations of choppy Bob haircut that you can go through and select according to your facial shape and personal preference.
So let's get started with the haircut variations:
1. Light Blonde Choppy Bob
With the choppy bob style and the light blonde colour the combination is super-hit when done on a medium hairstyle. Needless to say that the shag cut brings in a lot of texture and density to the otherwise medium thin hair.
With such a subtle yet bright hair colour one can look very brightened. Pair up clothes that have soft pastel touch to bring in a certain balance in the colour combination of the entire appearance. The style is pretty effortless on the go.
If you are looking for a haircut where not much has to be done by you just a whiff of the hand, you can fix the lookup; then this haircut is your pick.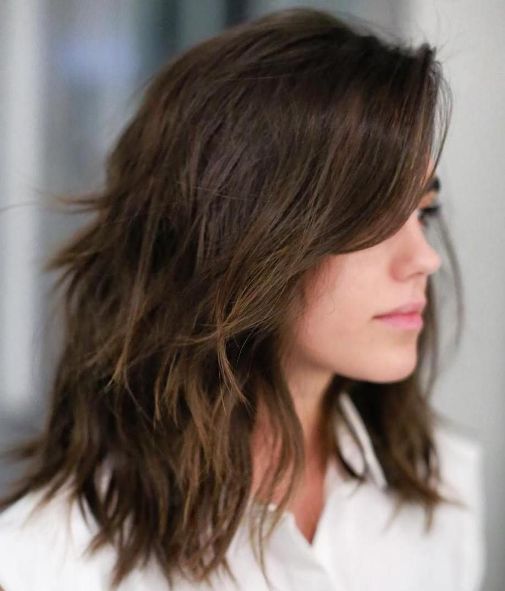 2. White Choppy Bob
Hair colour makes a lot of difference. Also, proper hair colour can give your look an all-new alteration. So if you are looking for something very experimental yet new, then white can be something that you can surely vouch on.
The colour white brings in a certain note of Punk appearance in the look, and the style is very cool and trendy. The colour white will suit women who have a fair complexion. If you like mellowed down tones like this, then white can be something that you should try.
The front fringes of this haircut will cover up the forehead area. So if you have a broader forehead, you know which one to pick. The look is cute as well. Pair up a black camisole or any such dress of a darker tone to maintain a balance in the look. The look will be attractive and contrasting.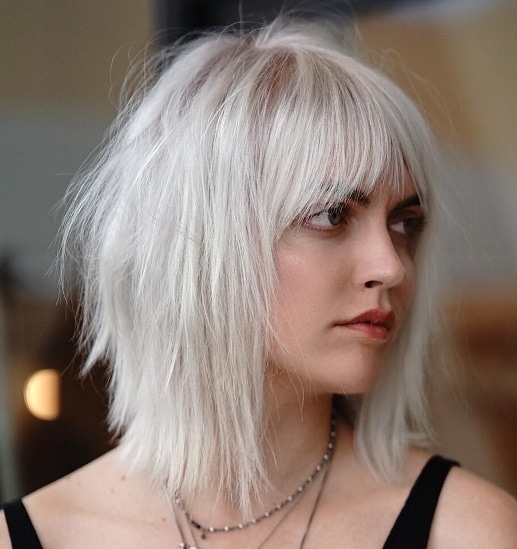 3. Shoulder Length Choppy Bob
If you want a haircut that is low on maintenance and maybe you can just walk out of the house putting no such extra effort in styling the hair, then this particular shoulder length choppy Bob haircut is definitely for you. In this hairstyle, the length of the hair matters to the style quotient.
The haircut has both layers and the touch of a feather cut, incorporated into a very trendy blend. The best part is the colour which is a light Golden one. The golden colour has an illuminating effect on the skin tone and overall makes the appearance look very soft and gentle.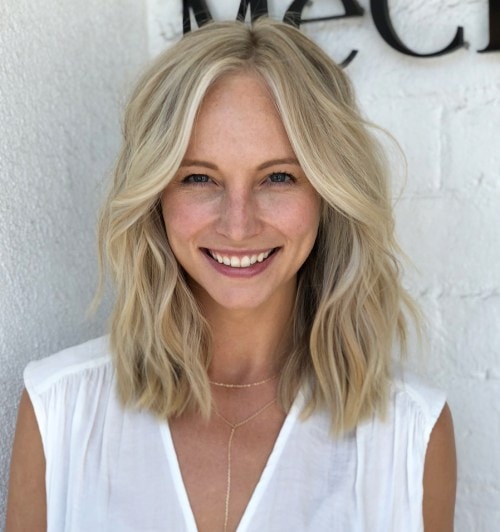 4. Copper Brown Choppy Bob
The colour copper brown is much in trend in contemporary fashion and makes a vibrant and enigmatic look. If you watch it properly, then you will see that the haircut has a simple choppy Bob and most of the magic is weaved through the rich colour.
If you have a dusky skin tone, then such colours are a sure try. You can pair up white T-shirts and half-length pants with such a hairstyle to give yourself a very fashionable look. As a form of accessory, you can do it with a nose pin sealing your look to be a minimalistic and a classy one.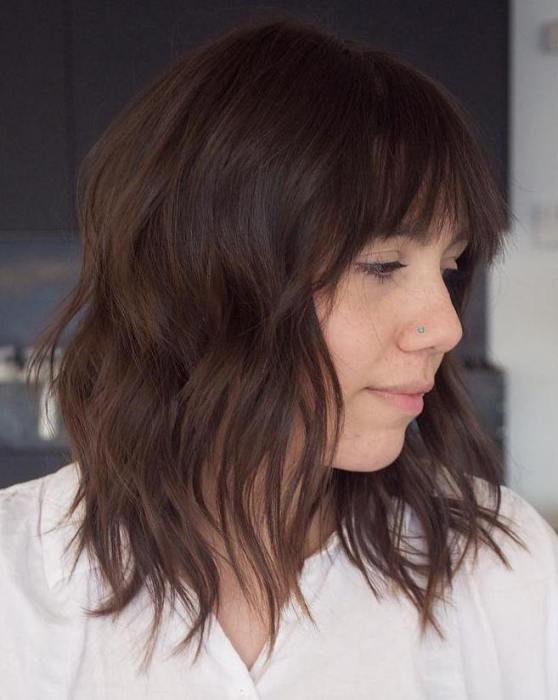 5. Layered Shag with Choppy Bob
Layers always give hair that amount of texture and volume, which makes a look very intense and voluminous. For women who have thin haircuts like this, the layered shag makes a lot of difference in their wholesome appearance.
In this particular style, a middle partition is done and the layers fall across the face such that the length comes to the shoulder region. The haircut has a rough look because of the Shaggy layers and gives a Bohemian subtlety to the fashion.
6. Reverse Angle Choppy Bob
The reverse cut is much in trends in the contemporary fashion of haircuts. One thing which makes a lot of difference is the angle at which the reverse cut has been incorporated. The front layer talk is and as the hair goes behind the length of the layers shortens up till the shoulder area comes which is the shortest.
The choppy Bob haircut is now moulded into this angle, and the shags are cut accordingly. The hairstyle has a very cool vibe to it and indeed makes a look very funky.
This is a great informal style that can be paired with denim jeans, shorts dresses and makes for the perfect vacation or a party haircut. So women who like short haircut they can very well opt for this style.
7. Choppy Lob
The choppy lob haircut is just a modernized alteration of the conventional Bob haircut. Lob haircut comes from the long Bob haircut. The USP of this cut is that it is done just above the shoulder. A burgundy colour palette has been chosen for this choppy lob haircut.
One interesting fact with the colour palette like this has added to the look, is that it has a very boosting effect on the complexion and holds a lightning element. A lot of small add-ons have been done in this particular style such as the lowlights being Golden and the upper portion being that of rich tones of brown.
8. Shag Choppy Bob
With a messy and textured look, along the complete length of the hair, the fashion statement is that of bold, carefree, and trendy. With such haircuts, you can do a lot of new variations and can create your version of shaggy haircut.
Hairstyles like this are indeed a wonderful addition to your fashionable appearance. Here you can know this that the Shag choppy Bob has incorporations of Golden hair highlights that is making them look even more glamorous.
Women who have a face that has a square structure or a small face would look good with such kind of a haircut.
9. Graduation Choppy Bob
The haircut is an inverted version of the regular choppy Bob cut. As fashion is all about experimenting with something new, this variation of inverted cut adds a lot of dimension to the regular Bob cut.
Because the layers are incorporated inversely, the front portion looks long, and as it goes back, the length of the hair shortens. However, the alignment is kept in a receding but consistent manner. With subtle highlights, this hairstyle can be more attractive.
10. Long Choppy Bob
No hairstyle could make a woman look elegant in long hairstyles. However, when you are fond of a short or a medium length hairstyle like the choppy Bob haircut, then one thing for sure is that this long choppy Bob haircut will make both ends meet.
In this hairstyle, you can have length and width along with the shortness of the Bob, maintain the right amount of balance.
The colour was chosen for this hairstyle golden. Such smooth and neutral colour imparts a very lustrous appeal. However, women who have fairer or lighter skin complexion will look really beautiful with this Golden hair colour.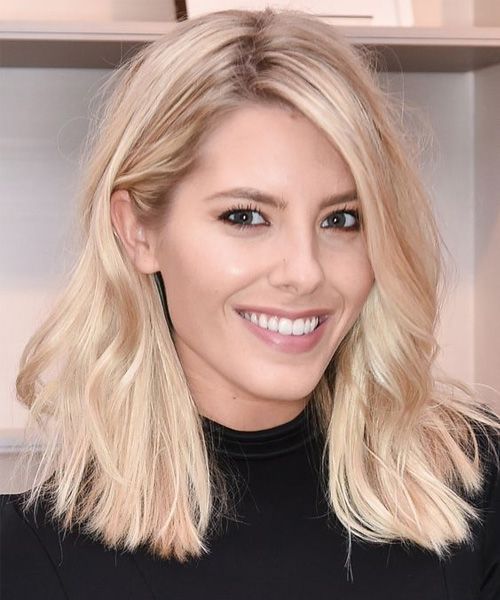 11. Blonde Choppy Bob
The medium length is one such hair length that has a Universal fashion appeal. With the versatile loose curls, such a blond choppy Bob haircut is a definite bold and classy style statement.
The hairstyle kicks quite a bit of volume and makes the look a trendy one. The colour has subtle hues of grey undertones that accentuates the blonde colour even more. What is striking is the smoothness of this particular style.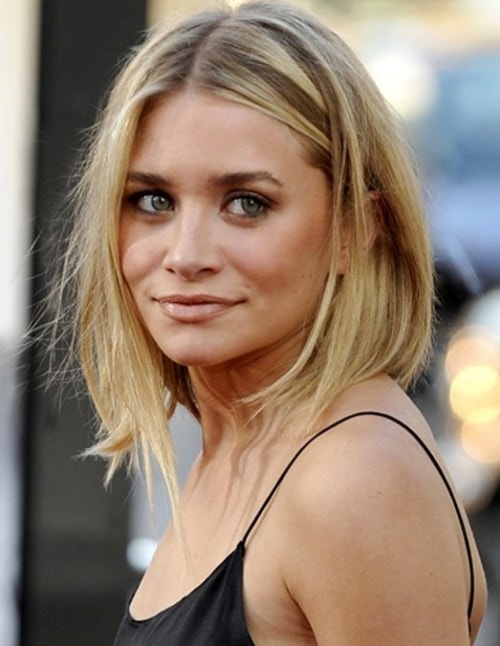 12. Choppy Bob Haircut with The Fringe
Fringe is always very cute adding a note of girly charm to your look. Women who have broader foreheads will find it helpful to have a haircut that involves a fringe. Bob haircut with a fringe always makes you look adorable more so because the Bob cut adds to the carefree look.
Once the hairstyle is done, it encompasses the face and gives it a fuller look. Another noteworthy thing is the burgundy colour that makes a hell lot of difference in the style quotient.
13. Inverted Blonde Choppy Bob
It is not necessary that you have to run to a salon all the time if you want to style your hair like this. This hairstyle is pretty simple and can be sent the way you wish to at home after you get the choppy Bob haircut. To do this hairstyle make a naturally side flip partition.
Thereafter take a hair straightener and with the help of Faith incorporate subtle waves on the locks of the hair. Make sure that the hair is already cut in the inverted that is stating the front locks longer and while it moves back the length of the lock recedes.
In this particular style, the colour of the hair is chosen to be a blonde one but you can do with other colour palettes as well and incorporate hair highlights to make it look funkier.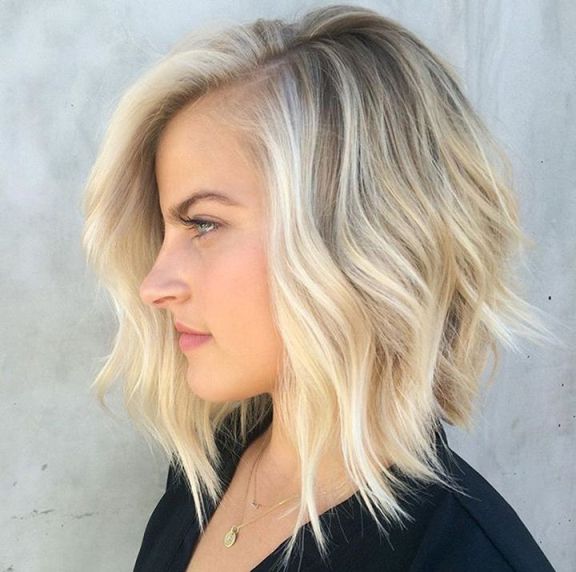 14. Choppy Bob Haircut with Lowlights
Much in fashion nowadays, this haircut is making quite a fashion statement. It is not similar to hair highlights yet the same genre is mainly done at the base areas of your hair or mainly the bottom part. The lowlights are indeed very effective such that it brings the complete look of the hair out.
From a base dark colour to brown or light shades of gold is a great idea for incorporating lowlights into your hairstyle. However, you can experiment with other colours as well. Colour combination such as pink and Golden or darker shades like burgundy and red makes a great pair.
15. Honeycomb Choppy Bob
The first thing that attracts immediately to this hairstyle is the colour palette which is the honeycomb colour. This subtle colour calms and soothes the eye and the appearance as well.
The haircut has in between curls that add a lot of texture and volume to the hairstyle. This is a short haircut that suits both working women as well as college girls the best way. Hence the hairstyle is a pretty versatile one as well.
16. Coloured Choppy Bob
The style is all about using a very edgy colour. In this style, a very Peculiar shade of light and brown with whitish undertones are selected. Together all these colour palettes make a very pretty touch.
Any haircut that flaunts such a beautiful colour tone is indeed great. This is one such versatile colour that suits any complexion, be it fair, dusky or even on darker skin tones.
17. Choppy Bob for Thin Hair
Many women have the problem of thin hair. For them, a hairstyle that is effortless and makes them look good is the best. For women having thin hair, a haircut that makes an illusion of thickness works better. One such hairstyle is this choppy Bob haircut.
Make a side partition and cut the locks and then wave it up with a hair straightener. For greater effect, you may use a hair serum so that it is shiny and the locks remain in the twisted shape for a long time. This can be a hairstyle that is great for college going girls.
18. Fabulous Choppy Bob
This style is indeed very bright and will be the best pick for women who like it all colourful and shiny. This is one colour that exuberates a positive charm and a glamour of its own. The colour is that of bright golden mixed with hues of brown, blonde and such tones.
The highlights are done in golden in contrast to the darker base of brown and burgundy. The balance of the colours is so well suited that the colour tone together with the cut makes for a winning combo. So what is the wait all about? If you like it bright, just go for it.
19. Wavy Highlights in A Choppy Bob
Already the choppy Bob haircut is a winning style. On top of it, the highlights in between make the style an even trendier one. The best part about the highlights is that the colour selected is lighter and much soothing than the base colour.
However, here the highlights are put in a synchronized way such that the waves have the highlights or vice versa. First, highlight alternate portions leaving gaps in between. Thereafter with the help of an iron curler place the heat styler in between to create the wave. This hairstyle has a very creative touch to it.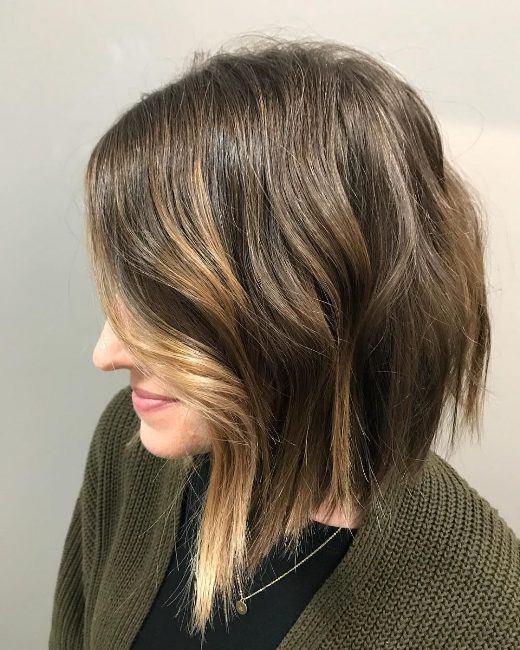 20. Punk Choppy Bob
The haircut has very impressive. The entire haircut has no disciplined vibe, and that is where the USP of this haircut lies. The crown partition has Low chopped fringes and the side hair comes to the shoulders.
Such hairstyles are great for informal events like parties and night outs where the prime concern is to look really attractive. Young women who love to be bold and embrace a different style statement can try this haircut. The punk effect comes in with the careless and unprecedented cut.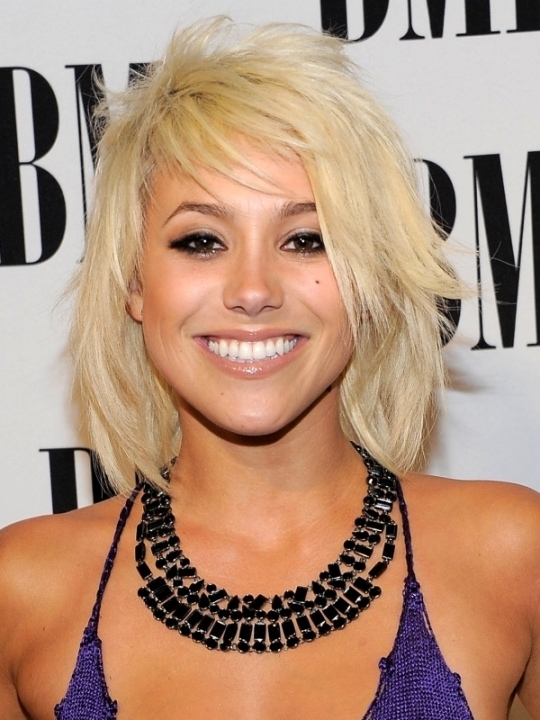 21. Celebrity Choppy Bob
This haircut could be spotted in celebrities like Olivia Wilde. This is one famous haircut that women would like to style. The haircut is short, petite, and incorporates hair highlights and waves. Together the whole look is very classy and enigmatic.
The hairstyle has a base colour of Golden and blonde mix. It has a very illuminating factor on the complexion. You can prepare the haircut with a one-piece, string dress to bring about the feminine charm in the look.
22. Shoulder Length Bangs
This choppy hairstyle with Bob bangs gives a playful vibe into the look. The hairstyle is very trendy and cute and looks pretty. For working women, such a hairstyle is very handy. Nothing much needs to be done. For a busy office day, such a hairstyle comes very handily.
With just a whiff of a hand, you are set to go and rule the world with your confidence. Also, a great thing about this hairdo is that the hairstyle has a very smooth effect. The shoulder length adds a classic combination. The hairstyle suits best for middle-aged women.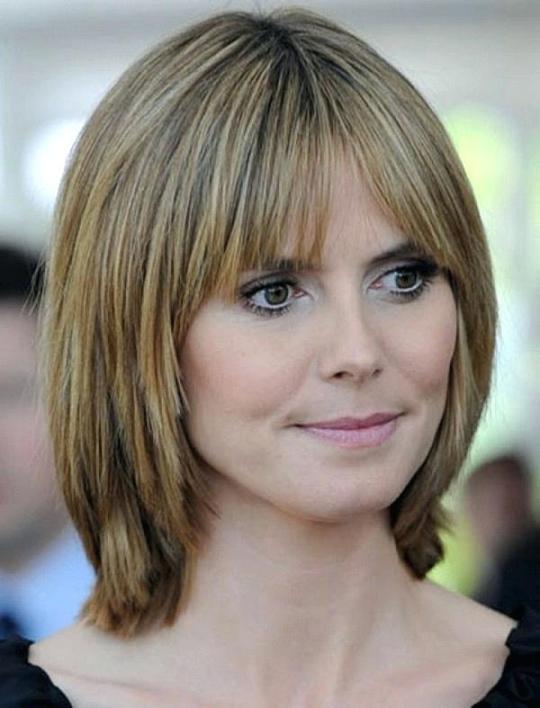 23. Short Layers for Choppy Bob
Layers are one very smart haircut that gives the face a chiseled look. The cut incorporates bangs which add a lot of texture as well as volume to the hair. So even if you have thin hair, then also layers can give you the required volume.
This particular style also adds up to the fashion quotient. The complete look turns out to be indeed sensual. Short layers are very easy to handle.
So if you are a working woman and getting your hair done in the morning is something that you dread then this short hairstyle is of great use. Cute and stylish, you will just be ready in minutes.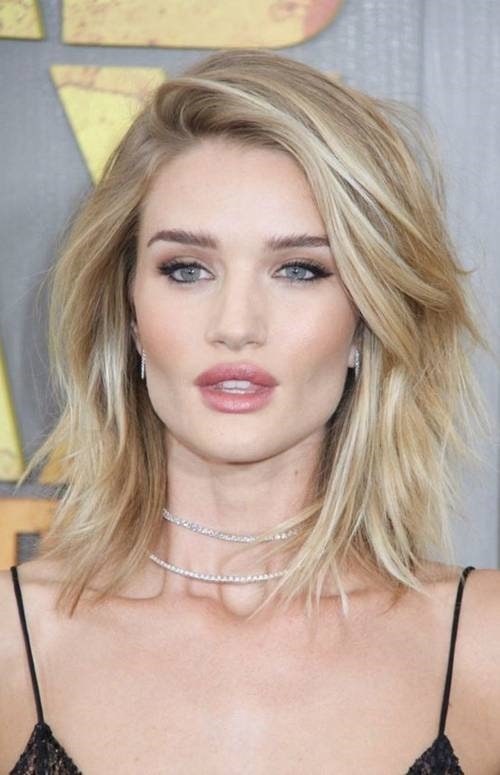 24. Pixie Choppy Bob
If you want a haircut that suits your chubby face, then the Pixie choppy Bob haircut is the one to go for. Women who are a bit plump will be hugely benefited from such haircuts. It is one haircut that covers the chubby cheeks, and the locks of this Pixie haircut does the same.
The front locks have been styled in a slightly reverse manner such that the rare locks are shorter as it recedes. The colour burgundy also adds up to the entire style factor.
25. Dazzling Medium Length Choppy Bob Haircut
Sweet, simple and elegant, is what defines this particular style. The style looks good on women who have a round face and has a petite structure.
The colour that is a slightly golden mix of the right amount of blonde and light brown makes the hairstyle extremely stylish and perfect for women who have a fair complexion. As the name suggests, the look indeed is that of a dazzling one.
26. Layered Chop Bob with Highlights
This medium choppy bob has mid-length twisted layers that frame the front and provide depth to the overall look on neckline hair length.
Girls looking for a new modern touch to their casual looks may appreciate this hairstyle with beautiful subtle highlights.
27. Messy Layered Bob with bangs
All signs of sparse or weak hair will immediately be extinct with such a vibrant splash of messiness on this style hair variation. Choppy layers are, in their purest form, beautiful. You can get bangs and create intense waves to have this hairstyle.
28. Adorable Chin Length Hairstyle
This chin-length medium bob haircut draws attention to the cheekbones and emphasizes the jawline.
The lengthy wavy layers and beautiful brown shade keep this length from seeming overdone. And, of course, this medium choppy bob look is completed with carefree, light waves and uneven bangs.
29. Medium Messy Bob Style
If your hair lacks texture, it appears there's nothing you could do but accept what nature has given you. You will not be disappointed if you try this wavy medium hairdo!
This messy bob hairstyle is designed explicitly for added texture. This keeps your hair fall flat with thin layers throughout the length.
30. A-Line Bob Hairstyle
This beautiful hair shade is playful, when sassy beach wavy curls add to it. It's short enough to blow dry quickly yet long enough to toss into a pony and keep out of your face as required.
31. Barbie Pink Hair With Waves
Pinkish tones are not for everyone. Besides, the most excellent method to bring out this color is to arrange your chops in beautiful light waves! If you're seeking a more edgy aesthetic for a medium choppy bob in a fitting color, Barbie Pink should be on your list.
32. Layered and Choppy Bob Style
Choppy ends, multiple layers, and a blunt hairstyle. This medium bob hairstyle is beautiful. You can have a zigzag partition and let the first section drop on your forehead to give your hair a more fluffy look.
33. Messy Bob with Jagged Ends
The shaggy tresses in this jagged ends haircut variation are enjoyable and straightforward, frizz and all. Use a barrel curling tool on moderate heat to achieve this trendy twist on the bob. Brush out the curls, tousle it, and you are done with this choppy bob style.
34. Middle Parted Choppy Lob With Babylights
This medium bob hairstyle variation with a medium-length layered bob and wavy style gives incredible volume. This gives your face an elongated look, while the babylights with light waves give a beautiful look.
35. Choppy Bob Style For Less-Textured Hair
This inverted bob style is best for those having no texture. This haircut keeps uneven hair bangs perfectly stylish while the wavy and layered hair long towards the end. So, less hair indeed looks voluminous.
FAQs
Is a Choppy Bob Low Maintenance?
A choppy bob is a low-maintenance hairstyle for daily wear, but longer-term, it does require a bit more effort.
On a daily basis, it's easy to style a choppy bob. However, to keep it looking its best, it will require more frequent salon visits than a longer hairstyle. You won't need to go to the salon as often as for a shorter bob, but you may need maintenance cuts every 6 weeks or so.
Will a Choppy Bob Suit Me?
A choppy bob can flatter most face shapes, though different lengths of bobs may be appropriate for differently shaped faces. Work with your stylist to determine what length and style of bob will be best for your face.
If you have a round face, a bob is a good choice because this cut naturally elongates your face. Because of this lengthening effect, if you don't want your face to appear longer, a bob may not be right for you.
Is a Choppy Bob Suitable for Thin Hair?
A choppy bob can be suitable for thin hair. The layers can add an appearance of thickness and volume.
The haircut can weave magic and indeed gives you a new look. If you select the right kind of hair colour it is always a cherry on the top. With the above mentioned 35 gorgeous variations of choppy Bob haircut, you can now choose the best that fits you.
Each of the above haircuts has a uniqueness that speaks about it and will make you look gorgeous. Another very noteworthy thing is that these hairstyles can be done on short and medium length hair.
All of the above hairstyles are easy on maintenance and once you get the haircut the styling part is effortless as well. Put a smile on along with a great haircut to make the world go crazy about you.