Have you ever scrolled on Instagram and seen those amazing bob haircuts, and you want to get one too, but you're not ready to say goodbye to your long hair? Long choppy bobs are your best friend for girls who dream of shorter hair but aren't ready to make such a big change.
A long choppy bob hairstyle is daring, feminine, and stunning but also extremely easy to maintain. They slightly graze the shoulder but give you enough hair to play with and create your style.
Cool Choppy Long Bob Haircuts
A long choppy bob haircut can be stunning, and we have 20 pictures to prove it.
Chic Layered Lob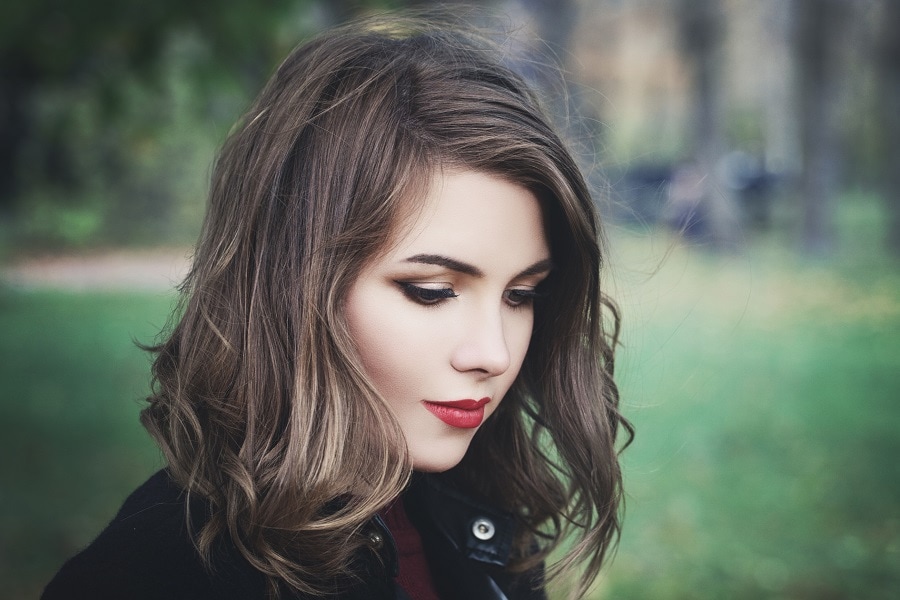 Here's a stylish and chic choppy layered long bob. This hairstyle will have you running your fingers through it throughout the day.
The short length makes the look easy to maintain, while the layered adds to the style factor. When you talk about the color, a mixture of high and low lights makes this hairstyle absolutely perfect.
Curly and Voluminous
Curly hair is gorgeous but can be a tad bit hard to maintain sometimes. If you want a hairstyle that is manageable yet shows off your gorgeous curls, a long choppy bob is a way to go.
Lob with Bangs
Let's combine two of our favorite things, bangs and a long bob, and VOILA! You have a stunning hairstyle.
The wispy side bangs give shape to the face and bring out the best features of the face while complimenting the wispy layers of the look. The natural blonde color makes the look sultry yet classy.
Peachy Pink Tones
We have something for you if you like things a little glam. This peachy pink lob is the perfect amount of glam and glitz for you. You can try out subtle curls with the hairstyle for more depth and dimension.
Curly Long Bob
Who doesn't love curls? They're the simplest way to amp up any hairstyle. For shorter hair, loose spiral curls work much better.
They stay longer and don't weigh your hair down like this hairstyle. If you need more inspiration to style your curly short hair, go for this Ash gray hair color because it's just stunning.
Blonde Wavy Lob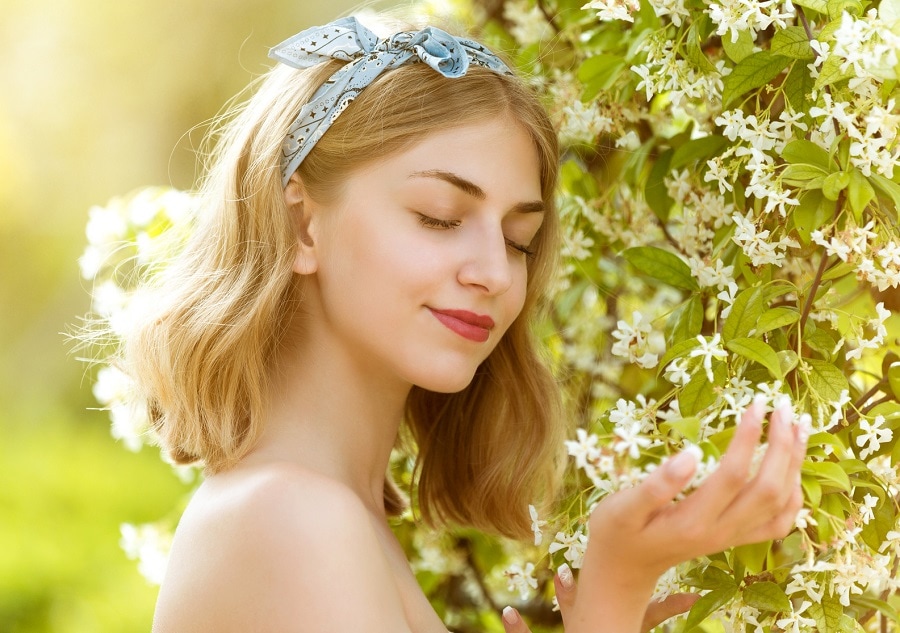 If you're a soft girl and you want a hairstyle that goes with your personality, check this one out. The soft and light blonde color, the soft waves, everything about this hairstyle will make you feel like a literal doll.
Half and Half Choppy Lob
What's better than dyeing your hair a funky color? Dyeing your hair in two funky and cool colors. Try out this half-and-half, purple,e, and pink hair color to make your long bob stand out even more.
Wispy Layered Black Lob
If you have naturally dark and curly hair, this hairstyle was made for you. Simple and easy, this look is easy to achieve. Just ask your stylist for shoulder-length hair with some layers, and you'll be good to go.
Long Beach Waves
When we hear the name choppy long bob, this is the hairstyle that comes to mind. This simple and elegant hairstyle is perfect for every day.
Shoulder-length hair with subtle waves is a no-brainer look that is very easy to style and carry.
Wavy Long Bob
If your hair lacks body, structure, or shape, then some waves are the way to go for you. A wave can add all the mentioned elements to hair and much more.
You can go for pronounced waves or even subtle ones. A wavy lob is easy to create and maintain and looks gorgeous even on the third or fourth-day hair.
Angled Lob with Highlights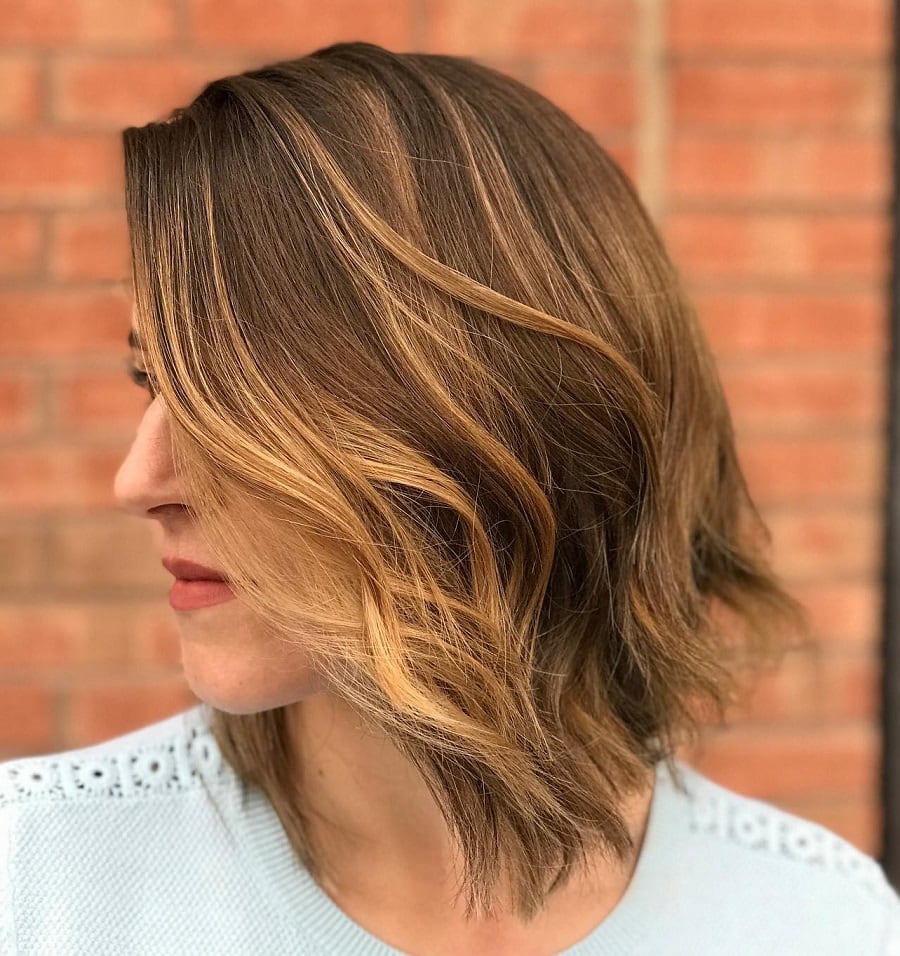 Are you craving a simple wash-and-go hairstyle that needs no styling? If yes, then here's a long choppy bob that needs only some finger combing, and you're good to go.
The cut is a little angled, which makes the look more interesting. However, it's not so much that it appears stark. This tousled look is a must for girls with naturally wavy hair.
Chic Gray Highlights
If you want a hairstyle that's easy to maintain and style, we have the perfect pick for you.
This lob is perfect for people who have thin hair because this particular haircut adds volume to your hair. The side layers and the dual colors make your hair seem fuller and shinier.
Lilac Ombre
You surely can't take your eyes off this one with a sleek and straight hair look with curtain bangs.
The lilac purple ombre is a color that is unique, yet, it's not such a color that requires too much experimenting. It's wearable, yet it's something you don't see commonly.
Bright and Colorful
We have a hairstyle for you that will represent your goofy and playful self. This long choppy colorful bob will make you feel like your favorite candy flavor. Here's a hairstyle that will make your inner child very happy.
Red Angled Lob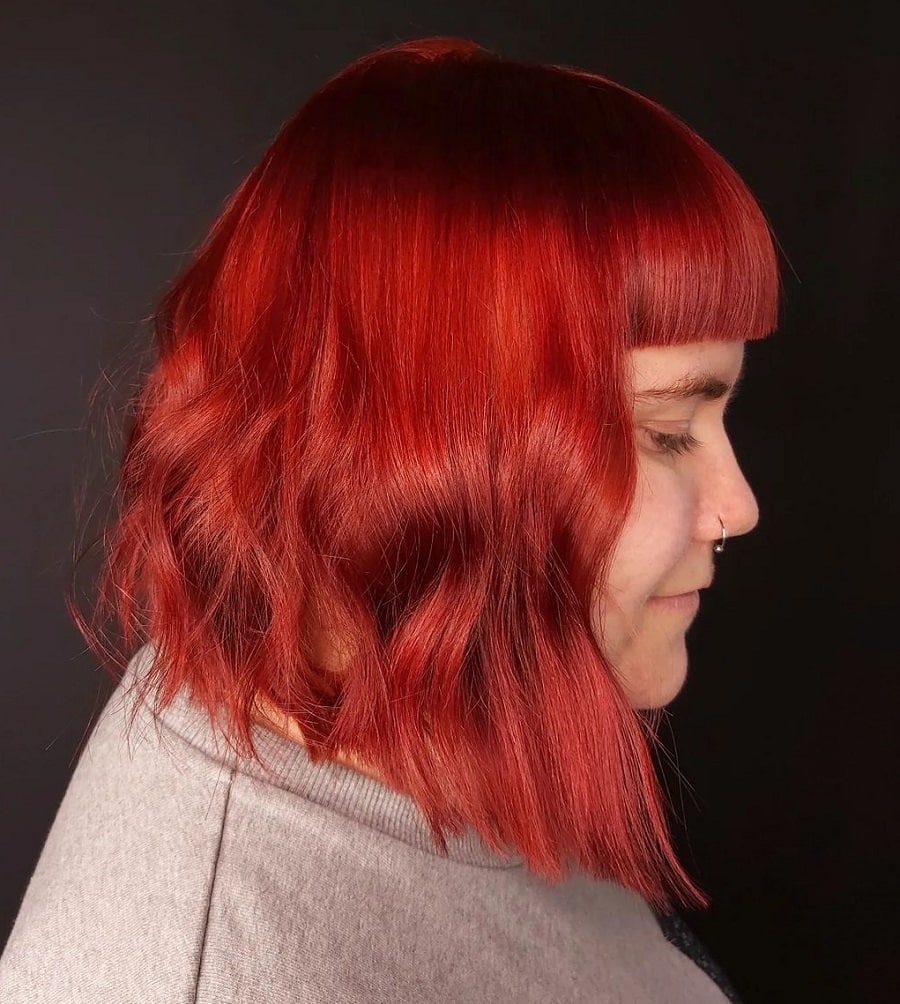 Don't want to play safe and go all out? If your goal is to create an unforgettable look, we have something for you.
Let's combine three very strong elements: red hair with an angled cut and short, straight baby bangs. The result is a picture-perfect hair look that will make you look and feel like a baddie.
Purple and Grey Ombre
A choppy long bob with soft waves is that kind of hairstyle that makes people think that you've put a lot of effort into your hair when the truth is that your hair only takes a few minutes to style.
This messy hairdo needs just a few minutes with a curling rod, and you're good to go. The purple and grey ombre just add to the overall drama.
Voluminous Platinum Lob
If you want to look like a diva, here's the look for that. This voluminous hairstyle will make people think that your hair is full of secrets, just like Regina! The platinum hair color goes with the overall vibe of "queen of my world."
Legally Blonde
We must say that this simple hairstyle is the most stylish one on the list. This hairstyle combines all the best elements to be sleek, neat, and stylish.
The curls with the perfectly parted side bangs make this hairstyle the perfect one to pick for any special occasion. If you're a bridesmaid at a wedding, you should try out this hairstyle.
Purple Surprise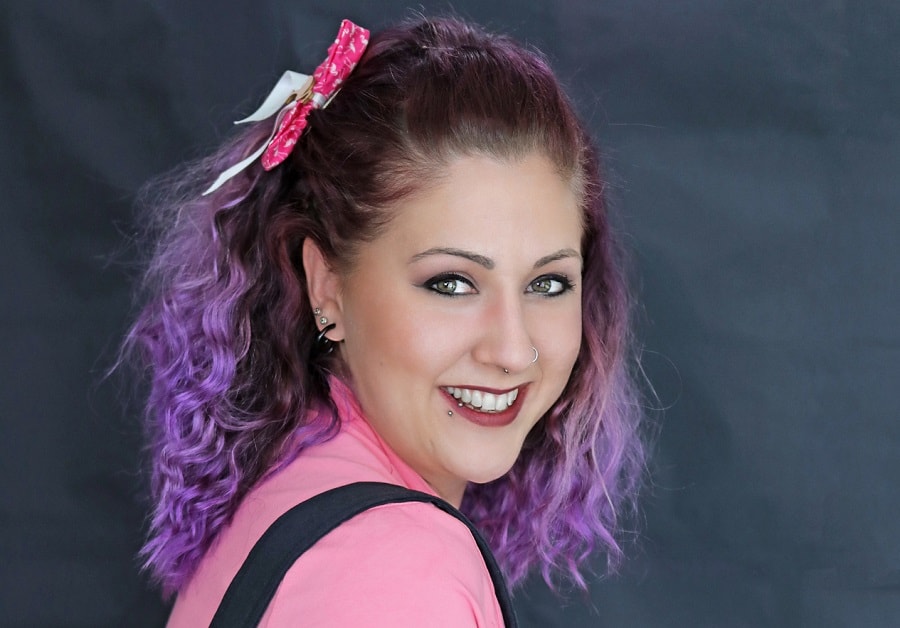 There's only so much you can do with your hair that has never been done before. If you want hair that packs a punch, try out a bright color.
This gorgeous purple shade is perfect to go with your long bob. The roots are kept dark to make the hair more wearable.
Face Framing Highlights
Choppy long bobs with natural waves are the perfect feminine hairstyles. Especially this one, with dark brown hair with light brown face-framing bangs.
Depending on your presence and features, you can style this look by parting it in the middle of the side.
If you're looking for a messy and edgy hairstyle but are too bored of the plain old bob, then a choppy long bob is the way to go.
They are updated, stylish, and chic. Getting ready for a beach day? Don't go with some ole' hairstyle! Revamp yourself with these 20 cool long choppy bob hairstyles. Perfection!