A creative hairstyle can make a simple woman look beautiful and a beautiful woman indelible. No matter what type or texture of hair you carry, medium length hairstyle is always in fashion.
It allows you to try out some fantastic hairstyles that long hair would suit while also maintaining a comfort level provided by the short haircut. One of the most trendy hairstyles that go perfectly with the medium hairstyle is bangs. Fringes are not just part of the hairstyle it is the way of life.
Bangs speak a lot about your personality and describe your way of living. Although it is tough to carry fringes in summer and is hard to stay in the desired manner, they give a dazzling finish to your hairstyle.
It is easy and lovely to keep bangs with medium length hairstyles. You get so much freedom to try out multiple looks with your bangs as you can keep a feather cut, a layer cut, a bob, or free waves.
How To Achieve A Medium Hairstyle With Fringes?
If you really are worried about how to achieve the hairdo, you don't need to, as it is a simple hairstyle that you could even achieve on your own. Below are the steps to cut your fringes at your home.
Make sure your hair is dry when you trim your bangs at home.
To find the starting point for your fringes, turn sideways and check where your head starts to round.
Separate the bangs section from the rest of your hair using a wide-tooth comb making a triangular shape.
Pull the triangle section out from your head and, with the help of your fingers, find the length you want for your bangs.
Flip the ends of your fringe section upwards while keeping the bang hair between your fingers.
Take the scissors, cut the bangs at an angle like the clock's hand pointing to seven or eight, and then trim it.
Now style your bangs with your desired look or hairstyle.
Bangs work well with any type of texture and hair, be it curly, straight, wavy, or in between these types. You can try out fringes according to your face type. If you have a round face, you can go for asymmetric bangs or choppy bangs.
The bangs that end at the chin line look great for square faces. Don't cut long locks for rectangular faces as it makes a face look even longer. Oval faces work well with any haircut and bangs.
We have some lovely and astonishing medium hairstyles with fringes to guide you with the versatile, trendy, and convenient options you can choose.
1. Classic Straight Bangs
An adorable look can be attained with the straight and subtle medium length haircut with classic bangs. The fringes can be styled as a lovely curtain over your forehead, keeping your look decent and captivating.
You can carry the classic straight bangs hairstyle for various occasions, either casual or formal. Straight bangs will be a little challenging to manage in summer if you have thick hair, as it would become oily quickly when you style them on your forehead all day.
Otherwise, it is a perfect hairstyle for girls looking for a charming and sweet hairdo for their casual look.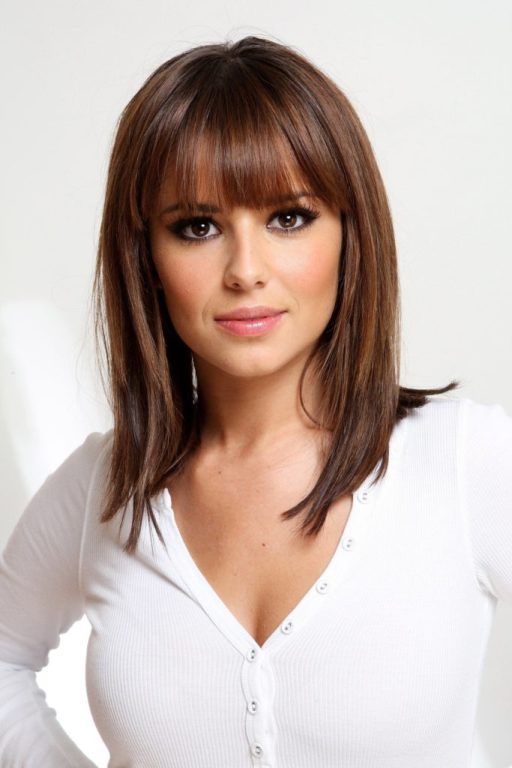 2. Side Bangs with Beach Waves
Beach waves are a modish and romantic hairstyle that looks ultimate with medium-length haircut with bangs. Side-swept bangs with beach waves are a hot and sensual haircut that gives your hairstyle an energetic look with casual coolness.
It offers low maintenance as your waves are free to spread their charm. A perfect hairdo for girls looking for a chill hairstyle and a relaxed look while maintaining a ravishing appeal for their personality. Beach waves with side-swept bangs provide a sense of good vibes and look very attractive.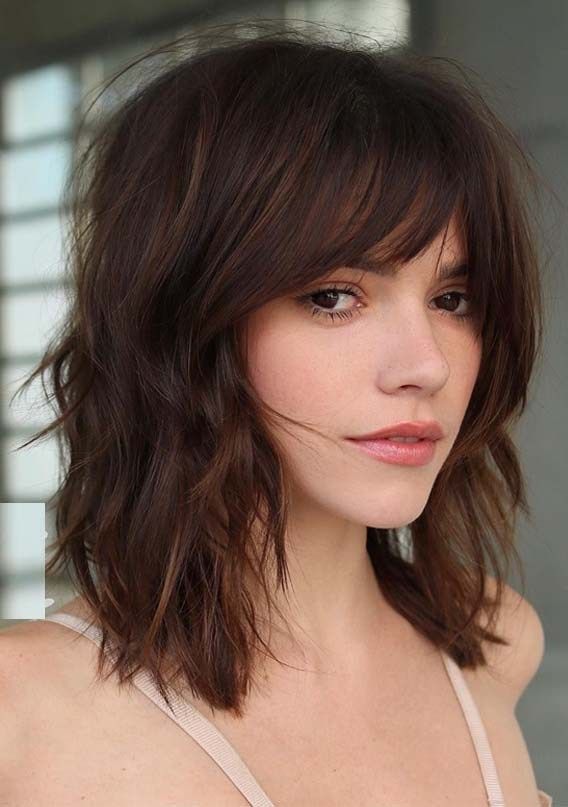 3. Face Framing Fringes
Face Framing bangs are the fringes that take over the center stage and frame your face when your hair is pulled back and tied into a ponytail or an updo. They are styled in a symmetrical fashion that has an even length in the center and gradually increases while going to the side.
Some face-framing pieces from the rest of your hair are left on the sides to finish your engaging bangs.
Face framing fringes with a ponytail is a great hairdo to carry for a party look. You can go for a bright outfit with a charming hairstyle that would enhance the gorgeous look.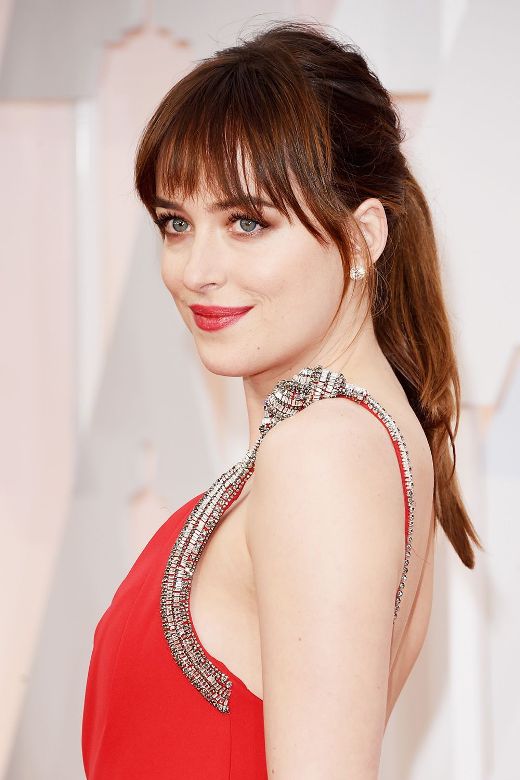 4. Wispy and Wavy
You don't need to worry if you have thin locks, as the wispy bang hairstyle will be a perfect fit for your naturally wavy and textured fine hair. Tousled waves with wispy bangs are a great hairstyle to opt for the girls with fine brunette hair.
To create a lovely hairstyle, just get a shoulder-length haircut with eyebrow-length bangs and style them straight over your forehead.
A wispy and wavy hairstyle is a trendy hairstyle that gives you a cute and sweet look with your thin locks. Most teenage girls prefer to keep it as their casual college or high school hairstyle.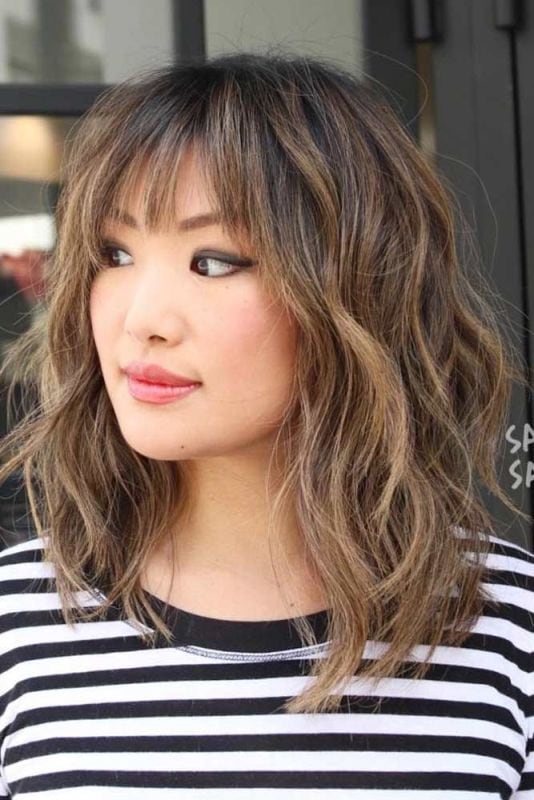 5. Layered Side Swoop
Are you worried if the bangs would suit you after the 50s? The answer is simple, yes. Textured side swoop bangs are a pretty and trendy hairstyle that would suit all girls and women despite their age.
The long and straight layered cut bangs styled in a side direction combined with a layered haircut look great on any occasion. You can try it out when planning a vacation and looking for a great fun time and memories.
Layered side swoops hairdo frames your face and covers a part of your face to make it look smaller. Hence, it is an optimum hairstyle for girls having long face types such as rectangular or square.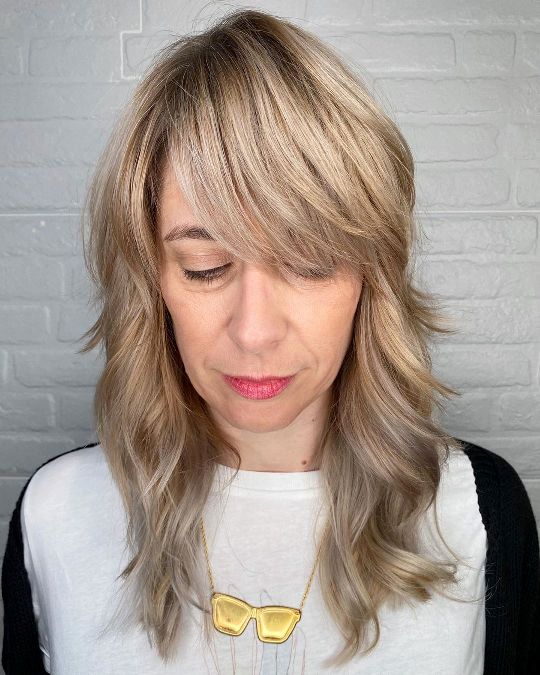 6. Short and Crisp Bangs
Another excellent hairstyle for older women who love to keep fringes is the short and crisp bangs hairstyle—a fun-loving and appealing hairstyle for the lovely ladies with a cheerful attitude.
Short and crisp bangs suit girls and ladies with a short face type such as round and oval. You can achieve the hairdo with a layered medium length haircut with the short layered fringes on the forehead.
You can add some texture to the fringes by sweeping them a little on one side. The brunette hair or brown highlights works well with short and crispy bangs on a layered haircut.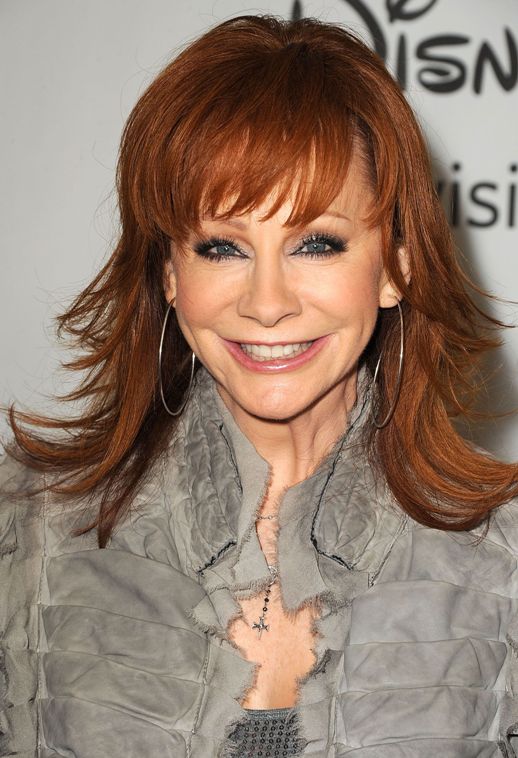 7. Dual Tone Goldie Locks
Dual-tone hairstyles are sublime and elevate the beauty of any hairstyle you carry. You can choose a chocolate top and golden highlights for the locks to achieve a beautiful look. Dual Tone Goldie locks are an adorable hairstyle to carry and very trendy among young girls and teens.
It looks great with the straight medium haircut, and you can style your dual-tone bangs over your forehead for a cute and sweet look. The hairdo suits girls with heart face type as their bangs divided into two parts complete the heart finish beautifully.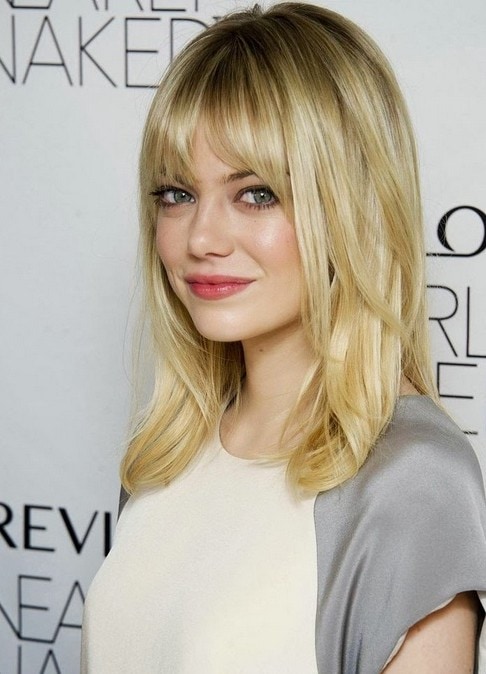 8. Drape Bangs
A casual yet lustrous hairstyle that any girl would love to keep as the medium length hairdo is so carefree and lovely that it gives you appealing looks with a comforting hairstyle.
Drape bangs hairstyle can be achieved with the short and thin bangs styled over the forehead like you keep a curtain, and the rest of the hair and tousled and left free to wave around in the air.
Drape bangs are a great hairstyle to opt for if you have a long face type, such as square or rectangular, as the curtain fringes with the long locks tousled around will make your face look more petite and charming.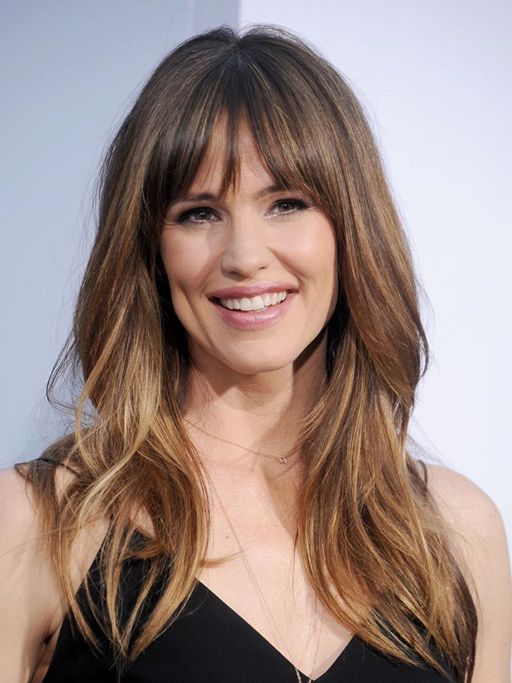 9. Brimmed Side Bangs
A cute hairstyle preferred by teens and young girls for their school and college look. The silky and smooth fine hair with a layered haircut till shoulder length styled in the form of a long bob is terrific.
Brimmed side bangs enhance the beauty of the charming hairdo by covering the forehead with side-swept fringes. The thin and fine locks styled towards the side are very attractive and look really pleasing.
You can go for brown or light golden highlights for a change in the looks. Brimmed side bangs are great to opt if you have a round or oval face type.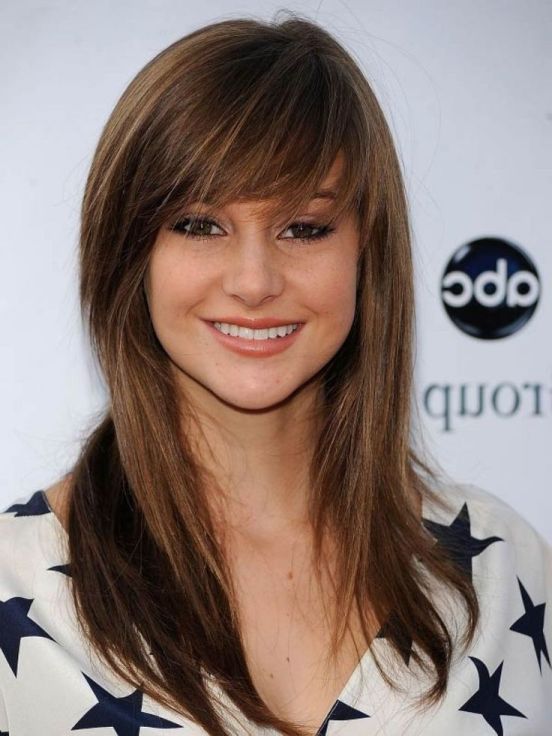 10. Piecey Bangs
Piecey Bangs is a pretty and trendy hairstyle that is perfect to opt for if you are looking for a smart and dazzling hairdo. To wangle the particular hairstyle, get shoulder length haircut and layered cut for small chunks for the front hair.
The front pieces of bangs cut in layers are styled with one after the other and create a beautiful pattern. You can carry Piecey bangs for a bold and stylish appeal. Also, the textures of the handful pieces of sharp bangs make you look energetic and cheerful.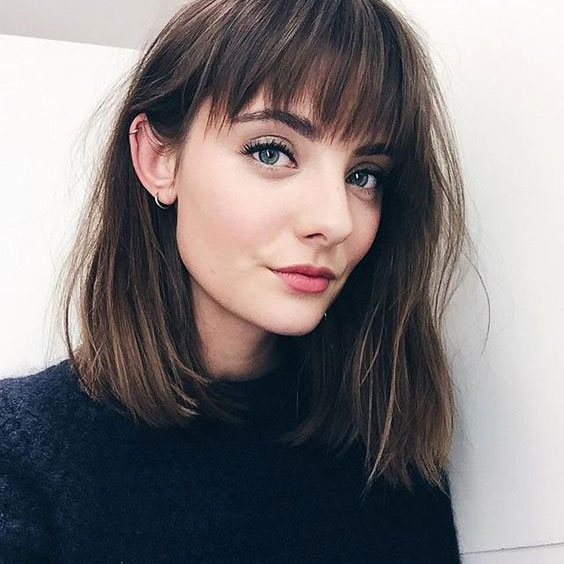 11. Blonde Wispy Bangs
A gorgeous hairstyle for your cool and funky attitude that features a hot and sassy look with a pinch of boldness in it. Blonde wispy bangs work perfectly with a shoulder-length layered haircut and golden brown highlights.
The wispy bangs styled with a little gap in the middle covered by another layer of thin bangs over the forehead crossing the eyes adds a casual coolness and funkiness in your personality.
Blonde wispy bangs suit girls with a light shade of hair and an oval face cut. The hairdo goes well with western attire.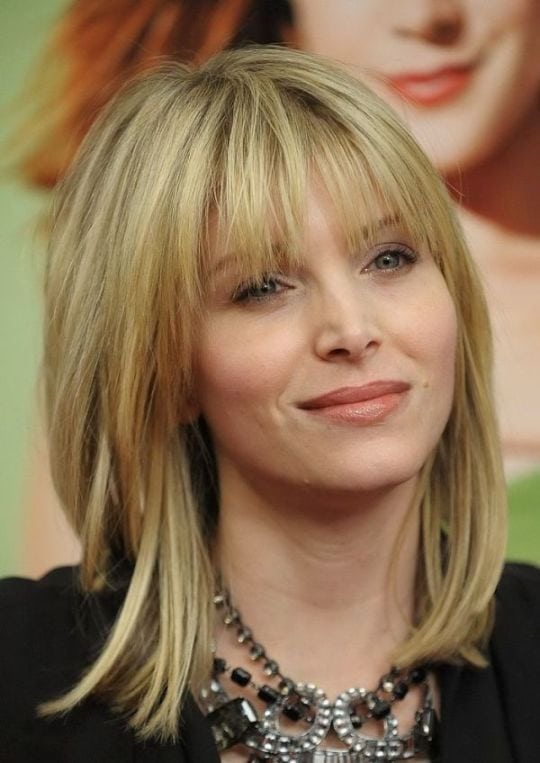 12. Attenuated Fringes
A lot of girls and women desire some great locks but are worried about how to maintain them. Especially in summers, it is really difficult to carry those heavy bangs over your forehead all day. But, if you go for attenuated fringes hairstyle, your problem is half resolved.
The thin bangs styled on the forehead gives you the amazing appeal and offers low maintenance. You can carry attenuated fringes hairdo with a medium length haircut that allows your wavy highlights to blend well with your thin fringes. Attenuated fringes are a great hairdo for a party look.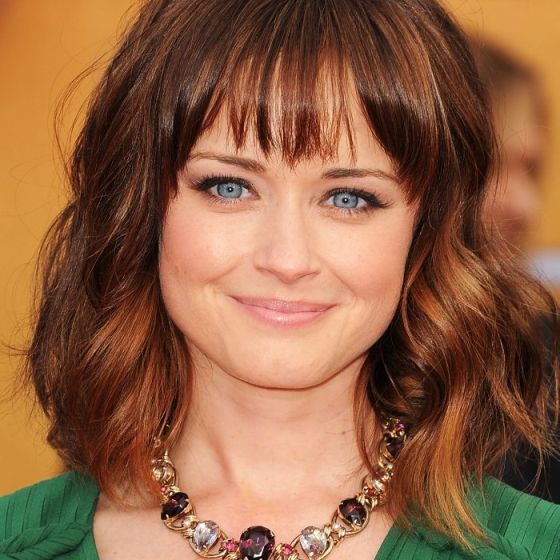 13. Choppy Bangs with Bob
Want to go for some sleek and straight cut bangs but don't prefer a blunt look? We have got an optimum choice for you to get choppy bangs with uneven layers. The uneven bangs look different from the blunt look and add an unusual appeal to your personality.
If you carry natural black hair, then get a medium bob haircut and a brown highlight for your ends to give a beautiful texture to the choppy bangs. Choppy bangs with medium bob is a trendy hairdo that gives a stylish and ravishing party look.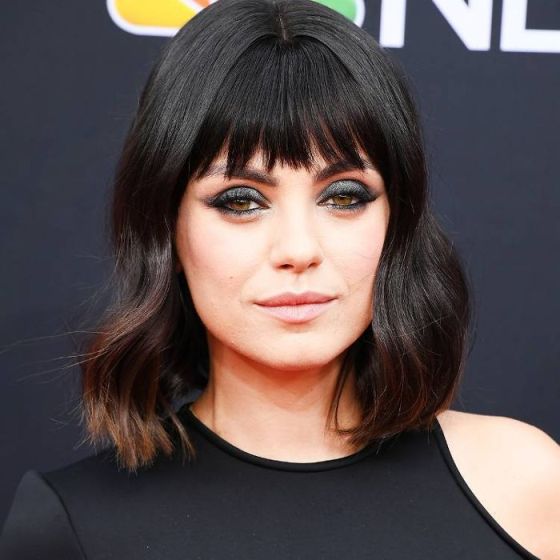 14. Uneven Fringes
Another high chic hairstyle that carries a lovely look is the uneven fringes hairstyle for all the girls and ladies who are searching for some glazing look without being blunt.
The layered medium haircut combined with uneven fringes acts as a great hairdo for any outing or a special occasion. Uneven fringes are achieved by taking the front heavy section for the bangs and cut at an angle close to each fringe.
So, the heavy bangs are settled on the forehead in a way that a jagged line is formed on the ends of the fringes giving a stylish appeal.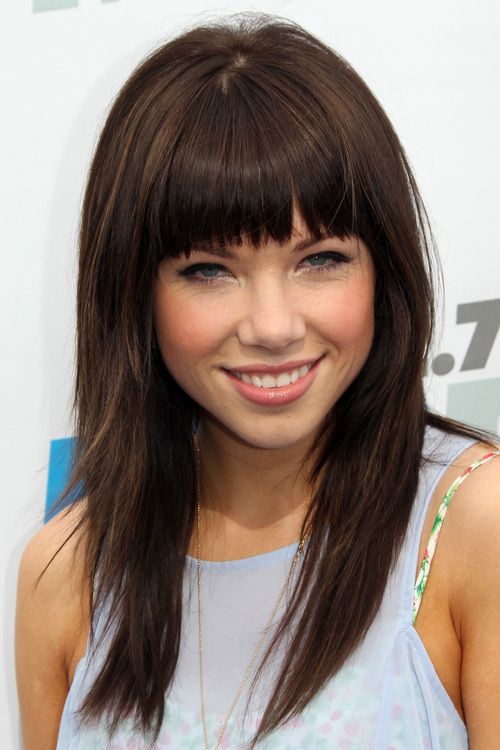 15. Brow Bone Bangs
Brow Bone bangs are the long bangs that offer you versatile styling options. You can either make them freely hit your eyebrows, or you can part them with a middle parting covering your eyebrows.
These long brow bone bangs give you a very pleasing and happening party look when combined with a medium layered haircut. The caramel highlights enhance the gorgeous appeal of the hairstyle.
Brow bone bangs covering your eyebrows make your face look smaller and hence is a perfect hairdo for the ladies having a bigger face type such as rectangular or square.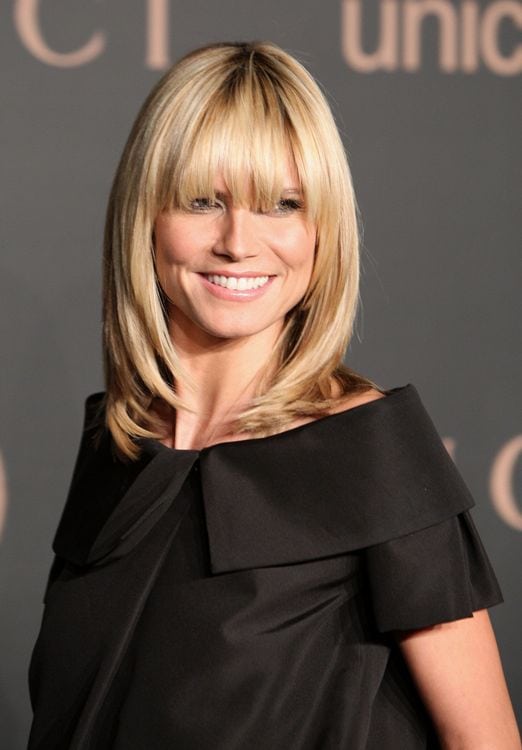 16. Blowout with Bangs
If you are looking for a stunning and glazing hairstyle for a wedding appearance or a prom party, then your search ends here. Blowout with bangs is the hairdo that suits girls and women of all ages and works great with a stylish western outfit.
To wangle blowout with bangs hairdo, you would need a blow dryer and a brush. With the help of a brush, make a curly blowout, and style them using the dryer.
For the front fringes also, style in the same curly sweep way towards the side and pin up the hair on the other side to outshine the curly bangs.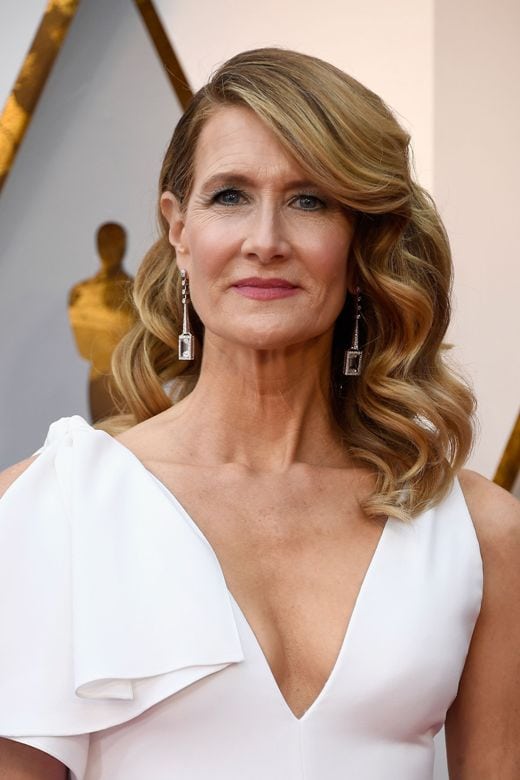 17. Angled Fringes with Layers
For teens and young girls, angled fringes with layers is a sweet and adorable hairstyle. It looks great on the girls having a heart face type or a round face. Angled fringes are the wispy fringes cut with different layers.
To achieve the hairdo, you need to cut the fringes into two sections. For each section, cut the bangs on the side angle in a way that the fringes on the top are short and gradually increase towards the side.
Style your angled layered fringes with a middle part. The hairdo looks gorgeous with the shoulder length layered haircut.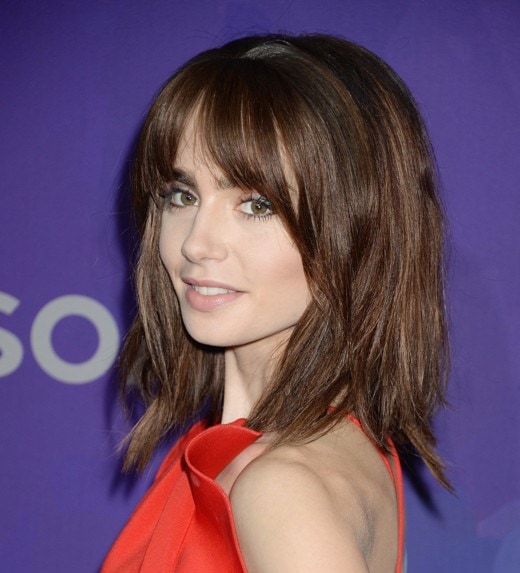 18. Middle Parted Whimsy Bangs
The effortless bangs gives you versatile looks and is great for the girls who love to have a decent casual hairstyle with some stunning party looks as well.
Middle parted whimsy bangs are perfect for a party or an occasion where you want to spread your charm through your sassy hairstyle.
Whimsy bangs are the layered short bangs that look great with a sea-salt spray giving the beach look. The hairdo works well with a medium length stacked bob with frequent layers on the ends for a cool and trendy appeal.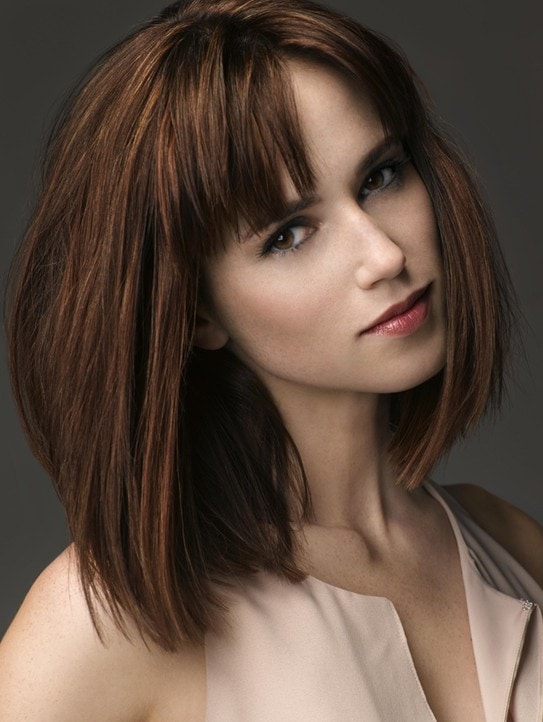 19. Textured Side Sweep
Textured side sweep is a modern hairstyle that is an unusual version of the traditional side bangs. For textured side sweep hairdo, you need to cut your medium or long locks into some wispy layered bangs by chopping them off.
The versatile hairdo allows you to style your textured fringes with a little side sweep. Gather the rest of your hair and tie them into a ponytail that would make your facial features shine with the textured bang and make your personality outstanding.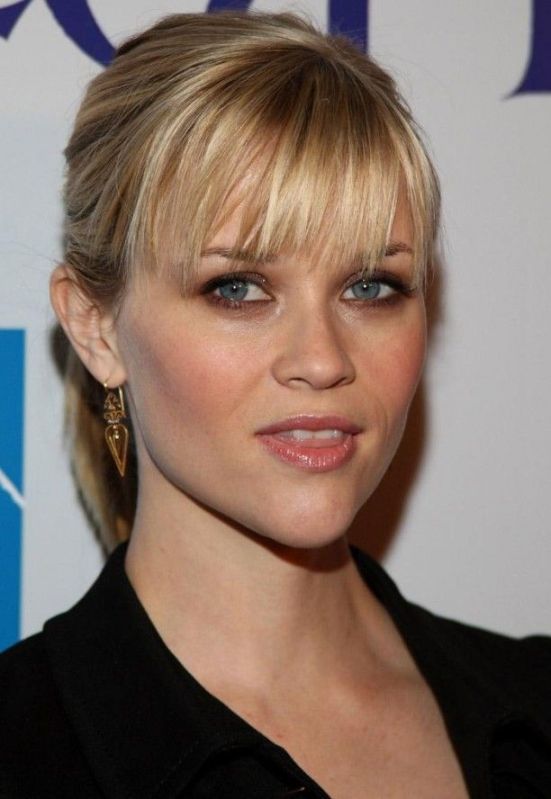 20. Lob Haircut with Fringes
A lob is nothing but a long bob haircut that is quite in trends these days. As college girls and high school teens looking for a casual hairstyle that they can carry as their day to day look, the medium lob haircut goes well with their lifestyle.
Lob haircut with fringes makes the hairdo look more decent and stylish. The hairdo needs very little maintenance and is suitable for girls who don't have much time to style their hair. You can carry the hairdo with a messy texture to get a natural appeal.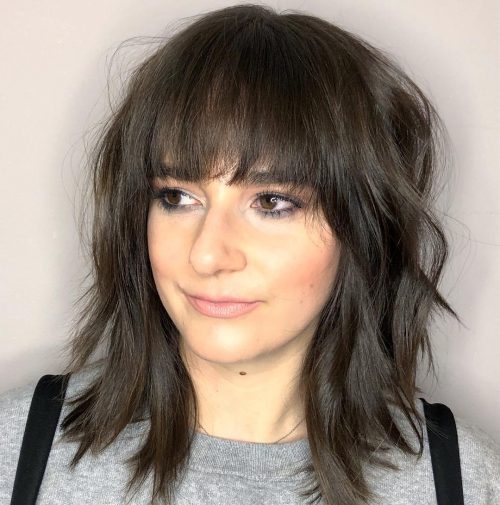 21. Asymmetrical Blunt Bangs
Blunt bangs cut in a different style can always be a unique and stylish option for the girls who love short to medium haircuts with bangs.
For girls having straight and sleek hair, bangs can give a usual blunt look, but with the asymmetrical blunt bangs, your look will be unique and pretty.
It suits girls with naturally black hair and afro girls having a long face type as the whole attention would go to the asymmetrical layers you keep rather than your facial type. You can carry the sleek and smooth blunt bangs hairdo for any special occasion or a party.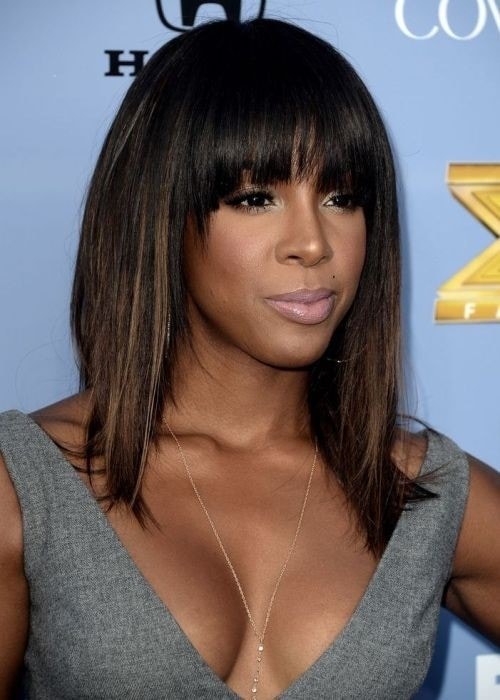 22. Long Wispy Chops
Wispy Chops are quite trending among girls these days as due to a lot of issue and constraints, girls don't get much time to style their hair and it is really difficult if your bangs need high maintenance.
Wispy chops offer low maintenance while maintaining a sassy and glamorous look that works well for any occasion. To get some unique and stylish appeal with the long wispy chops, go for some golden brown or blonde highlights that make you feel more confident and gorgeous.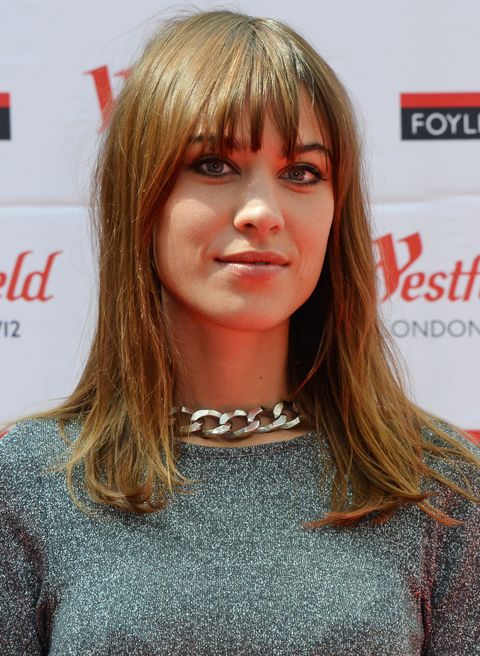 23. Sleek Middle parted Fringes
If you want to go for a bold hairstyle with some decent looks, you can go for the sleek middle-parted fringes hairstyle. With straight hair, it gets tough to manage some bold and sensual looks, but with a shoulder sweeping bob and bangs, you get the desired appealing look.
Sleek and smooth bangs, when parted from the middle and styled in an angle towards the side, gives a very pleasing and glossy appeal. It works well with a western outfit as the shiny, sleek bob can get the required attention and compliments.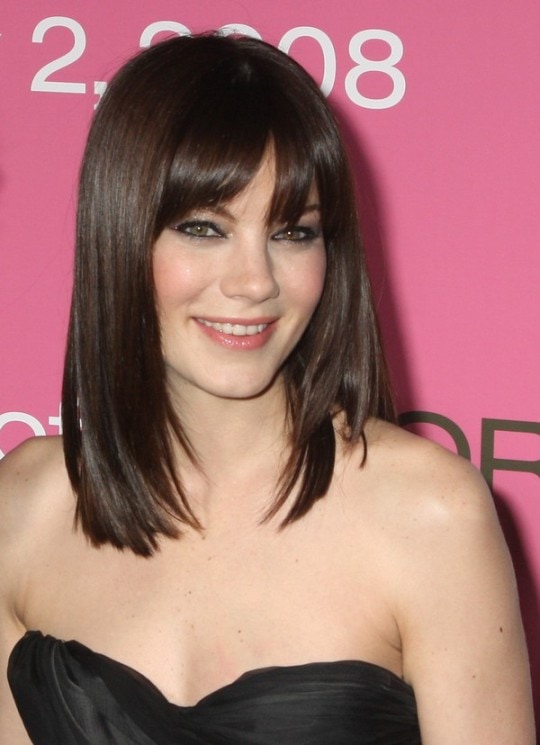 24. Layered Side Bangs
For round faces, the choice is always confusing and tough as there are not many hairstyles that suit girls having a short face type.
Layered side bangs work well with those face types as the side bangs give an angle to the fullness of a round face creating a definition and giving some adorable and sweet looks.
Layered side bangs are sharp fringes cut towards the side on an angle. Girls with round face type should avoid blunt bangs as it would make their face look smaller. Layered side bangs look lovely for a dinner date or a prom party.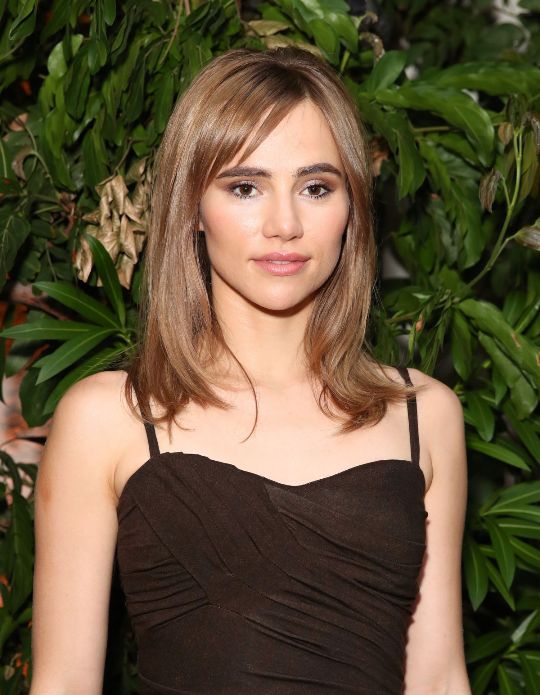 25. Wavy Sweep Fringe Bun
A terrific hairstyle preferred by celebrities for their red carpet look. Wavy sweep fringe with a bun is a party hairdo that creates a wavy effect with the help of fully blown curls with layers styled in a side direction covering the eyebrow.
You can attain a wavy side sweep fringe hairstyle with the help of a straight hairbrush and a blow dryer. Combine the side-swept bangs with a short bun that would create a flirting look with a charming style.
The hairdo goes well with fair complexion and blonde highlights. Wavy sweep fringe bun hairstyle gives a confident and marvelous appeal.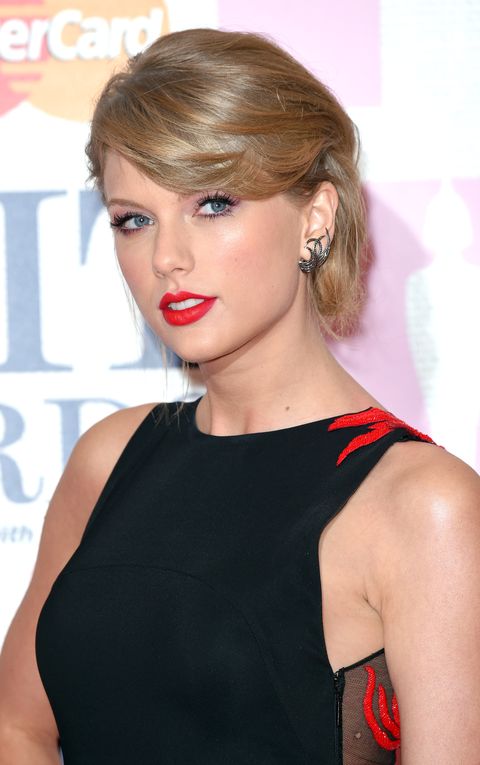 #26. Hairstyle with Bangs for Fine Hair
This hairstyle looks so prim and proper that you are bound to love it if you are a fan of fuss-free hairstyles. The hair has been blow-dried along with short bangs in front that cover the forehead completely. The whole blow drying and bangs have together brought an effect that makes the hair look fuller than it is.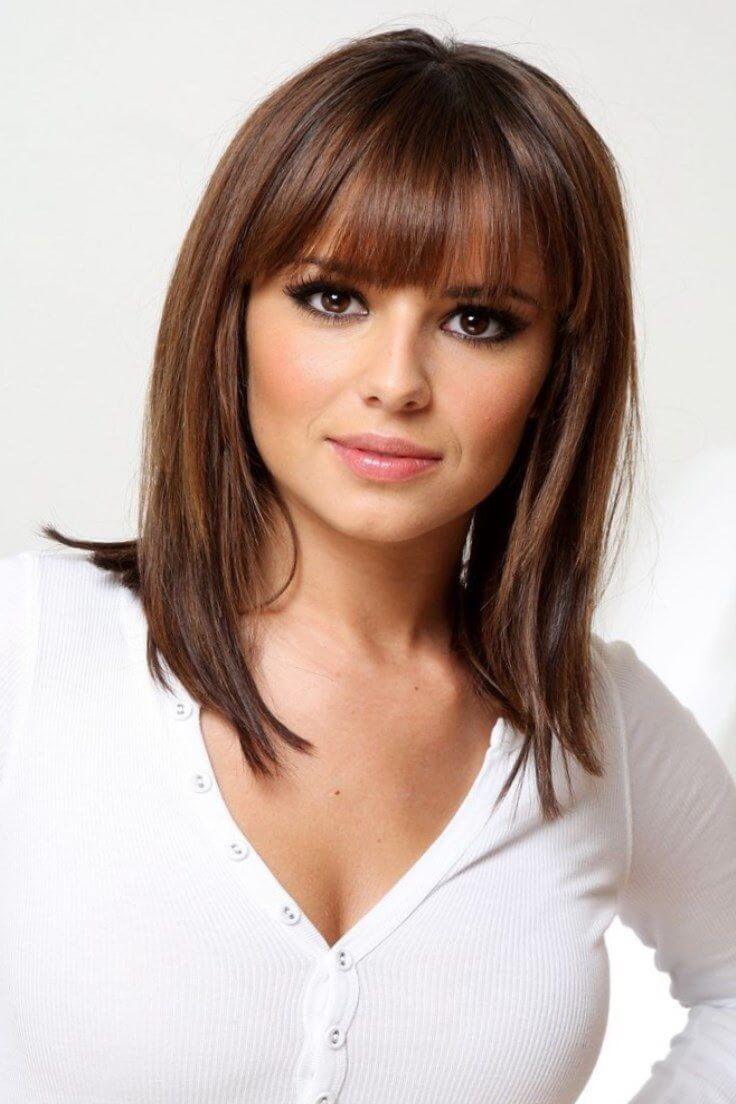 #27. Medium Straight Hairstyle with Bangs
Those who have naturally straight hair are in for a treat with this hairstyle. The hair has been cut in a way that the length increases from the front to the back. The bangs stand out more since the hair is so straight. The long bangs have been rolled up which gives them a puffed up look distinct from the rest of the hair.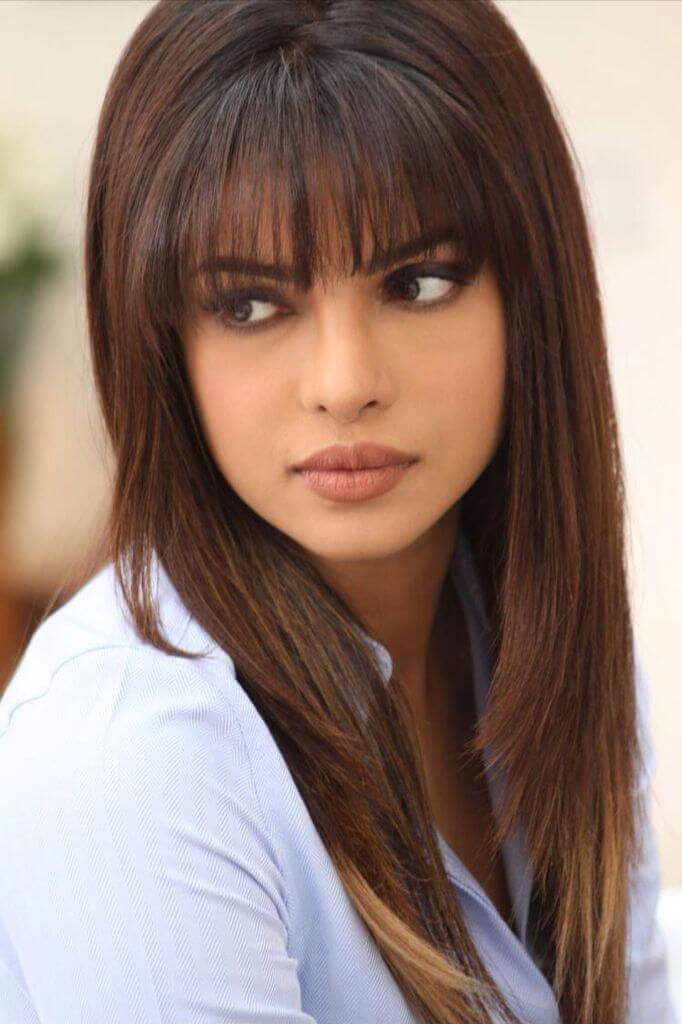 #28. Wavy Hairstyles with Bang
Bangs are not something typical to only straight hair. The ones with wavy hair can go for the bangs as well. But for them, though they can keep the rest of the hair wavy, the bangs need to be straightened out. Otherwise, the bangs will not be discernible from the rest of the hair. The bang is very little in thickness.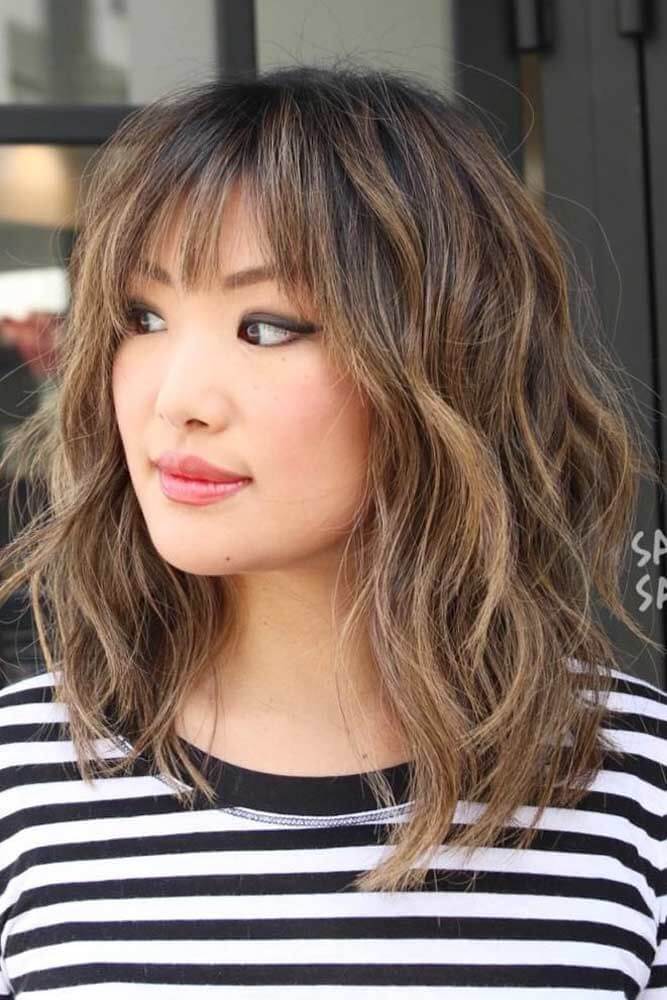 #29. Textured Long Shag Hairstyle
A medium shag hairstyle is one in which the hair has been layered to different lengths. These layers are feathered at the sides and top. It is the layers that make the hair appear full at the crown and thin to the fringes around the edges. Take a few strands of hair from the front and cut layered bangs with these strands.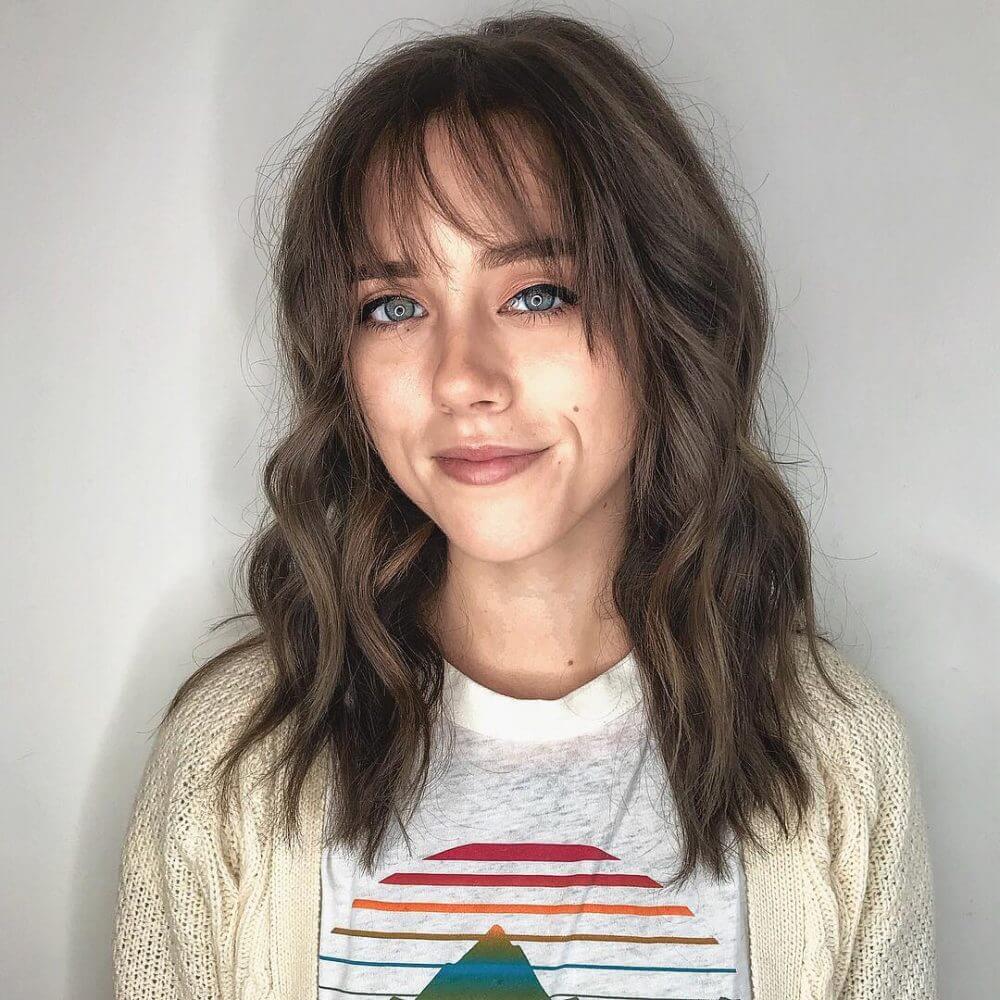 #30. Center Part Hairstyle with Bangs
Many girls refuse to go for center parting, thinking that it will not suit their face. However, if you want to change the parting of your hair to a center parting, make sure you add some bangs to the hair—part the bangs from the middle as well. Curl up the hair at the ends and add some deep brown highlights to dark hair.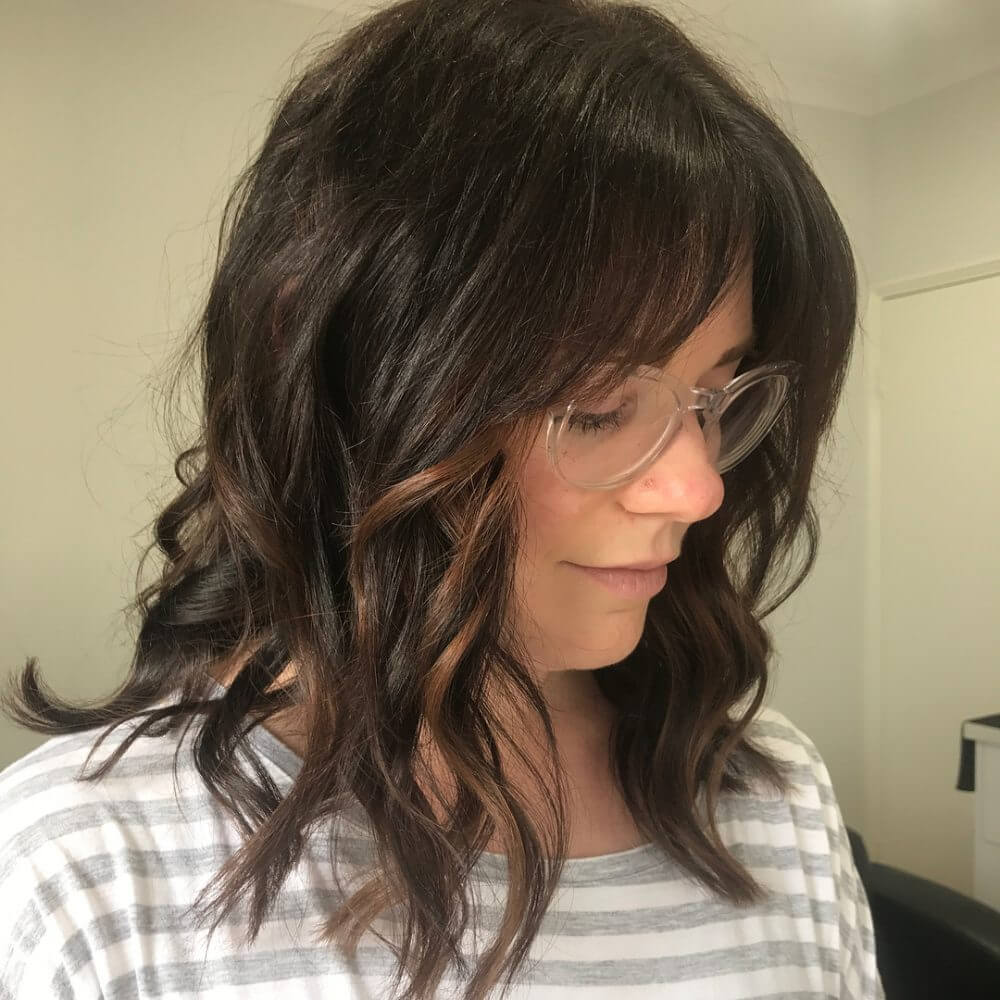 There is always a fringe that would surely suit your face type and enhance the beauty of your appealing hairstyle. Whether the fringe is a small fringe or a long one till your cheeks, what matters is that it should fit the face shape.
For a carefree and easily manageable hairstyle, you can opt a side-swept fringe, or you can go for a wispy blunt-cut bang to flatter your personality.
So, the next time you get the idea of getting a perfect hair chop with some charming bangs, try out our fringe hairstyles that assure you of an enduring and smashing appeal.