We have you covered if you find yourself at the wit's end – struggling to devise new ways to style your thin hair. Bangs are the one-stop solution to all your hair-thinning problems.
With the ideal bangs hairstyles for thin hair, you will surely be on your way to achieving your dream hair goals of volume and fullness. You will never be able to imagine living without bangs again, considering the magic they work upon your hair.
Fabulous Thin Hair Bangs to Try
Keep scrolling to find the top 18 bangs hairstyles that will transform your thin tresses.
Natural Blonde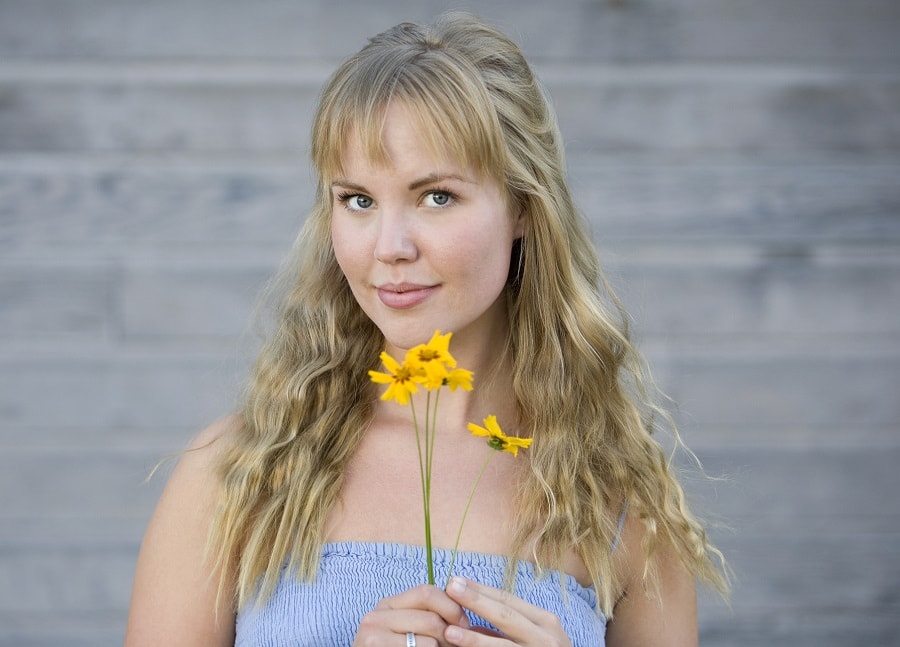 There's no better way to usher in spring than with this quirky separated thin hair bangs that shows off parts of your forehead.
The wavy texture of your lengthy locks compliments the hairdo. Also, the beautiful natural blonde color needs no refreshing or update.
Golden Feathered Bangs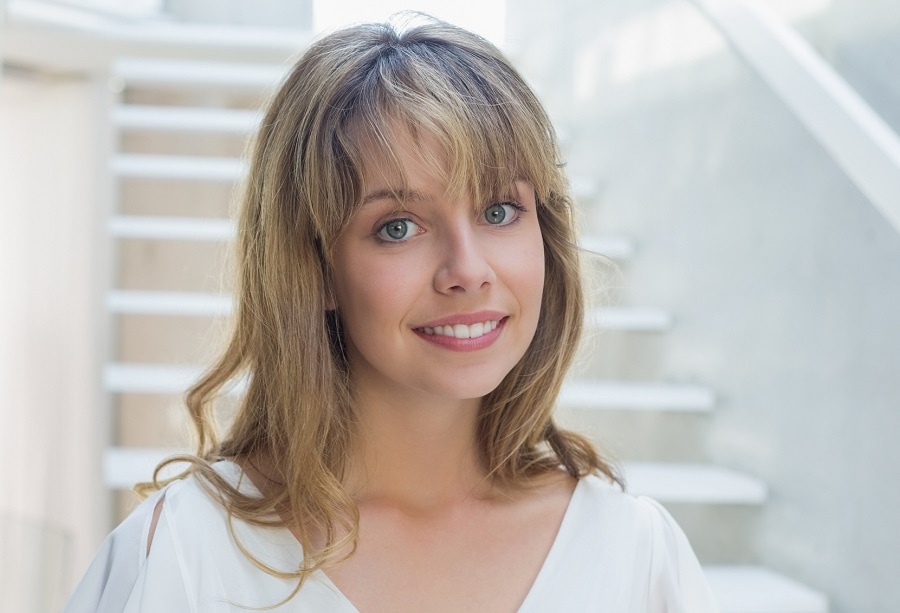 It appears as though this effortlessly delicate feathered hairdo has been made especially for women and girls with fine hair texture.
The medium blonde tone with darker brown roots peeking through at the top of the head adds some depth to the style.
Bleach Blonde Bob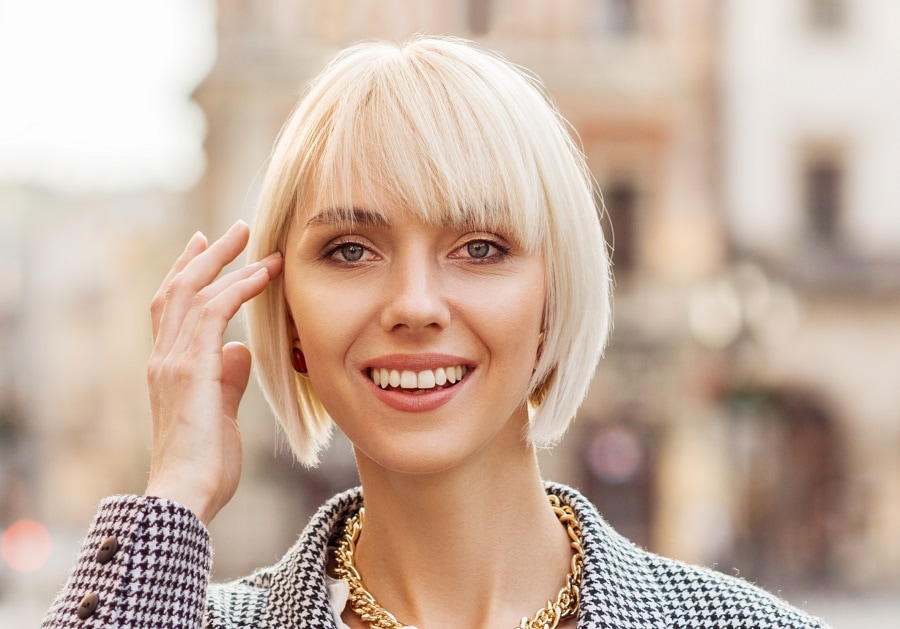 Wispy bangs are always a fantastic option for fine hair. However, you can take your hairstyling game to the next level with this cropped bleach blonde bob with bangs.
This hairdo can help create your Girlboss look with neutral makeup and the fitting blazer.
Light Copper Brown Hairdo
Embrace the adorable girl-next-door look with lengthy thin hair bangs that cover your eyebrows.
This hairstyle is low-maintenance, making it great for young girls who go to college and university and lack time for elaborate hairdos. This style's light copper brown hue is the icing on the cake, especially if you have green eyes.
 Side-Swept Bangs
The days of having flat and lifeless hair are now in your past! Side-swept curly bangs for thin hair are here to transport you into a new world of dynamism.
The light yellow-blonde color is an exciting base for the newfound hair texture.
Platinum Blonde Bob
If you desire the rocker girl grunge look, you will love this platinum white blonde shaggy bob with dark roots.
The feathered bangs for thin hair are in cohesion with the carefree shag aesthetic. A texturizing hair spray can help you add some finishing touches to the hair.
Straight Blunt Bangs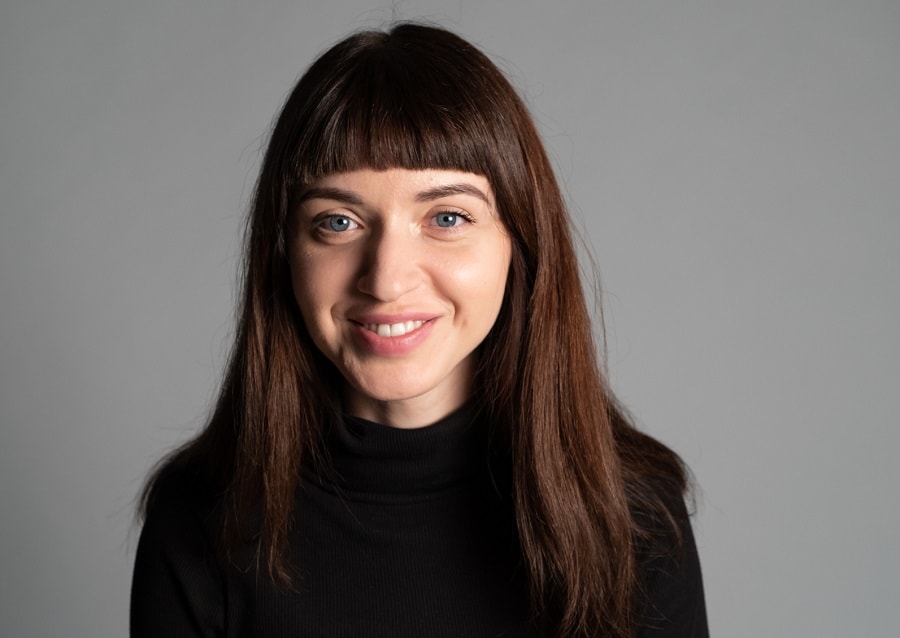 For your long straight locks, blunt bangs are the ideal option since they create a solid and individualistic look while retaining some softness.
The women who have broad foreheads can wear this uniform fringe without getting hair strands annoyingly on their face. We like the dark chocolate brown color spread throughout the hair length.
Messy Bleach Blonde Hairdo
When you feel like perfecting the "I woke up like this," this messy bleached blonde hairstyle is what you need.
Avoid combing or brushing your hair to ensure the locks stay piecey. Since fine hair is always at the risk of going wispy, use that to your advantage by cutting some wispy thin hair bangs.
Dark Separated Bangs
To master the delicate and romantic look, extra long and soft separated bangs are your best bet.
This cropped hairstyle also shows your ears so that you can wear some pretty diamond-shaped earrings for an elevated impression. The dark tone of this hairdo also lends it a serious vibe.
Blonde Layered Hair
Who doesn't adore the chic London countryside girl look? Taylor Swift first did the natural blonde layered look with red lipstick to motivate millions of other girls to follow in her footsteps. The natural wavy bangs for thin hair complement the layers without saying.
Subtle Violet Hair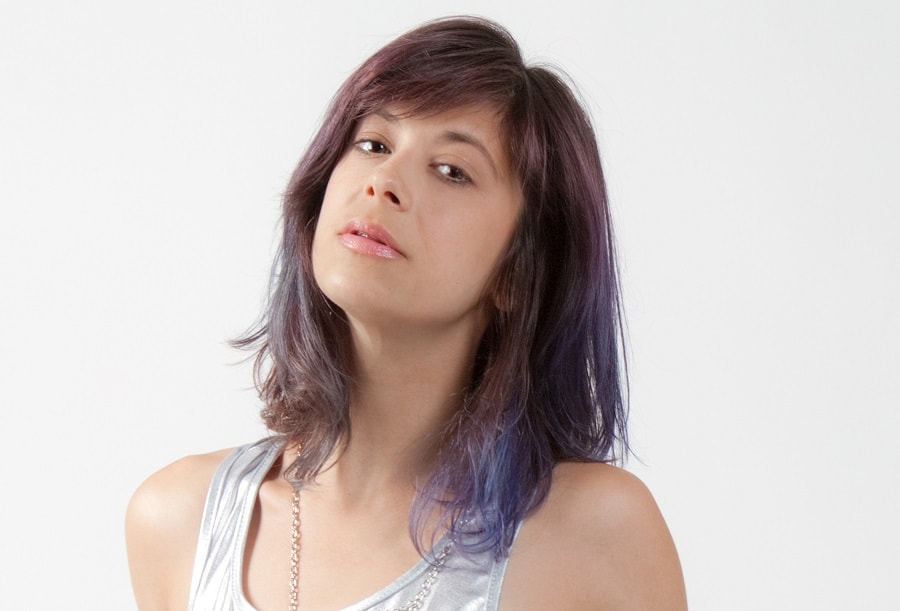 Is your heart has been screaming for some color forever? These light violet highlights in the ends would be a good way to dip your toes in medium hair dyes without doing anything too crazy.
Observing how the brown hue blends seamlessly with the violet is surreal. The side-part thin hair bangs give the style a youthful flair.
Short Balayage Hair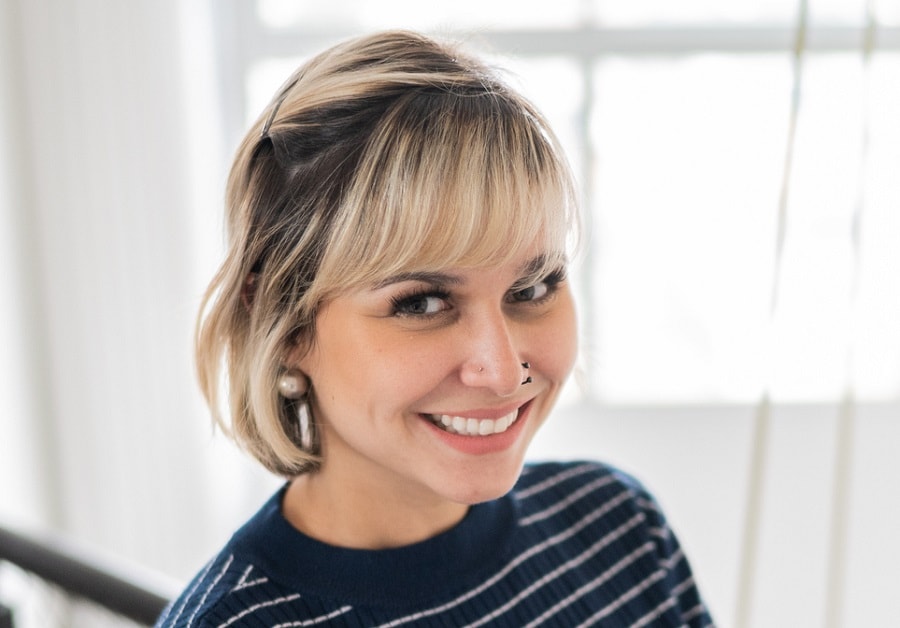 We have a highly chic short hairstyle with a top puff that will bring all eyes to you. The fall of the bangs is appealing for most face shapes, especially the heart and angular face shapes with a jawline.
The balayage of this brown, black hue to a light blonde tone is pleasing to the eyes. Pair up a black sweater with this style for a cute winter look.
Jet Black Cropped Hair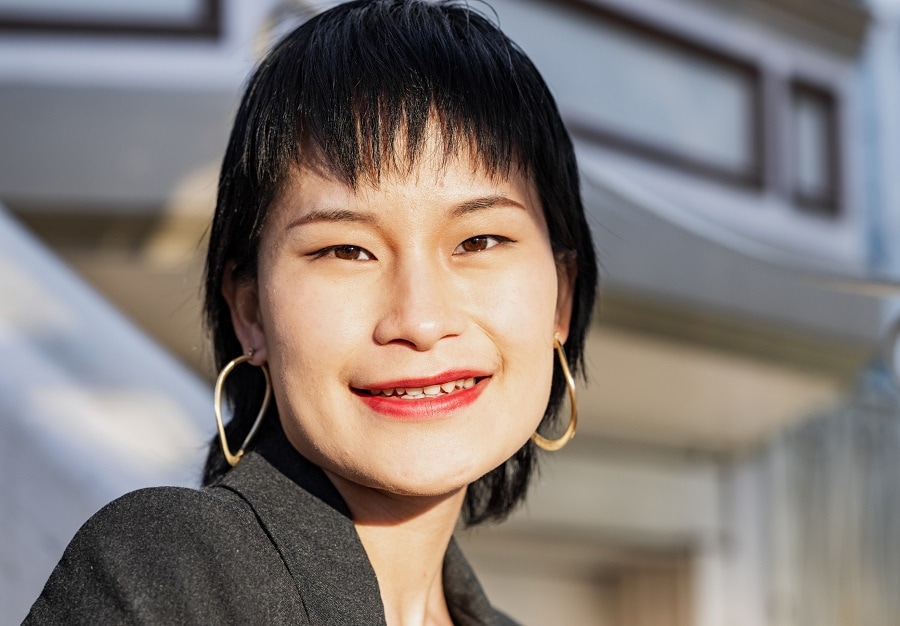 With these natural and uneven bangs, give yourself a break from all the overly made-up hairstyles.
Use a hair-setting gel or mousse to get the slicked-down look that helps give your hair the illusion of being thicker. The jet black hair color makes this hairdo perfect for Asian women and girls.
Mature White Lob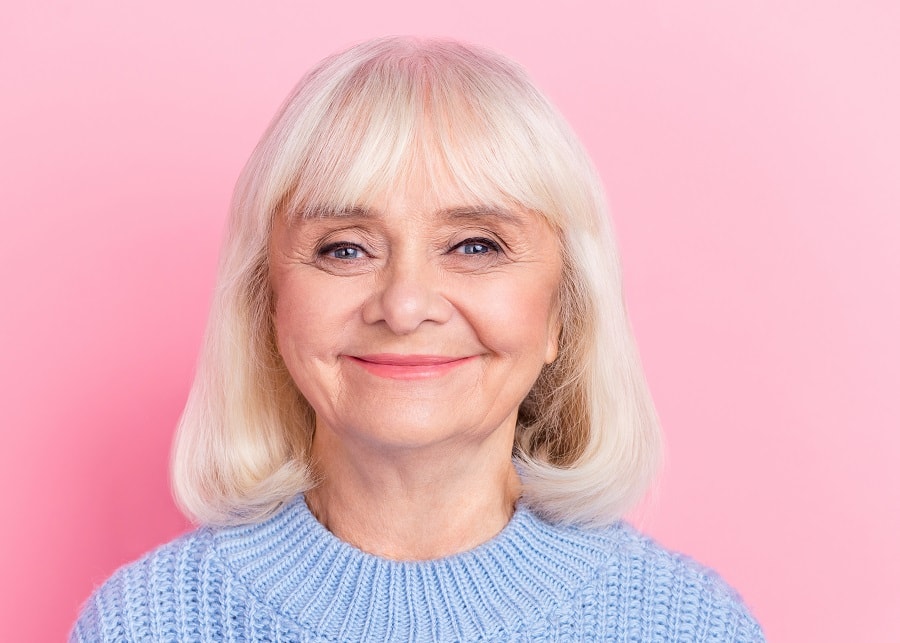 Why should only the young people have all the fun? As a woman in your 60s and 70s, show off your white greys with this preppy wispy bangs style.
This hairstyle takes years off your age to make you look rejuvenated. Dab some light pink gloss and do winged eyeliner for a day glam look.
Semi-Braided Hairdo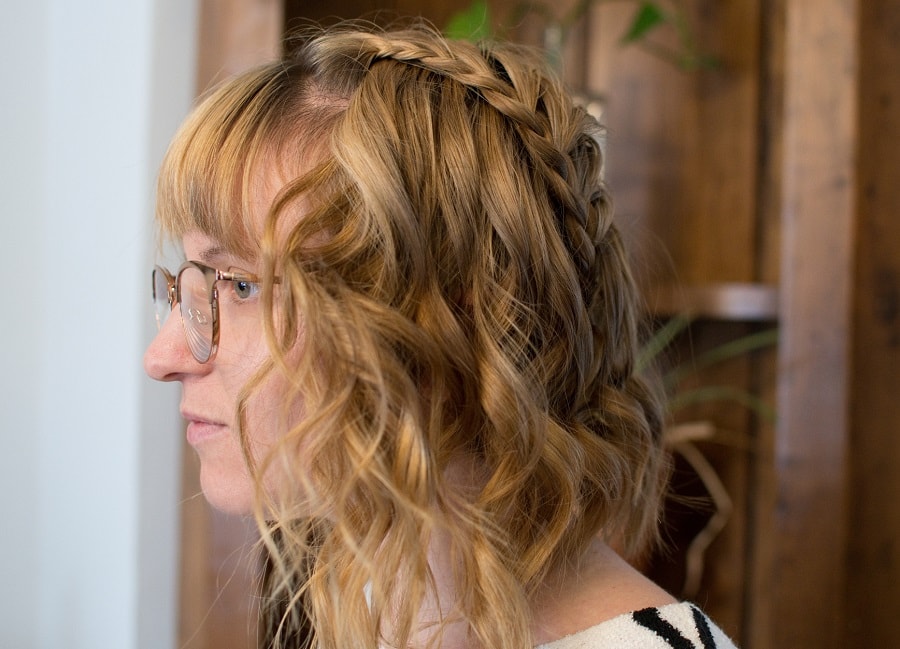 This dark, academia-inspired semi-curly hairstyle has a lot of texture, making it look incredibly fashionable. The single braid at the back helps to increase this hairdo's bulk and trend quotient.
If you wear glasses, these bangs for thin hair has the full potential to become your holy grail from today.
Long Blonde Hairstyle
Curtain bangs are always a safe and versatile option for women with long thin hair. The locks emphasize your facial features, especially the cheekbones. We can see the dark brown hue only at the very top of the center scalp.
Bangs for Round Face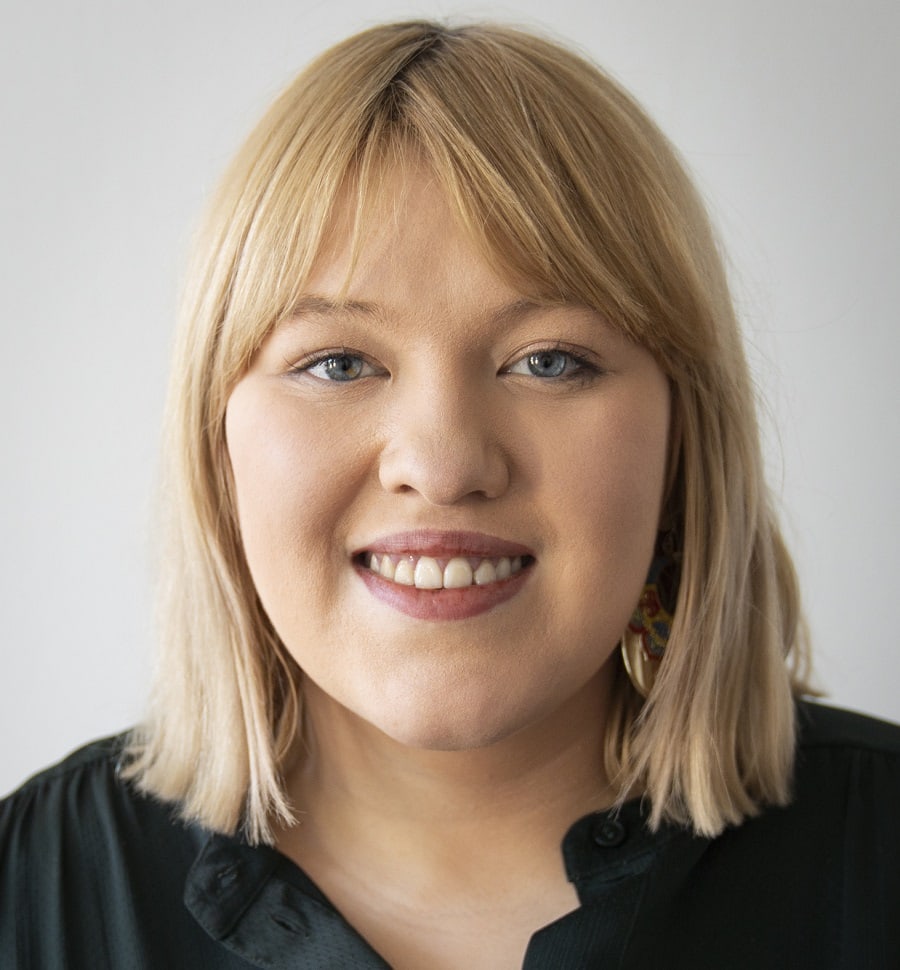 You can never undermine the impact some well-cut thin hair bangs can have on your entire look.
This hairstyle is surprisingly excellent for a job interview or professional meeting setting because of its defined structure. Lastly, the warm honey blonde tone lends an approachable vibe to the style.
Dark Yellow Blonde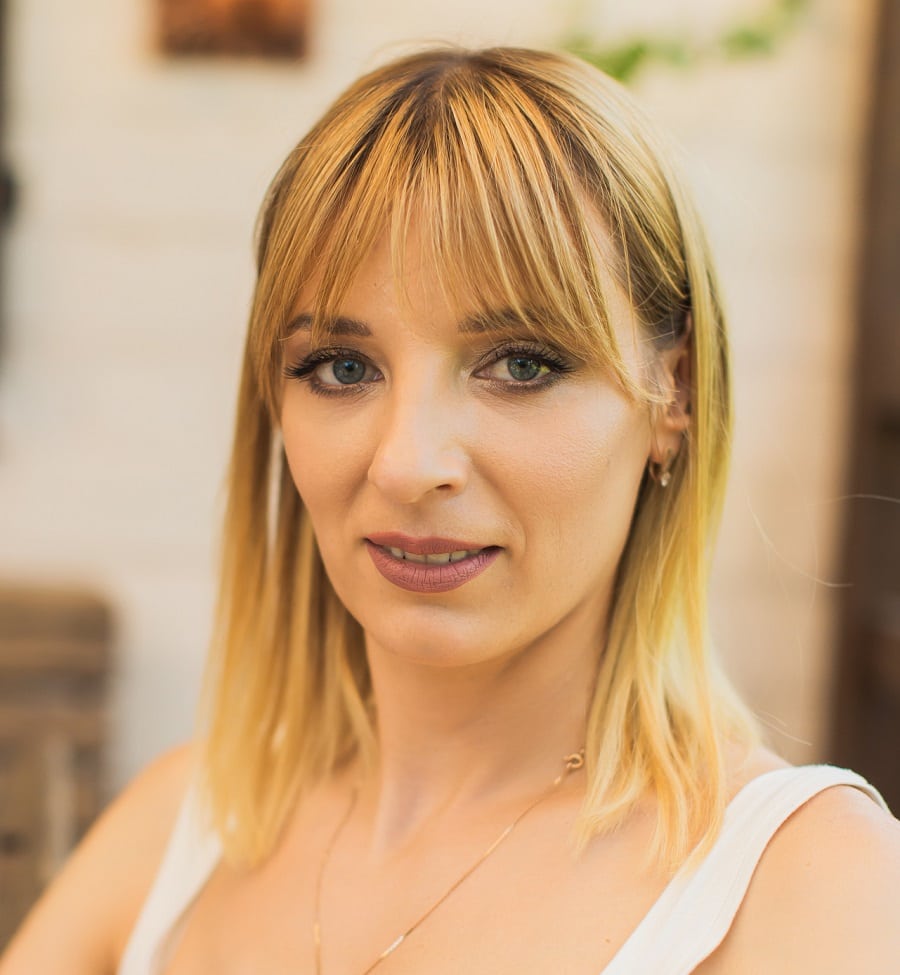 If you have an upcoming party or black tie event, you are looking for a gorgeous hairstyle to go well with your already-picked beautiful outfit.
Your search ends with this stylish mid-length yellow-blonde style with dark brown highlights. The longer bangs on the sides and short strands in the middle come together balanced.
Thin hair strands require the precision and hands of a professional stylist for the best outcomes, so what are you waiting for?
Recommended For You:
17 Female Celebrities With Thin Hair Who Proved It's All About Style
Decide on the bangs for thin hair that stole your heart and show your stylist the photos that you are eager to recreate in real.