Are you questioning whether or not you want to take a chance on a feathered bangs hairstyle? That's understandable. A lot of people dismiss this look as being old-fashioned, but that's simply not true!
There are tons of ways to modernize this haircut, and celebrities have been doing it for years. However, you can also keep the totally classic look and appear as though you're from the 1970s, too!
Best Feathered Bangs for Fashionable Women
If you don't know where to start with feathered bangs, don't worry! Let's take a look at some of the many ways to style this look below.
Layered Bob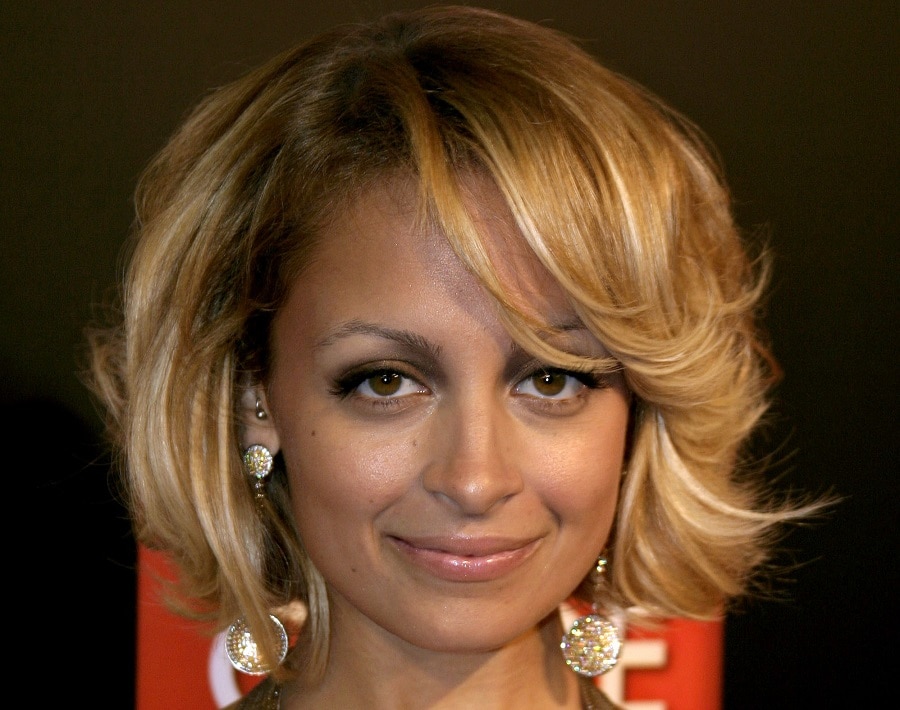 Layered bob hairstyles go really well with feathered bangs. It's a look that has a lot of movement and depth that'll be eye-catching and make you look very lively.
In this hairstyle, the feathered bangs is to the side and the end of the bob on that side matches.
Long Messy 'Do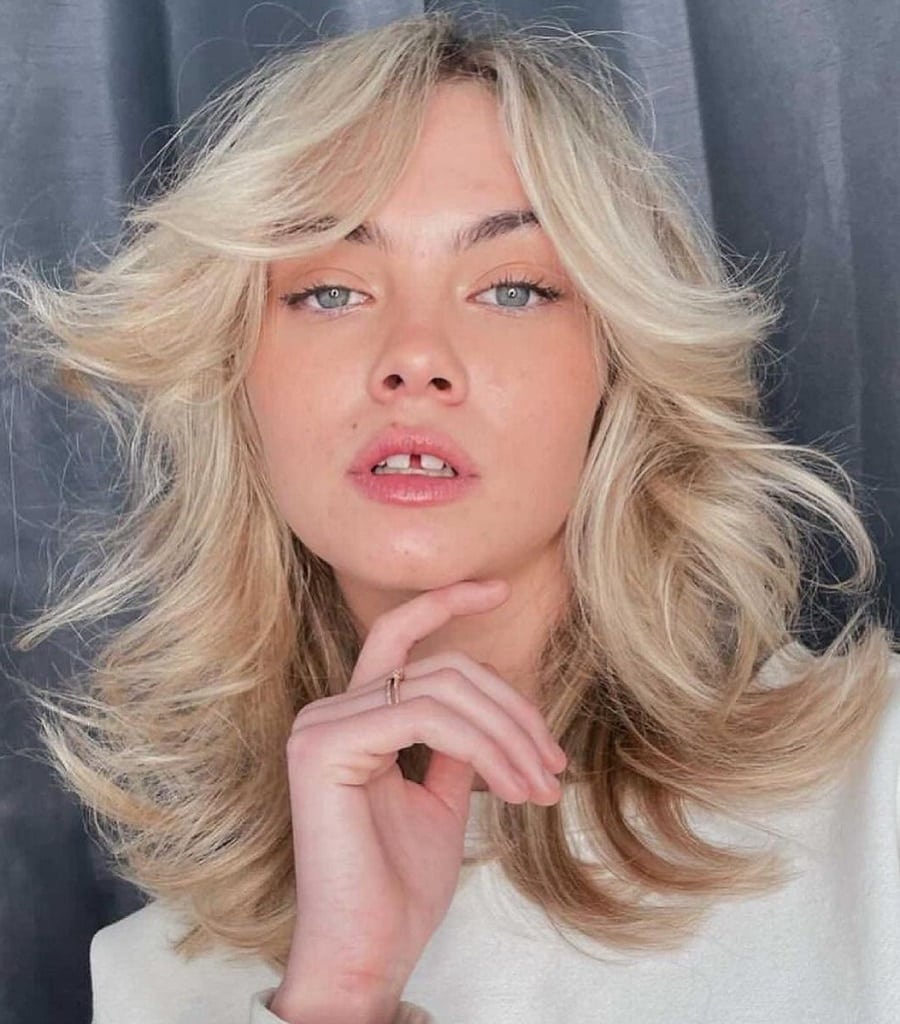 Feathering the ends of your curtain fringe can give you an effortlessly messy appearance. You can use this on the rest of your locks, too.
Fan out your tresses to frame your face and create a messy-chic style nobody can forget.
Fine Wavy Hair with Bangs
Waving your hair and adding some feathered bangs will help you disguise finer tresses. The waves add tons of movement and the bangs create a lot of depth that helps frame your face.
Feathering the ends of the fringe adds even more dimension and the illusion of thickness.
Long Blonde Bob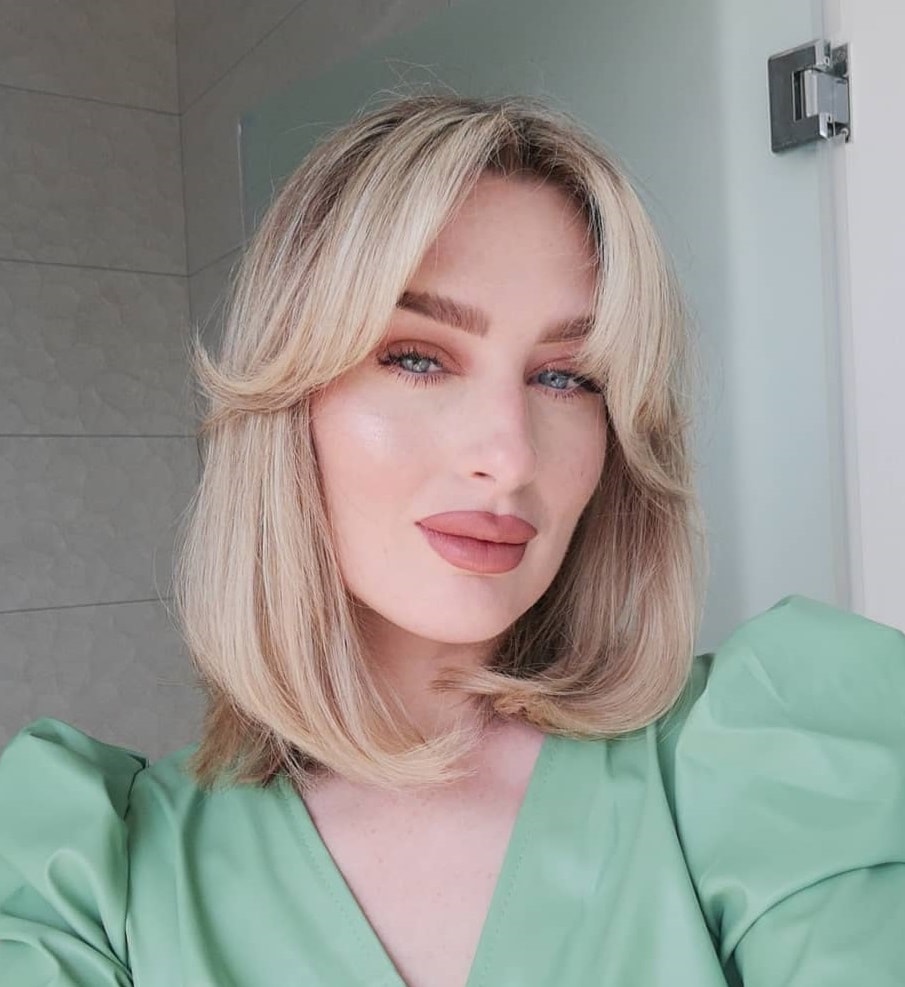 There's something about a blonde bob that just looks so sweet! The way it curls in under the chin contrasts the way the bangs fan out away from the face.
These two elements create an unforgettable simple yet stunning hairstyle you'll be desperate to try out at least once.
Edgy Colorful Full Bangs
Are you someone who really wants to stand out and show off your edgy, bold personality? You can use your hair to do this. Add tons of colors like green, orange, and deep magenta.
Full bangs that fan out to the sides look absolutely incredible as they add depth to these long, slightly wavy locks.
Two Tone Pink Hair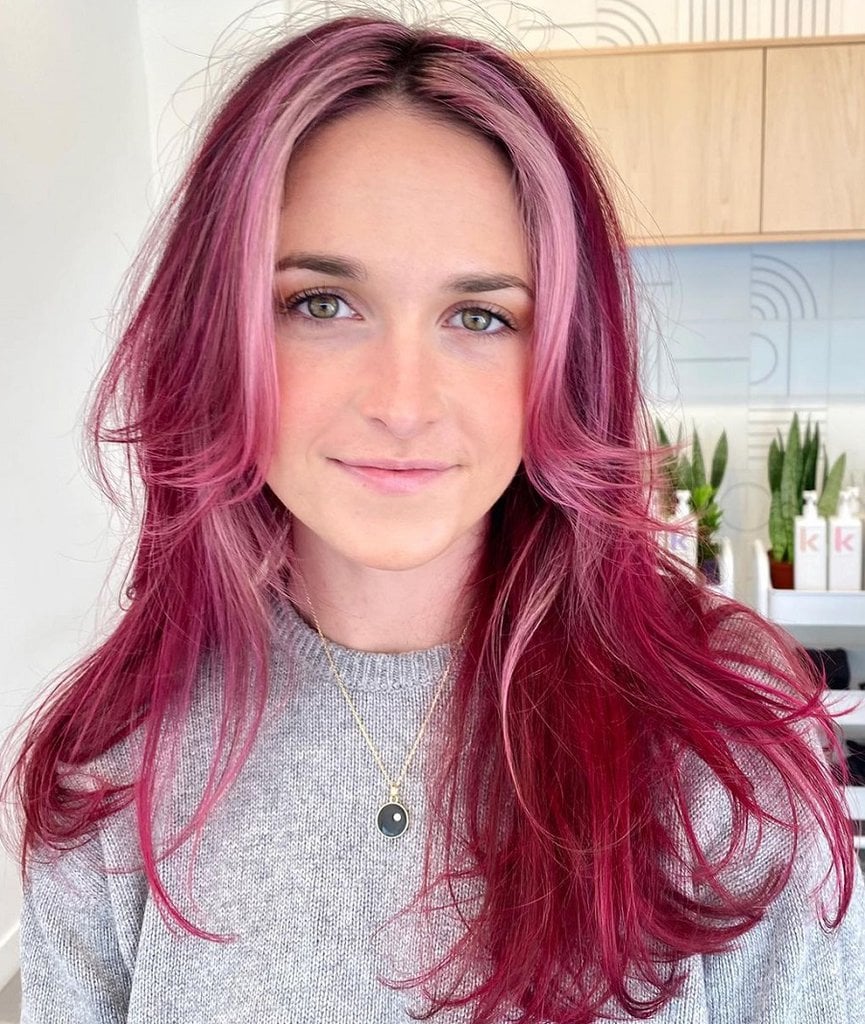 You can add a feathery effect on longer sections of fringe too. Here the bangs frame the face and fall right down to the mouth, but they still fan out at the ends.
They're a lighter shade of pink than the rest of the hair so they really help bring out your face shape.
1970s Feathered Voluminous 'Do
The 1970s truly had some of the best feathered bangs hairstyles there's ever been. All of the hair here is so full of volume and fans out all around the head.
It's super voluminous all over and will suit anyone with super thick hair and a tendency to wear retro styles.
Feathery and Wispy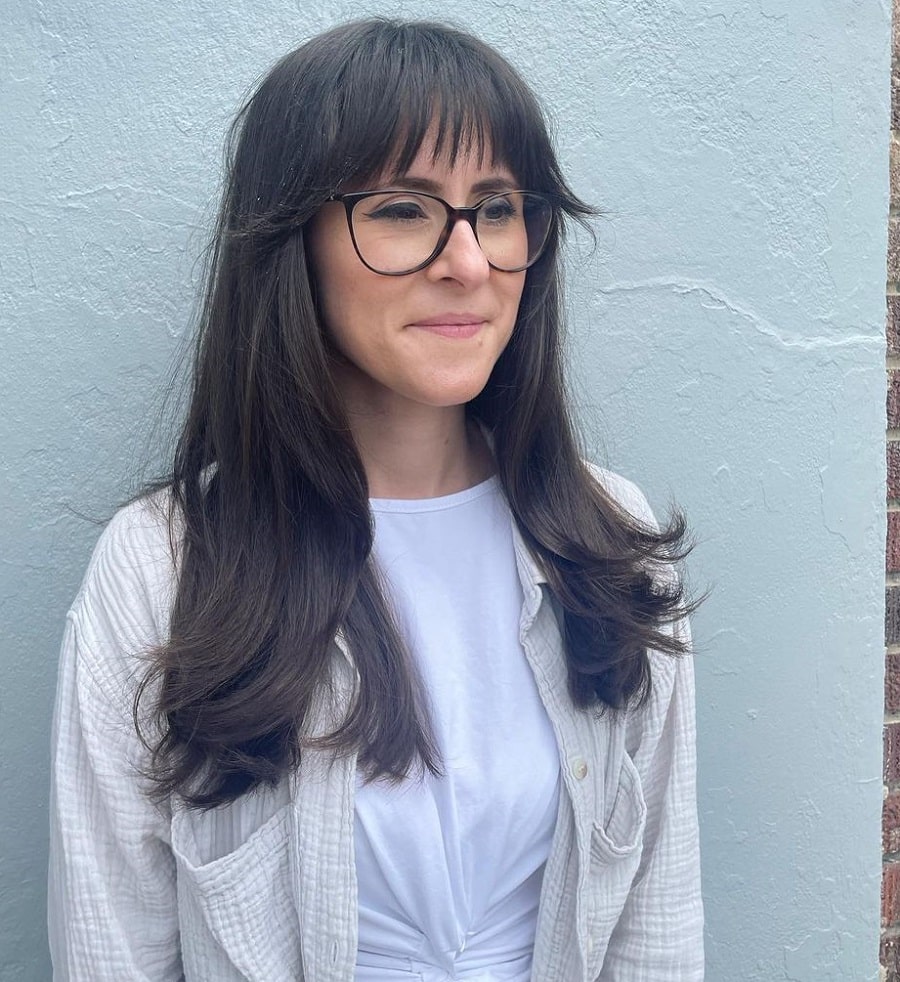 If you really want to play with your bangs, then consider getting full, wispy ones that also have a feathery texture at the ends. They'll help frame your face while looking fabulous themselves.
They also add depth to a long hairstyle that has nice movement towards the ends of the tresses.
Feathery Red Head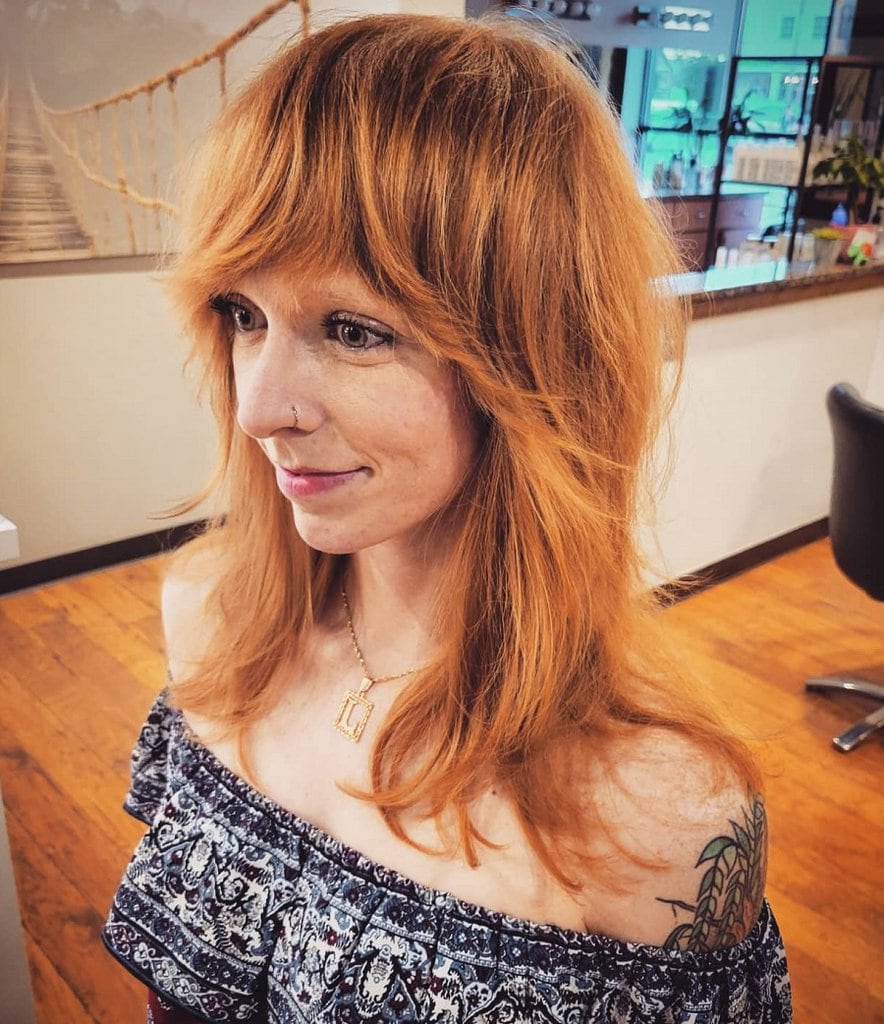 You'll stand out a ton if you make your naturally red hair look fantastic. People will be super jealous of how fabulous you look!
Here most of the locks are left loose and natural and the fringe really steals the show. It's thick and wide as it frames the hairline almost from ear to ear to create a head-framing effect.
Thick Split Fringe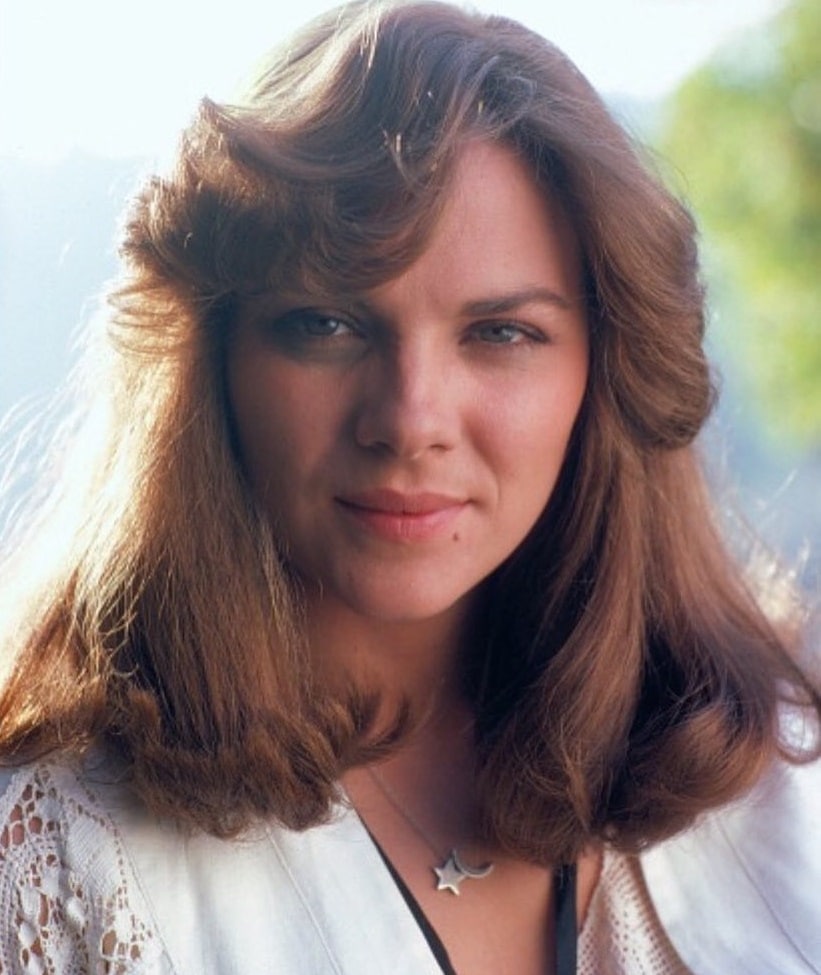 If you have really thick hair then it may be better to split your bangs in two. One side fans upwards, and the other curls in towards your face.
It stands out from the rest of these shoulder-length locks that curl up at the ends.
Half Up Ponytail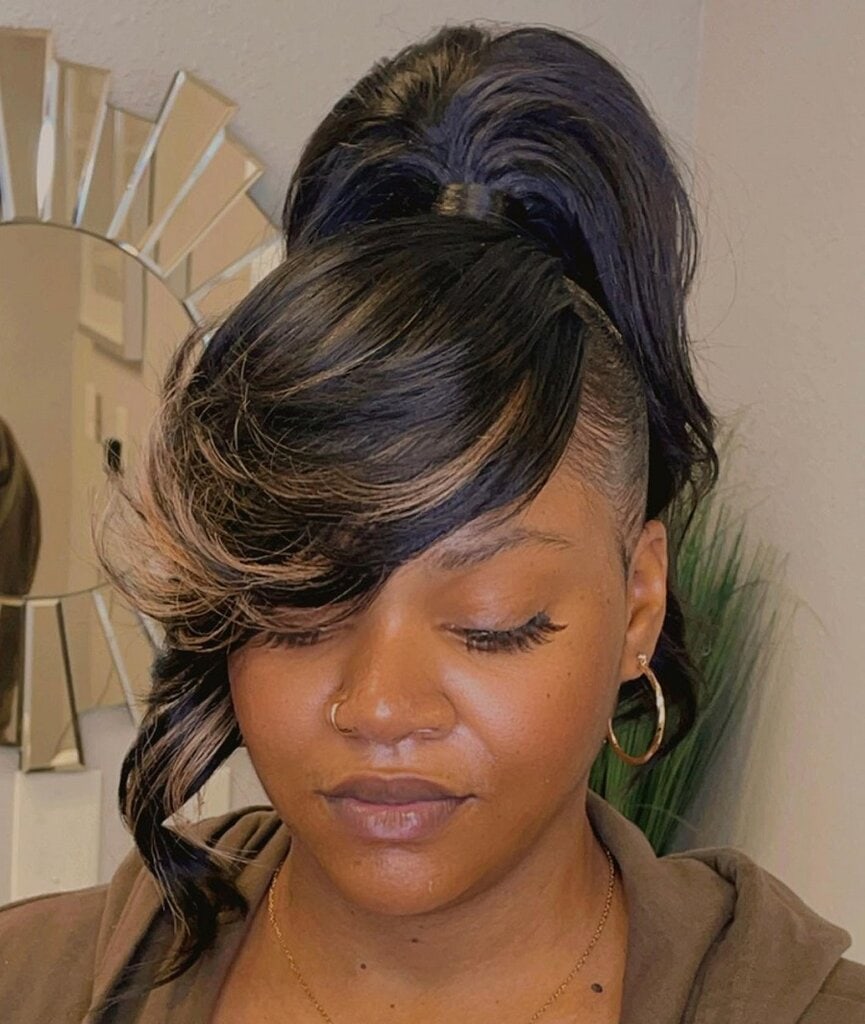 If you want your feathered bangs to take center stage, then consider a ponytail. Form it high on the crown of your head and leave a curly strand loose.
This curly strand can then blend in with your bangs to create a stunningly chic style.
Fanned Style for Long Locks
Feathering naturally makes your hair fan to the sides, so fan the rest of your hair sideways to match your fringe. It creates a very comprehensive look that adds a lot of life and movement to your locks.
Blonde Waves
Incredibly light blonde gives the hair the illusion of being very fine and feathery. Adding feathered bangs to your hairstyle helps make this look even more stunning.
The waves ensure your locks look lovely and wispy all the way through.
Long Thick Bob
Bangs help thick hair have more dimension, so adding some texture to that fringe helps out a ton, too. The bob here is long as well as thick and it sits just above the shoulders. The gently wavy texture is to-die-for.
Long Rockstar Shag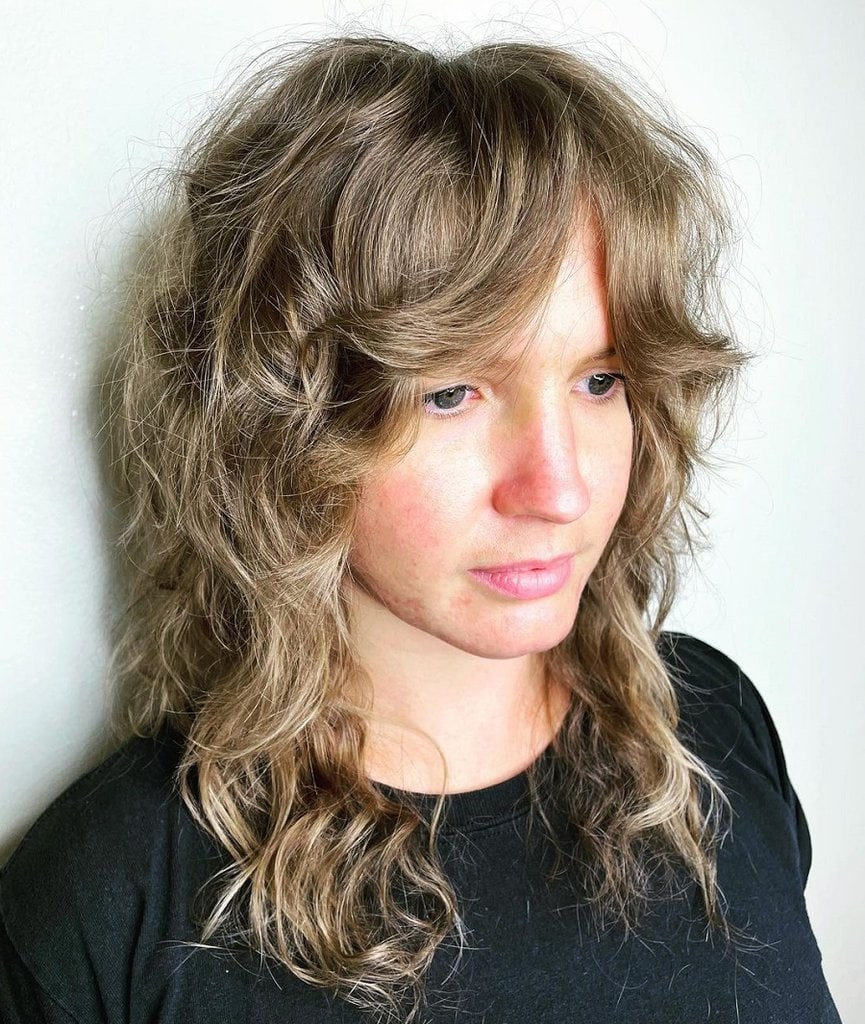 Shag haircuts are naturally edgy. Curly and slightly messy ones paired with a feather fringe look like something a rockstar would wear.
If that's the style you're trying to covet, then you should definitely consider a cut like this!
Orange Wind Swept Tresses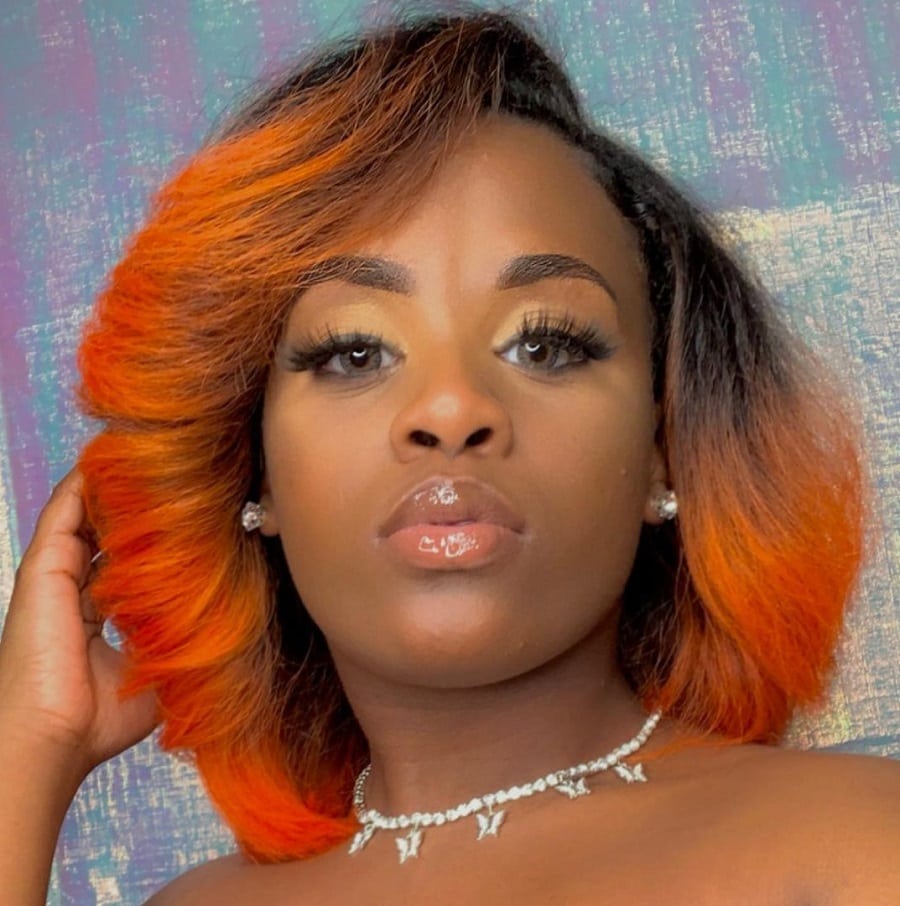 Sweeping your hair back is a great way to look like you're constantly posing in front of a fan to create a more glamorous effect. This suits the style of your fringe very well.
The bright orange shade ensures all eyes will be on you as it stands out so starkly from the natural black hair.
Dark Red Medium Hair
Dark red is one shade that's certainly eye-catching at any length. However, being medium-length stops the color from overwhelming and outshining the style.
Stylistically this is a simple wavy cut with a long fringe that flicks out on each side.
Chunky Highlights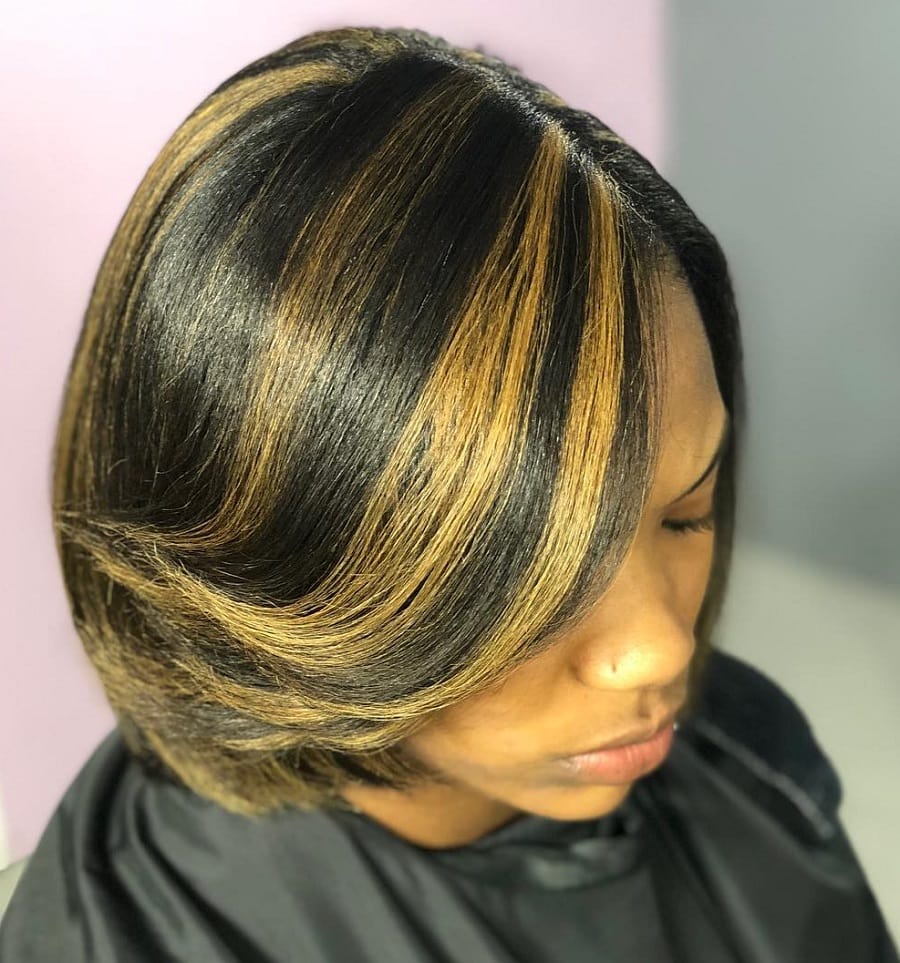 Want your 'do to really stand out? Using blonde chunky highlights on black hair will do the trick. It helps give some shape to a super sleek bob.
The texture at the ends of your long side fringe here will also help do that. It's so chic and will stay in place perfectly with a little holding gel.
Wavy Bob with Full Bangs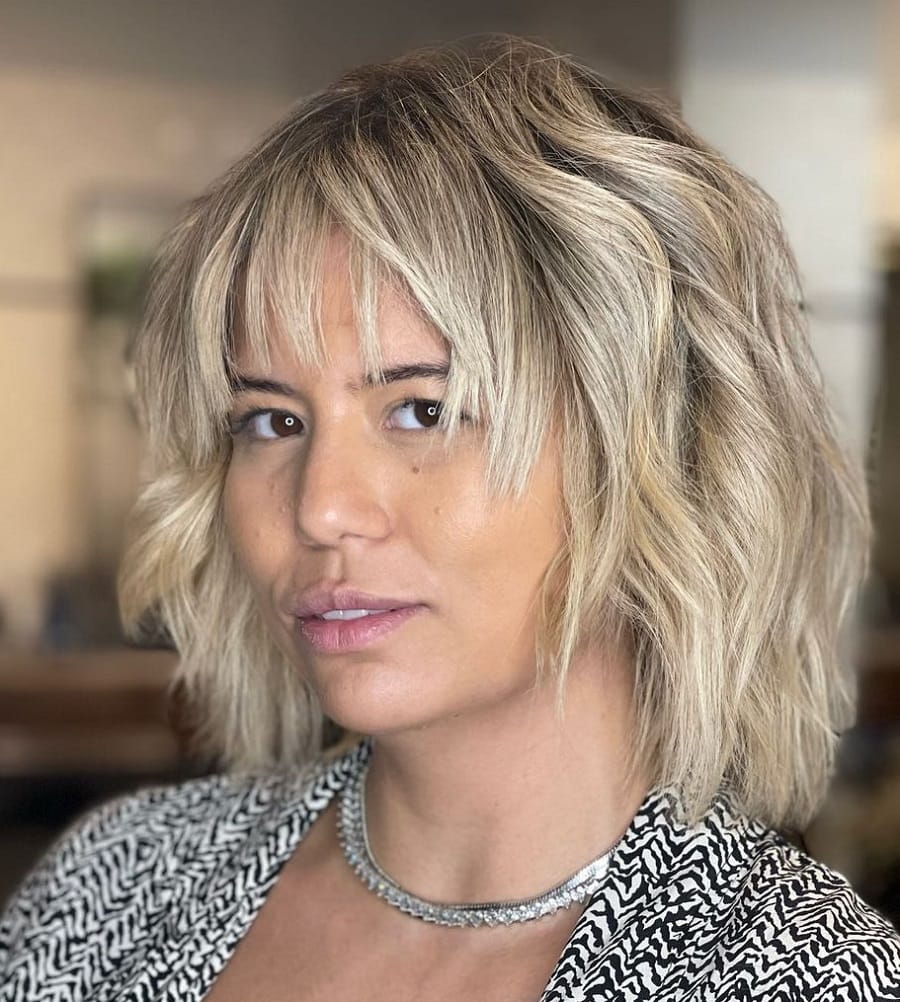 You can still create the feathered bangs effect when you wear full bangs with your hairstyle. The jagged ends of the fringe are more prominent with all the hair spread out across the top of your face.
This bangs pairs nicely with this long bob that's made a little messier by the wavy texture.
Simple Look for Older Women
Many over 50 women want something that's smart and simple like this, and that's fine. The tresses fall to the shoulders with their natural texture.
A thick, long side fringe adds some depth to make the syle prettier. It can also help cover a large forehead if you need it to.
Did you enjoy browsing these wonderful feathered bangs hairstyles? Hopefully, they showed you the numerous ways you can make this feathery-fabulous style your own. Mix and match to find your new look!
This style of fringe can add so much depth, dimension, and life to your look. You'll feel more lively every time you look in the mirror and you'll be super set apart from the crowd.