Having a nice hairstyle can make you look entirely different and there are some people who are not even recognized if they change their hairstyle. Both old and new trends remain in the fight for the best haircuts and 70s hairstyles are giving the best competition to the modern hairstyle.
Although the 1970s is a long-gone time, the hairstyles of people during that time are worth applauding. There were many hairstyles which were opted by both men and women in a sporty manner. It is seen that pixie and afro hairstyle were always famous but there are some iconic hairstyles which can be also chosen by youngsters in the coming year.
Famous 70s Hairstyles
The hairstyles which were carried by people in 70s were long, medium or short Shag haircut which was preferred by both men and women. To get a shaggy look, one can prefer this hairstyle. The feathered look of mid-length hairs brushed backward and outwards from the side impact a perfect bird-like appearance.
That was the time, when a straight and sleek haircut was also preferred which is even loved by ladies now. To get a chic look, one can go for straight and sleek open hairs. Men preferred to go with mustaches, sideburns and beards during that time.
The wedge and pageboy haircut was preferred by women with shorter hair lengths. Men preferred longer curly locks which gave a stylish appearance and this hairstyle can be opted for the youngsters to get a cool look.
Sleek and Straight with Flicked Ends
Of all the 70's hairstyles around, this one is one of the easiest to create and maintain. The hair is long and straight with some extra volume on top and ends that are flicked up playfully in a slight curl. It's sleek and shiny, absolutely stunning, and it makes a great look for everyday, parties, and business-casual occasions.
Voluminous Curls
This is a glamourous hairstyle that you'll love for everyday wear or formal occasions. There's a lot of volume on top and the bangs fall across the forehead in an enormous curl that resembles a wave on the ocean. The rest of the curls are tight and sleek, and there isn't a hair out of place. The golden blonde color goes well with red clothes and makeup.
Extremely Feathered Hair
This is one of the most iconic 70's hairstyles. The hair is cut into a varied length with the front shorter and the back longer, and the bottom of the hair is feathered back into a sweeping curl with a ton of volume. The sandy blonde color is natural, and it's an overall elegant look.
Short and Slick Platinum
This is a simple hairstyle with the hair kept short and pulled away from the face. It's pulled back into a thin shape that falls down the back of the neck, and there's not much volume to it. This sets it apart from most of the other of hairstyles of 70's. The light blonde color makes it look like a sleek 'do that anyone will love.
Long and Free with Headband
This is a classic style from the laid-back hippie era. The hair is long and barely styled, hanging loose to mid-way down the torso. It has a simple center part and is a nice, natural auburn color. The hair is decorated with a thin woven hairband worn around the forehead.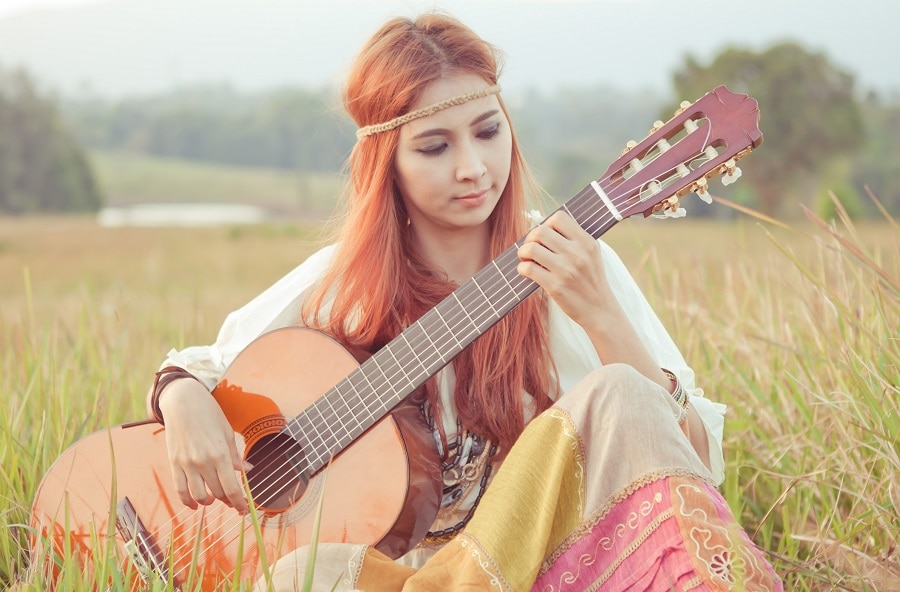 Messy Mushroom Cut
This hair is cut into the shape of a mushroom, but you can't fully tell it's a mushroom cut thanks to its messy waves and curls. It's a wonderful everyday style that's easy to maintain, so it would suit a busy woman who just wants to quickly fluff up her hair and go about her day.
Curly Shag
Everyone who knows about hairstyles from the 70's knows about the shag, and it's definitely back in style. The shag is a style that's full of choppy layers and has thick bangs that are full of volume. This particular style has all of those features and is made softer by gentle waves in large sections throughout the hair.
Blonde and Brown Perm
Perms hit it big in the 70's, and this is the perfect example of one. It's full of tight curls, and it's made more interesting by the blocky brown and blonde colors throughout it. It's as fashionable now as it was back then and it suits anyone for any occasion.
The Beehive
Who could forget the classic beehive? The hair is worn long with sweeping, feathered bangs, but the beehive is definitely the star of the show. It stands tall and round on top of the head adding tons of height.
Puffy Bob
This blonde bob cut is made more interesting by its 70's shape. It's slick and puffy, full of volume on the sides but flatter on top. There's still a little volume in the bangs, which are pulled back and out of the face.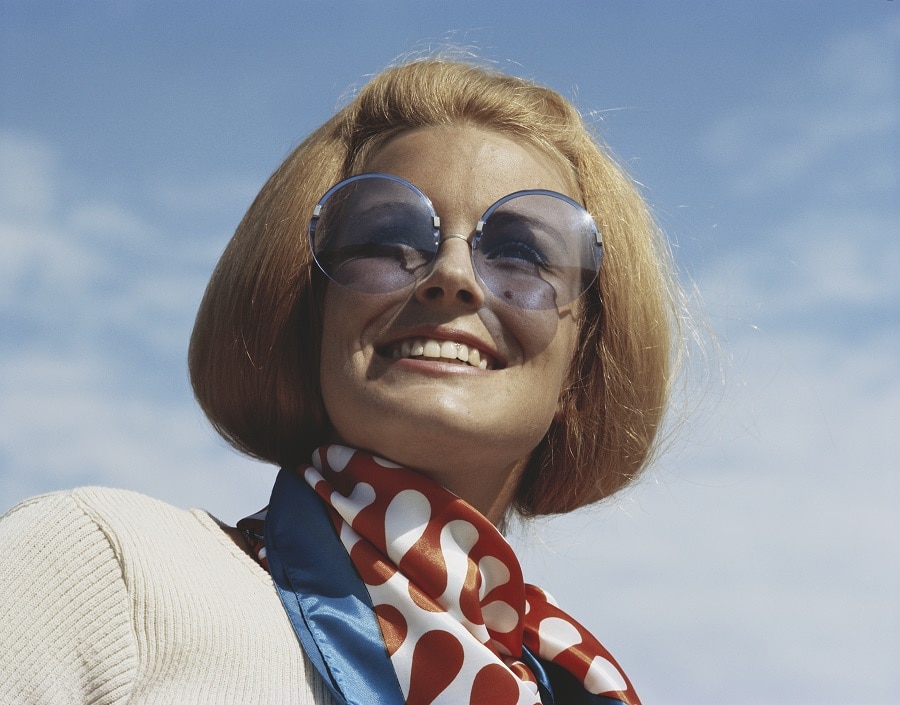 Huge Curls with Tons of Volume
These curls are huge. but the hair is full of volume on the sides and lacks volume on top. The hair is decorated by a nice flower decor, pulling one side of the hair out of the face. The other side of the hair is let fly lose.
Classic Shag
This is classic shag style. It's not curly or wavy, it falls naturally in relatively straight sheets by the face. The bangs are long with feathered ends and the choppy style brings an edgy look.
Long Free and Decorated
This hair falls free with lots of flyaway hairs. There's a slight side parting, and the hair falls to mid-way down the torso. It's made more interesting by the gold chains that decorate the top, adding an elegant touch.
Huge Chunky Layers
These huge, chunky layers will add interest to your look. The hair is layered in large sections, giving it enormous volume. The bangs are feathered, and they blend in seamlessly with the rest of the hair.
Short and Shaggy
Here's another hairstyle inspired by the shag, but it's much shorter and more modern. The hair is messy and choppy and isn't quite shoulder-length. The bangs are full and slightly swept to one side, and they're framed by longer pieces of hair that curl towards the eyes. The hair is slightly curly.