Over the years, Jane Fonda's hairstyles prove that style and beauty have no age. Now in her 80s, the celebrity actress wears some styles that many people seek to recreate due to their elegance, simplicity, and pure stylishness.
If you'd like to look like the legend, stick around. These beautiful, light hairstyles have something that will appeal to a variety of tastes and aesthetics. You might find something you'll want to wear for years.
Jane Fonda Hairstyles
These utterly beautiful looks should give you plenty of hair inspiration if that's what you're looking for. Let yourself be swept up in the beauty!
Bob with Face Framing Highlights
If there's one thing that Jane Fonda's hairstyles do well, it's bring out her natural beauty. The face-framing blonde highlights work to draw all your attention forward.
The rest of the bob is a darker, sandier shade. There's lots of volume in it, so it sits around the head.
Sleek Ponytail with Bangs
You can't beat a sleek ponytail when it's done elegantly like this. The sides are drawn back, overlapping the back of the hair. The ponytail is then secured with a lock of hair. Thick but fluffy bangs rest on the forehead, longer on each side.
Messy Curly Updo
A controlled mess makes updos look super effortless and casual. This one is piled very high on the head and has many overlapping sections that look like large curls.
The hair has many layers, and some wispy curls fall by the ears.
Bob with Layers and Side Bangs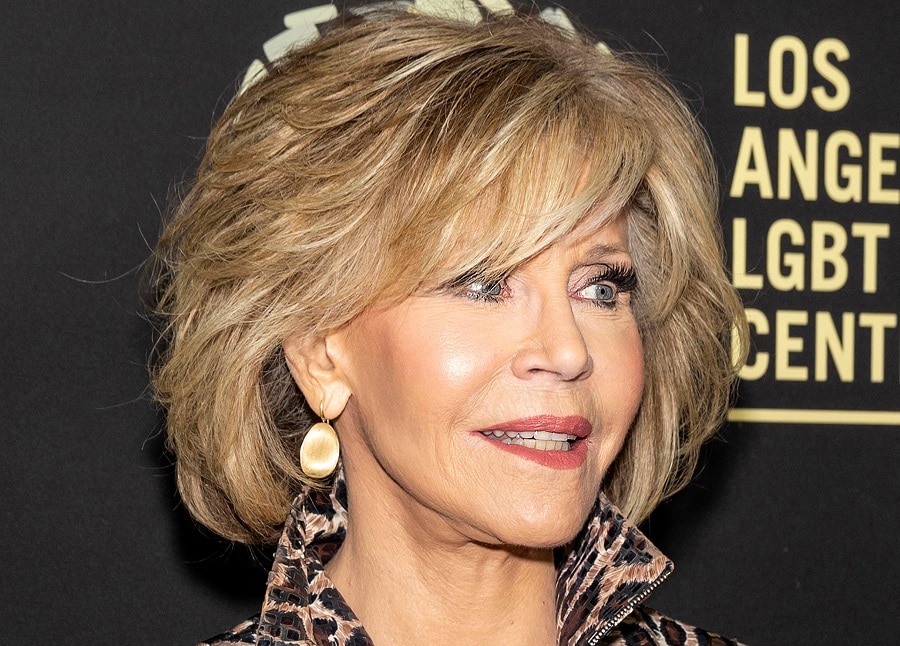 Jane Fonda has a knack for making her hairstyles look full of volume. For example, the layers in this bob add thickness, and the way they're blown back make it look dynamically textured. Thick side bangs dust across her forehead effortlessly.
Ultra Curly Bob
With this look, Jane has jazzed up her usual bob with lots of curls that add a ton of volume and make her look elegant. Her hair is also all one shade of blonde, when usually she has two or three.
Side bangs feather to the side, making the front of the look appear coherent with the rest.
Feathery Shag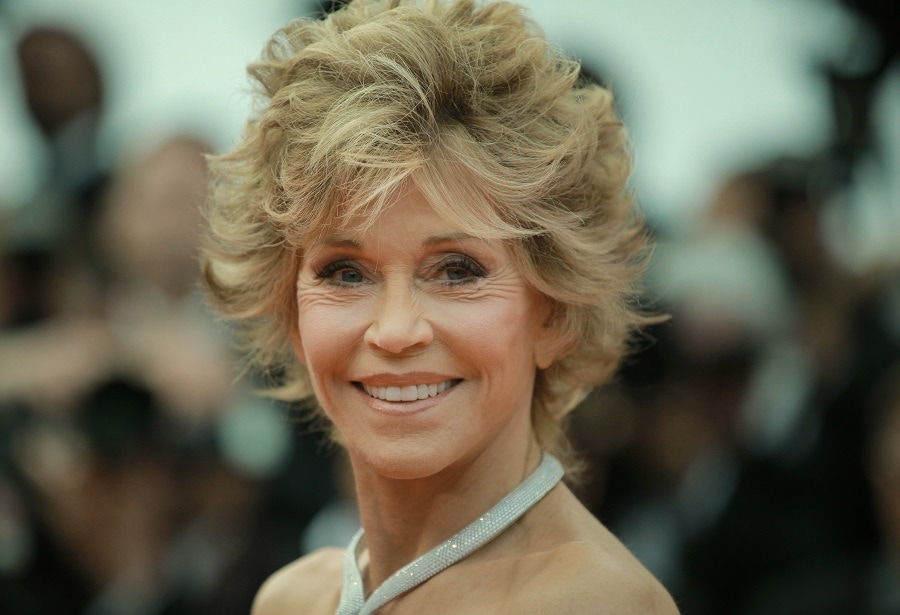 Shag hairstyles are super on-trend, as Jane Fonda shows here. It's a very short hairdo, with the back longer than the sides. There are lots of layers that have been blown back, and the top stands tall. She has full bangs with a slight split in the middle.
Highlighted Pixie Cut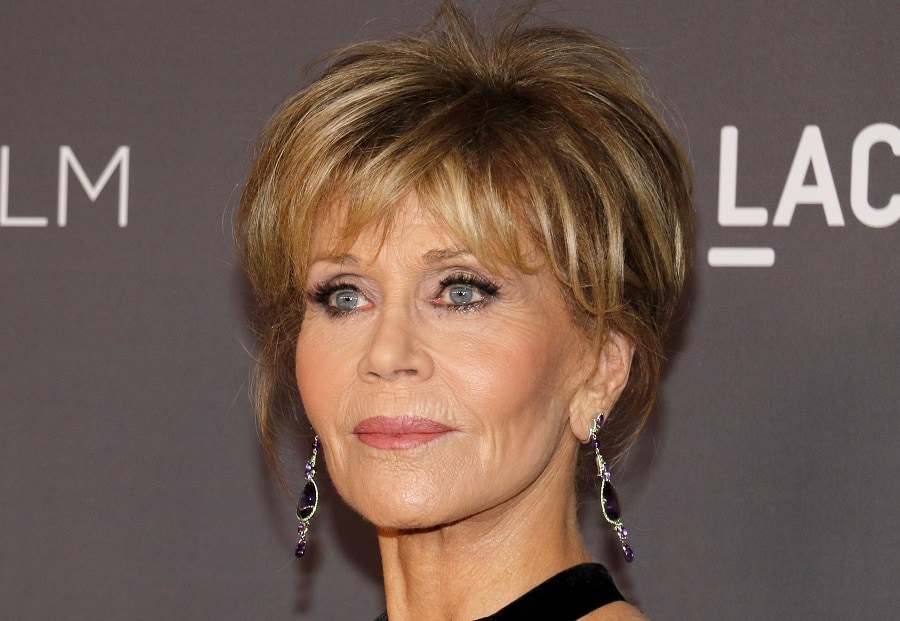 Pixie cuts suit everyone and adding some highlights to the side makes them stand out. Her haircut is the same length around the top and sides, but only on the top layers of hair.
The layers underneath are a little shorter. There are also some longer strands by her ears, making this a unique hairdo.
Layered Curly Bob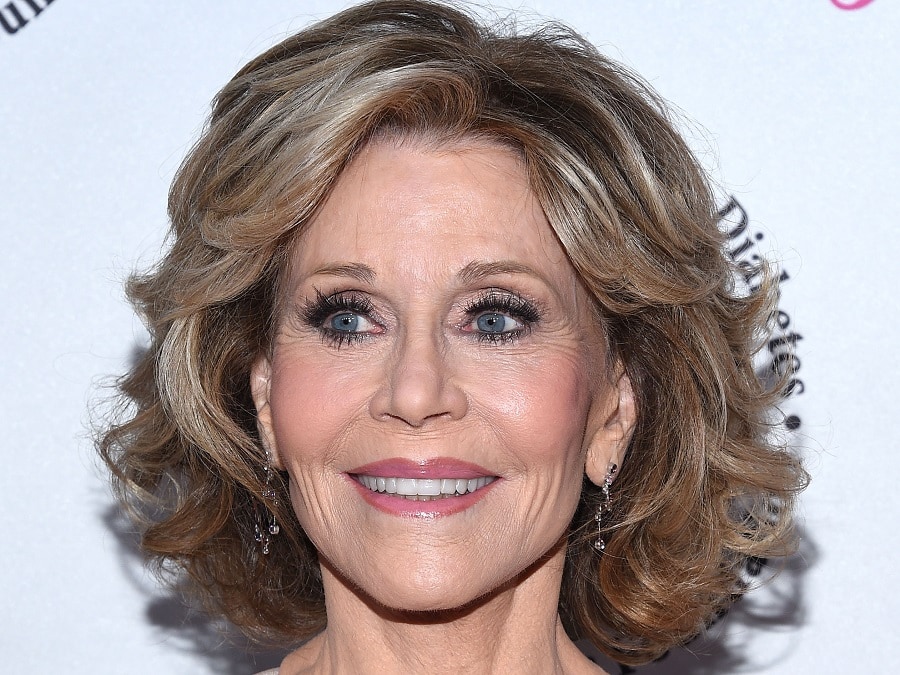 Here we see yet another variation of the bob. This bob is a little longer than her usual look, but it looks shorter because it's curled. The curls are large and loose, and the layers make her hair look voluminous. She has side bangs swept back into the look.
Silver Spiked Pixie
For once we see Jane Fonda embrace her natural silver, which looks absolutely fantastic. If you're an older woman who doesn't like hair dye or complex styles, this is for you!
The pixie cut is a little choppy and quite long on the sides. The top is short, with spikes and bangs to make her stand out.
Swept Back Sandy Blonde Bob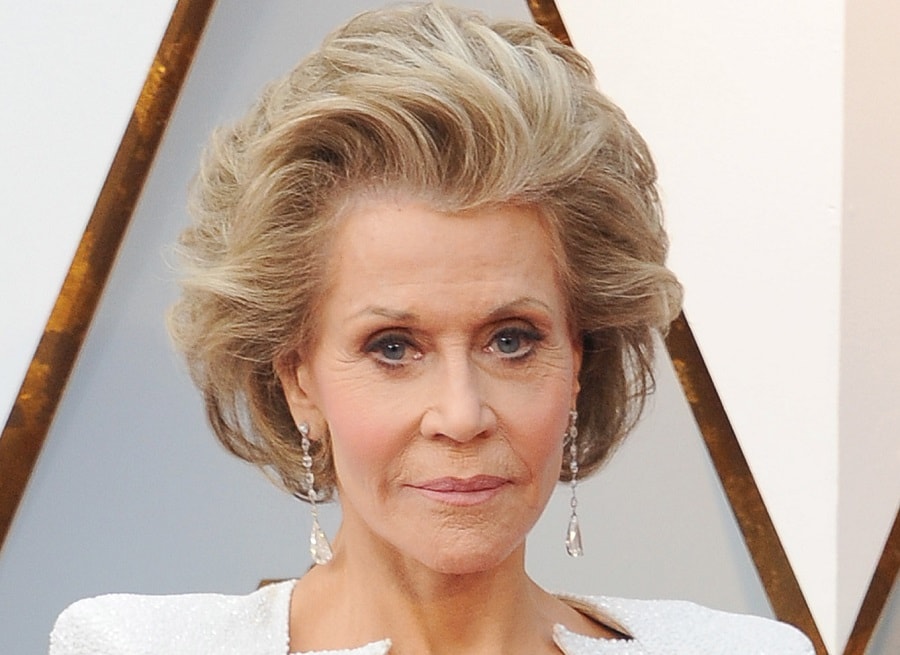 A sandy blonde bob shows this incredible actress returning to her usual style. In this one, it's tall and swept back on all sides. Some nice sections of hair fall by the ears, framing her face and elongating it very nicely.
Long Feathered Bob
Feathered bobs that are a little longer than average are a signature style. Each feathered piece of hair in this layered bob is curled back. The front has bangs that lightly fall against the forehead, but there's a lot of volume so they stand out of their own accord.
Messy Hair with Front Layers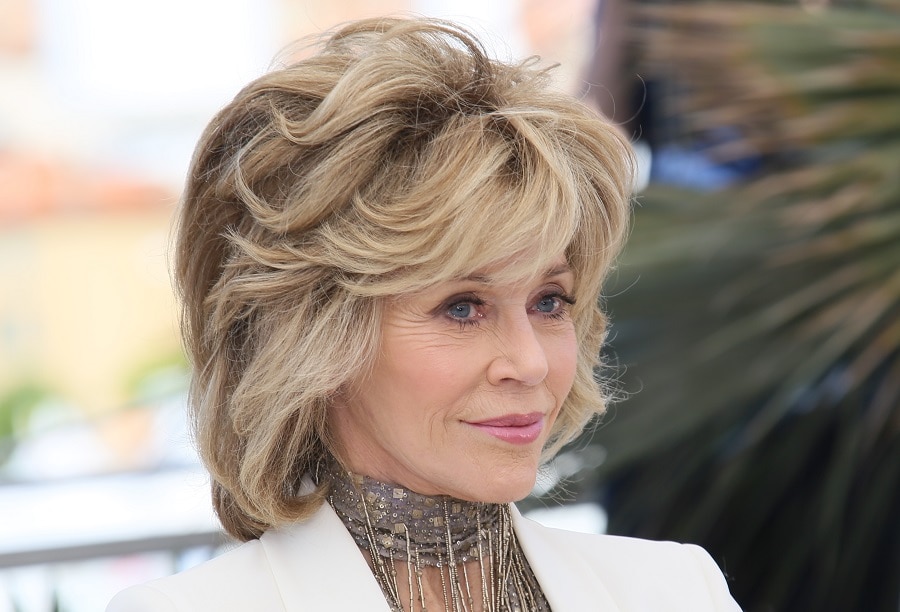 The unique style here sees the back and sides of the hair sit on the shoulders and curl in towards the face. It's the front of the style that steals the show.
There are layers on top and in the front, curling back across the head. Side bangs sweep on her right side.
Half Up Half Down with Crown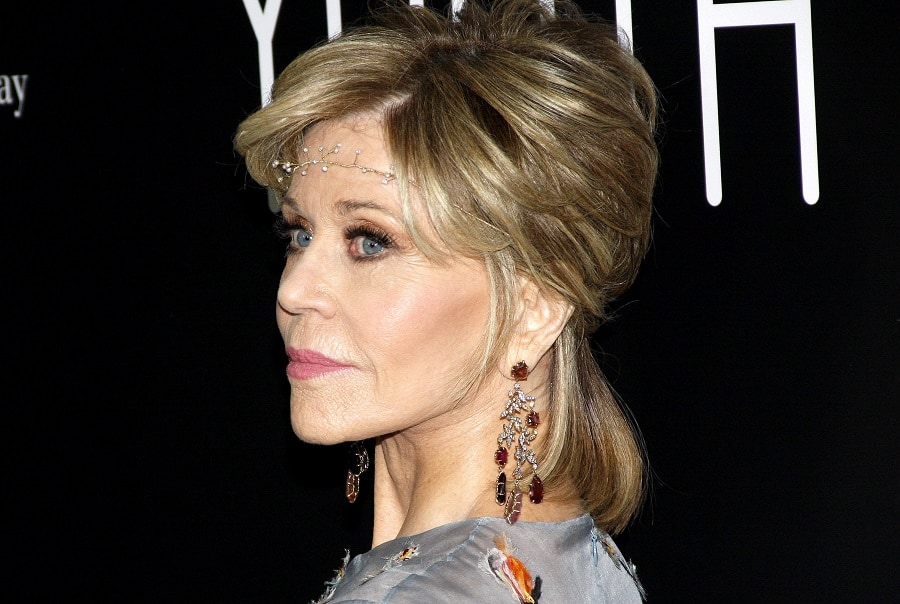 Half up, half down styles are very common. This one has the sides swept back and secured. Nice bangs brush to the side. The back of the hair hangs loose and thin down the neck.
She's wearing a little floral crown around her forehead. The crown is very thin and elegant.
Simple Blonde Updo
Jane Fonda's hairstyle here is very simple. The hair is pulled back into an updo with no frills or complications. Her hangs are longer and sleeker than usual, and they fall to one side.
One solid blonde color goes all over her head, with just a hint of darkness in the roots to add dimension.
Wide Bob with Wispy Bangs
Wispy bangs are super cute, and they brush down to the eyebrows here. They tie in the top wispy layers of hair very well. The rest of the style is in a bob, which is teased out to make it wide and full of volume.
Shoulder Length Cut with Layers
This one is a little longer than usual, and some nice layers make it a varied style. The ends of the hair are feathered, and side-parted bangs frame the forehead in a nice and stylish manner.
As you can see, these Jane Fonda hairstyles over the years showcase elegance, beauty, and style in various ways. There's something to appeal to every taste, and lots of them can be worn as everyday looks. There are a few in there that can work at formal events, too.