We all have thought about chopping our hair at least once in our lives. There's just an added sophistication that comes with shorter hair, not to mention comfort. The benefits of short hairstyles are endless, not to forget the added style quotient.
Hollywood celebrities have always rocked short hairstyles from the very start. Wasn't Marilyn Monroe one of the first to wear her gorgeous hair short and sweet? Let's see how the celebs of our times are styling their short hair.
Hottest Female Celebrities With Short Hair
We've compiled a list of 25 popular celebrities with short hair for you to get some inspiration and motivation to make the final call to go short. Check out how these stunning actresses have embraced their short hair in their own unique ways.
Aisha Tyler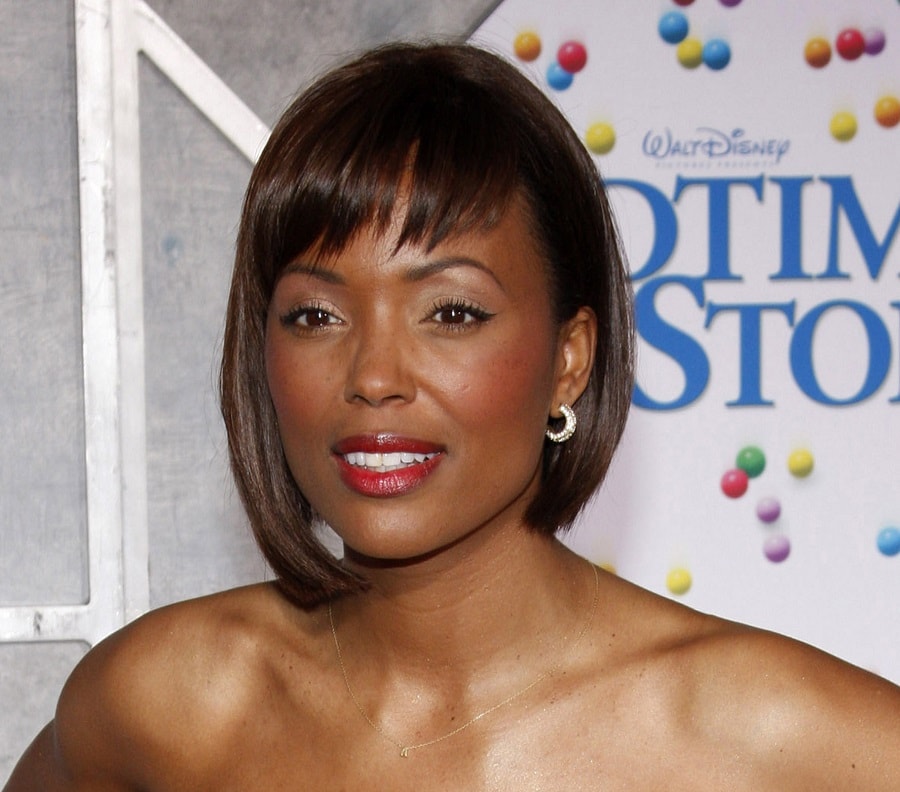 Aisha Taylor looks gorgeous in this dark espresso color paired with a sleek asymmetrical Bob cut. The look couldn't be any more fabulous without these short bangs at the front.
Anne Hathaway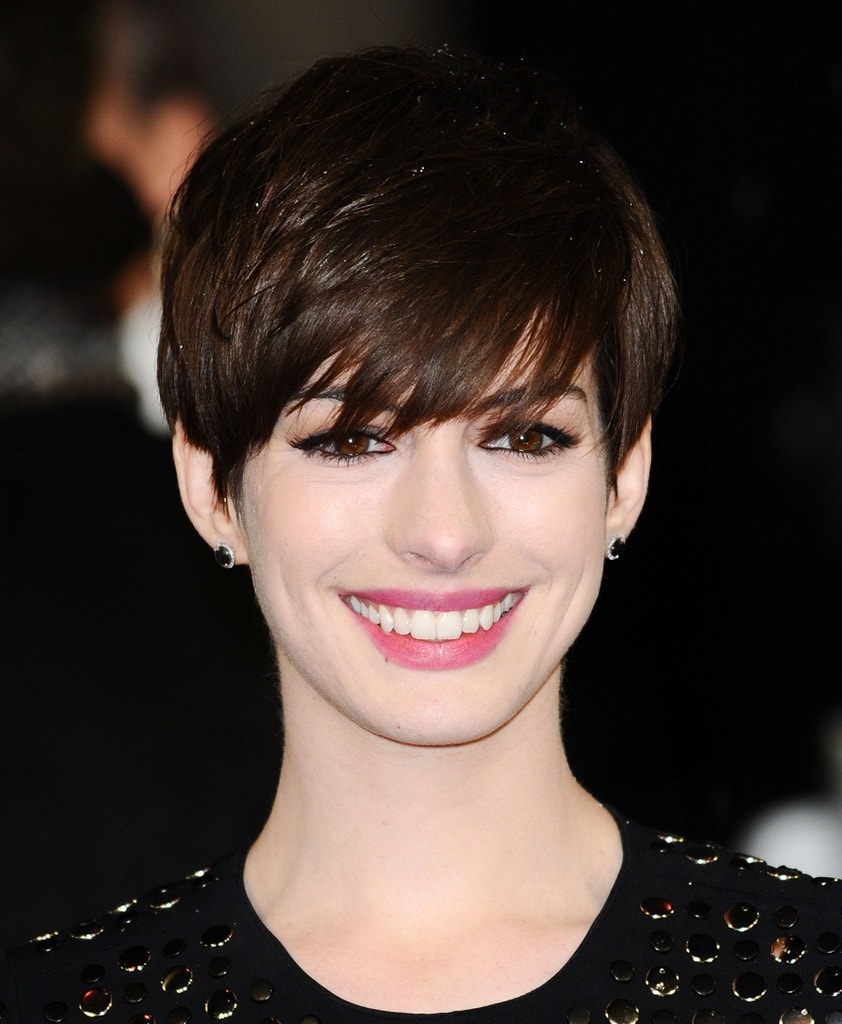 Anne Hathaway needs no introduction. She's the queen of our hearts and our screens. This academy award winner has been a leading actress in Hollywood for over a decade. And in all these years, she has made several style statements, including being the hottest celebrity with short hair.
You can trust her to rock a pixie cut one of them being this layered mom mocha-colored cut. The long bangs at the front make her look extra pretty!
Charlize Theron
Charlie Theron was the one who glamourized the pixie cut by wearing it at the 2013 Oscars. Since then she's worn her super short hair with style and pride. She looks stunning with her blond overgrown pixie cut with curls added to them.
Cynthia Nixon
It now turns our very own Miranda from sex and the city.
Her short and simple haircut gives her the sophisticated look that she needs for her new endeavors in the activism world. Her brown pixie cut with blonde highlights screams class and elegance.
Emily Burgl
The marvelous actress usually wears her beautiful hair in a short bob with side-swept bangs. The blonde hair color brings go well with her grey eyes and the Bob haircut enhances the best of her features.
Emma Watson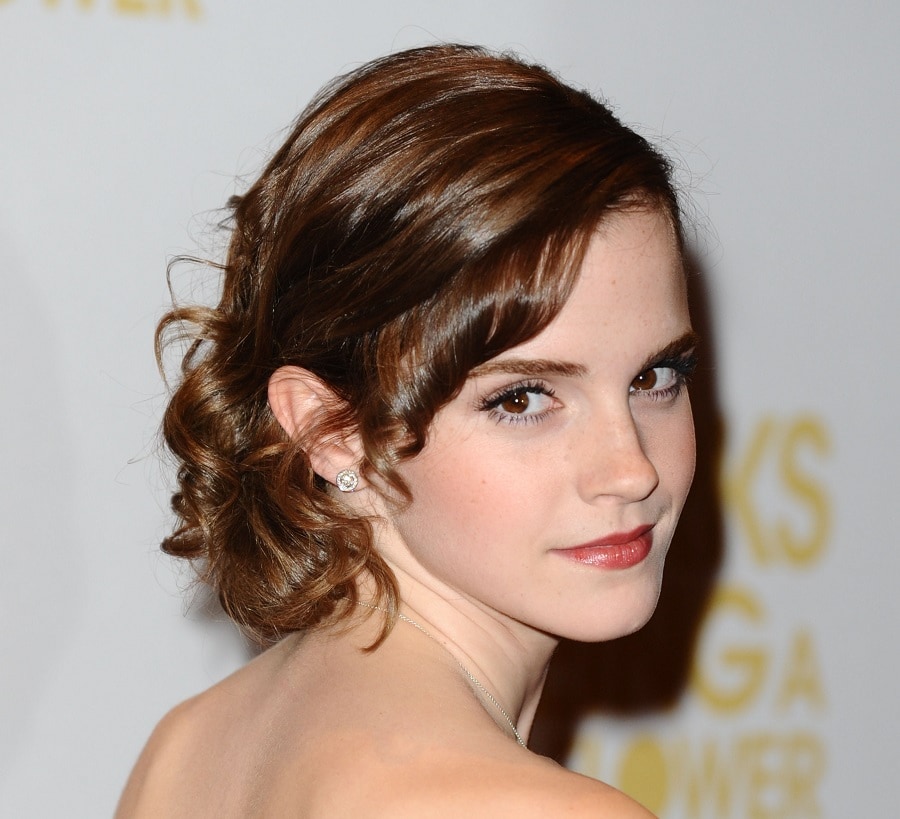 We've seen Emma Watson grow in front of us and through all these years we've seen her style evolve. From starting with voluminous curls in Harry Potter to her famous boy cuts, she is a celebrity with short hair that can do it all.
For this hairstyle, she has gone for a bold chop just slightly below her chin. She has flipped her circles to one side for a sophisticated and timeless look.
Halle Berry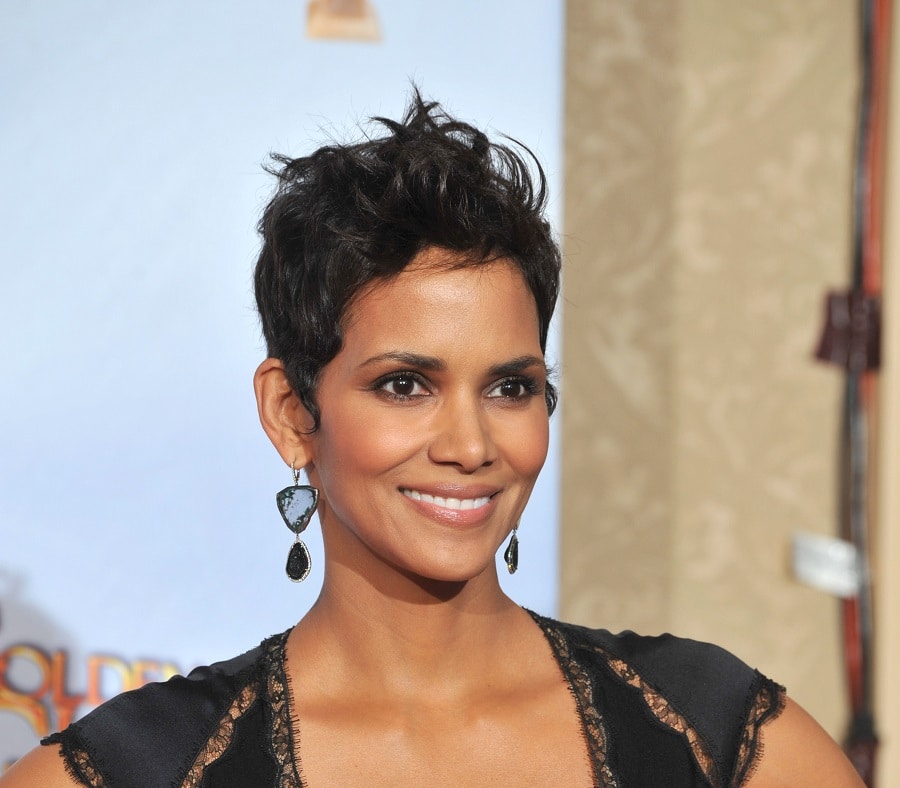 This gorgeous model-turned actress knows how to style her gorgeous hair. Seen in many films like John Wick, Catwoman, and Monster's Ball, Halle Berry is one of the hottest actresses in Bollywood right now.
Her shaggy and sassy pixie deserves the sexiest haircut of all time award. This wild and messy haircut adds life to her look. Paired with her beautiful smile, she's red carpet ready!
Jane Fonda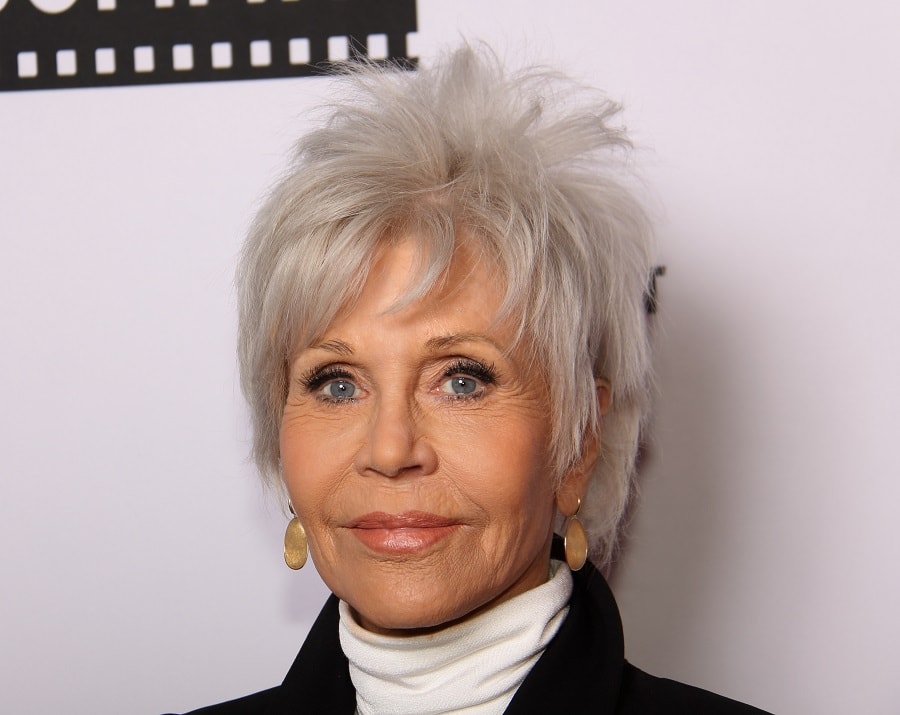 Jane Fonda is a living legend who has done wonders in her long, amazing career. From tv to cinema to modeling, she's done it all. She is the recipient of two academy awards and countless other awards.
We all know her for being an iconic celebrity with short hair but her current silver hair is quite special. At 83, she embraced her beautiful white hair with grace and rocks it by pairing it with a straight short haircut.
Jennifer Lawrence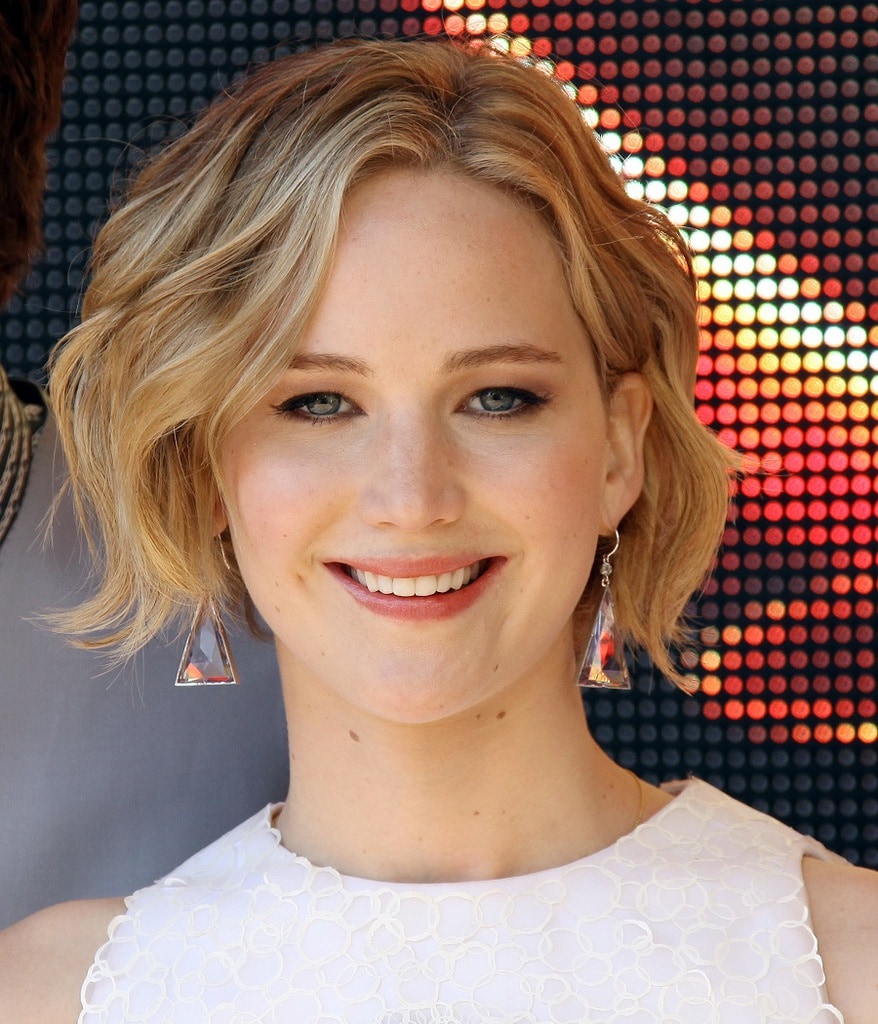 Everyone loves Jennifer Lawrence, one of the leading and highest-paid blonde actresses in Hollywood. Our very own Katniss Everdeen is known for her blond bobs.
She is wearing gorgeous blonde hair and a short layered bob that only slightly grazes her chin. With some face-framing layers at the front, she smiles like the brightest star in the universe.
Jessica Alba
This gorgeous actress and businesswoman area are known to play Max in the sci-fi series Dark Angel.
Her gorgeous brown hair with slight highlights looks gorgeous on her. Her straight Bob cut gives her face a structured look and goes well with her strong features.
Katie Holmes
We've seen Katie Holmes in several blockbuster movies like Jack and Jill, Batman begins, and don't be afraid of the dark.
Her style has always been the talk of the measure. She knows very well how to carry a gorgeous short hairstyle. You can show the picture of her side-swept haircut with defined curls to your stylist for your next special event.
Katy Perry
Katy Perry is the biggest pop sensation of the 2010s. It wouldn't be wrong to say that this absolute diva revolutionized the pixie cut.
Her blonde pixies make everyone want to just get rid of all of their hair and look as glamorous as her.
Keira Knightley
Keira Knightley or our very own "Elizabeth Bennett" is the most gorgeous star out there. Her angled Bob haircut is just the right hairstyle for anyone who's thinking about cutting their shorter.
Kristen Stewart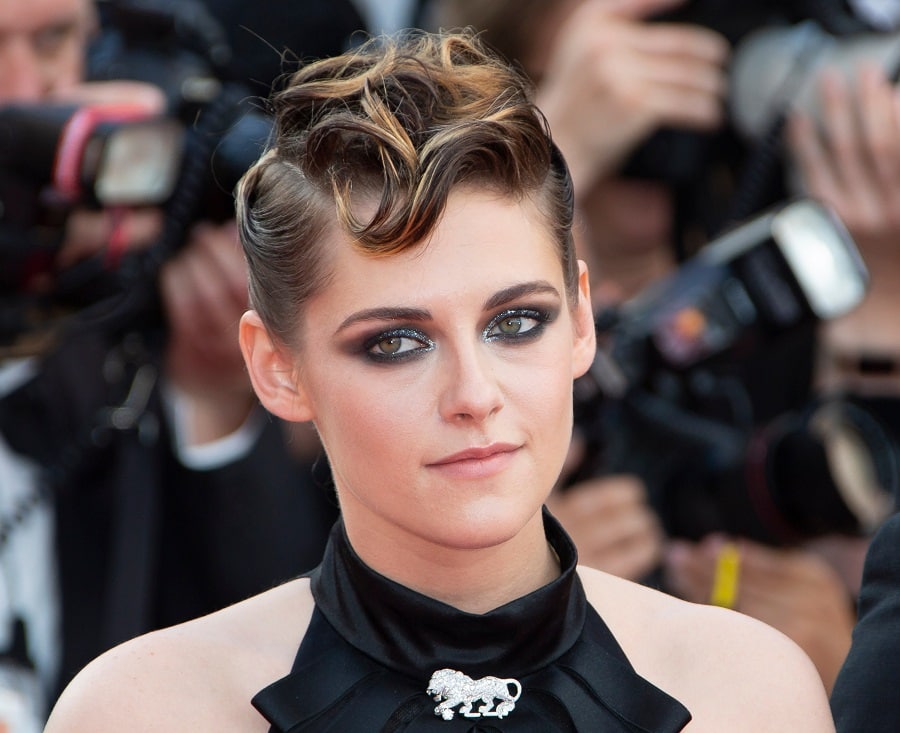 Kristen Stewart is known to play with her short hairstyle as she does in this short and wavy brunette mohawk hairstyle. And she's, no doubt, rocking it!
Michelle Williams
Michelle Williams has played several roles including Marilyn Monroe in the movie My Week with Marilyn. She is known for her short and stylish pixie cuts that make her look so young. Can you tell that she's already in her 40s?
Miley Cyrus
The little girl who played Hannah Montana grew up to become one of the biggest singers in the world. Who can forget her wrecking ball era and the iconic looks that came with it? Her blond undercut hairstyle paired with a red look is so bold, outrageous, and just so, Miley!
Natalie Portman
Natalie Portman has been in business for more than 2 decades and in this time she has created a legacy of her name. From star wars to MCU, she has been part of the biggest franchises. Her sexy pixie haircut is a style statement on its own.
Rachel McAdams
From the sassy and mean, Regina Georges to the brave and beautiful Allie from the notebook, we all know her for the timeless roles she has played.
But her style has also often taken the world by storm. Here she sports these voluminous curls with her short hair that gives her the aura of the gorgeous diva that she is.
Rihanna
Our very own Riri! Singer, songwriter, model, and even owner of a 3 billion dollars worth of makeup company, there's just nothing she can't do. Look at how stunning she looks in her dark layered bob cut with some straight bangs.
Sarah Hyland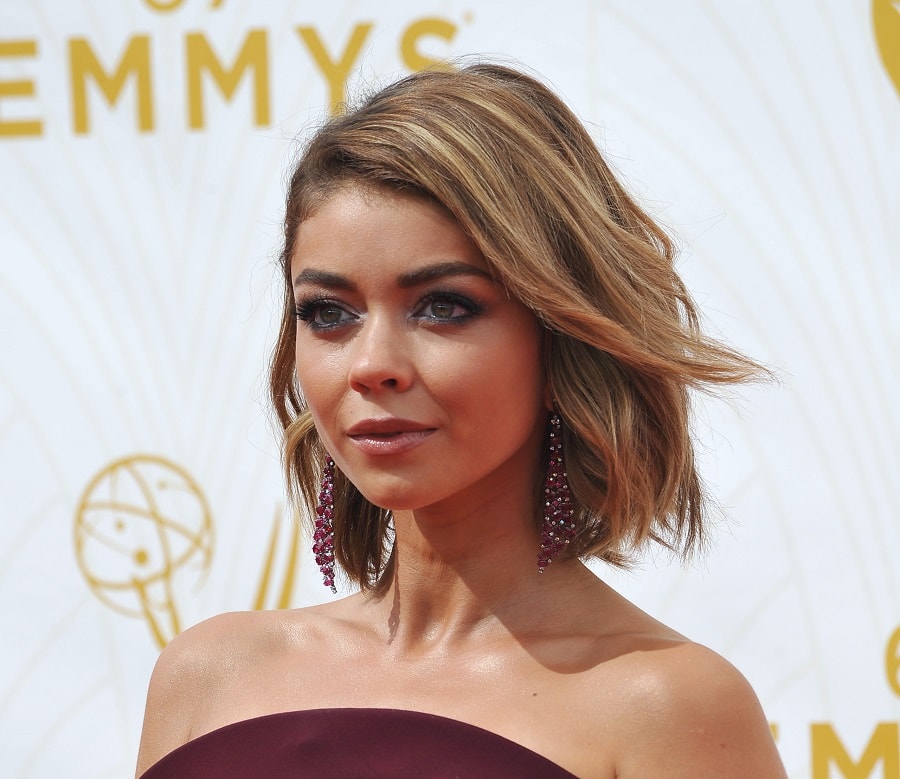 Sarah Hyland plays Haley on our favorite tv show, The Modern family. Her style is impeccable in the show as well as in real life.
Even in her highest-grossing movies, Hailee had a gorgeous short haircut and in real life, Sarah sports this haircut with just as much sass and style.
Scarlett Johansson
Scarlet Johansson is one of the biggest actresses in Hollywood right. In her recent Oscar nomination movie, A marriage story, she has a gorgeous short hairstyle.
In this hairstyle, she has a jagged top and opposite sides and clipped backsides. This unique hairstyle can be the perfect one for those looking for something edgy and unique.
These Celebrities Looked Gorgeous In Short Red Hair
Taylor Swift
Taylor Swift is the queen of the music industry. She has always been the queen and will be the queen till the end of time.
At the 2016 Grammys, she turned up with this blunt, chin-length bob and stole our hearts forever. She can take an ordinary hairstyle and make it her own.
Teyana Taylor
Teyana Me Shay Jacqueli Shumpert, popularly known as Teyana Taylor is an American singer-songwriter, actress, dancer, choreographer, director, and model. You name it, she does it.
She is especially famous for her being one of the celebrities with short hair. She pairs her shaggy pixies with sideburns Have you ever heard of that before?
Tyra Banks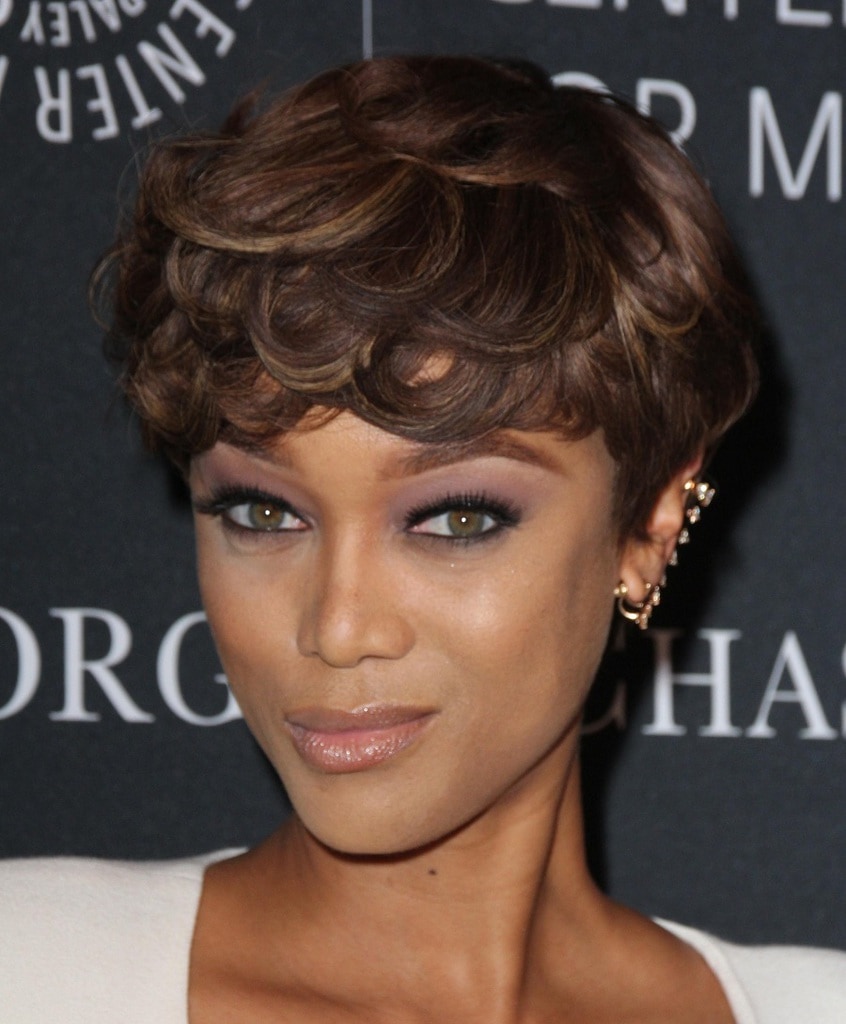 We all have seen the famous Tyra banks host America's next top model. But did you know that she also has a very strong style game going for herself?
Over the years she has rocked hair of all lengths. In this one, she has added perfectly blown-out curls to her short hair for the fanciest short hairstyle we've ever seen.
Viola Davis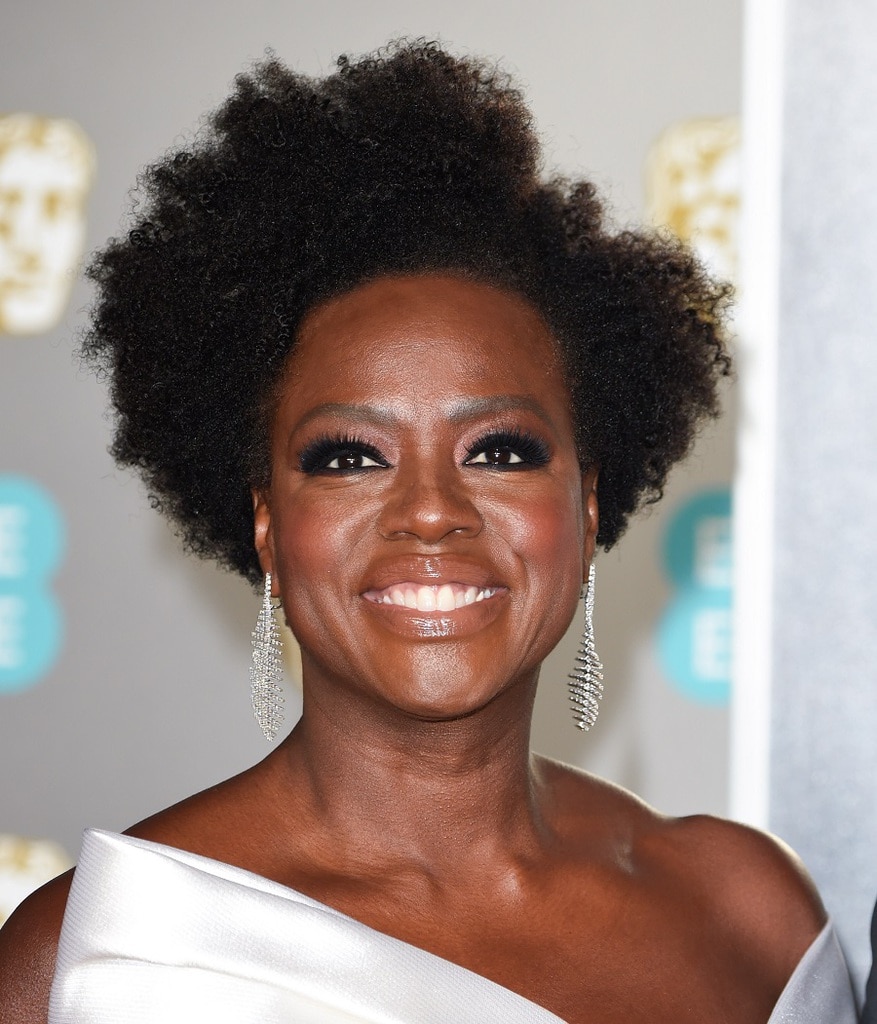 Viola Davis is the only African American to achieve the triple crown of acting. We've seen her in 'How to Get Away With Murder' and the iconic movie 'The Help'. She loves to wear her natural afro hair.
In this one, she has given and sleek shape to her voluminous hair by trimming it a bit and letting the rest flow around in its natural glory.
These gorgeous ladies have totally owned the short hair hairstyle, regardless of their age and hair type. And you know what that means? There's nothing stopping you from embracing the hairstyle and ruling it like an absolute queen!
Check out these gorgeous celebrities who have owned the above short hairstyles in their own unique ways and made it their signature move!