Seeing a celebrity wearing a short red hairstyle you like is a great way to boost your confidence. It shows you that your choice is popular enough for famous faces to rock on the red carpet.
Vibrant crimson or nice ginger locks are always trendy. These shades look utterly delightful on short hair as the shade makes you stand out. Women with bobs, pixie cuts, and other styles like this will look absolutely wonderful with this color.
Celebrities with Short Red Hair
If you want some celebrity inspiration for your short red hair, then look no further than the list below!
Sharon Osbourne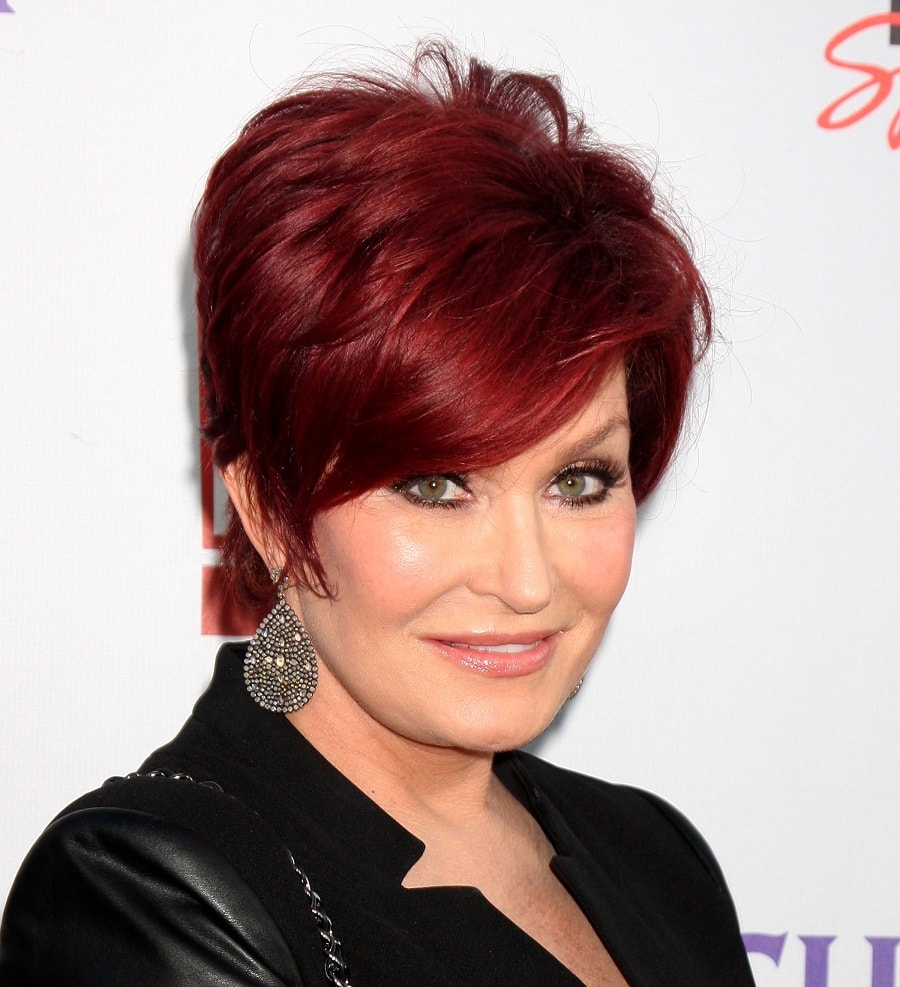 Celebrity Sharon Osbourne and her short red hair are synonymous. Everybody knows her classic pixie haircut with lots of texture on top. It's utterly divine for framing the top of your face and making you stand out with very little effort.
Rihanna
Rihanna is one of the most famous celebrities who rocked short red hair. If bobs are more your style, then you could mimic Rhianna. Her bob is very thick and has delightful waves in it to add life and texture to her look.
It falls halfway to her shoulders and frames her face very well. The shade of red is very edgy and will stand out for anyone who wears it.
Jessica Chastain
Some of you may prefer to keep a more natural red tone in your hair. This short bob has a side parting and some nice curls in it. Jessica keeps her natural ginger locks, and they make her look absolutely stunning.
Kathleen Noone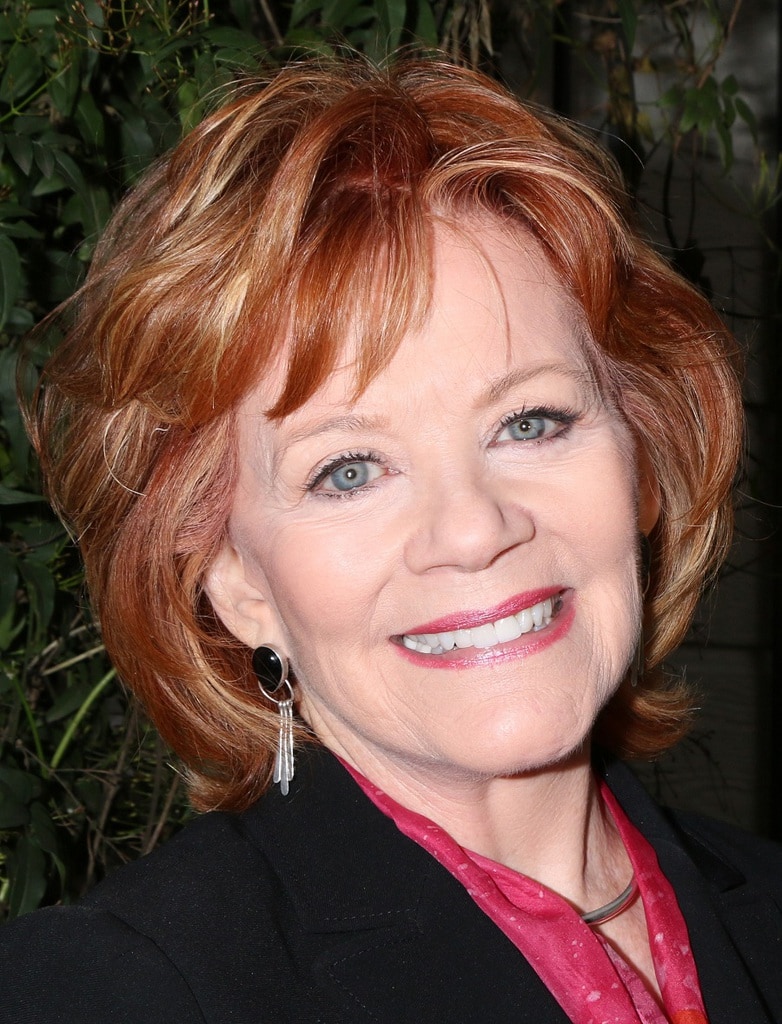 Mature ladies might prefer to mimic Kathleen Noone's short red hairstyle. It falls in a layered and choppy bob. Some nice side bangs dust across the forehead. The natural ginger locks are highlighted with blonde.
Scarlett Johansson
Dark red tones create such a mysterious and elegant vibe. ScarJo wears her short hair very nicely in a nice casual celebrity hairstyle here.
The locks are swept towards the back of the head and left a little messy. The face is on full display so it's great if you want to show off your features.
Fantasia Barrino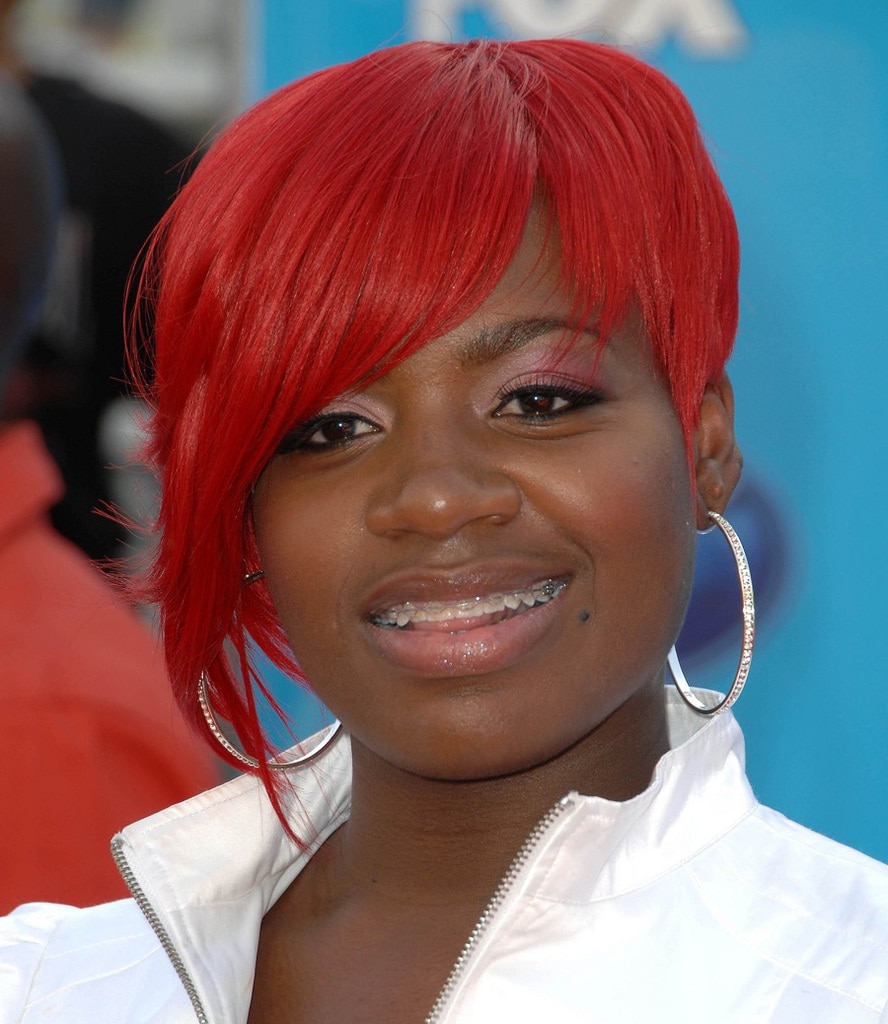 This vibrant shade of red is fantastic for people who want to stand out. Fantasia wears her hair in a long bob. It's asymmetrical, so one side is very long and falls beside the face. The other is kept nice and short. It's delightful for standing out.
Christina Hendricks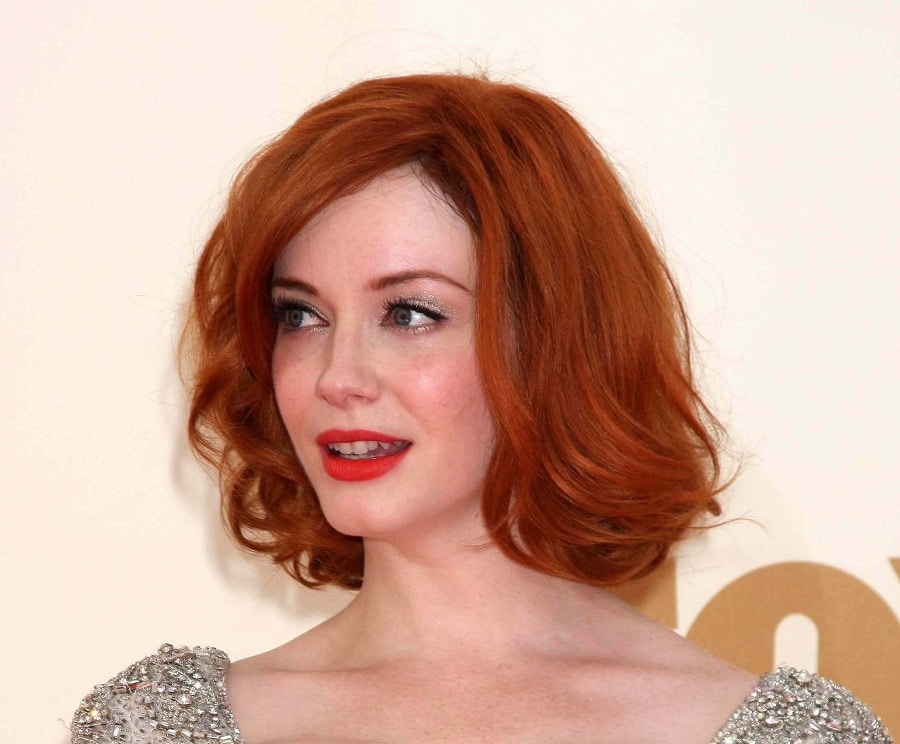 Some people have such vivid hair naturally. Deep ginger tones look so elegant. This hair color looks especially wonderful with pale skin.
The long bob has small curls on one side. The other side's curls are looser and less visible. This creates an asymmetrical texture that's very interesting to look at. It's excellent for wearing to formal events.
Arlo Parks
Reddish tones that are more on the orange side are always captivating. She keeps her short red hair in its natural kinky state. The top is left longer than the sides and forms a slightly square-shaped but with soft edges.
Caroline Manzo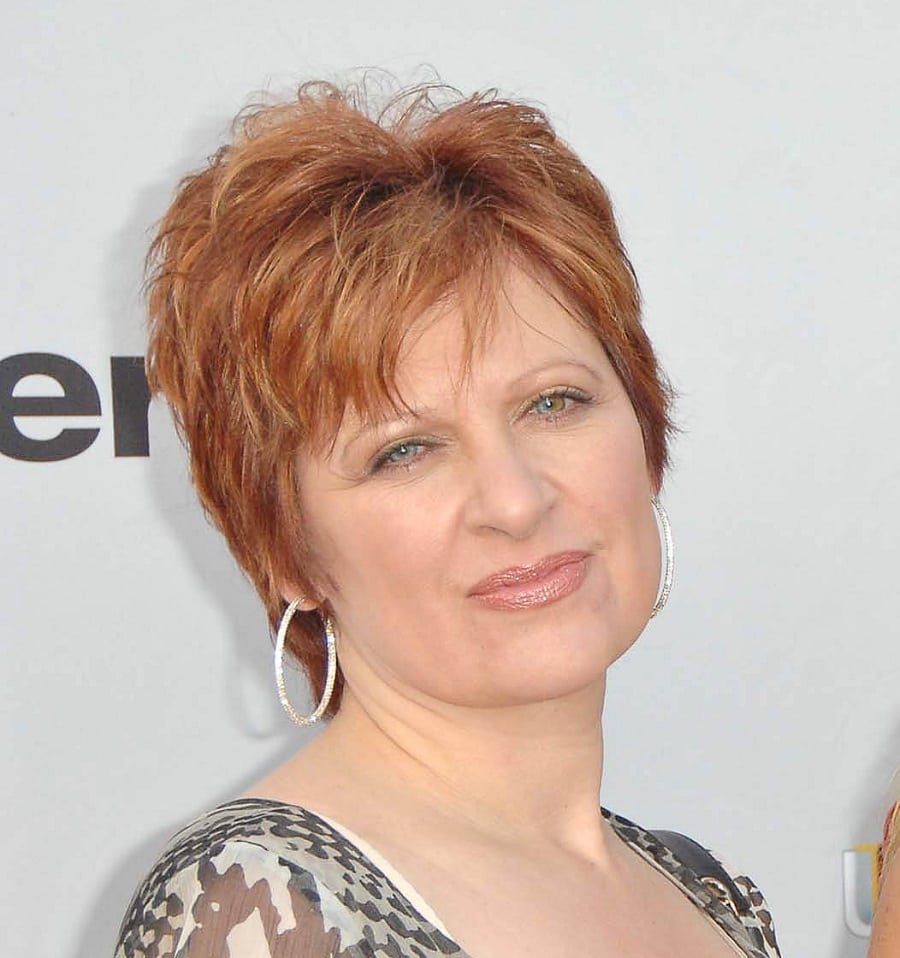 Faded ginger is a nice shade for mature women. Mature women will also enjoy this choppy pixie cut. It's quite long in the back and comes to the end of the neck. However, on top there's lots of texture and many layers that create a messy look.
Ellie Kemper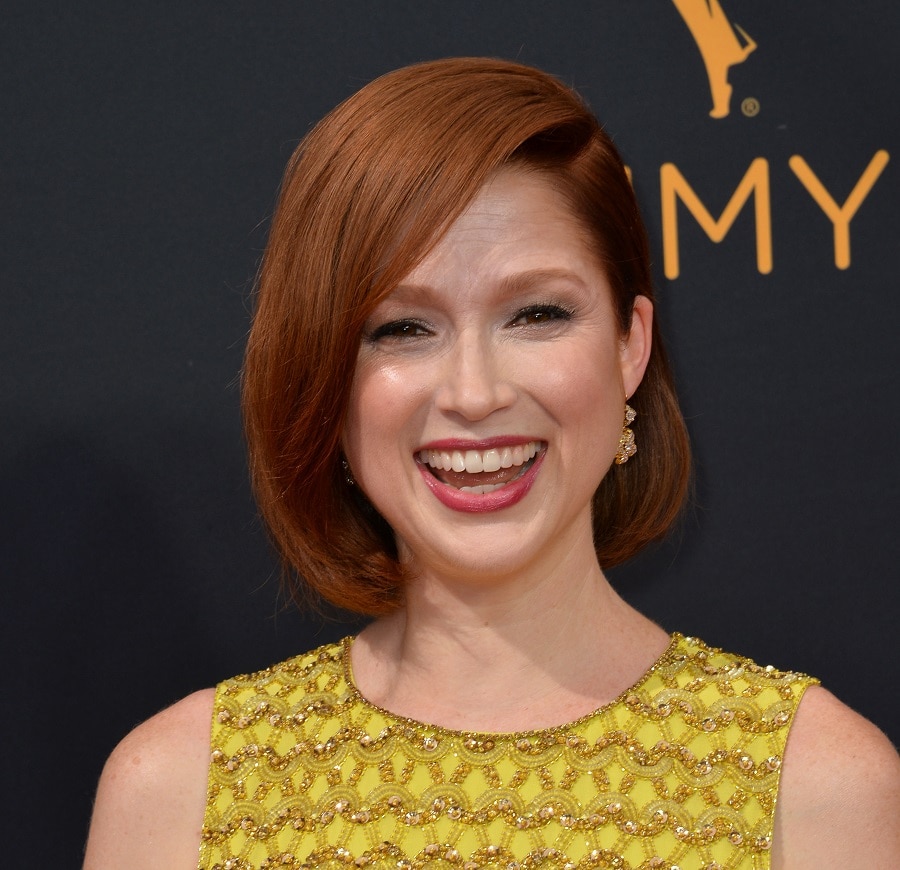 Many of the short celebrity hairstyles above are very fun and curly with a lot of texture. However, you can still look great with a simple side-parted straight bob.
The natural rusty red tones suit people with naturally red hair. The bob curls in under the chin on one side. On the other side, it's pushed behind the ear.
Jena Malone
Layers at a lot of dimension and thickness to your locks. They can also make you look a little edgy. This is a more vibrant shade of red that will help you stand out. It still looks very natural.
Emma Stone
Emma Stone's bangs are perfect if you want to frame your forehead and put a lot of emphasis on your face. This thick and flowy bob has a very natural texture to it. It's a faded shade of red.
Hayley Williams
If you're looking for a short red celebrity hairstyle that's super vibrant and eye-catching, then this bob will do the trick. It's got layers and a lot of texture, so it looks very casual and edgy. The color is super bright and mixes multiple shades of red and orange.
Gillian Anderson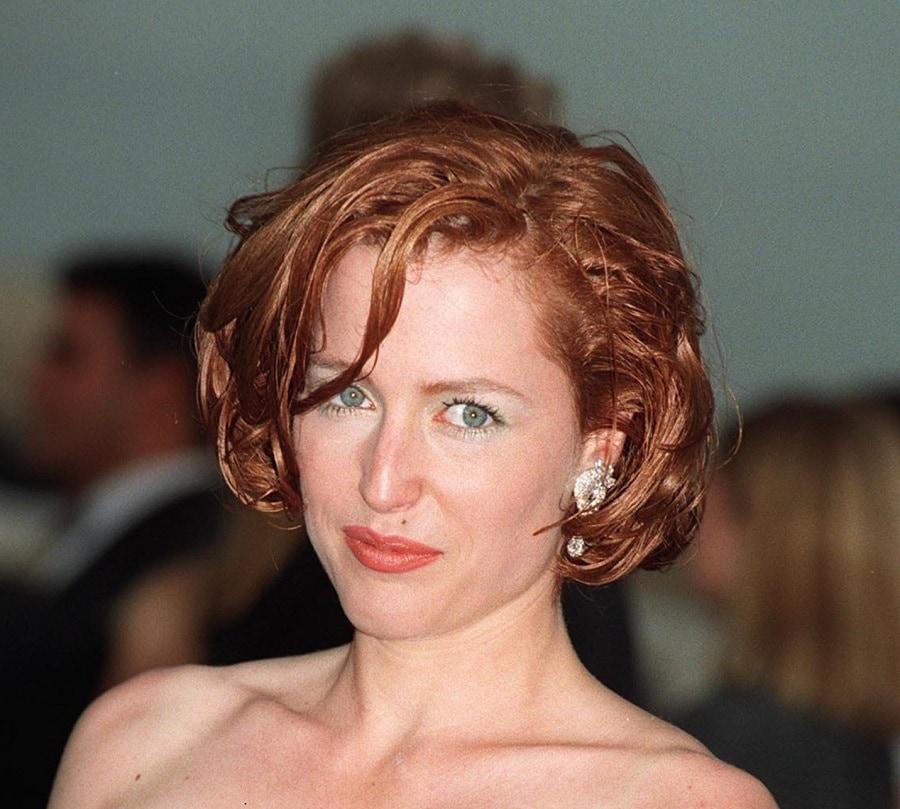 A haircut like this is delightfully short and easy to keep up with. It heavily features side bangs that brush across one side of the face and help you look a little mysterious.
There's a lot of natural movement to the hair. However, it still looks very sleek and pretty. It curls in towards the face and is a very natural shade of red.
Swoosie Kurtz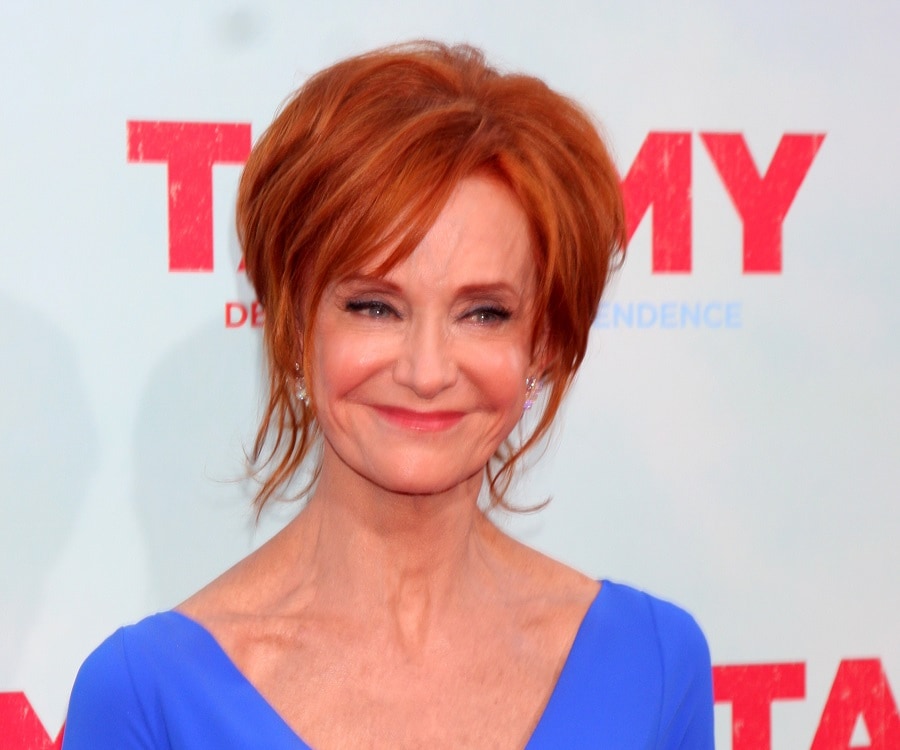 Styles like this look great when they have a lot of volume. They're great for older women. An eye-catching red shade makes them stand out even more. Some nice wispy strands fall by the face. Her bangs are shorter and help frame her forehead delightfully.
Jayma Mays
Jayma Mays is yet another celebrity with naturally short ginger locks. Her hair here is very textured and curly here. It reaches the chin in a classic bob and has side parting. However, it's difficult to see where her parting is because the hair is just so curly.
Tilda Swinton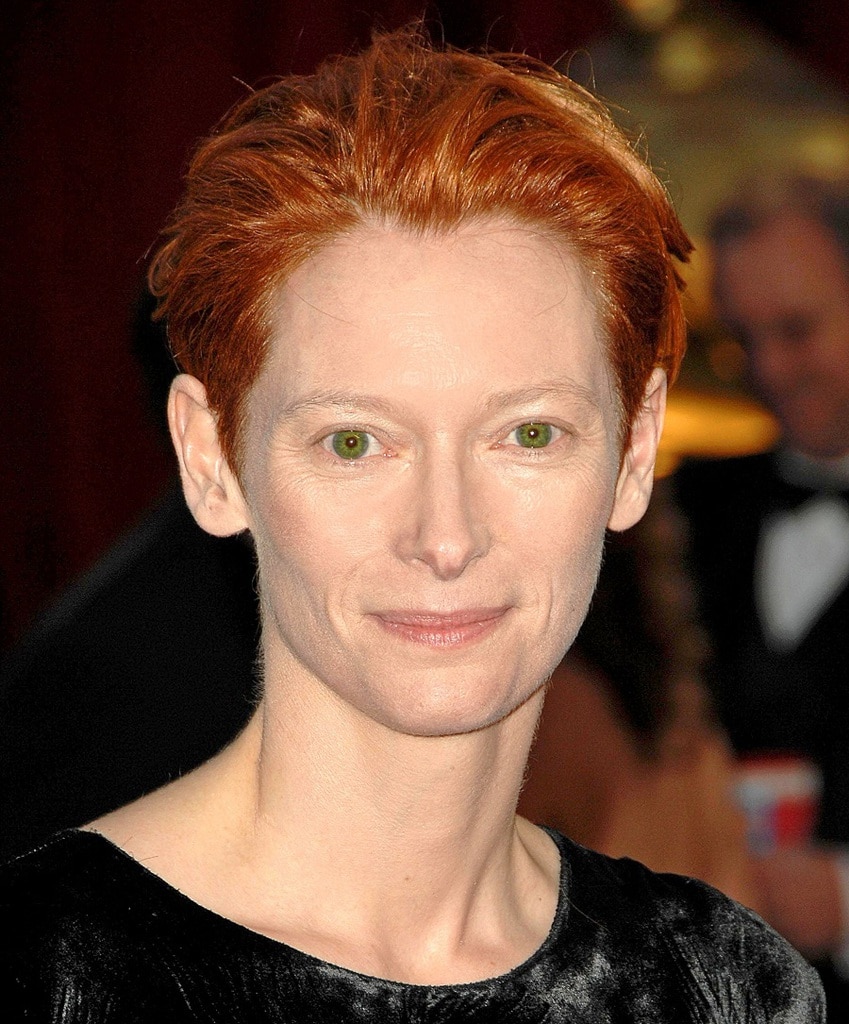 Tilda Swindon is more recognizable with pale blonde hair. However, she still looks divine with this red tone.
It goes well with her green eyes. So, if your eyes are green too, then this will definitely suit you really well. The cut is simple. It's very short and swept back to show off her features.
Sharna Burgess
If you like a little length to your hair, then Sharna Burgess's long bob will definitely suit you. The blunt ends and straight locks make the style appear even longer. Her short hair also adds a neat and slightly edgy vibe to the celebrity style.
Monica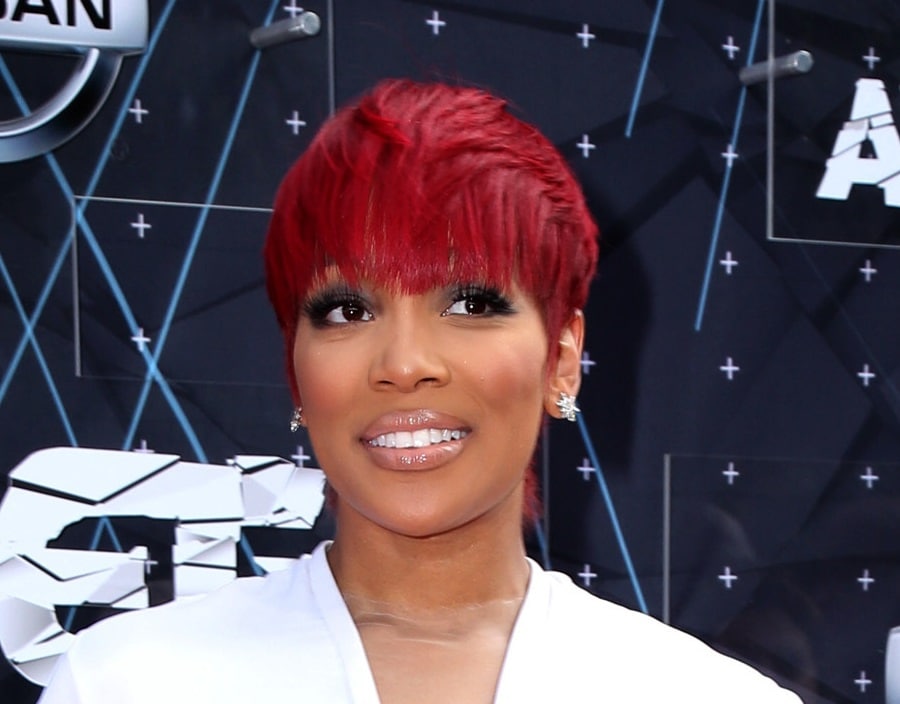 Full bangs make pixie cuts stand out a lot. Monica's short bright red hair shortens her face. The locks are all swept forward. You can see it's quite textured on top. The vibrant shade helps it stand out.
Shirley Manson
You can create a very mysterious look using long bangs that cover part of your eyes. The hair is very thin so you can still see through it with no problem. The rest of the hair is fine, too. It falls in a bob and frames the face.
The popularity of short red hairstyles is evident based on how many celebrities choose to wear these looks. There are styles suitable for women of all ages. There are also tons of shades that you can explore.
You'll have a lot of fun experimenting with your hairstyle while mimicking these glamorous celebrities. All of your friends will envy your style.