It's easier to get inspired by the people we idolize or praise. When we see actresses, we often try to follow their hairstyles, dress, and daily routines.
There are a lot of blonde actresses who've become well-known due to their talent and beautiful looks. There is something eye-catchy about them that viewers love when they appear on-screen.
Although blonde was the rarest hair color, several Hollywood actresses wear dyed or natural blonde. So, if you are also a fan of this shade and want a similar look to your favorite celeb, check out the below list.
Gorgeous Hairstyles Carried by Blonde Actresses
We have listed some incredible hairstyles donned by blonde actresses or Hollywood celebrities who rule the industry with their personalities and skills.
1. AnnaLynne McCord
AnnaLynne's curls look enviable and flawless and give a retro look. It is the best look to go ahead with if you want to get some glossy waves starting straight from the top. This gorgeous style of AnnaLynne can be worn be to any special occasion.
2. Blake Lively
A straight peachy blonde hair look worn by Blake Lively in one of the award functions was sleek and simple. After her role as Serena in "Gossip Girl," she became a well-known Hollywood star.
Since then, this gorgeous blonde actress has been seen in amazing hairstyles with the shade that her fans have loved.
3. Amber Heard
Amber Heard is among the blonde actresses who has rocked her blonde locks with a touch of yellow and platinum. This Texas-born actress reached success after her role in "Friday Night Lights."
You can achieve this hairdo by curling your hair and then tying them in a puffy, twisted look from the front.
4. Cate Blanchett Bob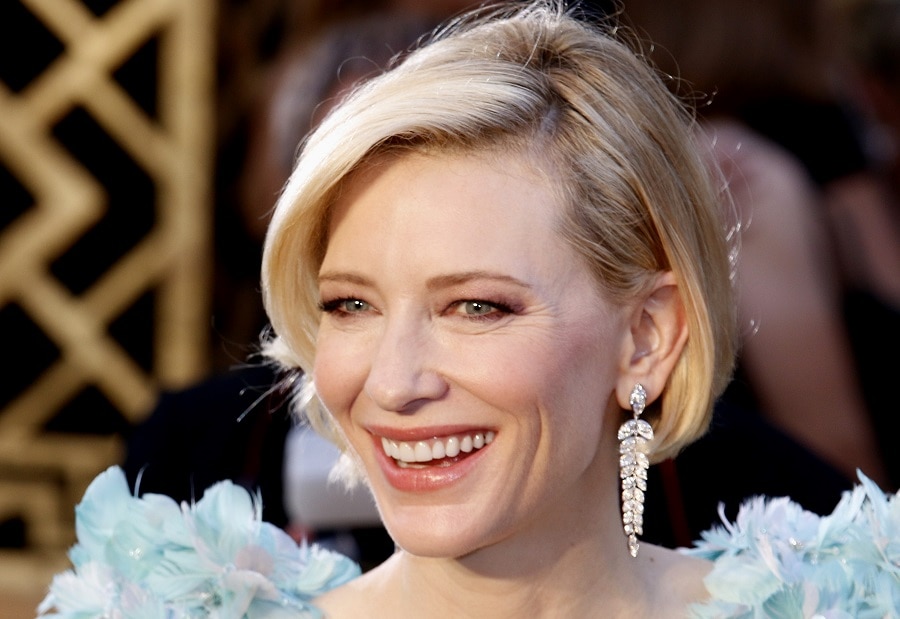 The two times Oscar winner Cate Blanchett looks fabulous in this blue furry dress and feathered warm shaded bob.
Here, she wears a simple side-parted look, paired with nude makeup that gives her a lively appearance. Women with light skin tones and blue eyes can beautifully wear this easy-to-style hairdo.
5. Julia Garner
One of the most beautiful curly-haired blonde celebs with short hair. Julia's big trick for this gorgeous curly look is always combing them in the shower and rarely drying them with a towel. In fact, this curly bob hairstyle has become her signature look. You must use a curl enhancer to get the same curls, just like Julia did.
6. Reese Witherspoon
Reese Witherspoon's wavy strands have landed her a place in Hollywood royalty. She has never been afraid of trying a new shade, from natural brunettes to golden blondes. Here, the star sports a medium-length structured wavy look that offers an amazing effect.
7. Sharon Stone
Sharon Stone looks gorgeous in this messy bob hairdo. The actress shows off her best features with this messy look, paired with hoops and an animal print outfit. This is ash-blonde shade is perfect for any aging woman looking to get a young or youthful look.
8. Lady Gaga
Lady Gaga is one of the blonde actresses who has shown the world that she can pull off almost any hair color. In this picture, the singer gives her fans a glimpse of her icy hair, with blue highlights, that looks super gorgeous in a neatly tied updo.
9. Sophie Turner
Actress Sophie Turner makes her platinum hair edgy and classy by wearing it wavy and long with bold eye makeup. She makes the style look even more voluminous by giving her locks a heavy side part.
She is one of the amazing actresses who've spent years wearing the same hair color before going for another shade.
10. Cameron Diaz
The light warm shade is a great hair color for women with fair skin tone, just like actress Cameron Diaz, who perfectly wears this look. Her choppy, chin-length bob with side-swept bangs and some layers creates a cute and flirty look.
11. Dove Cameron
Dove Cameron was seen in this icy lob cut for a long time. In 2017, she was seen in a red dress at the LA premiere of "Descendants 2".
Here, she looks gorgeous as she wore her platinum blonde locks in loose waves. This slightly tousled look of Cameron frames her face perfectly and gives it a shiny look.
12. Jennifer Lawrence
Another amazing blonde actress who has made it to the top list of the industry is Jennifer Lawrence. This famous X-Men actress wears a warm goldish wavy look in this picture, which gives her a cool, sun-kissed effect. These beach waves are ideal for women with fair skin tones and any face shape.
13. Sarah Jessica Parker
Sarah Jessica Parker wears a straight layered cut hairstyle here. If you have straight hair and want to try a different look, go for Parker's style.
This layered sandy blonde hairstyle gives Parker a flattering look and shows off her lengths. This style is likely to go well with an oval, square, or round face.
14. Meryl Streep
Meryl Streep has been seen with innumerable hairstyles as she has spent years in the industry. This tousled side-swept updo makes her look fresh and radiant. This is the perfect look that can be worn to any formal event.
15. Scarlett Johansson
Recipient of several prestigious awards, Scarlett Johansson, was once the highest-paid blonde actress. Her silver blondes with golden-brown undertones go perfectly well with a short pixie cut.
Moreover, the side bang covers her forehead and is ideal for her long face, giving a cool and unique look.
16. Margot Robbie
No matter what style, cut or color Margot Robbie chooses to wear, she rocks each of these hairdos.
But, it is for sure that whatever look she wears, the golden-platinum locks have been one of her favorites so far. She wears a fabulous slicked-back look and has been a common hairdo among several celebrities.
These stunning actresses have achieved this position with their hard work and talent. Moreover, the charm and beauty of these blonde actresses make us hardly ignore them. Thus, blondes are more fun than you could think of. Whether you have short, medium, or long locks, blonde hair color is likely to make it cool and amazing.