We all tie our hair in any way when we get irritated by them. Well, why not make a style out of it. We mean that you can simply make stylish messy updos for long hair. The best part about such hairstyles is that your hair looks effortless. Even if you have put a lot of effort into making it, it will look flawless.
No need to get irritated with your long locks; just learn how to play with them and look stylish every time. Then, be ready with these styles, whether it's a beach day, casual day, or any special event.
Stylish Messy Updos for Long Hair
No need to cut your hair short; keep them long and have fun trying these stunning long hair updos.
Thick Curls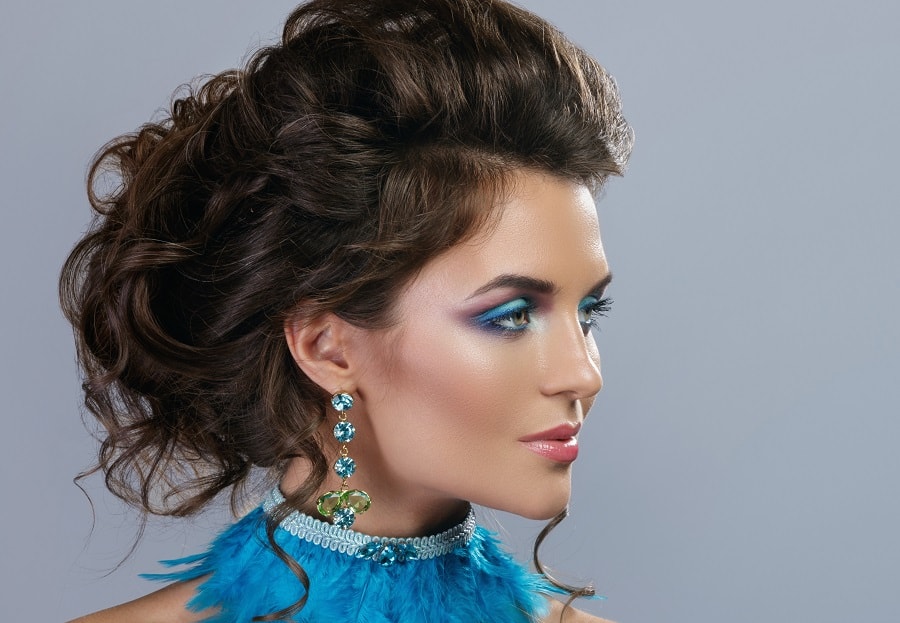 Attending parties is super fun as we get to try new hairstyles. Here's a party hairdo you might have never tried before.
Firstly, make loose curls on your hair. Make a curly bun using hair pins to create a loose hairdo. Finally, use the hairspray to set the curls in front and back.
Crown Braided Updo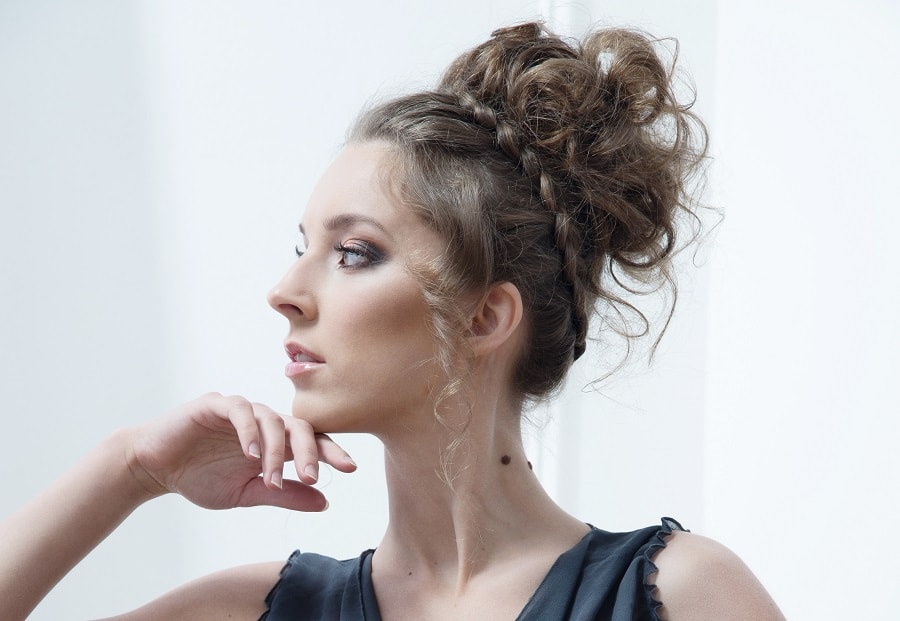 Braids have been a classic hairstyle to make the hair look maintained. But did you know you can use braids as a tool to make messy updos for long hair?
Make a side French braid merging into an unsettled bun. Curl the tendrils to create a nice overall look. The hairdo will look better without earrings.
Platinum Blonde Updo
A new way to style your hair is by getting it colored. This might sound risky, but it's actually worth the beauty.
Platinum blonde is a beautiful shade that suits every skin tone. Plus, your loosely tied hair will look gorgeous in this color. Make a side hairdo for styling your hair.
Ginger Red Bun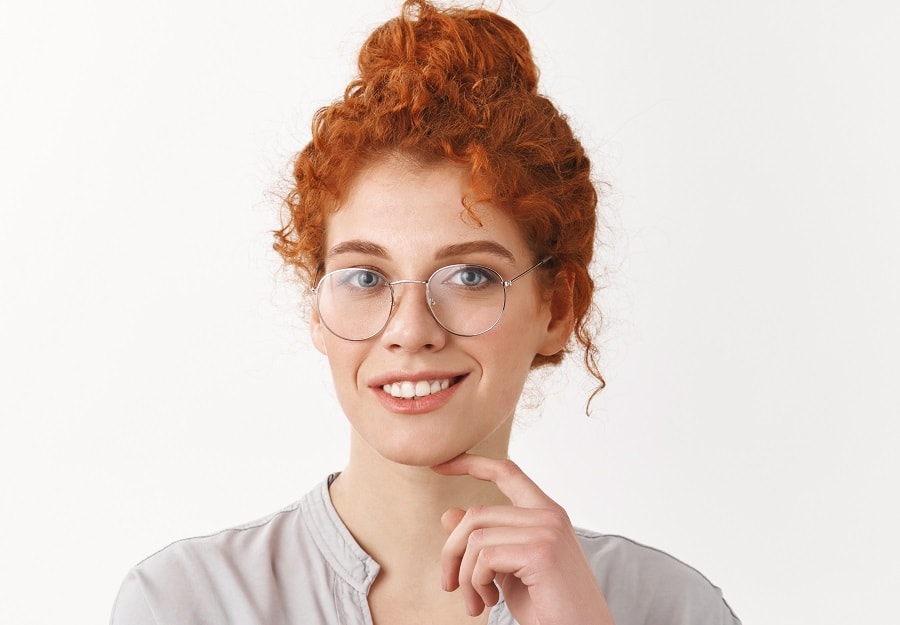 Talking about hair coloring, ginger red hair also looks beautiful. It brings a glow to fair skin tones especially.
Having curly hair will be the perfect hair texture to make a great combination with this color. A simple bun will be a great hairdo for such a pretty shade. Let little curls flow on the sides.
Messy High Updo
The range of long hair color ideas for messy updos is infinite. That's why we're telling you about the best ones.
Dark brown hair color looks natural, so it will suit your skin tone. A loose top bun is going to look amazing in this shade. Set any frizzy hair with gel.
French Twist
Yes, a neat hairstyle like a French twist can be messy too. But it still looks beautiful, so it's an advantage.
Simply use the same technique for a normal French twist bun; just make it lose this time. Instead of using a hair clip, use a rubber band to hold the bun. This will help to loosen the bun as per your comfort.
Stunning Wedding Hairstyle
Weddings are special, so you need to look special too. For acing this hairstyle, your gown should be either strapless or off-shoulder.
Start by curling your beautiful hair. Now twist and turn it loosely to make a big bun. Using only hairpins as rubber bands can ruin the look. Wear a pearl or floral tiara for the finishing touch.
Blonde Balayage Bun
Yes, you can make a messy updo even if your long hair is fine. By just curling your hair, you can create a beautiful look.
Twist your hair from one side, merging it into a medium bun. Leaving wavy tendrils, you would have created a gorgeous hairstyle. It's a beautiful style for a casual outing.
Side Swept Curls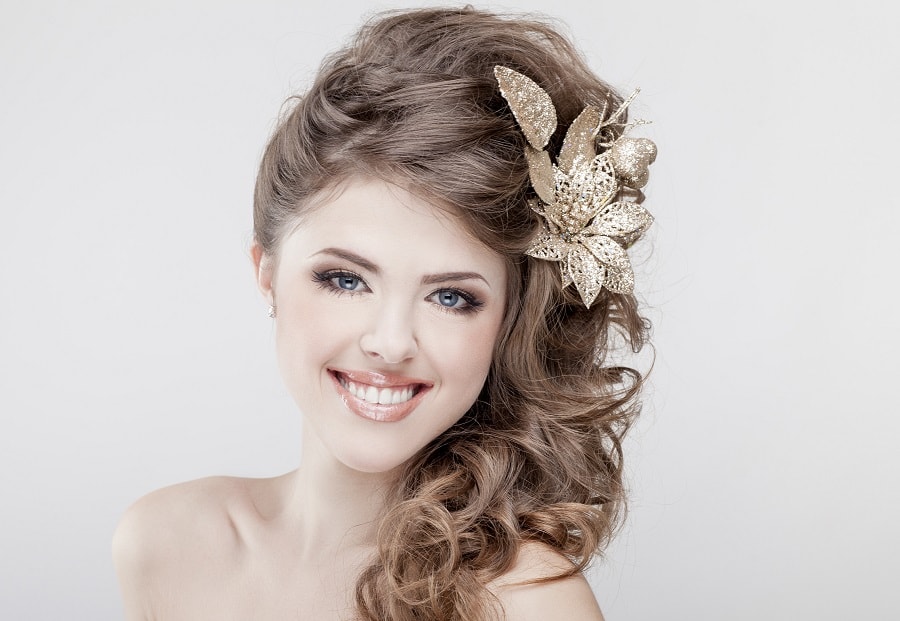 Presenting you another hairstyle for parties, weddings, or other casual events. For example, a one-side-swept hairdo looks extremely beautiful when your hair length is lengthy.
To create a shambolic look, you'll have to curl your hair. Then, attach a big flower-like accessory on one side to define the hairstyle.
Floral Hairdo
Go the natural way to style your hair. We mean to say, why use artificial accessories when you have the beauty of nature with you.
Use different flowers with leaves and stick them between the layers of your hair. You need to make a bun first, then attach the flowers. Give a side partition to give the flowers one side.
Loose Bun Updo
Is your lengthy hair disturbing you while studying? The solution is to tie it but not in a ponytail. Instead, a loose bun will be the perfect hairstyle to keep all your hair in one place.
This way you can focus on your studies, and look cute too. Even your siblings will appreciate this look.
Loose Messy Curls
Hair curling looks very stylish and different from your usual hairstyle. This time, loosely curl your hair, and instead of keeping your hair open, make a hairdo upwards.
Simply fold your hair using your hands and hold it with pins. No need to define the hairstyle; just let the curls flow here and there.
Golden Blonde Twisted Hair
For a unique messy updo, you can twist your long hair. Start by separating your hair into three sections.
Twist the side partitions and make a puff from the middle section. Now fold the rest of the hair in any way you like. Straight tendrils will look good with this shambolic hairstyle.
French Braided Hairstyle
French braids look beautiful with a messy updo, especially on wavy long hair. Also, two-side French braids look more beautiful than one single braid. You'll see yourself when you try it.
Highlighted Ends in Top Knot
Caramel-brown highlights can be a great shade if you're highlighting for the first time. They look effortlessly natural and blend with any natural hair color.
Loose Front Braid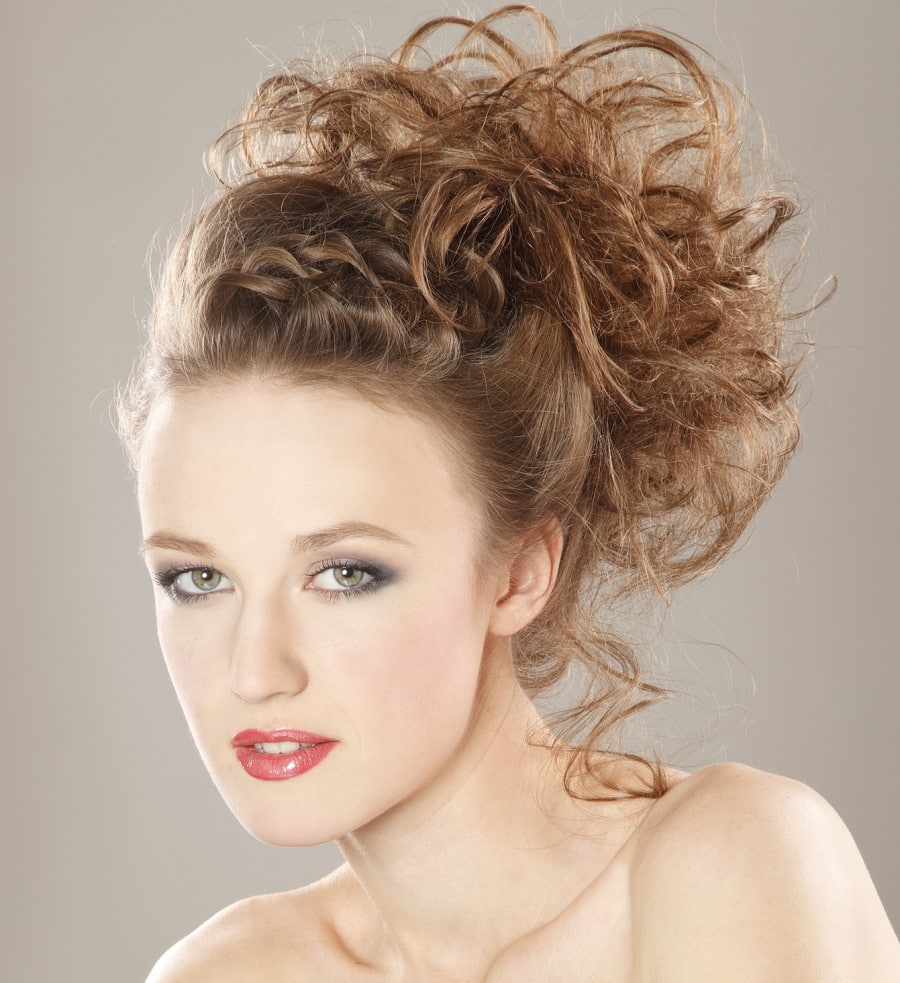 Create a side bun with your frizzy and curly hair. Make sure the hair is loose enough to see the layers falling here and there. Make a little braid on the front to add style to the hairstyle.
We make efforts to keep you interested. That's why we make such unique lists. We hope you liked these trendy messy updos for long hair and will try them soon.
Even better, try them now as you don't have to get any particular haircut. If you feel like any hairdo is complicated, just look at the image again, and everything will be sorted.