Shoutout to those girls who have successfully managed to maintain their long hair and continue to do so. If you're looking for some ideas on long dark brown hairstyles, then check out our list of the top 20 hairstyles just for you.
Maintaining long hair is a tough job, and we know you've mastered this job, but hair long dark brown hair doesn't require only maintenance, they need to be styled too, just as you style yourself. Doing the same hairstyle can get boring, so why not try any hairstyles from our list.
Alluring Long Hairstyles with Dark Brown Hair Color
We're pretty sure you will fall in love with these hairstyles and want to try them as soon as you see them.
1. Blonde Highlights
Hairstyling doesn't only mean making designs on your hair; it also means getting highlights. If you're not sure what color highlight will look good on your long dark brown hair, then we recommend you try caramel highlights.
They bring shine to your natural hair color and suit well with brown color. In addition, you can curl your hair to bring attention to the colors.
2. Center Part Waves
Waves not only look beautiful in the sea but also on your long brown hair. A long wavy look suits everyone and compliments even more if you have long dark brown hair.
Just make sure that you have washed your hair before making this hairstyle, as it requires the use of a straightener. And we all know straighteners don't give the best results when your hair is oily.
3. Elegant Wedding Updo
You might have selected everything for your wedding, but you forgot to select the hairstyle. Don't worry; we've got a style just perfect for your special day. We named it wedding updo because it looks great on wedding gowns.
First, take the front portion of the hair using your fingers. Pin it. Now take your long hair again using your fingers and tie in a big messy updo. Finally, add any hair accessories.
4. Loose Curls
Loose curls look great on long hair, especially when the color is dark brown. Try this hairstyle only when you have thick hair, as this looks great when there is great volume in your hair. It shows each layer of your hair so perfectly in spiral waves.
5. Messy Long Ponytail
High ponytails are too tight, and low ponytails are too loose, but middle ponytails are just perfect. If you want a long hairstyle that chooses comfort over fashion, then this is the one!
A messy ponytail can be made using only your hands. Grab all of your hair in a ponytail, untangle it with your finger, and then tie it with a rubber band. Then, you're ready to go.
6. Wavy Swavy
Wavy swavy hair is nothing, just natural hair. If you have naturally wavy hair, then congrats, you already have a hairstyle. You don't have to go through any steps to get it.
Just keep your hair open, run your fingers through your hair to detangle it and then flip it on any side and you're ready. Adding honey blonde highlights will even enhance your look.
7. Soft Waves
Every straight hair girl wishes that she had naturally wavy hair. Well, you can get that natural wave to look with a curler or straightener. Make loose twists of each hair section around the curler. This will give you soft hair waves, and we know that you'll look absolutely gorgeous.
8. Straight Sleek Look
Straight long dark brown hair never goes out of fashion. It suits well on every occasion, outfit, color, and face shape.
On the plus side, you have the gift of long hair, and we all know how long and straight hair is a dream of every girl. You can use a hair straightener or go for permanent hair straightening.
9. Messy Hairdo
No matter what your hair's texture is, you should just know the right way to style it. Try a messy hairdo this time.
You don't have to curl or straighten your hair. Instead, keep your hair the natural way and run your fingers through your hair. That's it, and your messy hairdo is ready.
10. Ombre Hairstyle
Ombre in the hairstyle dictionary means darker hair on the top and lighter hair on the bottom. It's basically a two-toned color effect.
You can try this curly hairstyle with a mix of blonde colors. It's unique and dramatic as compared to other hairstyles. You can make any type of ponytail to clearly show the ombre hairstyle.
11. Caramel Highlights
Welcome another highlight in the styling room. Caramel highlights look great on long dark chocolate brown hair, no matter the type. They are soft and go with any skin tone and face type.
You can attend any event, whether casual or formal, in this hairstyle. We think you should keep your hair open to show off the beautiful caramel highlights.
If you want some hairstyle ideas for casual events, you can give beach waves a shot.
No, beach waves are not only for the beach; you can have this dark coffee brown hairstyle for any casual outing. Whether hanging out with friends or just going to buy some groceries, this beach wave look is perfect for it.
13. Short Blunt Bangs
Shut the mouths of those people who said that short bangs would look good only on short hair. Short bangs go great with long hair, especially when they are straight.
Short bangs are a full package of attitude and drama. Getting short bangs requires courage and confidence so go get them if you have both of these things.
14. Dark Auburn
Dark auburn hair color is a combination of dark brown and red color. You will see mostly brown color, but red will have its own space. Keep your natural hair texture if you're going out for some casual purpose. However, you can straighten them to attend a formal meeting.
15. Curly Pigtail Buns
Pigtails are already an amazing style in themselves, and when you convert them into buns, they may transform from a kid look to an adult look.
Add curly hair to this style, and now you've got the perfect look. If you have naturally curly hair, then it's even better; otherwise, you can curl them.
16. Crown Braid
A Crown braid makes you look like you're wearing a tiara made from your hair. It's a beautiful hairstyle for any special occasion like a wedding. First, make one long braid from each side. Now wrap them from one side to another. Secure with pins, and you're done.
17. Half Updo
This hairstyle is very easy to make and doesn't require any hairpins or rubber bands. All you need is your long hair. Take thin sections of hair from your hairline to your ear from both sides. Hold these sections together as you hold two threads and then tie them together in one go.
18. Thick Dutch Braids
If you have thick volume in your dark espresso-brown hair, try double-sided thick dutch braids.
It would add up to the look if you get blonde highlights on your long dark brown hair. When you make this style, the highlights will draw all the attention toward them. It's a great look for going out with your children.
19. Cute Bubble Ponytail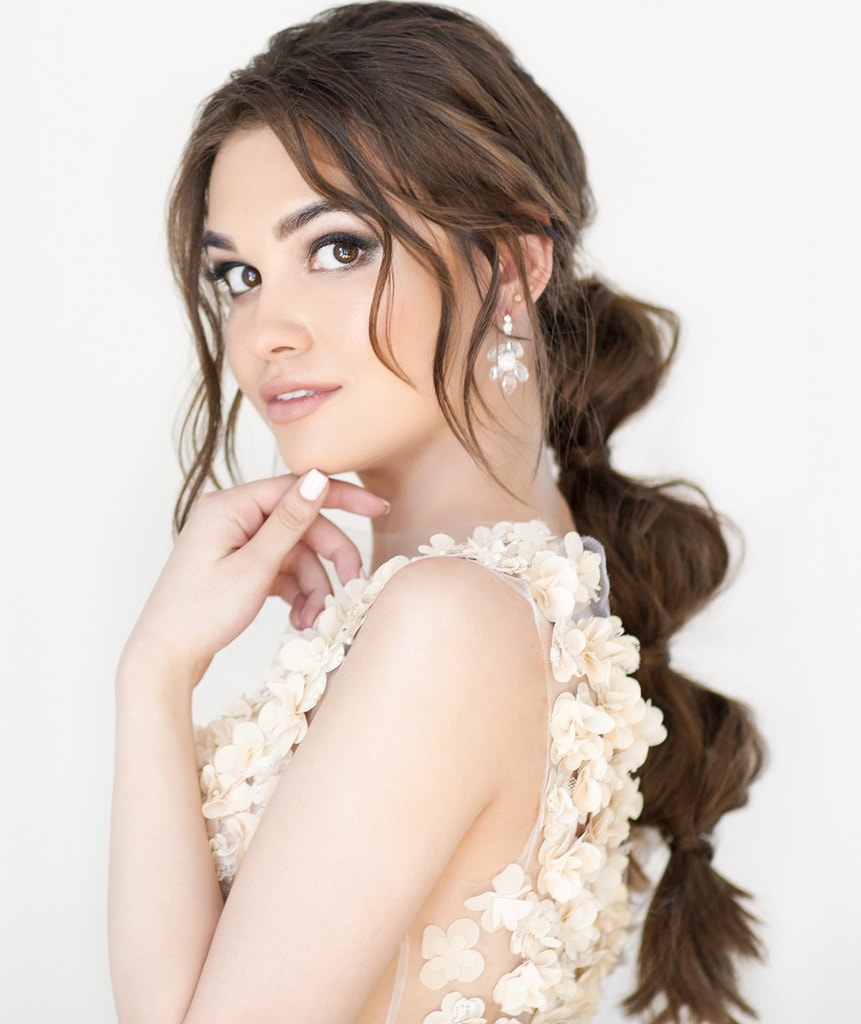 Whoever invented the bubble ponytail, we thank them from our hearts. This is one of the elegant long hairstyles specially meant for dark brown hair.
As you tie your hair with the first rubber band, cover it with a thin strand of hair and do the same with the rest of the rubber bands. Curtain bangs would look great with this style.
20. Funky Red Streaks
Red streaks are totally different from red highlights. Streaks in the hair mean you keep the natural color of your hair from the outside and apply color to the hidden hair.
Red streaks look great when you have thin and long dark brown hair, as one can easily notice the combination of these two colors.
Say goodbye to common and boring styles and try our long dark brown hairstyles for girls of any age. They are easy to make and look great on every cloth. Whether wearing western or casual, these hairstyles will go with everything.
You can refer to yourself as the hairstylist of the house or office now because you have filled your mind with our great hairstyling ideas.