It's time to break the stereotype that having frizzy hair means a complete disaster for your hairstyling ambitions. You can get very creative with styling your curly frizzy hair without having to chop it all off. All you need is patience and a positive attitude to incorporate some incredible hairstyles.
Work with the curls instead of against them, as curls can act as a powerful tool for making your regular hairstyles interesting and exciting. Also, it's crucial to choose a hair color that draws attention to your curls instead of washing them out.
Unique Frizzy Hairstyles to Try
With frizzy hair, you might be confused about the hairstyle and color that suits you; we have a list of flattering hairdos here to help you out!
Blonde-Brown Curls
Sometimes going the fuss-free route by letting your hair down is the best thing that you can do for your curly strands.
Choose the iconic mix of blonde and brown that well complements this hairstyle. Dark brown roots give way to medium brown color and medium cool blonde highlights for a fashion-forward look.
Dark Coffee Brown Hair
For all the women wanting to experiment with darker hair colors, you could opt for a dark coffee brown throughout the length of your hair for a uniform and dynamic effect.
A side-parting will help add some more volume to your frizzy hairstyle.
Curly Lob with Pink Highlights
A fantastic way of showing off your curls would be to add some bright pink highlights to the ends of your hair.
The light blonde ends with a splash of colors to create a nice contrast against the darker roots. This middle-part shoulder-length bob is ideal for everyday wear.
Grey White Crimped Hair
The greys are no longer just a dreaded sign of aging. We have witnessed a strong surge in millennials dying their locks in this white-grey shade to make a bold statement.
Warm-Toned Curls
This blend of cinnamon brown and caramel brown looks gorgeous on frizzy curls.
If you have pale to medium skin tones, this color is perfect for adding that warm glow to your face. A bright shade of lipstick would go well with this hair color.
Dark Reddish Brown Style
If you want to spice up your brown hair, look no further than a wine-red hue, one of the most popular colors of the red-meets-brown trend.
Don't forget a few pumps of texturizing hair spray to ensure that the curls stay in place and look more defined.
Short Blonde Bob with Bangs
This messy curly hairdo in bleach or natural blonde is elevated to the next level with a block fringe covering the entire forehead.
The glossy medium brown ombre effect in the front fringe makes it stand out more than the more casual look in the rest of the hairstyle.
Copper Red Casual Hairstyle
A medium brown tone that borders on a warm copper red in the outside sun is a highly versatile shade that looks good on almost every skin tone. Add a natural flower or flower accessory to your frizzy hair for a touch of spring.
Honey Golden Voluminous Hair
The honey-golden shade on your luscious frizzy waves is your best option to nail that glam old-Hollywood diva look. This voluminous open hairstyle with dark contrasting roots is perfect for a date night dinner.
Long Bubblegum Pink Style
Go all out with bright pink hair for a fun and playful aesthetic. The variations in the lightness and saturation of the bubblegum pink tone help add a creative flair to this hairstyle.
Short Dark Grey Hair
This is one of the best hairstyles suitable for women in their 40s to 50s. The mix of dark grey and light grey shades makes this short hairdo look chic and elegant at the same time.
A pair of golden hoop earrings or an expressive neckpiece will compliment this style.
Sporty High Bun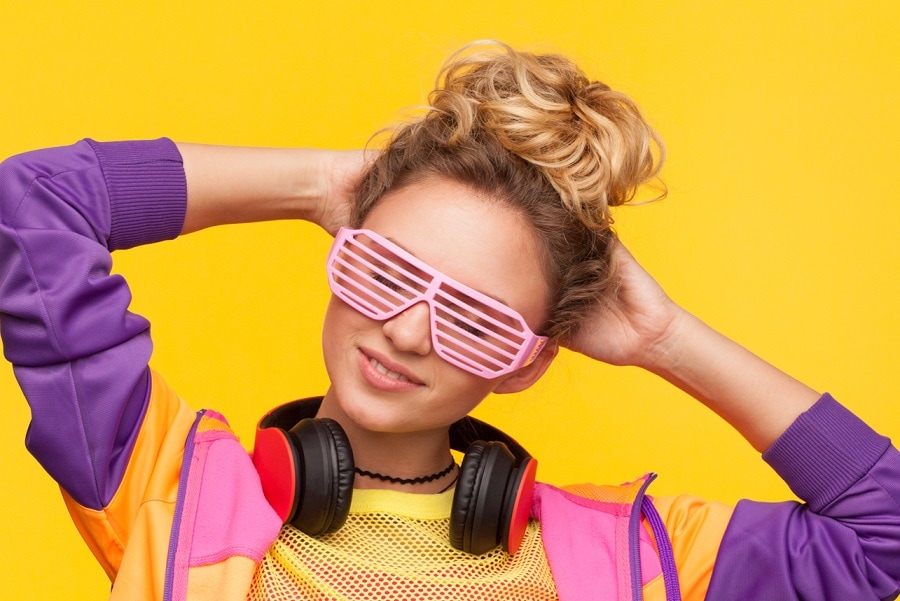 Looking for a cool hairstyle that will help you keep all the frizzy hair strands away from your face? The high updo is your one-stop answer.
Firstly brush your hair and then wrap it into a semi-tight bun at the top of your head with an elastic or scrunchie. You can use bobby pins to secure the updo better.
Preppy Short Bob Style
The short-haired girls don't have to worry anymore; we have just the right bob hairstyle. This hairdo's medium, cool brown hair color looks preppy and sophisticated.
Red Ombre Dreadlocks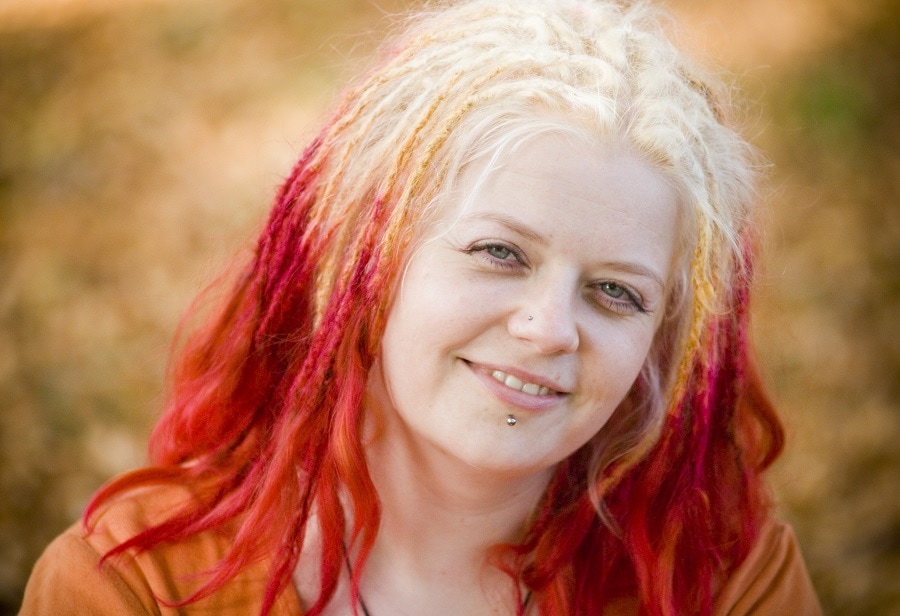 Now is the time to unleash your carefree side with the light blonde dreadlocks hairstyle. Dip-dye your hair ends in a bright red for a fiery twist to this rockstar grunge hairdo.
Brown Afro Style
Embrace the natural texture of your frizzy afro-hair with a hairbrush and hairdryer on low heat for the fluffy hairstyle of your dreams.
The balayage with brown-black, light warm brown, medium bronze brown, and a little bit of cool dark blonde is the icing on the cake.
Lightly Tousled Blonde Pixie
To deal with all the humidity and crazy heat this summer season, you won't regret trying out the pixie cut. This effortless hairstyle in a California blonde color will always ensure that you get ready in under five minutes.
Swept Back Wet Hair
If you are a fan of the 'out of the shower' look, you will love this slicked-back wet hairstyle.
A strong-hold gel will become your new best friend to recreate this hairdo. Use the gel to smooth through the roots and mid-length of your damp hair, and voila, you are done!
Curly Hair with Headband
You can bring back the retro trend of wearing headbands for an adorable hairstyle for all the long hair girls.
The blue headband looks lovely against the red-orange color on the scalp. The burgundy hair color lean more toward the violet side to make the hairdo vibrant.
Grey Disheveled Updo
You don't always have to tame your curls; just tie them up into a loose bun with a front puff for a messy look. The gray color makes this hairstyle appear pretty edgy.
Platinum White Wavy Style
This platinum white-colored hairdo is a new hot favorite among the open hairstyles for frizzy hair due to its signature look. The medium ash brown roots create an excellent contrast to the rest of the light hair.
Messy High Ponytail
When you don't want your hair down, high ponytails will be your go-to hairstyle for frizzy hair. This is an easy and quick hairdo that you will keep coming back to.
Blonde Bouffant Ponytail
You can never go wrong with a classic ponytail with a bouffant. To get this understated look, pull back the crown part of your hair tightly and tie it near the nape of your neck.
This hairstyle is good for highlighting your facial features, especially cheekbones.
Long Balayage Hair
A dark brown balayage with a mix of yellow and honey-blonde tones creates a striking look. You can wear this hairstyle to a party with a monochromatic black dress.
Having taken your pick of the hairstyles for frizzy hair, you should also look into the reasons causing your hair to become frizzy. Try to not shampoo your hair more than once every other day, and use the proper styling and caring products.
Lastly, remember to get your hair colored only by a professional at a salon since using the wrong techniques can have damaging for your hair. Don't let frizzy hair get your hairstyle ambitions down! Try out these 23 showstopping ways to style your hair into something awesome!