We get to see a new hair color on top of the hair trend every season, but brown ombre hair color ideas are still popular among modern women. These have uniquely mixed hues for transitional effects, which is the main reason to get so popular.
Many women prefer these brown ombre hair colors because they add extra glow while being natural and low maintenance. The main concept of ombre is dark roots and light ends, which gives a beautifully painted gradient look to the hair.
In addition, these brown hues blend into the hair color easily, giving a subtle voguish look.
Gorgeous Brown Ombre Hair Color Ideas
You can choose bold contrasting colors or soft smudged colors for brown ombre hair color ideas. So let's find you a style now.
Caramel Sombre
Sombre or soft ombre has a soft subtle hue of color that is not contrasting, and this brown ombre hair color has a classy and gorgeous look.
If you have naturally dark hair, then prefer this style. Start the brown hues right above your cheekbones to get a framed look.
Beach Perfect
Women who love a natural look instead of contrasting colors should opt for a light brown to gold ombre.
The hair is painted gently to create softer lines like golden waves. It's perfect for those who want a sun-kissed glow for a beach day without extra fuss.
Glossy Waves
Struggling to style a grown-out long bob? Add some lighter shades of brown hair color at the bottom of your hair to enhance the blunt look.
Adding highlights gives you a new look, easy to maintain, and you can hide your old overgrown cuts.
Mocha Ombre Hair
Combine dark roots of your hair with medium-toned hair color at the ends to get a sun-kissed effect. If you have straight straw-like hair, you can try this style to hide the dull texture of your hair.
This brightens up the hair creating a lively look. Also, as the hair color has a similar undertone as your natural hair, it gets perfectly blended into your hair.
Straight hair painted with brown ombre and sectioned through the center really makes your facial features pop.
With dark roots, as shown above, brown hues could be a perfect mix to create a smoky look. Then, pair it up with a smokey eye makeup look for extra grace and attraction.
Tricolor Peekaboo
If you love to play with colors, check out this tricolored style here. This peek-a-boo has a base of blonde hair with dark black hair on the top highlighted with dark brown hues.
This surely is a fun style to try out—the best style to ace your street style outfits to look more cool and stylish.
Dark and Beautiful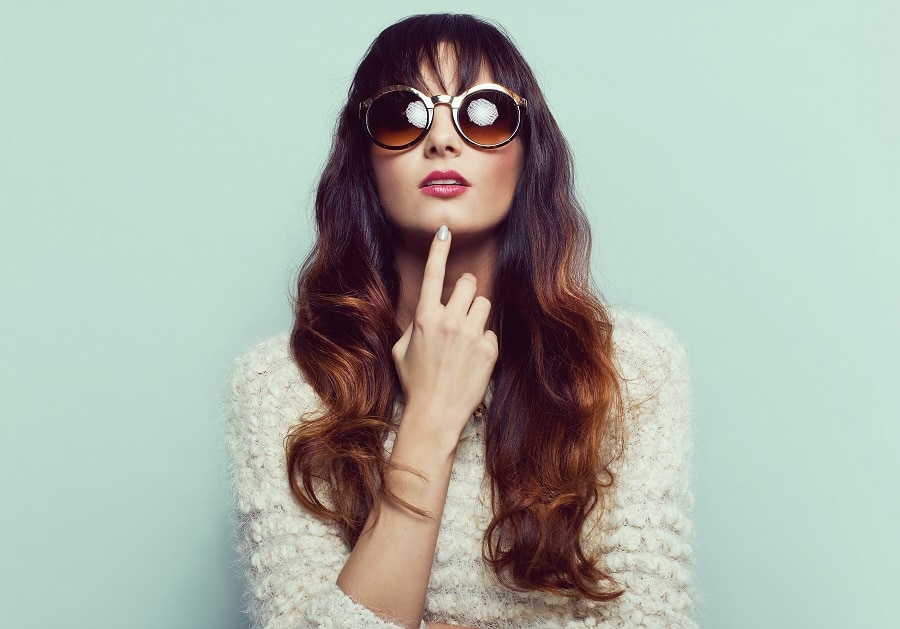 Going out of fashion is impossible with a beautiful long dark brown hair. By sticking to dark hues on your naturally dark hair, you can avoid bleaching your hair with harsh chemicals.
Mushroom Brown Ends
This is a style that can be subtle, sophisticated, and trendy. Ombre hairstyles usually start with your natural hair hues and then softly fade into a marvelous hue within the same tones of a single color.
Sleek Brown to Blonde
If you are a sucker for old-school classic hairstyles, here is one hair color inspiration with a few touches of modern trends to keep giving you a gorgeous sleek style.
The hair is colored from the middle to create a 3D look. It's an amazing hairdo for formal as well as causal outings.
Shimmery Golden Ombre
Golden brown ombre hair is an epic way to style your dark hair, as it doesn't give a strong and bold look but still has a perfectly spread hue.
Rather, hair looks natural because of the blending techniques. The golden ends closer to blonde highlight the entire look.
Sassy Long Brown Locs
If you love having long hair and are unsure if it will be trendy in an era of short lobs and bobs, this is your answer. Simple part your hair sidewise and let them fall freely on your back.
Long tresses are always beautiful; look how adorable and chic this light brown sombre hairdo is. This is a casual yet chic style to flaunt your long locs with a touch of modern trends.
Ombre Dookie Braids
Ombre is not only done on free tress; it can also look gorgeous on braided styles like these too. You can dye your dreadlocks and dookie braids to make them look unique and stunning.
If braids are the main attraction for this style, ombre hair color is just another brownie point to the look.
Roughly Painted Strands
If you highly texture hair and it looks dull and blunt all the time, improve the way it looks with this rough painted brown ombre.
This style looks incomplete, which is the best savings you can get to hide your texture for a fresh look.
Gray-Blonde Ombre on Asian Hair
Brown to gray ombre looks so blissful in this style, especially as Asians' hair is deep black; it is hard to color them.
Instead of completely bleaching and causing permanent damage to your hair, you can try gray to brown ombre hair color ideas.
Cascading Curly Locs
This style is associated with soft ombre hair with a simple brown to red ombre color. This style is an easy and charming way to color your hair.
As the shades of the color are too similar, it will not be so hard to maintain. You can style with loose curls and waves to increase the beauty of your ombre tress.
Dark Chocolaty Shagg
There's no doubt about it; this dark, wavy ombre hair color makes a style statement. Heavy styling is the last thing you want when rocking ombre hair color.
It is better to leave it free-falling to show the gradients and hues of the hair.
Copper Brown Wedding Hairdo
If you like to stay simple yet need a style to rock your wedding dress with minimal styling and accessories, this could be the best match for your search.
All you need to do is get some brown ombre hair color, which is more than enough for an elegant wedding hairstyle.
Honey Brown Messy Curls
Having naturally dark hair and roots is bliss. You can style and color your hair with any color you want.
From soft light tones to contrasting neon streaks, any color can compliment your hair if you have dark roots. This honey-colored hair is blow-dried to create large curls and looks absolutely stunning.
Textured Curly Hairdo
If you love long hair, try this combination for a stunning look. Choose a warm blonde shade to blend well with your dark brown or black hair.
Now use some hair gel and create loose long curls at the ends to get the final look. To keep them intact for a longer period, use hair spray, and you are set for the whole day. Wear it with any outfit and on any occasion.
Brown Meltdown
Choosing the same hues from the same color family to color your hair is definitely an outstanding decision.
Because having the same undertones makes the colors blend in easily to leave a smooth transition effect. This style has mixed medium brown with dusty red to create a beautiful tone.
Brown ombre hair color ideas are unique and have many choices. They match hair colors from dark brown and black to light peachy blondes to create elegant and versatile hair color shades.
You can blindly try these ombre hairstyles because they can never fail. Soft brown hues of caramel and dark coffee blend perfectly into dark hair colors.
With naturally black hair color, you may have some dramatic smokey look after the process is finished. If you are brunette or dark-haired, you should try our brown ombre hair color ideas for a beautiful fresh look.