Dookie braids hairstyles were so popular in the 90s; they were primarily special occasion wear but later became a casual style. Kids looked so adorable in these braids, and women are obsessed with them. They are easy to maintain, offering protection to the hair and allowing damage-free growth.
However, many often mistake these braids with dreadlocks; in reality, they are so different. These braids can be turned into updos and ponytails too.
Current Dookie Braids Trends
Dookie braids are the healthiest options for your hair; they protect your hair from external damage and promote the growth of the hair. In addition, they are easy transitional styles from cocktails to campus events.
Let's check some of these super amazing styles below.
Half up Dookies
If you're a minimalistic style and fashion fan, then a sleek, braided half-up dookie can do the magic. Leave two front strands free, tie up the upper portion into a half-up ponytail, and you have your minimal look.
Long Bob Braids
Short dookie braids that resemble a bob haircut will blow your mind. So, if you want to play with your short afro hair, go for it.
The style elevates the facial features without your hair interception in between. These braids are cool, unique, and cute; you should try them out.
Blossom Pink-Purpler Long Locs
These adorable pink braids start thick at the top and get thinner by the end. But, they are gorgeous and stylish. Let them flow all on their own with that rocking rich, royal color like this.
You get a faux gradient here because your natural hair mixes with pink to give a darker shade of itself.
Single Ribbon Highlight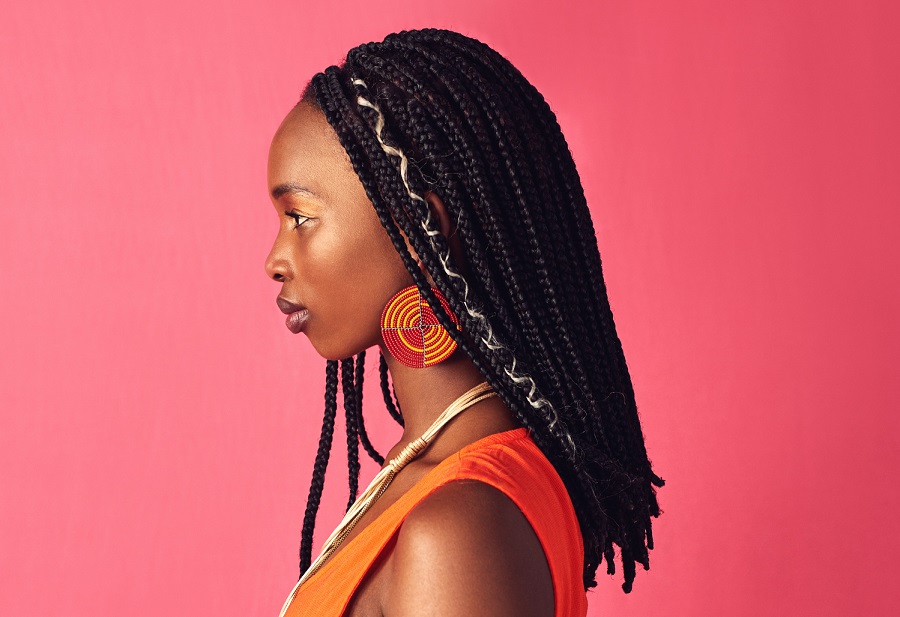 Adding ribbons to hair is not a new style, but it does meet all the ends of the actual use.
For example, if you do not want heavy hair accessories, add a small width ribbon after braiding your short hair for a subtle dookie braid hairstyle.
Funky Dookie Braids
In a decade of pop and street style fashion, you will be out of the trend lagging with the past trends if you are not onto trying a beautiful funky-colored braid.
This lime-colored braid has the essence of street and pop style. You will never be out of trend with these.
Rustic Red Twists
Does a normal braid leave you unexcited? Try a colorful updo. This earthy hairstyle will make you fall in love with it.
Color your hair in a vibrant rustic tint for some extra razzle-dazzle. Then, make a simple knotted pony, leaving the twists open.
DIY Pink- blue Braids
Kids love to have colors in their hair; personally, we think you have to try our DIY. Get two yarns of blue and pink wool and cut it into double the length of your kid's hair.
Detangle the hair, start braiding it, and Voilà, your kid will love it. Even teens can try it with extensions if they want something different for this season.
Braids and Curls
Bored of braids, twists, and curls? Why not try a fusion style? Although a lot is going on here, this will look exotic after you do it.
First, start sectioning your hair, sleekly braid a few strands and secure it. Next, spiral curl the other loose strands and add silvery hair clutches to embellish the look. Finally, use a serum before braiding for a clean, no-mess look.
Jumbo Purple-White
These braids are thick and glossy, which is a perfect combination. In addition, the sections are clearly seen, adding more light to the braids than the stars.
Weave your natural hair in thick braids to appear lustrous and exclusive. This bright purple and white is an extraordinary combination and fascinating. It exhibits a fusion look and modern vibe with a touch of pop culture.