Red hair is eye-catching, and ombre hair is super chic and stylish. So, what happens when you put those two together? Red ombre hair creates something unmissable that you'll be dying to try out!
You could start off with deep tones like black, or you could go fully firey and mix orange and yellow into your look. It doesn't matter because all of these red ombre hairstyle will appeal to someone, and you'll fall in love with your brand-new aesthetic.
Vibrant Red Ombre Hairstyles
With one of these styles, you're definitely going to attract some positive attention and show the world just how fabulous you truly are, inside and out.
Crimson Bob
A chic red ombre bob with blunt ends that frames the face always makes you look wonderful. This delightful crimson tone ensures you stand out, and the black at the top adds delightful depth and an edgy touch to the look overall. It's such an eye-catching style to rock.
Black and Ruby Red
Many ombre hairstyles start off dark and go much lighter, and this is one of them. It has black at the top, and then it transitions into a vibrant ruby red that you won't be able to take your eyes away from.
The overall style is very simple, straight, and mid-length with slightly choppy ends.
Long Curly Locks
If you have naturally curly hair, then parting it in the middle is a great way to make each side have equal volume and look fantastic.
Here there's black towards the top of the head, and around the tips mahogony red ombre comes out and creates a firey look with these delightful curls.
Braided Half Up
Now here's a very interesting look. It starts in a dark crimson tone, but then it lightens into one that has more of a pink hue. The long tresses are beautifully wavy.
The sides are braided back and secured in a little ponytail to create a half up, half down style.
Vibrant Red Waves
Hairstyles inspired by fire are definitely common with red ombre hair. At the top, there's a wonderful ruby shade, and it transitions into a subtle orange before the yellow takes over. Soft curls cascade down the back, and overall this is a sleek and shiny style.
Burgundy Red
Some people prefer a more toned-down look, and this burgundy definitely commands less attention than a bright ruby shade.
The black on top makes it look even more subtle. These nice waves add a chicness to the mid-length style, and it's slightly glamorous.
Long Fiery Curls
Curls paired with a fiery color scheme are very common. These beautiful ringlets run down the back and have lots of different hues in them.
On top there's black, and then it becomes red, orange, and a deep yellow. Overall it's a very unique red ombre look, and it's one that'll make you look fierce.
Auburn to Blonde Waves
Auburn is a very subtle and natural shade, and it transition into a nice blonde that's not too vibrant, so it almost looks like regular blonde. This wavy style is a great way to have something unique while also maintaining a more subtle appearance.
Long Layered Balayage Hair
A beautiful red balayage is a great and unique way to style your ombre look on straight hair. The cut is very long with the ends feathered out towards the face, and it's graduated so it's shorter in front and longer in the back. There are lawyers that add texture and thickness.
Deep Ginger to Blonde Tones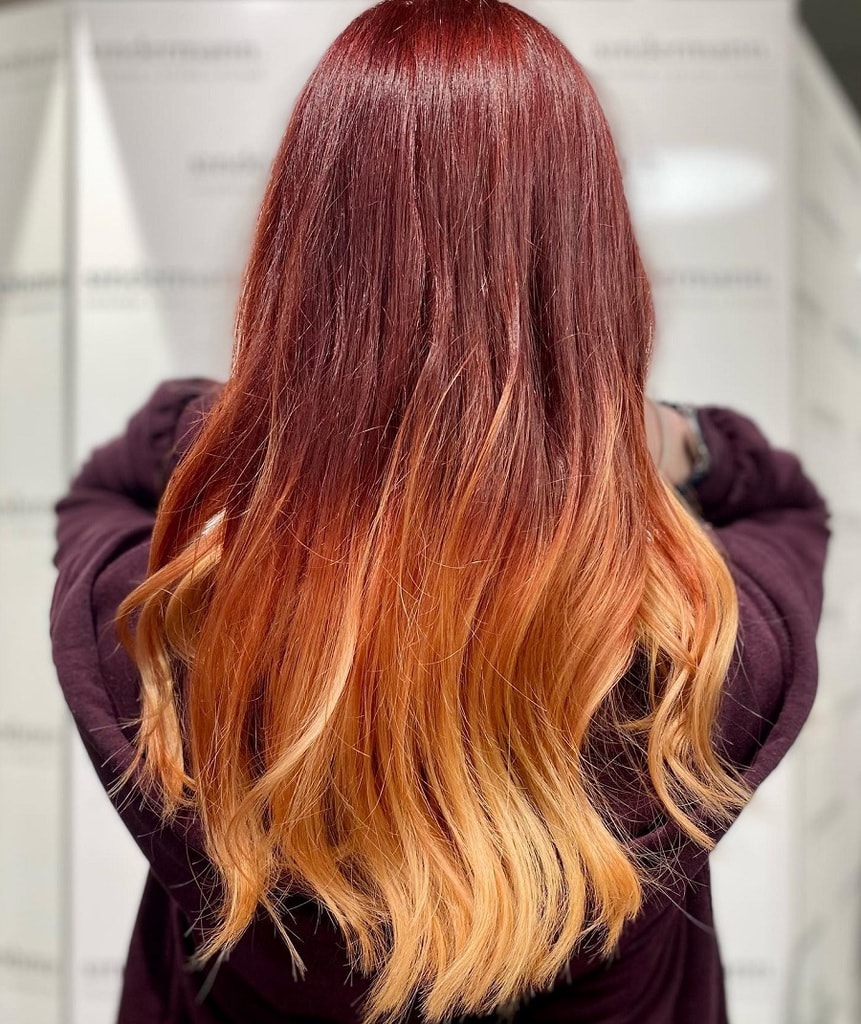 At the top, this one looks like a very nice deep ginger-toned red, and then the ombre comes in. At first it transitions into a lighter orange, but the ends are delightfully bright yellow-blonde.
There's some nice waviness at the end of this hairstyle, but it's nothing too complex.
Crimson Red Hair with Bangs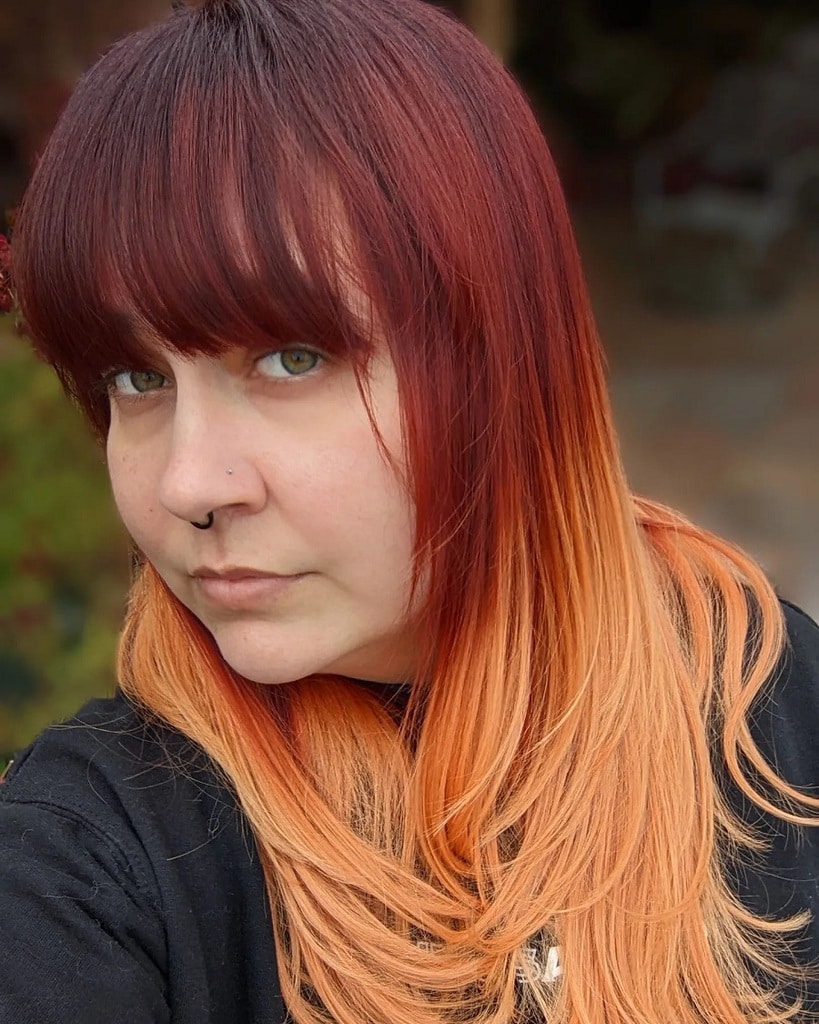 Fans of simple hairstyles will like this one. The long locks aren't styled in any complicated way, and full bangs across the forehead add some chicness.
As for color, it starts off vividly crimson and then transitions into a nice yellow with some orange undertones.
Bright and Bold
On top, this style has a unique bright red tone. Then it becomes more natural and is in two shades of blonde, one which is more orange and the other is lighter. The style has subtle layers and feathered ends.
Ginger Red Ombre with Waves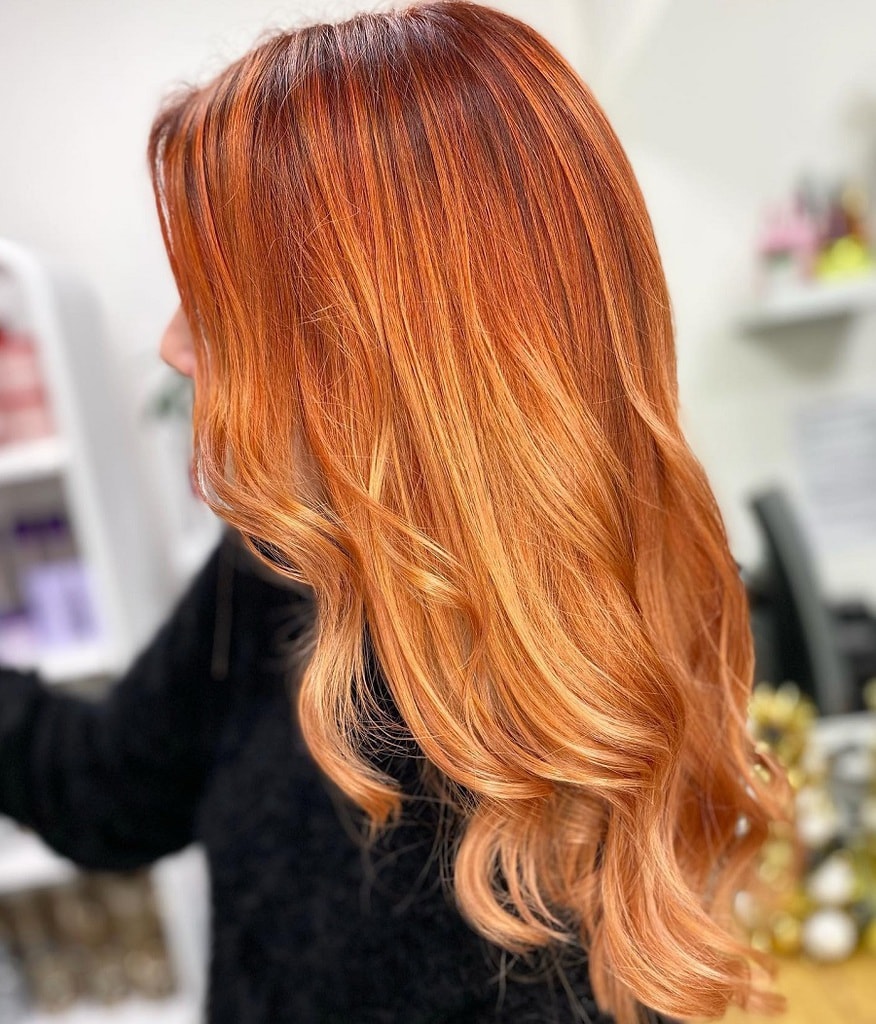 This is another example of one of the more subtle looks. On top there's a natural dark to light ginger, and the rest of the hair falls in nice waves with a yellow-blonde tone that's eye-catching but not too out-of-the-box.
Brunette to Dark Red Waves
If you have super long hair and like dark things, then totally check out this style.
The waves cascade to the bottom of the back, and the vivid dark red ombre starts around the shoulders. The rest of these tresses are a deep brunette shade that isn't quite black.
Magenta to Pink Wavy Style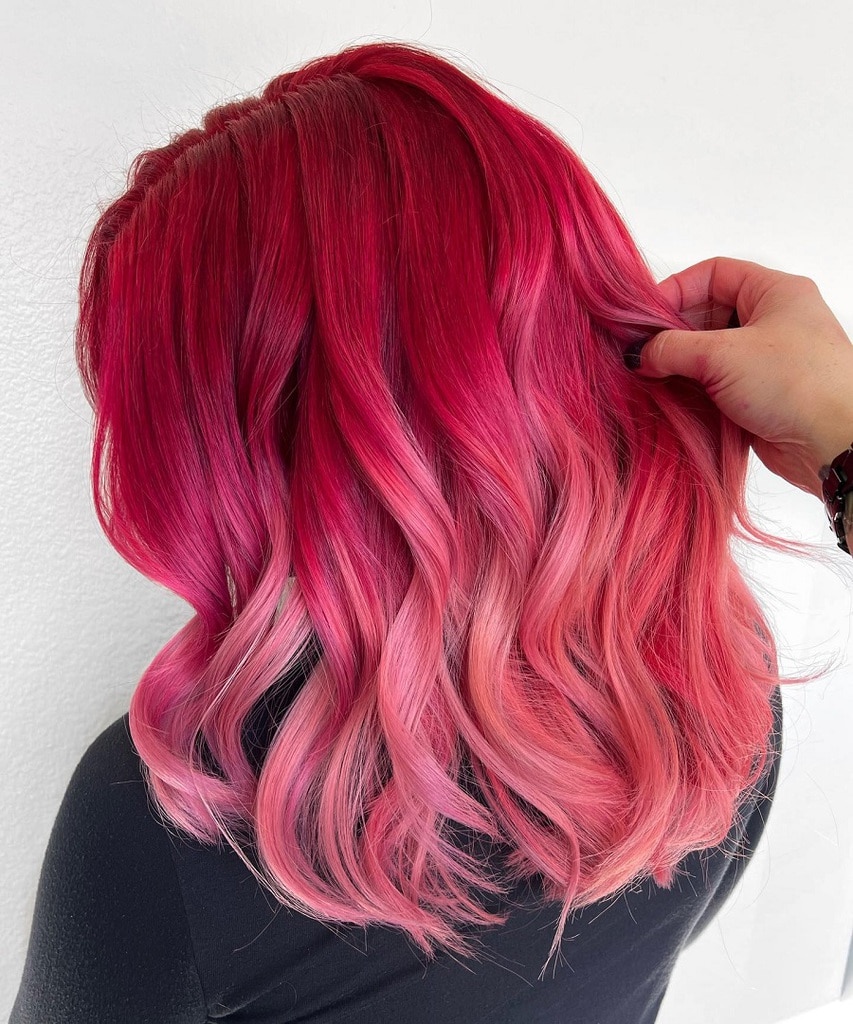 Do you like a pink tone to your look? Then this will be great for you. The thick, wavy tresses are magenta on top, and they end with a distinct pink tone that looks absolutely radiant.
Long Bob with Thick Bangs
Long bobs create a chic and simple style that you can easily do every day, and the red ombre with black on top makes up for the simplicity. There are split bangs that frame the face and add a lot of volume to the front of this wonderful style.
Magnificent Brown to Red Waves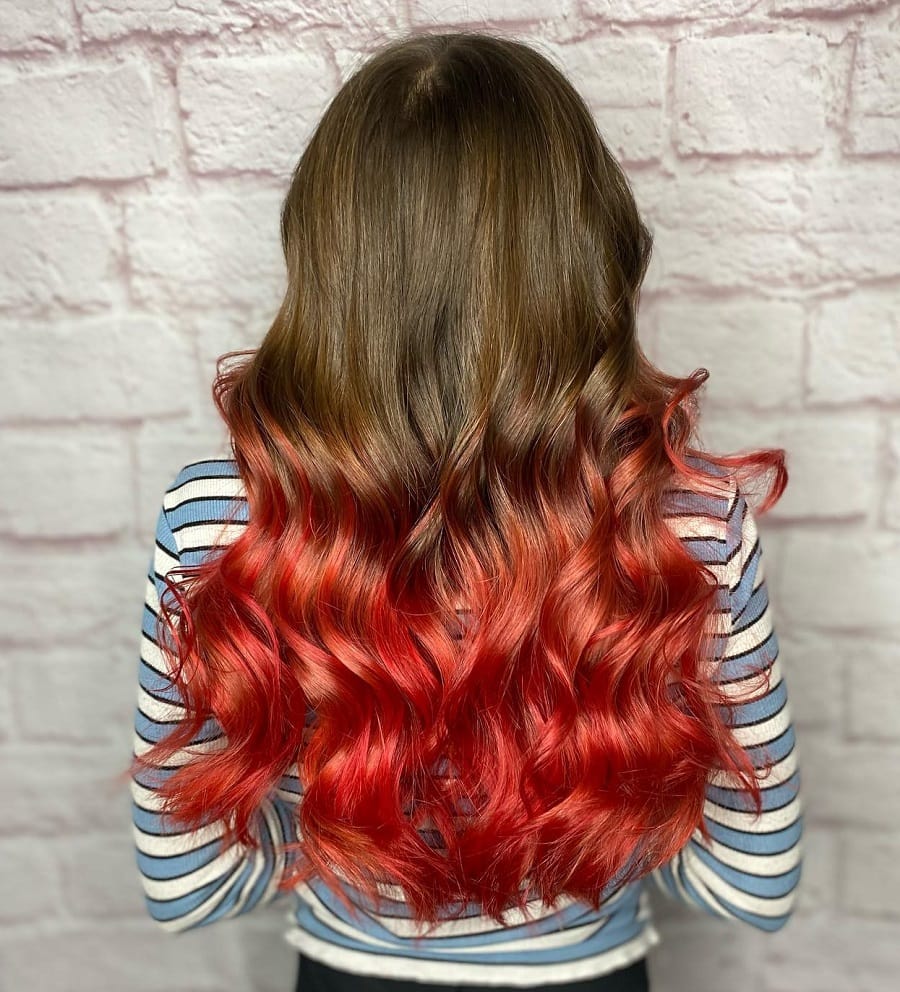 Here's something a little different from most of the looks we've had so far. The style is long and wavy down to the mid-back, but the coloring is unique. The top is a mid-tone brown, and the red is a rustier shade with orange undertones to it.
Long and Straight Side Parted Hair
True everyday styles are hard to find, but this is one you can easily rock day-to-day. Keep your hair long, straight, and natural, and part it to the side. Your black to ruby-toned color will do all the work to make the tresses stand out.
Auburn to Dark Blonde
There are three tones in this style. It starts with a dark auburn, then there's a lighter shade of it. The longest pieces of the style are golden blonde, and it's all very wavy with a middle parting and a lot of volume on top and around the face.
Reverse Ombre with Bangs
Most red ombre styles start with a darker color on top. However, here it starts with blonde, and then it transitions into a darker and more vivid tone.
These reverse ombre with full bangs, framing the face which is feathered out very nicely. There are longer strands on each side of the bangs that don't quite blend in with the longer tresses in the style, adding depth.
Are you a fan of these red ombre hairstyles? Then you're sure to find the one that suits you best. Experiment with the configurations and hairstyles, and you'll end up choosing one that'll suit you the most. Have fun with it, and make sure you take care of your colored hair to keep it looking fun and vibrant for as long as you can.