Age is just a number when you're young at heart. As their years increase, women just grow more and more in grace. Women In their 40s need to start taking special care of themselves with extra attention to the minute details.
You can't just blindly follow the latest hair trends. You need to put in time and effort and go the extra mile to look up the best options you have suitable for your hair concerns. And we're here to do just that for you. From cute pixies to curly bobs, we've curated the perfect list of desired hairstyles for women over 40.
Classy Hairstyles for Women Over 40
Unsure what to wear to your daughter's wedding? Or is it the engagement party of your child? Whatever your reason may be, find the perfect solution in our following list of hairstyles for women over 40. Do not forget the list during your next trip to the salon!
1. Pixie with Swiped Bangs
Pixie cuts are versatile and women of any age can rock the look. This modern messy pixie is perfect for women in their 40s and 50s.
The layers in the cut create movement in the look which should be ideal for older women with thin hair.
2. Curly Bob
If you have naturally curly hair and you want your curls to shine through, then this hairstyle is the perfect one for you.
Pair it with a Bob cut and you won't have to worry about maintaining the look much!
3. Choppy Straight Cut
If you're a boss lady and you need a hairstyle that shouts power and elegance, then this sleek and short bob with straight bangs is your pick.
This is a face-framing hairstyle that makes the one wearing it look confident and sure of oneself. If you can't choose between a pixie and a bob, these are for you.
4. Curls with Silver Highlights
Aging is one of the most beautiful experiences every woman goes through, and aging hair is just as beautiful.
If you're willing to embrace your natural hair color (which we encourage you to do) then you're ready to rock your silver locks with confidence and pride. It's also a great tip to save some bucks. Some voluminous curls can do wonders for your gray hair and make you appear more youthful and fresh.
5. Braided Bun
If you're looking for an over 50s hairstyle to wear at a wedding, this is the perfect party hairstyle for you.
Adding a few flowers to this updo makes it look like you've spent hours on it when in reality this hairstyle just takes a few minutes.
6. Layered Bob
Older women tend to gravitate towards haircuts that are shorter to save them some maintenance time.
However, a straight chop can seem a little lifeless and dull. To combat that, asking your hairstylist for light wispy layers is the way to go.
7. Straight Bangs
If rocking straight hair is your thing, then you can go for straightened hair with bangs.
If you want your hair to be long but not too long, then this length will be perfect for you.
8. Dreadlocks for Black Women Over 40
Dreads are the most eye-catching hairstyle of all time. They're for the bold and daring. Long dreads need patience and care.
You can also achieve this look by adding hair extensions and braiding them into your natural hair.
9. Parted Braid with Ponytail
Aren't you willing to let go of your box braids yet? No problem. There isn't an age limit to rocking braids.
Braided ponytails are perfect to rock a sporty look. And these braids are perfect if you're also looking to protect your hair.
10. Cropped Chop
If you're an African American woman and are looking to save some time getting ready every morning or if your hair is thinning down then you may be looking to go super short.
Not only does this cut save you some salon time but also is a great way to look chic.
11. Side Swept Bangs
Bangs can be your best friend if you're looking for something fresh and easy to spice up your look.
These slanted bangs will do magic for you if you want your face to look more elongated and soft. Tying up your hair will bring this whole look together.
12. Open Curly Affair
If you've been blessed with thick hair then you should flaunt your curls and make all heads turn. These lustrous curls will be the star of your look.
13. The Classic Crop
If you're sick of looking for lost hair bands and hair clips, then this classic chop is the right one for you.
Not only is this haircut low maintenance, but paired with your natural gray hues, it is sassy and stylish. It makes you appear like a woman who is comfortable in her skin and is proud of her years.
14. Blunt Fringe Ponytail
If you have a thing for symmetry and love things neat and clean, then these perfectly straight, eye grazing bangs might be your perfect fit.
These bangs paired with a sleek ponytail will give you a neat put together look.
15. Ringlet bob
One of the party hairstyles for women over 40 we love. The best way to sport a Bob is to pair them with tight and easy curls. This glam look is sweet, spicy, and everything nice if you're willing to step out of your comfort zone a bit.
16. Dreads Bun
This classic dread bun is iconic in many ways.
The sky is the limit when it comes to styling braided hair but putting them in a messy bun is perfect for you if you're fighting the heat and waiting for something easy and fun.
17. Layered Side-Swept Bangs
Bangs that are kept to one side add feminity and refinement to any look.
They're ideal for women over 40 to add some drama to long hair. If you have long beautiful hair and you want a new look but don't want to lose the beautiful length of your hair, then adding some bangs might do the trick for you.
18. Layered Bob
Women face a change in their hair as they age which makes styling hair more and more tiresome.
Therefore an easy hairstyle that requires minimum styling should be ideal. Shoulder-length hair with slight layers and front bangs is one such hairstyle.
19. Forehead Sweep with Short Hair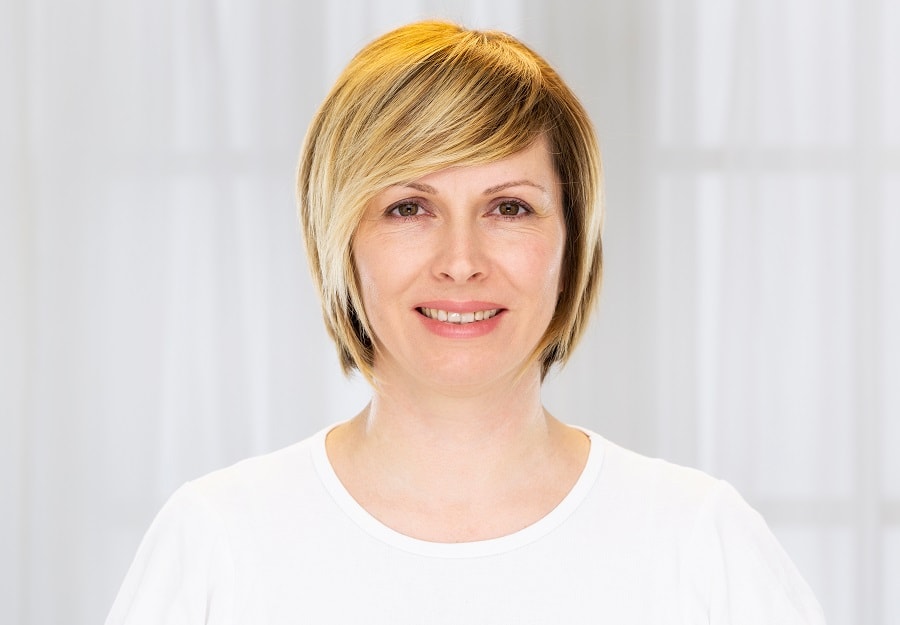 Hiding the forehead is an easy yet stylish style when you have sweeping bangs to rescue.
Try your hands at this cut with nape-length hair paired with sweeping bangs covering your forehead and eyebrow.
20. Braided Crown
Need a hairstyle for a wedding? We've got you.
A braid wrapped around your head is elegant and pretty and surprisingly easy to do. A French braid along the crown of your head tightly secured with some Bobby pins will do the trick.
21. Blow Out Curls
Combining chic blowout curls with short hair and adding a few wispy bangs, you get the most gorgeous hairstyle for women over 40.
Not only is this hairstyle classy and elegant, but also low maintenance and easy to carry.
22. Side Parted Flip
If you want to look poised and put together like Hilary Clinton then we have the right fit for you.
If you're a working professional and want a haircut that makes you look like one, then this side-parted shortcut will be just perfect for you.
23. Overgrown Spiky Pixie
A long pixie cut is a bit longer than the normal pixie cut. They're usually shorter on the sides and longer on top.
If you're afraid that a shorter cut will look too boyish on you, then this one is it for you. If you've hair that's thinning with age, then you should go with this one.
24. Side Parted Layered Cut
If your number one priority is looking feminine and well-groomed then some layers of medium-length hair would look good on you.
Layered haircuts add life and dimension to your hair. And some face-framing long bangs add a youthful glow to your face.
25. Straight Blonde Cut
If you're bored with layered haircuts for older women then you can show off your thick hair with a straight shoulder-length cut like this one.
Splash a touch of blonde on your dark roots and you're good to go!
All these hairstyle options will simply cut off the years from your look and bring out the best in you. Give them a good ol' college try and watch the magic happen! Being gorgeous calls for no age when you have these ever-loved hairstyles for women over 40!