In this day and age, women are constantly looking for new ways to style their hair. While some women may prefer to stick with the traditional hairstyle, others may be looking for something new and exciting to try.
One option that many women are not familiar with is the wet hairstyle, which can be a fun and flirty way to change up your look. Celebrities like Kendall Jenner and Gigi Hadid have been seen sporting wet hairstyles on the red carpet, and it's time for women to give it a try.
Ready to Get Wet? Check Out These Hairstyles
Whether you have curly, straight, or wavy, there should be at least one wet hairstyle on here that would suit you well.
Blonde Beach Waves
If you're looking for a summer hairstyle that's both casual and chic, beach waves are the perfect option. To get beach waves, start by parting your hair and spraying it with water.
Then, use a curling iron to curl your hair in small sections. Once your hair is curled, use your fingers to tousle it and give it a messy look and finally wet it with hair spray.
Braids With Wet Hair
If you're looking for a style that will keep your hair looking good all day, braids with wet hair are the perfect solution. However, it is not suggested to braid while your hair is soaked as it can break your hair.
Hence, you can make a different style of braids on dry, silky hair and add some hair spray or cream after you are done.
Curly Brunette Style
When your hair is wet, the curls are springy and defined. Plus, since curly hair often has a lot of volume, wearing it moist can help tame those curls and give you less frizz.
Wet Long Ombre
Long ombre always looks fascinating. You can start by washing and blow-drying your hair straight. And then use a curling iron to create loose waves. After that, apply a generous amount of styling serum to your hair, making sure to focus on the ends.
Side Part
A side part wet hairstyle is perfect for a formal look. You can achieve the style by parting your hair to one side and then soaking it down. Use a light-hold hairspray to keep the style in place. You can either wear it straight or curl it under for a more classic look.
Slicked Back Pink
This hairstyle is perfect for women who are looking to add a pop of color to their look without going too over the top. To get the look, start by shampooing and conditioning your hair. Then, use a gel or mousse to slick your hair back.
Low Bun
A low bun style on soaked hair is perfect for a casual day or when you want to keep your hair out of your face. This hairstyle can be achieved by using a soaked towel to wrap around the hair and then using hairspray to keep it in place.
Updo With Highlights
Moist hair and highlights are perfect for creating an updo hairstyle with waves or curls. It is perfect for a day at the beach or pool. The wet hair will allow your updo to hold more, so you can enjoy all of the fun in the sun.
Wet Blonde
This blonde hairstyle looks great on people who have thick hair. It is styled in an upright position so that the quiff part will not droop or lose its shape as it dries and looks best when blow-drying curls away from the face.
Short Dark Brown Hair
To get this style, wet your hair and then apply a styling product, such as mousse, to give your hair volume. Next, back brush your hair until it is smooth. Then, curl the ends and hold them in place with hairspray.
Straight Long Blonde
This style is perfect for those who want to keep their blonde hair looking sleek and straight all day. You can create this look with a straight hairdryer and some hair serum. However, make sure your hair is completely dry before you apply the serum to get a moist look.
Bangs on Dark Hair
Wet bags are a classy style on dark hair. It looks best when the front of the hair is left long, and the back of the hair is short. This short hairstyle looks good on any face shape and can be styled with either straight or curly hair to create a fun look.
Wet Wavy Bob Style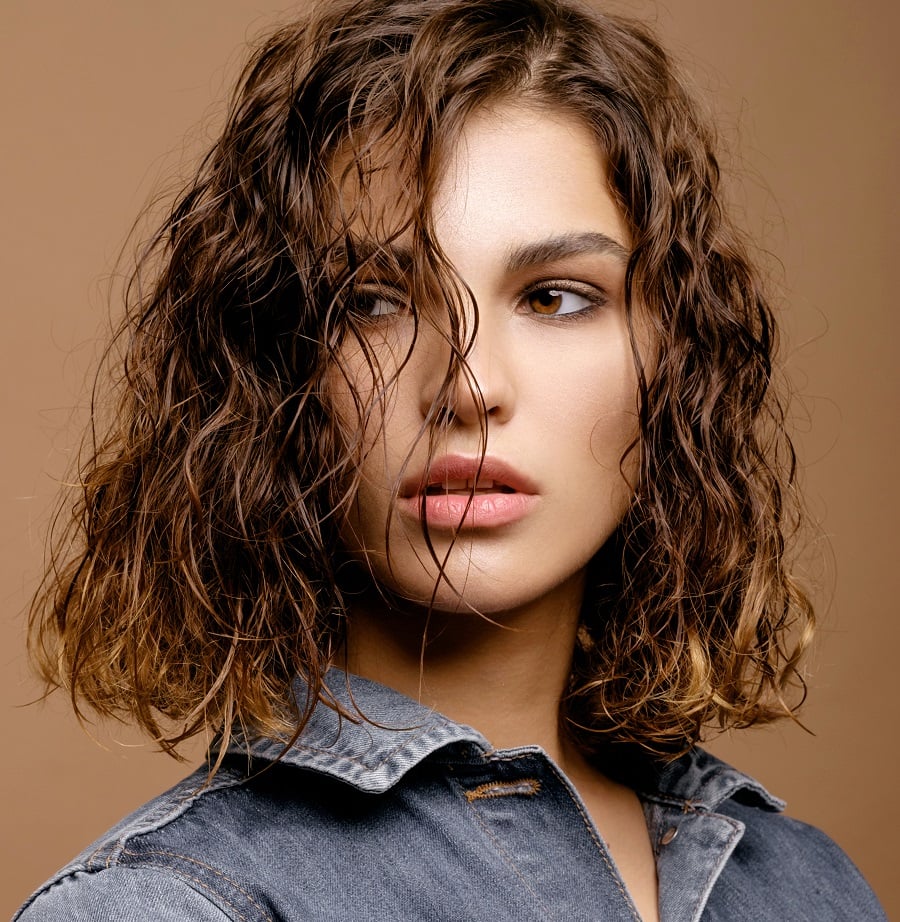 Start by soaking your hair down, then use a comb to distribute the water evenly throughout your hair. Next, take a section of your hair and create a wave by holding it with one hand and pressing it down with the other. Then release the wave and repeat on all sections of your hair. Finally, use some hairspray.
Celebrity Inspired Updo Style
The updo style on wet hair has been a trend for many years, and celebrities have been the ones who have helped it become popular. You can do it by creating an updo with water on the hair, then letting it dry naturally and using hair spray to hold it in place.
Long Caramel Brown Hair
On soft caramel brown hair, the moist hairstyle is perfect for anyone who loves a little bit of chaos in their look. The natural curls and waves make the style look effortlessly stylish, regardless of where you decide to wear it.
Moist High Bun
Simply brush your hair, or use your hand to create a high bun, and spray it with hairspray as you go. You can also secure the bun with a headband or elastic band. In addition to that, You can also add some waves or curls on the side to your moist hair if you want to jazz up the look.
Wet Look Middle Parted Hair
The middle-parted hairstyle is a popular choice for women who want to add height and volume to their hair. It is also a great option if you want to show off your beautiful locks without having to do a lot of styling.
Slicked Back Wet Hairstyle
This type of hairdo is achieved by using some styling product such as spray or mousse to slick back your hair. You'll need to drench your hair before applying the product and then comb it through with your fingers or a brush.
There is no need to be afraid of getting your hair wet when you have these stunning hairstyle ideas. From sleek and simple looks to more intricate styles, there is something for everyone. So dive into the pool or take a walk in the rain without having to worry about your hair.