Milkmaid braids, cascading curls, Hollywood waves, and intricate updos– these are the most sought-after and elegant bridal hairstyles today. All women would die to have this hairstyle on their big day. However, only women with long hair can have these.
That's why the priority of most women is to grow their hair out as soon as they get engaged, and it's totally worth the effort. Long hair is incredibly versatile so that you can choose from a wide range of hairstyle options—and this article will prove it!
We've rounded up 40 of the best long hair wedding hairstyles that will surely keep your guests and groom mesmerized all day long!
Long Wedding Hair Mistakes Brides Should Be Wary Of
No matter how gorgeous your long hair is, you wouldn't be able to achieve the long bridal hairstyle of your dreams if you'll fall for these common long wedding hair mistakes:
Forgetting hair shine
Your hair is already long and gorgeous. What else can you ask for? Well, our dear bride, you have to make sure that it's shiny and beautiful too! In this way, your hair will look amazing not just in person but in photos as well!
That's why it's recommended that you opt for a color gloss treatment a few weeks before your big day. You should also incorporate hair-friendly food in your diet, such as dark chocolate, spinach, walnuts, and chia seeds.
Expecting your hair to look exactly like your reference pictures
We know that you want your hair to look perfect at every angle, but it's challenging to achieve the exact same hairstyle that you've seen in photos.
Don't expect the hairstylist to replicate your hairstyle peg down to the very last strand. Keep in mind that the condition, texture, color, and length of your hair might differ from that of the person in the photo, and all of these can affect the look of the hairstyle.
Over accessorizing
Having too many hair accessories will take away from the beauty of your long hairstyle. If you wish to let your hair be the center of attention, keep your accessories to a minimum and ensure that your choice of accessories will match your hairstyle and overall ensemble.
Wedding Hairstyle for Long Hair Ideas
Here are some of the most gorgeous and mesmerizing wedding hairstyles for long hair:
1. Grecian Long Hairstyle
Flowing hair simply looks beautiful, and it would be the best look you can get for yourself if you are the bride. They go well with dresses and gowns and are sure to make you look like a princess on your big day.
The perfectly blonde waves have been styled with soft touches that make it fall in the perfect flowing manner there is. The hair has been pulled back with a few side layers too and then tied up into a high ponytail like the style with the curls falling gorgeously.
2. Layered with Braids
Nothing to make your style look more elegant than with a touch of sophisticated braids that will make you look like a true beauty. Taking a break from the normal hairstyles, this stunning style features hair beautifully falling along the sides too.
This look is perfect if you are wearing a veil with your gown as it helps to enhance your hair and face naturally. Pair this look with a stunning gown and you will surely look your best. The braided headband style on the top is a cool style that you can try out without making your hair look too dramatic.
3. Half Curled Updo
A half-curled updo on the sides for the win. A side hairstyle that is definitely making all the trends simply with the beautiful way in which it falls gracefully across your shoulders. The hair has been styled in very soft curls and the more the number of curls, the more full your hair is going to look.
This hairstyle is best suited for those who have thin or fine hair as the flowing hair may feel too heavy when you try it out with thicker hair. The curls have also been done in a very layered and gathered style, making it look quite neat and formal.
4. Loose Wedding Hairstyle
The main highlight of this hairstyle is that instead of the classic updo style, it has been done in a down do style. The hair has been tied up very loosely, making it look very classy and kind of messy at the same time.
The loose and oversized braids are also a different hairstyle that you can try out since while they are quite popular, it is a rare thing as a wedding hairstyle. Since the hair needs to be done in oversized or chunky braids to get this look, we would suggest that you try it on thick or medium thickness hair for it to look really good.
5. Simple Side Braids Style
This is a very simple look and will only be good for you if you are someone who is not into fancy styles. It's easily achievable and while it is actually very simple, there is always beauty in simplicity and that is the case with this hairstyle too.
The hair has simply been blow-dried neatly by curling it at the ends and the bottom so that it falls in gorgeous waves. On the front side, the hair has been firmly braided in a side headband style and that's all you need to complete this look.
6. Boho Wedding Style
Boho hairstyles are all about creating art. You have the freedom to create something so stunning from a simple style itself. And this hairstyle here is only proof of that fact. Boho styles will surely help you look chic on your wedding day, and that too without any effort.
This style is a gorgeous blend of waves, braids, and perfectly falling golden blonde hair. And added to all this is the beautiful floral accessories that have been placed on the hair. Real flowers will also do with this hairstyle.
7. Braided Side Bun Style
When you are torn between choices of getting braids to look, as well as a bun look, then this is the right hairstyle for you. A stunning combination of both braids and the bun that will make you look your best, the hair has been braided along the sides, which is a look that goes really well with wedding dresses and gowns.
The classic French braid style is also an alternative to the braids. A few layers have been pulled out on the front and they will surely help to frame the face.
8. Chunky Curls Style
Simply style your hair in thick and chunky curls for this style. The hair is long enough so it will definitely be good when you are wearing a style like this. To get the look in all its perfection for the whole day.
The crown section has been styled in a thick style and then it is followed by a loose curly section on the bottom which makes a fantastic combo for a wedding hairstyle. It makes for a unique wedding hairstyle and with the addition of simple floral accessories, the look is completed.
9. Wavy Wedding Hairstyle
This is an iconic wedding hairstyle that will have you in all the feels about its beauty. On the top, the hair has been lifted and tied in a high ponytail style. When it comes to wedding styles, the longer the hair, the more glam as the saying goes.
For a wedding, this style would really do well. Large curls like this are full of sass and style making sure you look your best on your big day. And on the front, the face farming layers complement the overall look to make this hairstyle [perfect.
10. Half Up Half Down Hairstyle
Half up half down hairstyles are perfect for when you want a fancy look without looking too formal either. They are elegant and have just the right amount of class so it's ideal for a wedding hairstyle.
This style has a braided design on the sides and then the rest of the hair has simply been tousled up in gorgeous waves. Using hair products is essential, as there are chances that the styling may come undone after some time with hairstyles like this.
11. Simple Wavy Hair
Now here is a simple wavy hairstyle that also has a glam factor to it, thus making it ideal for weddings and events. The length of the hair is long enough that you can create big curls with it. All of the hair has been parted to just one side, making it more fashionable.
The hair is styled up in soft and gorgeous waves, and it has also been highlighted in a soft honey shade to add some element to this otherwise simple hairstyle.
12. Long Curls Style
Just like how braids add a dash of elegance to your style, curls are great at making you look more feminine and graceful, especially on your big day when you need to look your prettiest. Luckily, this hairstyle here can solve your troubles.
Not only is it ideal for many types of hair ranging from fine hair to thick hair to longer lengths and shorter lengths, but it's also a very versatile and creative hairstyle, to say the least. The hair has been done in beautiful twists and the longer your get, the prettier your twists will be.
13. Gorgeous Bun Updo
This fancy bun hairstyle is ideal when you are faced with a plethora of choices and are not sure on what style to decide. It is simple and elegant and will surely go with any type of dress or outfit you choose to wear for your wedding day.
The upper front part of the hair has been lifted in a bump and the rest of the hair has then been tied in a high bun with few face-framing layers pulled out on the front. Make sure you have set your hair by blow-drying to make the style look classy and sleek.
14. Lovely Ringlets Style
While this style shown here is as simple as it can get, it surely is looking very smooth and shiny. The hair has been done in a ringlet style with the bottom part of the hair falling in perfect ringlets. They are quite bouncy too making the hairstyle even more attractive.
To maintain this style for a long-lasting day, make sure to apply the anti-frizz serum from the roots to the tips. This hairstyle is best suited if you have really fine hair. You can also enhance this look a bit further by adding in some floral accessories or you can also keep it simple as shown here.
15. Stunning Blonde Beauty
We have no words to describe how extremely beautiful this wedding hairstyle is. It will surely make you look like a princess on your special day and win everyone's hearts.
Totally an Instagram worthy look, this can also be described as the style of our dreams. With its perfection and grace in the blonde shade of the hair, it simply looks stunning. The hair has been done in loose and soft curls that add a touch of magic.
16. Simple Braided Bun
not everyone wants to look extravagant at their wedding and some simply really just like to keep it low-key by going for a simple look. Well even in that simplicity, you can create a truly beautiful look and this hairstyle here is only an example of how you can do this.
This is an ideal look, especially if you are wearing a veil with your gown. it makes for a classic hairstyle as well as an iconic look that never goes out of style.
17. Blonde Curly Hairstyle
Weddings are all about celebrating love and family and while you definitely think you need to look your best, you do not have to do so in convention with existing norms. You can be beautiful in your own way and there are no rules regarding the same.
The same applies to hairstyles as well. You can choose any style of your liking. This hairstyle here is one such curly hairstyle that isn't exactly a wedding hairstyle, yet one that would surely look gorgeous on you. The golden blonde locks make for a great style that looks simply lovely with floral hairpieces.
18. Braided Headband Look
Here is another simple hairstyle to make you look great. It really is a simple style that also features perfect wavy golden hair. The kind of hair you might have only imagined.
The hair on the upper part is of a darker shade of gold and the blonde locks on the bottom part are separated from the upper section with a lovely braided headband that stretches all the way from one side to the other.
If you are going against traditional norms and choosing to wear more of a boho or vintage outfit instead of the classic white dress, this hairstyle would surely look great on you.
19. Brunette Braided Hair
This look would look fabulous on the bridesmaids rather than the bride. It is a simple braided headband look with the hair color being a lovely shade of dark brown. Truly a wedding-worthy look that will look great with dresses.
The more the volume, the better this hairstyle is going to look. The hair below the braided headband has simply been let down loosely making it look very relaxed and effortless.
20. Peek A Boo Braids Style
With hair that features perfect waves, you are truly going to look your best on your wedding day. The hair has been styled in loosely falling waves that are simply stunning, especially against the blonde shade of the hair.
A simple and loose braid is also done in between this without making it look too obvious and blending it in with the rest of the hair. This hairdo is perfect for when you need to make a really loud style statement about yourself at your wedding.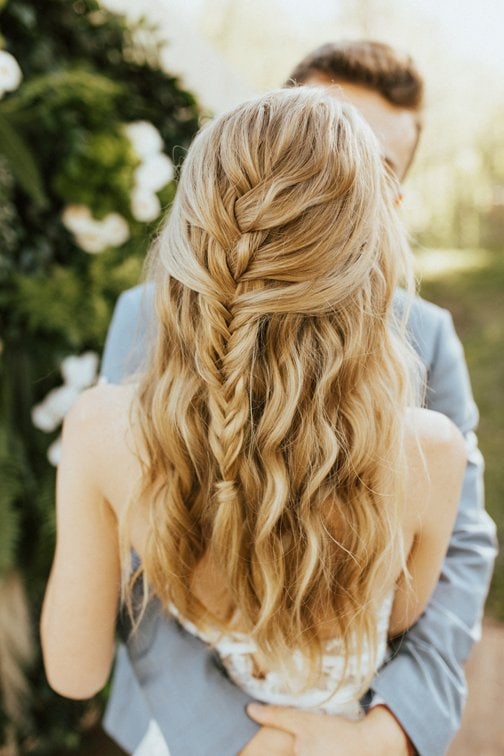 21. Rapunzel Hair
Hair with rapunzel-like golden tresses as shown in this picture is truly a stunning hairstyle that is totally wedding-worthy as well as Instagram worthy. With enough long hair like this, it becomes quite easy to twist and twirl your hair in any fancy way you want.
The blonde hair here features long bouncy curls which simply look extremely ravishing when paired with your wedding dress. On the front too, the hair has been pulled back to create an intricate braided style that looks like a headband.
22. Fancy Braided Style
This fancy braids hairstyle done against golden blonde locks of hair simply looks amazing. The golden tresses have been done in a weaved braided style with a braided headband on the back and loosely flowing wavy hair beneath it.
The long and loose waves are perfect and look great. Add a pop of color tot his hairstyle with floral hair accessories and your look is more than complete. The soft curls fall with such grace and in such an effortless style that we can't take our eyes off it.
23. Princess Style Bun
A very chic look for brides that is sophisticated yet looking quite beautiful. The hair has been done in beautiful waves and then tied up into a high bun. To effortlessly rock this hairstyle, it is required that your hair is quite thick enough so that it creates a sense of fullness.
This style would also look great when you are wearing a veil. A beautiful hairpiece has been added in the middle to add a touch of elegance to this sophisticated and chic look. The hair has been done in a loose but firm way making it look very attractive.
24. Under Tucked Braid
braids are always a great option when it comes to styling your hair. And if you are tired of normal wedding hairstyles that feature braids, then you simply spice up your look by trying an inverted braid style or a tucked under braids style as shown here.
Such braids are best suitable for really long hair and will look very elegant and chic. Braid your hair till the ends and then simply tuck it in underneath or at the length of the nape to achieve this look.
25. Shaggy Golden Hair
Shaggy hair at first may seem like an unconventional choice for a wedding, but if you are bold enough to take a different path from the normal hairstyles and try something different, then this hairstyle would totally do justice to your wedding outfit.
Just style it in such a way that the shaggy hair is visible enough without looking like too much of a mess.
26. Simple Thick Hairstyle
If you have really long and thick hair, then you should definitely choose a hairstyle that flaunts all your best features. This is a very simple look but one that looks extremely gorgeous too.
The hair has simply been loosely tied up and twisted and turned in random places to create this ravishing look. If you really want this look to stand in all its beauty, then we would recommend that you chuck your wedding veil and simply leave your hair free.
27. High Updo Curls Hairstyle
Ahh! The beauty of the soft curls in this look is simply unmatched. And since the hair has been done against pure blonde locks of hair, it looks all the brighter and merrier. The hair has been tucked in on the backside by pulling it loosely along the sides.
The ringlets or the soft curls have been done in perfection to make this style truly stand out. The hairstyle also features a very thin side braid to add a touch of elegance to the look.
28. High And Classy Ponytail
Now, this is truly a very dramatic hairstyle that you can try out for your wedding look. The hair is very long and quite voluminous so it is given that you need to have significant length, thickness, and volume to truly rock this hairstyle.
On the middle front portion, the hair has been tied in a lifted style while few strands of hair on the sides have been pulled to the face. The whole rest of the hair has then been tied up into a very high ponytail where the specific part of the hair tied into a ponytail is dyed in a beautiful shade of orange-ish blonde.
29. Tousled Braided Style
This braided hairstyle done in tousled wavy hair is simply perfection. The hair has been braided in a loose but firm braided style forming a side headband and some of the hair on the upper-middle section has also been lifted into a bump style.
The rest of the long tresses fall in a perfect wave hairstyle that you could ever ask for.
30. Blonde Half Hair Up Style
To end this long list of wedding hairstyles for long hair, we have chosen a very simple yet classy look. The hair is a beautiful shade of blonde and has been done in perfect waves. This hairstyle is guaranteed to look great on medium-length hair too, provided that your hair has enough texture that is required to create waves in perfection.
The hair has also been pulled from the side to create a lovely weave-style braid that is then tied up in the style of a headband. Add in few beautiful floral accessories and your look is ready.
31. Loose Bun with Jeweled Clip
For your big day, you deserve to look the absolute best. A low, glossy bun is the best option if you want to showcase your dress and makeup with a classy finish.
This comfy yet sophisticated can easily be elevated with a jeweled clip and a few loose strands to frame your face.
32. Bubble Ponytail with Loose Tendrils
If you're looking to achieve a more youthful look on your wedding day, this hairstyle is the most unique option for you.
This hairdo adds instant volume and texture to your hairstyle in the chicest possible way. The loose wavy tendrils up front will frame your face sophisticatedly and elevate your look even further.
33. Backcombed Hairdo with Tiara
Can't choose between the veil and tiara? Go for both! This glamorous, pulled-back hairstyle showcases both the tiara and the veil in the most alluring way and gives you the most royal look so that you can achieve your dream princess look for your special day.
34. Low Braided and Voluminous Bun
This hairdo is one of the classiest wedding hairstyles for long hair on the list. What makes this hairstyle so alluring is the golden-brown shade, that adds more texture and depth to your hair with the varying shades of brown and blonde.
The cascading braid will transform into a full bun, making your hair appear thicker and more voluminous.
35. Ash Blonde Waves
There's no classier route to take on your wedding day than simple, gorgeous waves. If you've been looking for something chic yet subtle, these heat-styled waves will do the job for you. However, you can elevate these traditional waves with an ash blonde makeover.
36. Old Hollywood with Caramel Highlights
If you have thin hair, the caramel brown highlights are the best way to add more dimension to your hair and give it a more voluminous look effortlessly.
There's no better way to show off these gorgeous highlights than with a glamorous Old Hollywood curly hairstyle.
37. Half Up Half Down
For a more natural hairdo, you can't go wrong with this half-up half-down look. It simply showcases your natural long hair without changing the texture at all.
This hairstyle is perfect to embrace your natural brown hair with elegance on your big day.
38. Curly Floral Updo
To get an elegant and glamorous hairstyle, curl up your tresses and form them in a loosely pinned-up bun for an extraordinary yet classy hairdo. The cotton flowers are a perfect cherry on top, which makes it an ideal hairstyle for a summery, beach wedding.
39. Sleek Updo with Dark Roots
This next updo is for the more sober and sophisticated woman. The sleek fringe up front is the most decent way to elevate a simple bun. This has to be one of the most classy wedding hairstyles for long hair on our list.
40. Accessorized Braid with Fringe
The beautiful braid adorned with pearls is the type of hairstyle that is effortlessly flattering and accommodates your long hair most delicately. The voluminous backcombing and fringe on the front make this breathtaking hairstyle even more alluring.
All of these styles listed here are curated with enough care and personalized for the best of your looks so you can be rest assured about how amazing you will look on your wedding day if you choose any of these hairstyles.
You no longer need to scour through old archives of magazines or google your time away searching for the perfect look and hairstyle. All these hairstyles are surely very romantic as well and would definitely blow away your groom's mind along with that of the guests too.