Who does not like weddings? This ceremony brings joy and happiness to the bride and groom, their families, and everyone who attends the wedding. Perfect outfits and wedding guest hairstyles can add a little more happiness and beauty to the occasion.
Got your outfits ready but not sure how to style your hair for your bestie's or relative's wedding? You will need an elegant hairstyle to enlighten the outfit and mark the day. We have listed some of the best braids to easy bun hairstyles to ease the search for classy wedding guest hairstyles to compliment your outfits.
Gorgeous Hairstyles for Wedding Guests
Here are some statement-making hairstyles like updos, braids, and cuts to rock the occasion.
Floral Embellishment
Finding a suitable wedding guest hairstyle can be tricky, but adding flowers to your hair gives you a more feminine look.
You can get your bridesmaid look by keeping your hair open, keeping a side part, and adding floral embellishments. It will look good on any hair length, face shape, and skin tone.
Wavy Blonde Bob
Style your neck-length beautiful blonde hair with brushed waves to get a cool chic look. For a cute look, flip some hair to one side with a side partition and add some accessories like statement headpieces or pins.
Loose Curl Updo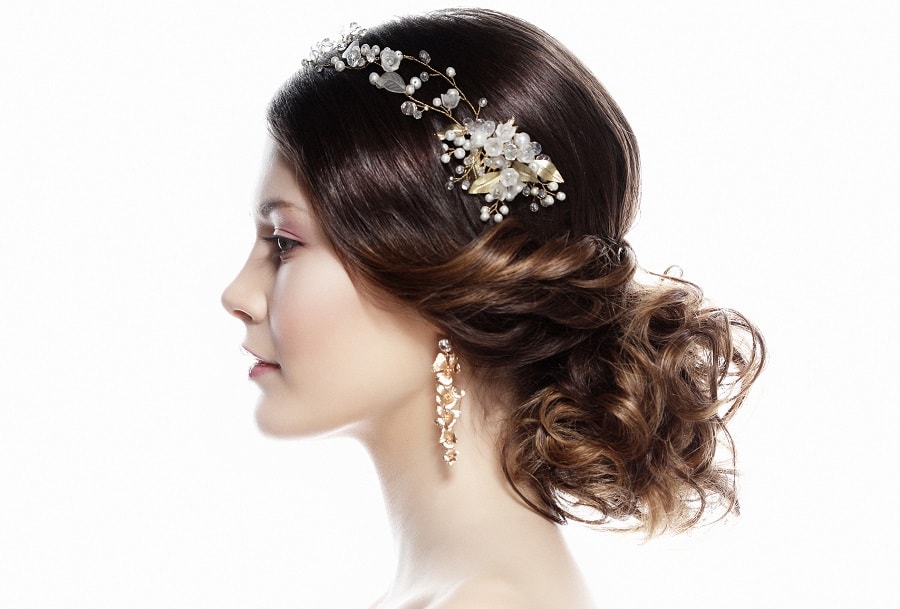 Beach weddings are the most fun, right? Well, if you are invited to attend it, try this updo hairstyle and look marvelous.
Firstly, keep the hair at the top sleek and create curls at the ends. Now twist your side hair and grab the rest to make a low messy bun. Finally, add a lovely flower tiara to the look, and you are ready to go.
Hadid Ponytail
Are you a fan of the Hadid sister's ponytails? Those sleek ponytails are just damn gorgeous.
Just use some hair gel to make a ponytail. Then, take a small strand from the back, twist it on the hair band and secure it with a bobby pin to get the look.
Wet Look with Blunt Bangs
No need for any accessories to style this wet-looking hair with bangs. A short shaggy look is a sign of a free-spirited soul. So if you want minimal styling as a wedding guest, go for this one.
We know that short or wispy bangs suit heart or round-shaped faces well. Fans of Miley Cyrus should definitely try this for a funky pop look.
Braided Beehive
Wanted a tweaked version of bun? Well, go for this one and look as awesome as the bride. Instead of creating a normal bun, make a knotted one and use a braid above it.
Make the braid from one side to the other, and fix a flowery strip. Loosen your bun a bit to get this fluffy look.
Side Pinned Balayage
Medium length with bouncy curls with a hair twist pinned on one side. Doesn't this sound like a pack of everything you need to create a hot chic guest entry?
Balayage is another grace point to the look. This foxy balayage is so alluring and sassy at the same time. A great hairstyle for wedding guests to choose for a diva look.
Low Key Bun
This might be the one for you if you love minimal boho looks. Irrespective of your thin or thick hair texture, you can try this style. Mix highlights of blonde, and peachy champagne will add an extra effect to your look.
Milkmaid Braided Crown
What other better way do one supposedly have to wear their own hair as a crown? This is a remarkable look to make a royal entry as a wedding guest.
No need to find your misplaced headbands anymore; make yourself a crown. Make two braided ponytails and wrap them around from one side to another. Finally, secure it with pins, and it's done.
Air Dried Tousles
The most time-saving easiest yet pretty look to style your short curly bob. Just damp dry your hair and make little curls with a small curler.
Add some hair spray or oil to add some glow. The highlighted curls will give you an impressive look that can easily be paired with any party attire.
Curly Dreadlocks
Embrace the texture of your natural hair, and let them wiggle free to the wind. Dry your hair, detangle it with a wide-tooth comb, and make some dreadlocks.
Add some pomade for extra shine and hold. That's it, nothing more to do, and your impressive curly wedding hairstyle for guests is done.
Sleek Polished Bun
Gather all your hair into a ponytail, secure it with an elastic, and gently twist and turn the strands to get a perfectly polished bun for a vintage look.
This tightly secured look makes your face look more framed and gorgeous. In addition, nude makeup with bold lip color will add more charm to your overall appearance.
Merida Red Waves
There are many stories about redheads; some say they are long-lost Viking genes. Various hues of red can be used to color your long wavy hair.
Ginger-red is the coolest hot-looking color ever. Flip your hair to one side and add some loose waves to get a lustrous hot look.
Casual Wavy Bob
This look would fit right into a farmhouse wedding. Section your hair into two halves and flat iron them, then add some loose curls to get a wavy farm girl look.
Finally, add some daisies to be more accurate. This medium length hairstyle for wedding guests will surely give a cute lovely appearance.
Sweet Side Pony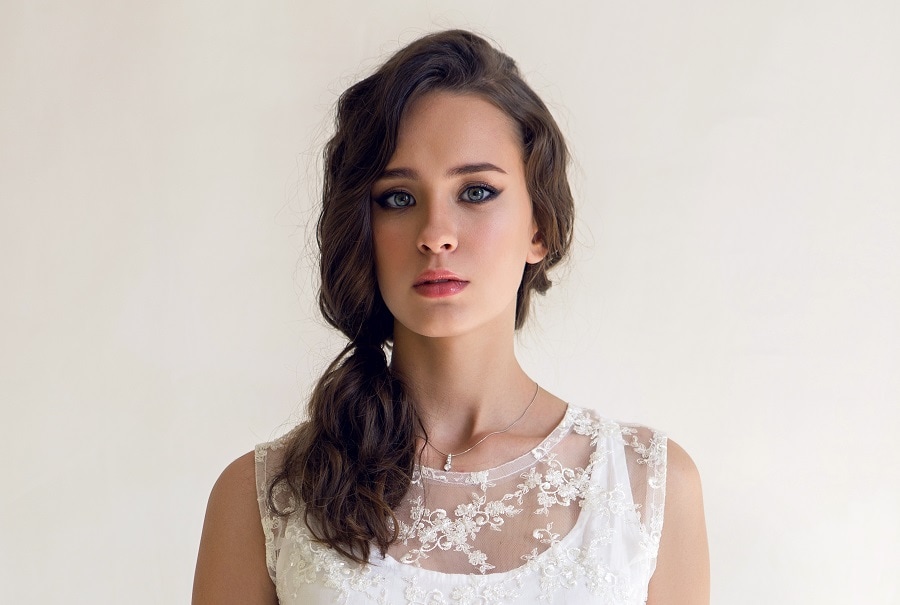 Grab all the locks and secure them loosely with a hair tie or elastic. Then loosen it a bit to make a gap just above the hair tie and pull your pony inwards.
You will get a lovely curled look covering one side of your face. Use any shine serum or spray to add glow to the locks. It's an amazing wedding hairstyle for guests and other relatives.
Red Coiffure
Attending a Celtic wedding? Why not try this dazzling sectioned messy updo? Side section your hair, leave a long lock of hair in front.
Grab the rest to make a low pony and start curling the ends. Gently twist it to make a bun and secure it tightly. Brush down the front lock and slightly do a loose curl so it wouldn't stay plain.
Sassy Bubble Pony
Tie a low bubble braided pony grabbing all the hair and leaving the fringes to frame the face.
Divide the elastic-secured parts, pull the lower part from it, and drag some loose hair to get the volume as a bubble. Fix with some hair spray, and embellish with pearls and flowers in the end.
Playful Lob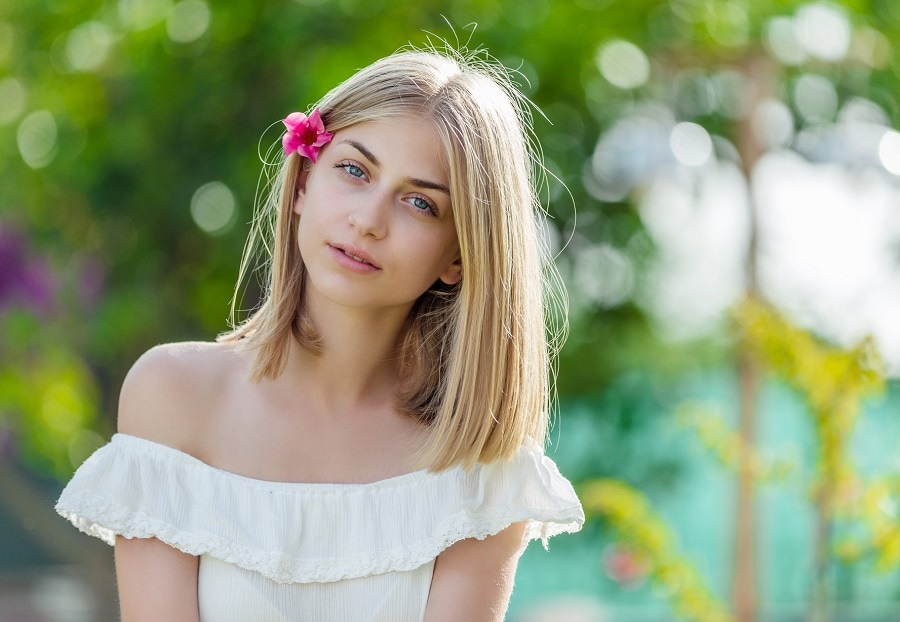 A blonde base and light-toned highlights add so much glam to your hair. Keep your hair open, middle part them. Then, style them with a flat iron to add sexiness to the hair.
It's a perfect look for a wedding guest when you have very less time to get ready. The color will automatically enhance your look.
Red Carpet Ponytail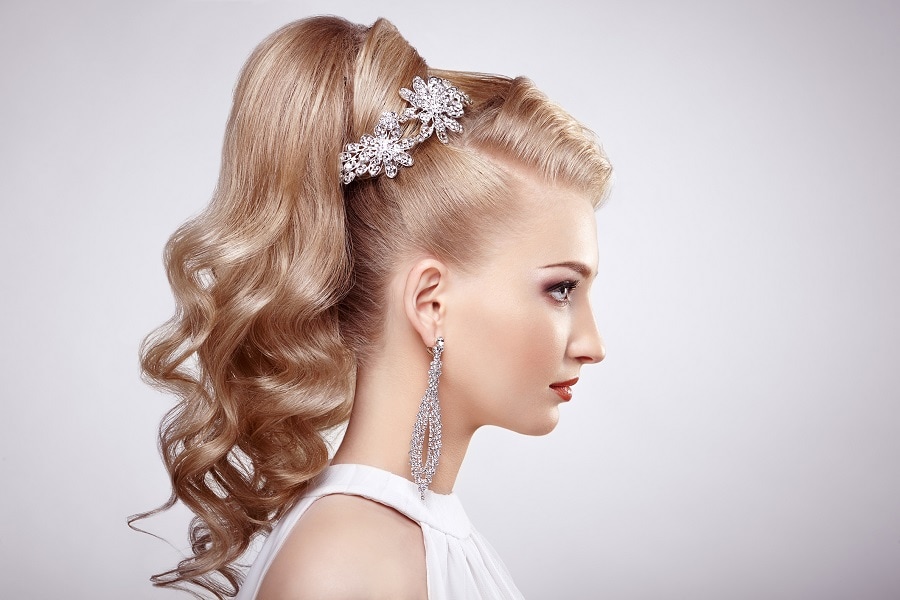 Ponytails are an easy and versatile hairstyle for any wedding guest. They are seen on occasions like met galas to daily meets.
First, make a side section, secure it with pins on one end, then make a high ponytail. Then, Curl the ends to add some volume and style with statement hair wear. This hairstyle will give the bride some competition.
Asian Multi Braids
Asians are well known for their dark hair color. Section up the hair into 4 unequal parts and casually braid them. Pull apart some hair locks to get a messy finish.
Hold a single strand from the braid and gently drag it down to get a grumpy look. Add some setting spray to hold in place.
Faux Fishtail
Fishtails are often referred to as the most mysterious braids for the look, but they are quite easy as a french braid. Start with a regular fish braid and secure it after reaching the nape.
Then, divide the locks into two halves and make a normal fishtail with both. Pull apart the hair in the bottom to get a voluminous look and secure both with a loop of hair.
Tousled Side Twist
Another pretty princess updo for wedding guests. Start dividing your hair into three parts, make a triple twist, and secure it with a pony.
Make a fully secured loose bun first, and then make some ringlet curls with the edges. Finally, use any hair gel or spray to hold in tight.
Not only the bride and groom, everyone has a dream to be a statement maker at any wedding event. Even the wedding guests try to catch some attention with their outfits while the bride is the focal point of attention.
These wedding guest hairstyles can make the loudest statement. So, save these for now and later purposes; try them and get all the attention you want.