On her big day, every bride wishes to look her absolute best. From the outfit to the hairstyle, from the venue to the bridesmaids, its every girl's dream to make their wedding day straight out of a fairytale. And in the midst of all of this, a bride is also bombarded with hundreds of choices for every single detail and just as excited as you may be, sometimes it can all get a little overwhelming. Well, to help you with that we have specially curated a list of 25 wedding hairstyles for black women. All of these styles are real-life looks and not just pictures we browsed off the internet. As a result, they are sure to inspire you in real-life. Every bride has an idea in her head about how she wants her hair done. It may be a bun style, braids style, half up half down style, and many others. The possibilities are endless so we have narrowed down the best looks for you.
1. Veiled Wedding Hairdo
While some brides may wear an actual veil over their heads, here is a unique veil look that you can try out. Also known as the birdcage veil, it looks like a small net that adorns your hairdo. It looks best when you have tied all of your hair up and then wears the veil on top of it. Increasingly, more brides are using this veil these days replacing the standard cloth veils that are worn along with the wedding gowns. The hair is thickly twisted on the top of the head making the veil being placed in the perfect position.
2. Curly Hairdo With Glittering Headpiece
Now, this isn't a very complex style since all of the hair has been let down, falling loosely. The hair is styled in gorgeous curls and it absolutely looks amazing when complemented with the white wedding gown. The contrasts of the black hair against the pure whiteness of the gown is a beautiful sight and make the bride look absolutely lovely. A glittering headpiece can also be seen hanging firmly on the forehead. If you want to keep your entire look low key and not too flashy, then go for this style where you can style your hair and minimally and neatly and then finish it off with some glow using a headpiece.
3. Twisted Braids And Headpiece
Braids and twists are a perfect combination that will surely look great on African hair, given the texture and thickness that is common for all types of African hair. And when it comes to weddings too, a braid plus twisted updo that stays in place is very popular as most brides tend to go for this classic and iconic look. Well, the same style is what is a feature here in this hairstyle and along with it, an extra accessory is also found. A long hairpiece that falls vertically along the forehead and studded with stones, it takes the whole look to the next level.
4. Curly Twisted Updo
If you are into natural styles and would love to keep your hair just as it is, even on your wedding day, then check out this beautiful curly hairstyle. The curls have been maintained in its raw form itself without any additional styling. This natural style is something that many black women are now considering, given the increasing popularity and trend of being your own self without any changes. A beautiful headpiece is also added to the forehead if you want to add a little glam to your look.
5. Sleek Bun With Veil
What better way to show off your beautiful hair than with a gorgeous bun hairstyle? Well, that is exactly what is being presented here in this hairstyle. Classy, timeless and iconic, the buns are a much-loved look when it comes to African weddings. And pair it with a beautiful veil and you can rest assured that no one will look better than you on your wedding day. Unlike normal buns, the hair is tied up neatly as a big and beautiful chignon style at the back.
6. Pompadour Twisted Updo
A high updo to give that classy vibe to your wedding hairstyle. The hair is first parted to the sides. While the strands on the longer side are twisted to form a cylinder-like shape, the rest of the hair on the opposite sides is pulled very tightly to the back, and swept over to the sides to bring it to the front again, but on the opposite side. Glittering accessories like earrings or big necklaces would definitely add a little bit of sparkle.
7. Curly Waves Style
Who wouldn't take a look and at these gorgeous waves and not be mind blown? Well, that's exactly what you want on your big day, where everyone can't take their eyes off you. This is a style that is well suited for African hair due to the texture and thickness as well as the curls that are common to many people. The curls have been done so beautifully that they flow perfectly. This hairstyle is sure to look great especially if you are wearing a vintage outfit. We must admit it; this look couldn't get any more romantic
8. Curly African Hair With Flowers
While most African hairstyles include twisting the hair into braids or buns, here you can choose to showcase your natural curls in the best way possible. The curls are maintained just the way they are in a short and adorable layered bob style. The layering is quite visible here as you can see the various lengths at which the hair is appearing. To add some romantic charm to this wedding look, it has been adorned with beautiful flowers on the top. Very classy, we have to admit.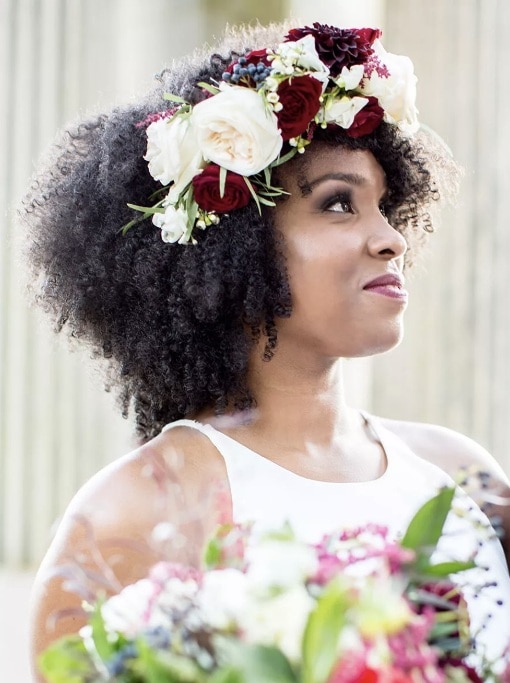 9. Caramel-Brown Highlight And Bun
With an increasing trend in caramel hair colors, the caramel brown shade is a much-loved one among all women regardless of their natural hair color. A brown colored hairstyle, especially one that contrasts against the natural black roots, is definitely a style to look forward to. And when you pair it with a classy and stylish bun for your wedding look, well, the entire style can look very iconic. The hair is tucked in with bobby pins to make sure that the bun stays in place elegantly.
10. Curly Afro Updo
Ringlets, curls, afro hair. Whatever you call them, tiny little curly locks of hair like this is totally a cool and dope style. And for you to wear your hair in its natural state itself on your big day, then you must be really badass since most women like to get their hair straightened or at least blow dries well enough for the hair to look neat. All of the hair has been pulled back together very neatly and tied up into a high bun updo. Flowers are also placed all across like a headband.
11. Twisted Braids
Braids are not just a feature of the African hairstyle; they are a very integral part. Since most black women tend to have thick, textured and curly hair, there's no living without braids that provide the ultimate protection required. This braids style can also be combined into a wedding hairstyle by making simple changes to it. First, tie your hair in large chunky braids in the style of the twisted braid. Once the entire hair is tied up, you can lift it really high and then place it on the top like a bun. And the look is ready with some additional accessories which will look great with wedding gowns.
12. Shaggy Hairdo
At first, a shaggy hairstyle may not seem like a great idea to be worn on your wedding day. But if you are willing to take a bold step, then we assure you that although it may look kinda messy, shaggy hairstyles are not just so in vogue, but they are also about making a bold fashion statement about yourself. Here, the hair has been tied in a normal low lying ponytail style. This ponytail is then lifted and brought to the front of the face, so the ponytail actually becomes inverted. Keep brushing the hair on the middle top portion to loosely and automatically pull out the hair strands. And there, with that, your shaggy look is good to go.
13. Loose Bun Style
If you have wavy hair with medium texture, then a loose bun style can do wonders for your look. Instead of the normal bun style, you can try out a layered bun look as it will add some dimension and volume to your hair. This hairstyle looks absolutely gorgeous and extremely romantic too. After all, what's a wedding without loads of romance right. This is the perfect look that you should try out on your big day, especially since this day is a celebration of your love with your loved ones. The pretty flowers on the top front part add beauty and gracefulness to the look.
14. One-Sided Braids Style
For the lovely ladies out there who have long hair, are you tired of trying your hair in buns ponytails and what not? Well, this stylish look which is a one-sided braids style, may surely interest you. First, part your hair onto both sides. Then pull the hair from both sides to any one side and start braiding. You can go for any type of braids such as fishtail braids, French braids, inverted braids, etc. Once you reach three-fourth the length of your hair, stop braiding and secure your hair with a rubber band.
15. Simple Side-Parted Wavy Style
Oh, those beautiful waves make this bride look like an absolutely beautiful princess. The hair is parted casually to both the sides and maintained as beautiful flowy waves. Make sure to use a setting spray or some other hair product to ensure that your hair stays in place throughout the day. A beautiful white hair clip is also placed along one side and it's a matching accessory to the earrings.
16. Crown Bun Style
Well, any princess is incomplete without her crown. So instead of an actual crown, how about we suggest you that you can wear a crown just with your natural hair. It looks great with a wedding dress and especially so when you do it the right way. The entire volume of the hair is brought together and tied up into a huge bun on the top. To make the bun stand really tall and high, you can add an artificial puff in between the hair so that the hair stands put. A beautiful silver headpiece is also fitted onto this bun to make it look much more beautiful.
17. Twisted Braids In A Crown Bun Style
Well, this one is quite similar to the above-mentioned hairstyle. A crown bun, and of course, it is adorned with a beautiful actual silver crown that gives off major princess vibes. Instead of simply tying the hair as a normal bun, it has been done by twisting the braids and then doing the crown-like updo. The dangling earring and the glittering silver crown looks amazing.
18. The Natural Afro Puff Style
For the brides who want to showcase their natural hair in all its glory, then this afro puff hairstyle must definitely be given a try. All off the hair needs to be pulled back slickly and tied tightly into a ponytail style. After that, you can bring all of the hair to the upper portion making a huge puff style so that the hair stays up in all its glory. Add in a few beautiful floral accessories that would match your wedding gown and with that, your look is ready. Go ahead and be the princess that you are.
19. Natural Afro Puff
The afro puff style in yet another variety can be seen here. A little difference to this look is maybe the fact that the hair on the upper front portion is tied in a twisted braids style. You can go for any style depending on how you want to be presented. An afro puff like this should be chosen only if you are confident enough to flaunt your natural black and curly hair. African American brides will surely appreciate this natural hairstyle.
20. Black Hairdo With Exquisite Waves
The first thing that you will notice about this hairstyle is obviously the defined and beautiful waves that have been done to perfection. An otherwise basic hairstyle has been taken to a completely whole new look with the simple addition of those waves. The hair has first been curled properly and then done into twists. These are then tucked in on various parts of the hair to create that wave effect, and it looks like purely art. Not only does it look very vintage and charming, but it is very romantic too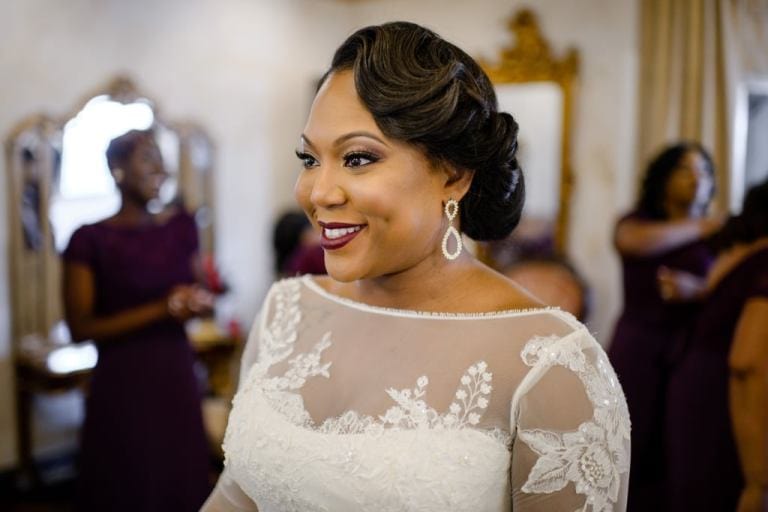 21. Vintage Afro Puff With Floral Accessories
The afro puff in yet another variation and style is what we can see here. Every girl wants her wedding to be just as good as a fairytale, and this is one of those styles that will help you look like the bride of your dreams. It simply is very charming and romantic without any doubt. The natural hair stands tall and since the hair has been cut in layers, the puff is at different lengths in different places. You can also notice the brownish-red highlights that have been colored on some parts of the hair.
22. Side Bangs And Buttery Curls
Oh, those curls look absolutely gorgeous. And you can wear this style not just for your wedding but to any event and look absolutely flawless. The curls have been done in perfection with the addition of side bangs also on the front. But the bangs are not left hanging loose and instead are neatly tucked back in with the remainder of the hair. The soft waves are a great style to choose on a romantic day like your wedding. This hairstyle has been kept quite simple too without adding any unnecessary accessories that may shift the focus from the curls.
23. Dangling Pin Curls With A Veil
Are you looking for a really exquisite style that will make you look out of the ordinary? Well, take a look at this hairstyle, and you might just be smitten like a kitten. The smooth texture of the hair makes it possible for it to be done in a gorgeous pin curls style. And unlike the above style, here it has been maintained loosely and in a dangling manner over the sides. This makes it look very effortless and a laid back hairstyle. Add to it a beautiful black veil and you can look like a lovely gothic princess.
24. Bold And Beautiful
This style is a great option for those women who have really thick and really long hair. All of the locks of hair and neatly and firmly pulled back to create a huge bun, and it looks effortlessly sassy. The sheer volume that is visible through this style will catch everyone's eye for sure. A headpiece that is also attached to the bun simply adds more beauty to this look.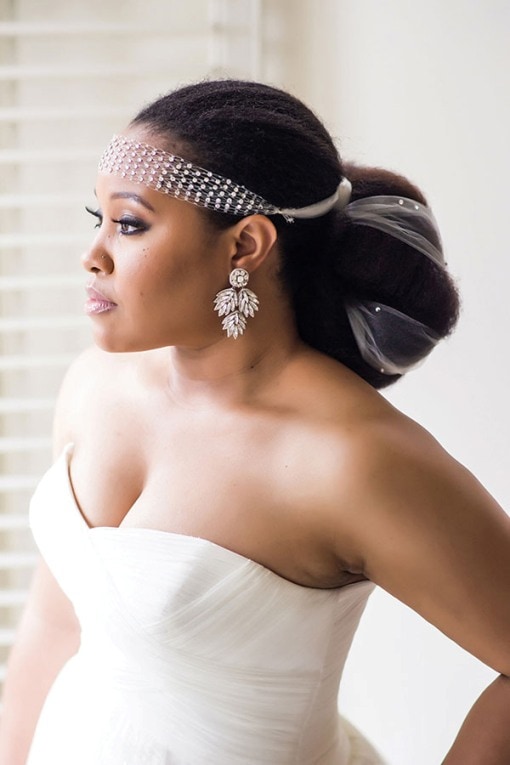 25. Twisted Braids Updo
Finishing off this list of African wedding hairstyles with one of the most popular and much-loved looks, the style of the twisted braid. It's a very fancy hairstyle that will look great on your wedding day. The hair is divided into medium-sized chunky braids and then they are twisted together to create this updo. A beautiful flower-shaped hairpiece on the side complements this style and suits the wedding gown too. No matter which angle you look from, the style is thick enough so it also doesn't look too flat on the head.
You would surely have stumbled upon that one look you have been dreaming about since you were a little girl. So go ahead and show your favorite look and just show it to your stylist. Hopefully, this list made your wedding preparations much more easier.
25 Amazing Wedding Hairstyles For Black Women In 2020
was last modified:
June 1st, 2020
by