Since braids are very adaptable, you can make a huge variety of fashionable hairstyles. They are made up of "bubbles" crafted from segments of hair. These trendy, versatile, bubble braid hairstyles are simple to create. They can be made on the hair of any structure or variety. In addition, this braided hairstyle can help you control thick, untamed hair.
They're popular since they're entertaining yet simple to accomplish. Let's explore these amazing and stylish bubble braids and make everyone jealous.
Try Out These Playful Bubble Braid Hairstyles ASAP
Here, we've put together a stunning list of suggestions for dazzling up your celebration.
Half Up-Down Ties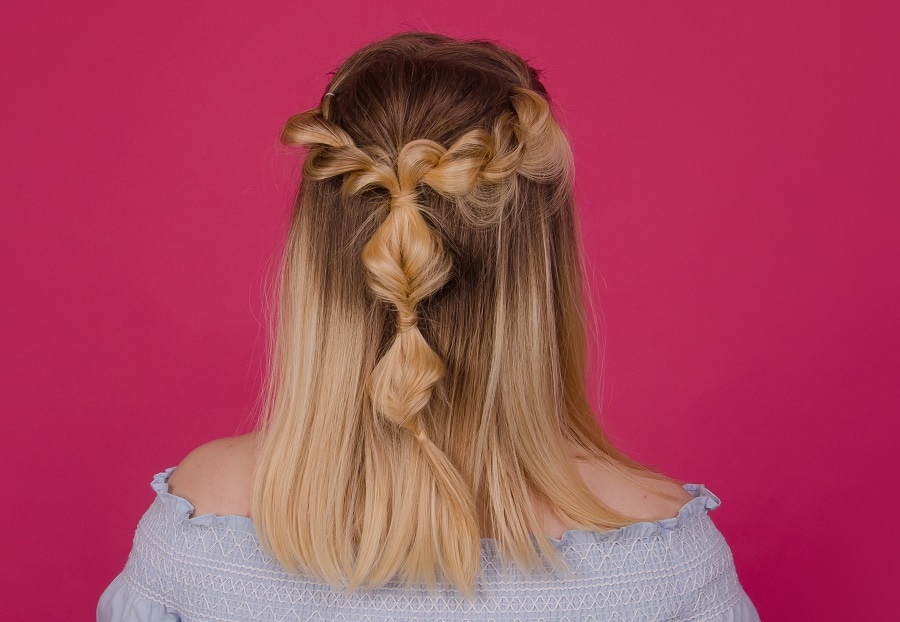 Medium length hair works great with these braids. Again, you can play about with the addition method. This hairdo features both a half-up and half-down hairstyle.
You may get a fresh, lively look with bold hair pieces like beads. Or, keep it straightforward; the decision is yours.
Ribbon Bubble Braid
Another fantastic way to give the appearance of denser hair is using bubble braid hairstyles. It is a look that flatters all haircuts and forms, even finer hair.
The variety of methods to carry out the braid makes it appealing. For example, to enhance the visual features, you can let a few hair pieces flow around it.
Boho Knots
You can make boho-inspired hairstyles for a dreamlike and charming appearance. This elegant method is perfect for people who wear want something different for formal occasions.
The important thing is to have the hair all around the face free and the bubbles as soft as possible.
Playful Side Braids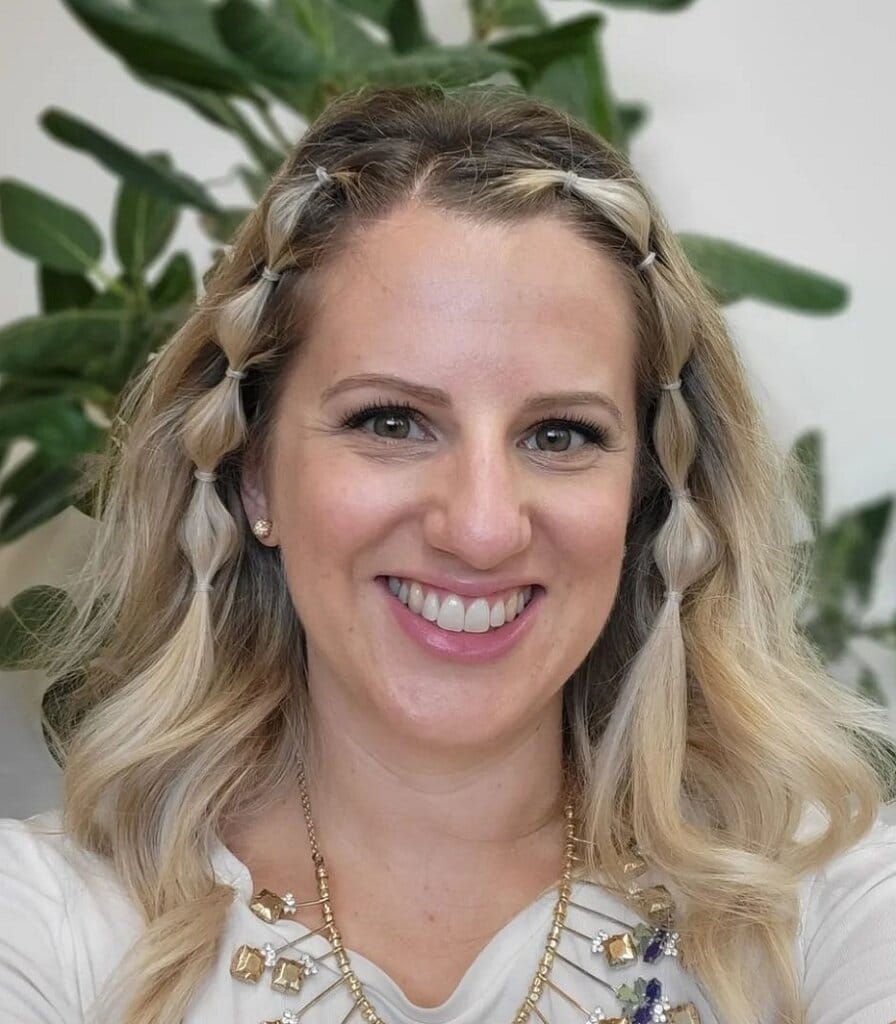 One of the most straightforward and most adaptable hairstyles is the two-side braids. It can be highly attractive and is best for women who value beauty.
For a fun and fresh look, explore with various colored scrunchies. Most hair types can wear this style, although longer, curly, or straight hair works best.
Textured Braids
Try different ones at a time rather than just one or two. It will create a stunning braided African-American look for a hairdo that screams for focus and is quite cool.
Use studs or other noteworthy accessories rather than extending the length of your knot with hair elastics.
Mohawk French Bubble Braid
French bubble braids on the side and a fluffy hairdo. This haircut will undoubtedly command attention. Apply a volumizing product.
The outcome is a lively and appealing touch that enables you to define yourself and flaunt your softer side.
Long Braids
Keep two high braids if you want to remark on your look. On the side of the head, high ponytails are used to achieve this look. Pull the hair to make a bubble.
Then add elastics running the length. It is ideal for people with facial symmetry because it will stand up to the face.
Curly Braids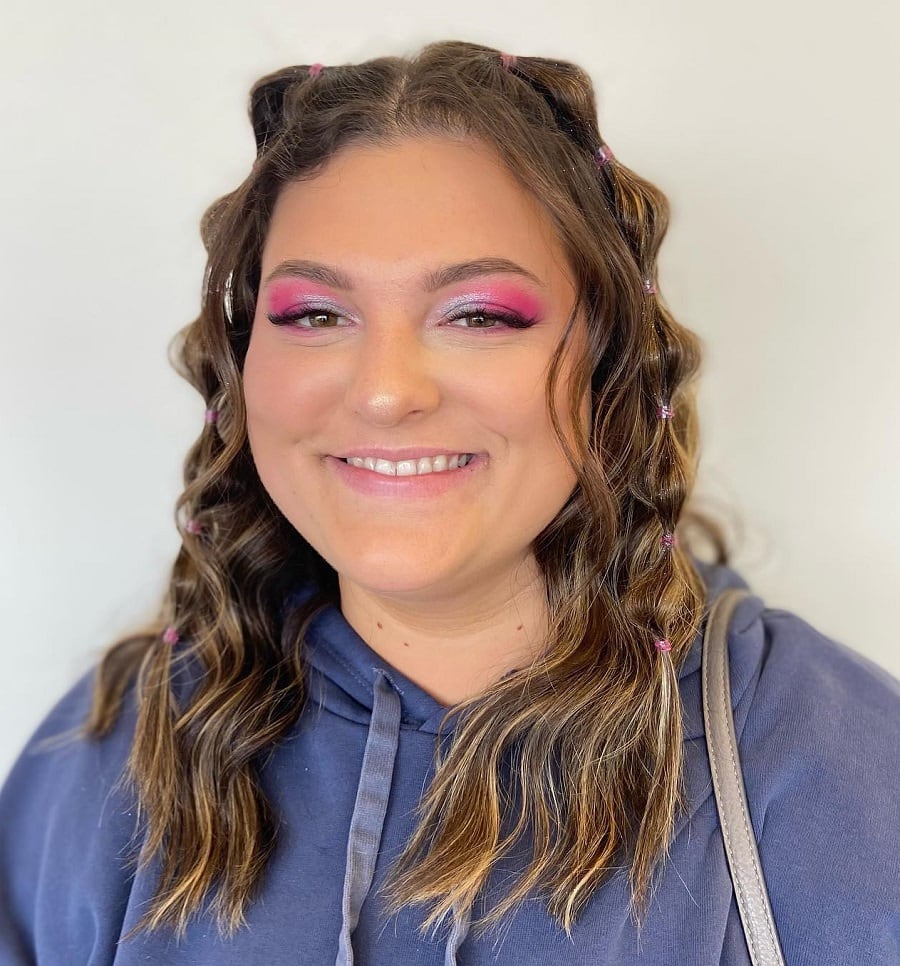 Bubble braids are one of the many beautiful methods to customize curly hair. This is a fantastic technique to highlight your hair's volume.
You may also flaunt your curls with this side hairstyle. Make it more attractive by using eye makeup or hair cosmetics.
Sleek Ponytail
You have more creative possibilities if you have long hair. You can also make a statement with your hair by adding length. You can explore your hairstyle if it's lengthy.
Hair elastics can help keep the bubbles under control and possibly lessen mess. The end effect may be stunning to style long hair in all situations.
Voluminous Ball Braids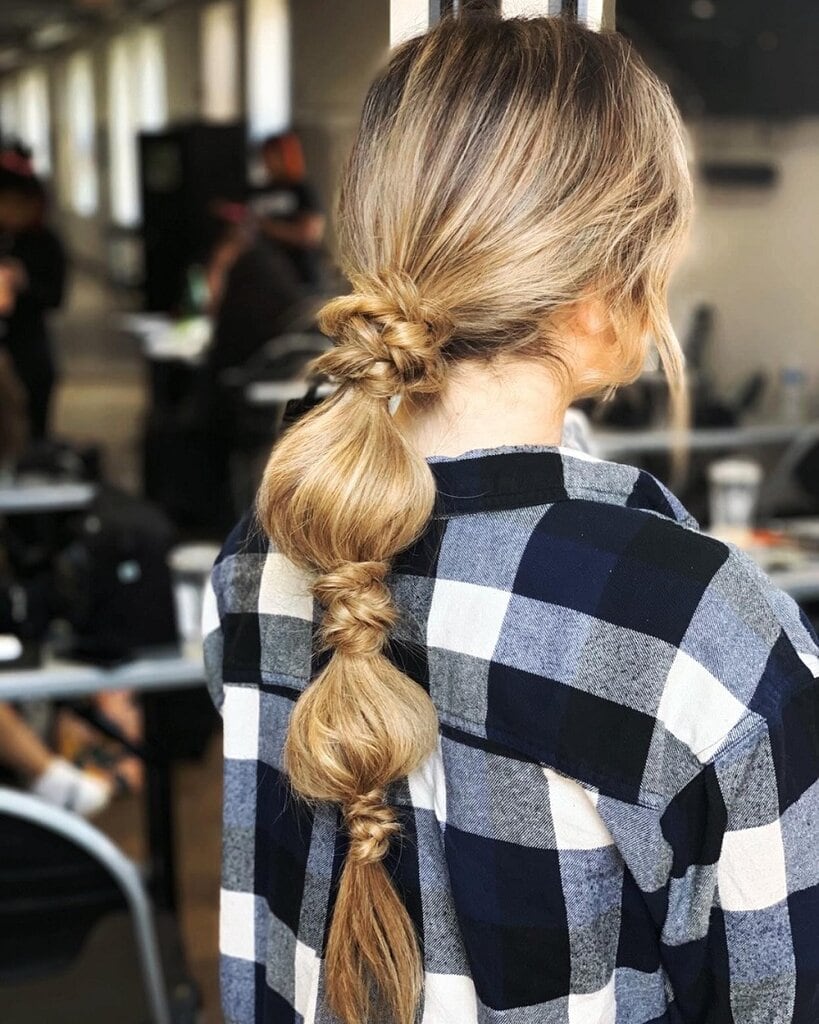 Considering your desire, these hairstyles can be fashioned to appear elegant and smart or charming and young. Each section is backcombed to enhance density. Maintaining larger, more pronounced bubbles.
Thick and textured hair will work to create the effect. In addition, you can make bigger, ball-sized bubbles for a dramatic appearance.
Waterfall Bubbles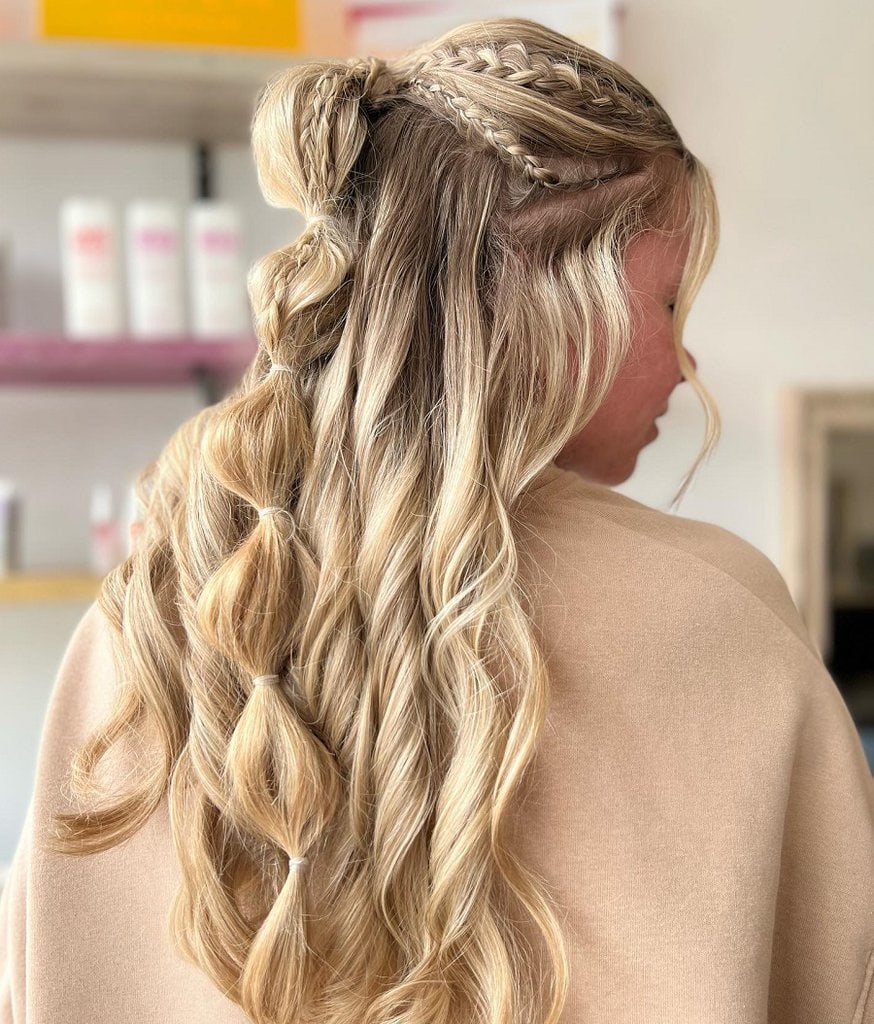 Combining a braid with the half-up, half-down hairstyle is a great way to try it. This is the ideal opportunity to showcase your hair structure and try out new hairdos.
Your bubble braided hair will have a delicate and lovely appearance if you style it with natural waves or mild curls, which is perfect for special events.
Two-Toned Braids
Long hair is better for this method because it allows you to explore more styling options and has a bigger impact. Adding color to the braids is another method to polish them.
Continue to style them with red and purple hair. This design is vibrant and energizing to use or experiment with.
Reverse Hairdo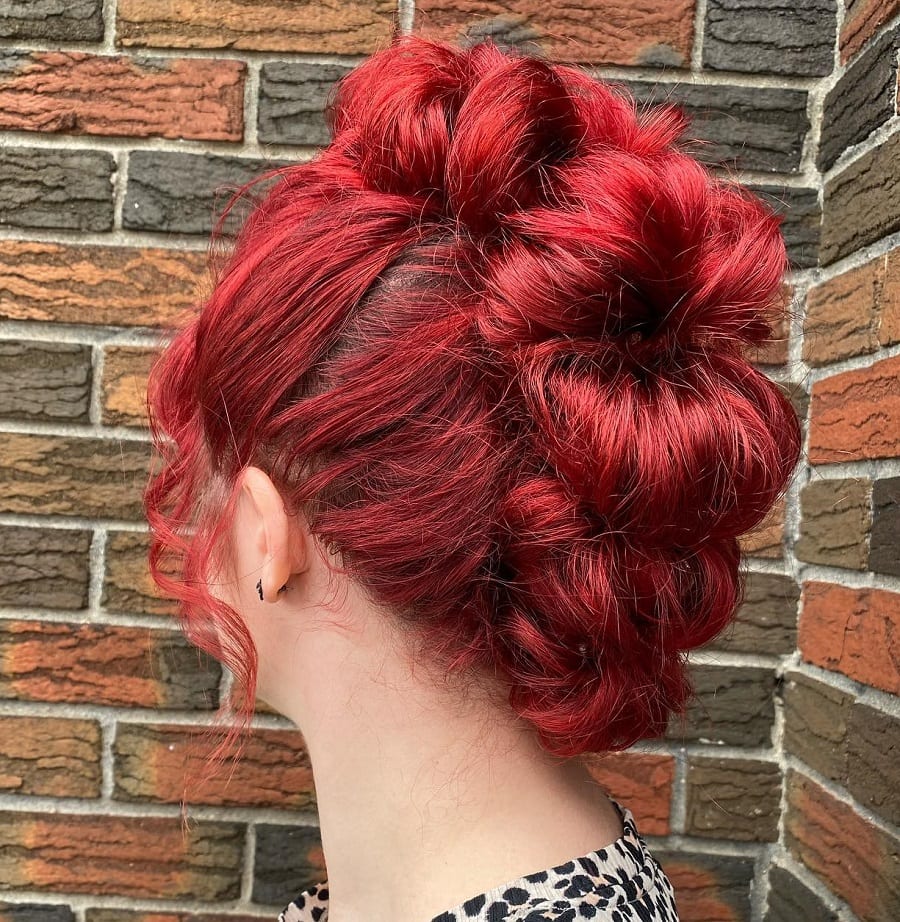 Red hair is striking and is linked to passion, love, and strength. The hairstyles will go well with the color of your hair.
To increase contrast, you can also add transparent hair elastics and something that would be louder, shinier, or darker.
Royal French Braid
French braids are comparatively easy to do. They are created utilizing the overhand braiding method. They are incredibly adaptable and may be paired with many different styles.
This is a perfect idea for someone looking to play around with the bubble braid with a unique twist.
Short Hair Ties
The majority of bubble braid hairstyles are made on lengthy hair. But short hair can also be utilized.
To optimize the length, keep your appearance as basic and low-key as possible instead of extending the length of the ponytail with more hair scrunchies.
It seems to make sense that bubble-braid hairstyles are sweeping the beauty industry. They are edgy, sassy, and extremely simple to make. They are simple enough for beginners to tie, let alone skilled braiders. Additionally, there are countless styling possibilities.
We hope that our tutorial has adequately explained the appearance to you. This guide can help you make any style, whether you wish to try a solo, multiple, or a pony bubble braid.