Here's a prediction: neckline hairstyles will be in trend this year. Do you know why? It's because such hairdos help you flaunt your neckline while maintaining their charm. In addition, when you style your hair the right way, you enhance the most attractive features of your body, like collarbones.
Different outfits come with different necklines, and we've got a style for every type of neck design. So our list covers everything, whether your dress has a v-shaped design on the front or any other. You just wait and watch for the magic to happen.
Beautiful Neckline Hairstyles to Check out Now
Easily match your dress' neckline with these unique hairstyles and look gorgeous.
U Neckline with Beach Waves
U-shaped neck design of dresses looks beautiful, but sometimes it can look broad. So you need to keep your hair loose to conceal the broadness. Beach waves are a beautiful way to let your hair loose. Wear a floral tiara too.
Blonde Waves with Queen-Anne Neck Design
Shimmering dresses are the perfect outfit for a party, especially with a Queen-Anne neckline.
Style your hair in blonde waves to accentuate the pretty design of your outfit. Your hair must be side parted so it'll fall beautifully on your shoulders.
Pixie Bob for Strapless Dress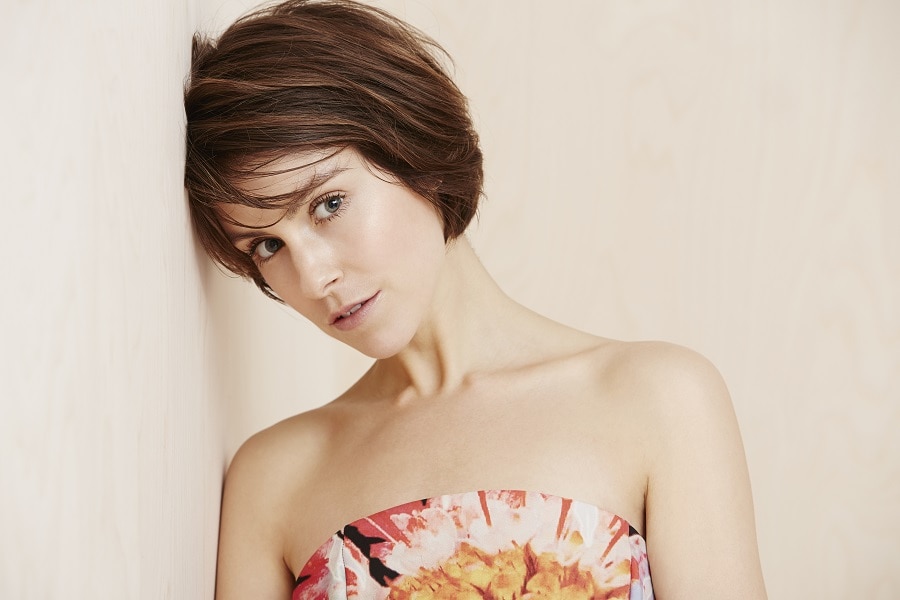 A pixie bob is a great hairdo for strapless dresses. It really shows off your beautiful shoulders as the hair will be short enough. Make a side partition for your hair as the look needs to be subtle and beautiful.
Spaghetti Strap Neckline
Neckline hairstyles for spaghetti strap dresses need to be in such a way that it doesn't make your shoulders look broad.
Long hair will conceal the broadness and match the beauty of your outfit. In addition, grey hair color will bring uniqueness to the look.
Frizzy Curls with Boat Neck
Dresses with a boat neckline can look a little simpler than stylish. So if you're going to a party, but your dress is too simple, you have to go extravagant with your hair. Frizzy and curly hair will bring the party vibes you need.
Wedding Updo with High Neck
Wedding gowns come with beautiful designs, and the high neck design is one of them. You need to create a hair updo to give space for your dress to shine too.
A simple low bun with middle partition hair and a pearl hair accessory will be the perfect wedding updo.
Sleek Lob for Off-shoulder Dress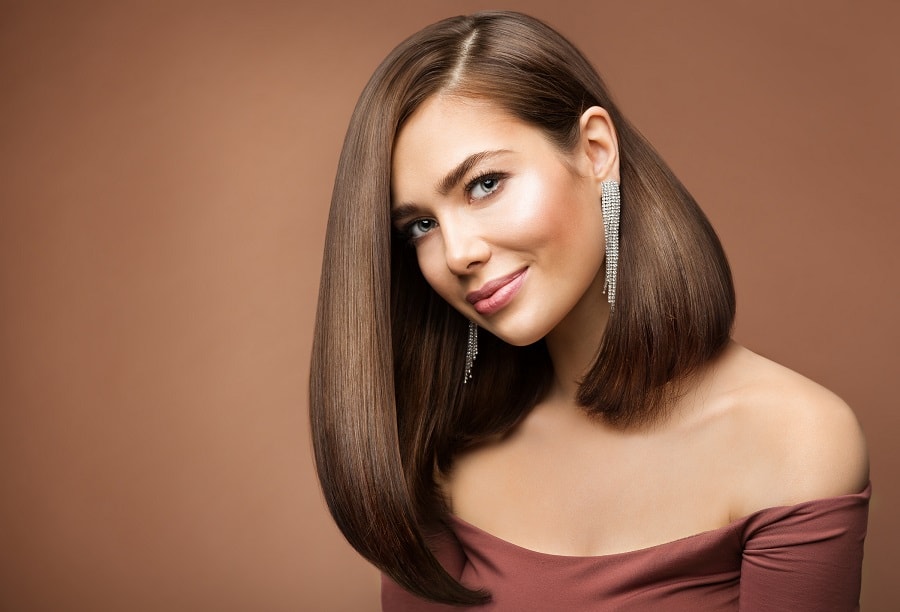 The off-shoulder neckline is gorgeous but can make your broad shoulders look even broader. Relax, you don't need to change the dress. A side-parted long bob will be perfect for such dresses, and you'll look gorgeous.
V Neckline with Curly Blonde Bob
V-shaped neckline hairstyles should frame or cover your face and neck to create an even look. A curly blonde bob will frame your face and cover your neck, enhancing your dress's beauty. You'll look like a model; we can assure you that.
Choppy Hair with Turtleneck
Turtleneck dresses or tops look very classy, according to us. Whether you're looking to create an illusion of long height or want to cover your long neck, a choppy hairdo will be a perfect style here. Your hair will look messy and beautiful.
Long Bangs with a Low Bun
Here's another way to style your hair for an off-shoulder dress. When you want to show off your beautiful off-shoulder outfit, you need to be tied in an updo. A loose bun with long tendrils will bring all the attention to your beautiful dress.
Ginger-Red Hair for Asymmetrical Neckline
An asymmetrical neckline needs to flaunt the design of the dress. Center-parted hair with one side of your hair on the front and the other on the back will look gorgeous. Keep the hair on the back at one side to show off your shoulder with an off-shoulder dress.
Collar Neck with Messy Bun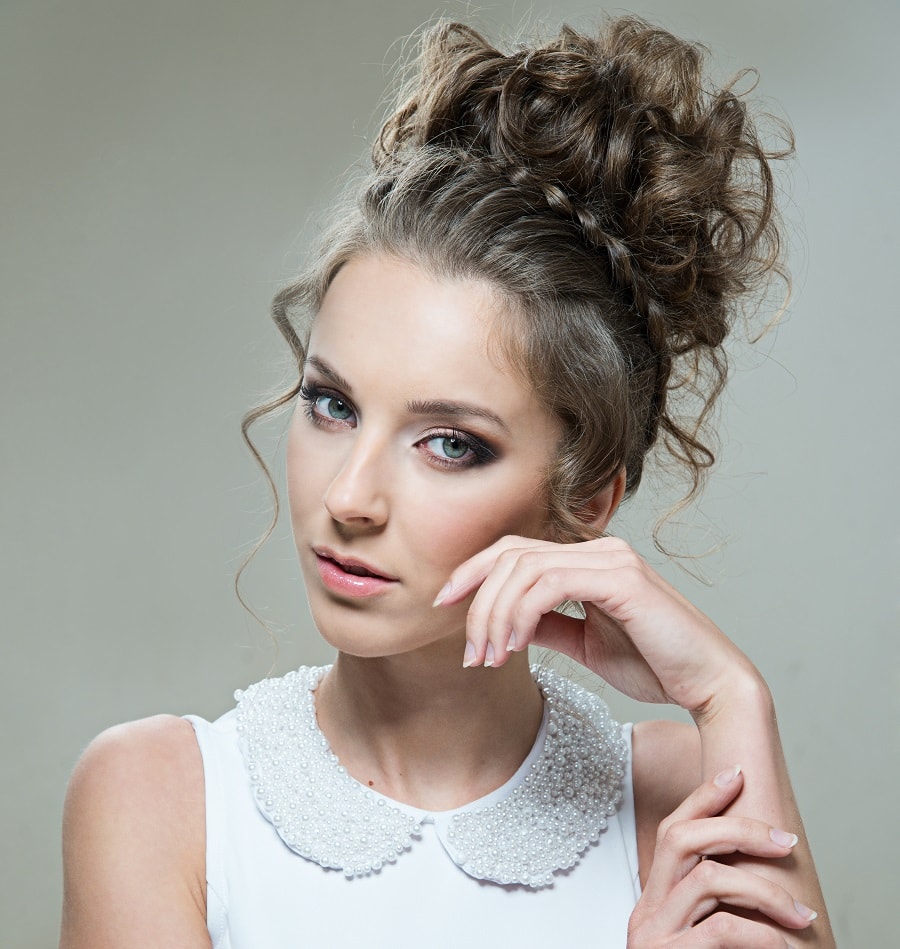 Collar neck dresses can give a formal look, so you need to add some messiness to them to make them casual. A messy high bun with braided hair on the front will give you the style you need for the dress to make it look beautiful.
Slicked Back Hair
When your dress is all glittery and shiny, you must bring down your hairstyle to a simple look. Gelled and slicked-back hair looks chic and matches your V-neck dresses. Having long hair will help you pull off the look in style.
Loose Auburn Curls with Scoop Neckline
Scoop neck dresses are meant to focus on your front body part, not the shoulders. So cover the shoulders with long and wavy hair.
Auburn hair color will bring a glow to your face. Keep the hair side-parted and on the front from both sides.
Strawberry Blonde
High-neck dresses can make you look very simple and boring too, so bring style with your hair. Color your hair in a strawberry blonde shade and see how beautiful it looks on your face. Then, make inside curls on your hair for a chic look.
Crew Neckline with Wavy Ponytail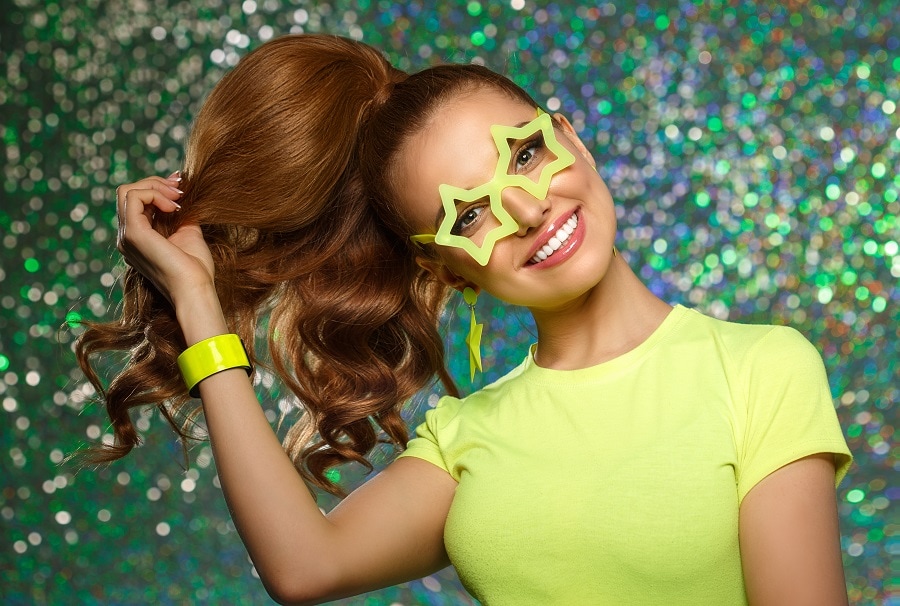 Crew neckline Hairstyles need to be in an updo to show off the beautiful design of your top. A wavy ponytail will be the best way to flaunt your voluminous long hair. Curl only the ends of your ponytail. Make a wrap-around ponytail.
Side Bun for Illusion Neckline
The best way to style your hair for illusion neck dresses is to show them off. Of course, that means your hair should be tied up. Make a loose side bun with thin side tendrils to flaunt your gorgeous top. Wear no accessories as the attention should be on the dress.
Blunt Bob with Bangs
It's time to show the beautiful V-neck dress you're wearing by getting a short haircut. A blunt bob will look beautiful on a square or long face. Get bangs to complete the beauty of this hairdo. You can wear a little designer hair clip on one side.
Blonde Pixie for U Neckline
Keep your look simple and chic with a straight pixie cut. Pixie haircuts always look beautiful, especially when wearing a U-neckline dress. It just adds the stylish factor to your overall look. For example, big shiny earrings might look good with the hairdo and dress.
Neck Length Bob for Round Neck Dress
Tops with a round neck look very beautiful and simple. To maintain the simplicity of your outfit, get a Bob haircut.
It suits round faces very much. Plus, the side partition of your Bob will make you look completely adorable. Just wear a thin necklace and nothing else as an accessory.
Sleek Textured High Bun
Make yourself party-ready with a sleek high bun look. It suits mostly on dresses that have a turtleneck.
As all your hair will be neatly swept back, you'll have to keep the style level up with makeup and earrings. You'll look a total diva in this hairdo.
Wavy Bob for Halter Neck Dress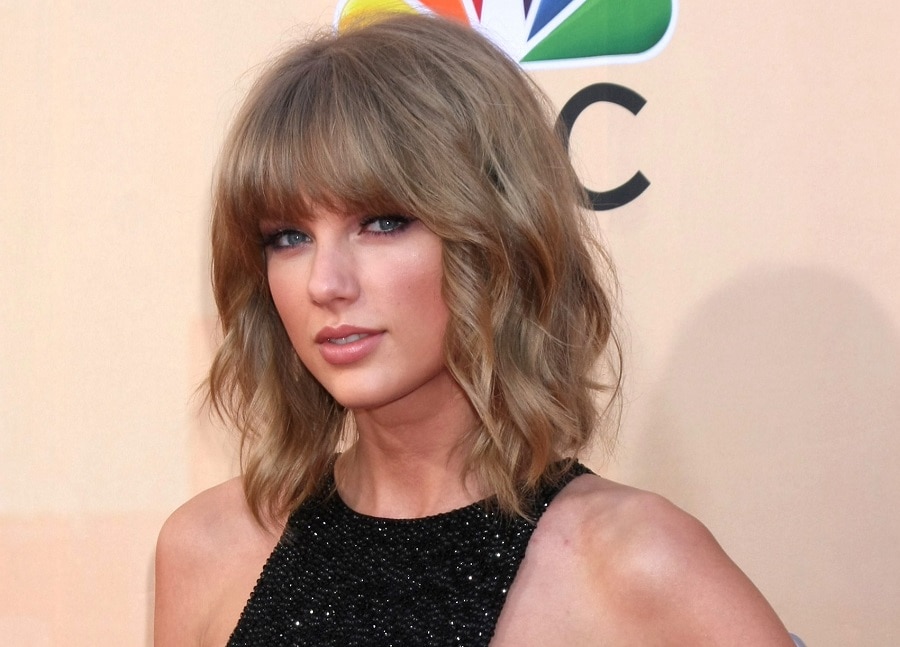 Taylor Swift is already very beautiful, but her hairdos make her look more charming. You can get that charm, too, with a wavy bob and blunt bangs hairdo.
This kind of hairdo looks good on a halter neck dress like she's wearing above. This keeps the attention even between your hair and dress.
Curly Updo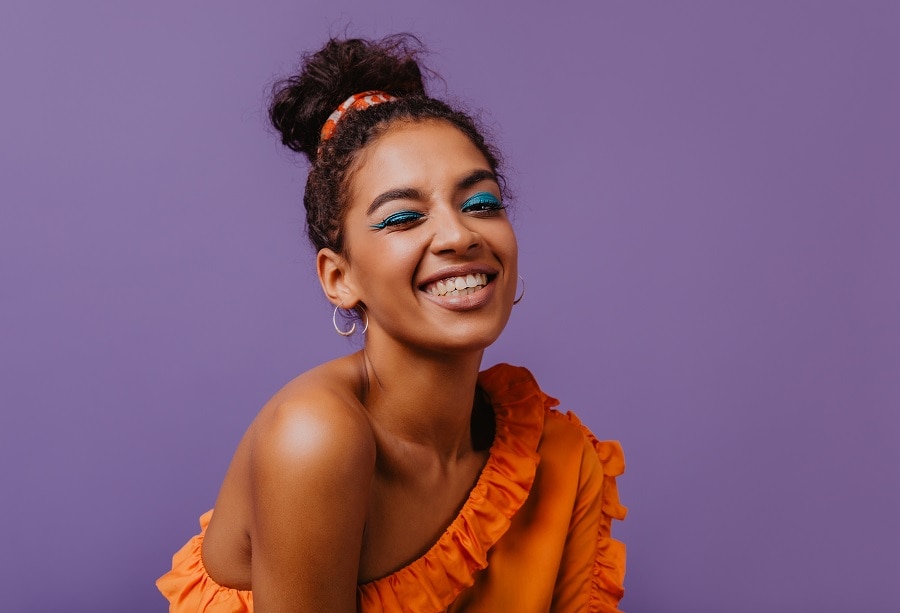 Curly hair surely looks beautiful, but sometimes you must bring all the focus to your outfit.
For example, an asymmetric neckline dress must be flaunted because of its unique design. Simply make a bun with your curly hair, and that's it. As your dress is a little extra, your hair must be simple.
Blonde Hair with Sweetheart Neckline
Sweetheart neck dresses are lovely, and you need to keep the spotlight on them too. Give a blonde shade to your thin hair.
Wispy bangs will make your hair look not so thin. Keep a little hair on the front and rest on the back. Let your neck be bare as the dress and hairdo are enough to maintain the style.
Loose Fishtail Braid
Dresses with spaghetti straps look very cute and lovely. First, make a loose braid starting from one side and going to the ends.
Remember, this hairdo can only be made on long hair. Short hair will not be able to hold the loose braids. Keep the braid on one side to create an adorable look.
We hope that these neckline hairstyles match your outfit preferences. Every type of neck design has been covered here, so now you don't have to waste time trying new hairdos in front of the mirror. Have faith in our list, and you'll be satisfied with the result.
Once you get hold of these styles, making hairdos will be easy-peasy for you the next time. Make way for the flood of appreciation coming your way after you try these styles for your hair as well as dress. Even models will fail in front of you because you have our list.