Whenever we look at the hairstyles of black women, we can clearly see how extremely fashionable they are and how they always have something new to do with their hair.
This is only because they prefer stylish hairstyles, and they are never afraid to experiment with new things. They look for hairstyles that will help them manage their unmanageable curly hair daily.
Most of which have short haircuts or braids. But the variety of hairstyles they are doing with these is uncountable. The short hairdos like pixie cuts for black women are up-to-date; they are not only in fashion but go with the entire character of these ladies, which is bold and elegant.
Short hairstyles usually look best natural texture of hair. The very short cuts, like short pixies, you cannot do much to vary their styles often and need a professional hairdo.
Black woman's hair is of a special texture, and often hard to manage. Not all lengths and styles can match them. Pixie cuts are one of the hairstyles which suit them the best. They can go for bob style and to the extra-mini buzz, according to what hairdo will match your personality the best.
Here, we have bought you different pixie cuts to choose from, according to your choice.
1. Very Short Pixie with Chopped Layers
This is a simply brushed back and close-cut short pixie haircut. This is not only lovely but convenient too. You are going to fall in love with how easy it is to get ready every morning.
Also, think of all the money you'll save with a quick trim at regular salon appointments instead of paying for a fancy weave. Adding short and chopped Layers gives this haircut another dimension. They are what bring depth, volume, and style to this otherwise drab cut.
Layers truly hold a center stage in shorter cuts like bobs and pixies. In this particular style, the layers are delivering the stunning effect of the hair being swept back.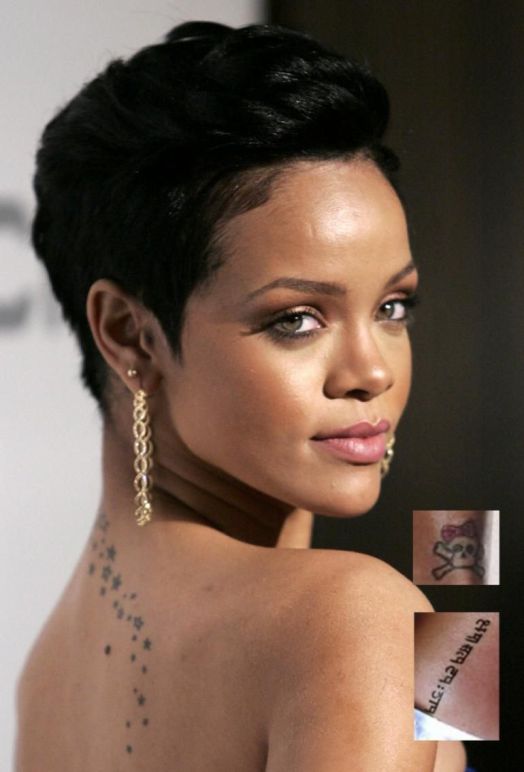 2. Forward Layers
This hairstyle will Show off your assertive side. This sassy pixie cut trumps all other short black hairstyles. The blonde hair color looks perfect for this haircut. Give your hair a relaxed or go with a stylish short weave.
The layers added help you to get this soft yet not-too-curly look. This will give you the confidence you need each and every day. With messy layers on the top of the head, it creates an overall illusion of a voluminous hairdo. All the layers are swept towards the front in the forward direction.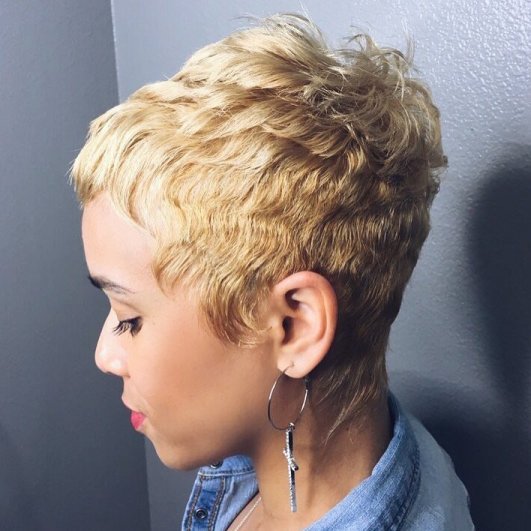 3. Platinum Short Bangs Pixie
Short haircuts are perfect if you want to keep your cut simple and with natural texture or color. Short pixie can give you this and can be just as cute as the other hairstyles. With layers getting short at the back, gives this hairstyle a bob look.
The platinum color looks perfect with this hairstyle. Anybody will be able to pull off this look that's stylish and sophisticated in equal measure. When hair is colored platinum blonde with a hint of metallic shine, it will make you all Black women look like gorgeous silver foxes.
They look gorgeous; you don't always have to go for Black short hair and commit to it as it is a homegrown color. Go extra and think outside of the box and go grey, silver, or white for a fun new take on life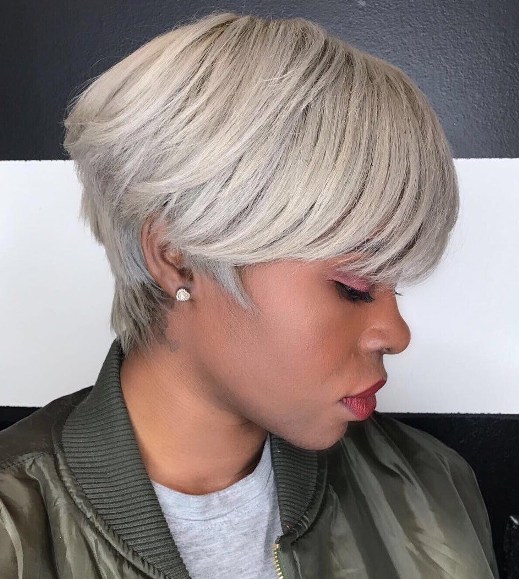 4. The Spiked Pixie
Short black hairstyles can come with many personalities. Therefore they are suitable for so many people with different personalities. And you belong to the group of people whose personality is a bit on the wild side? This hairstyle is for you.
The spikes, when added to a pixie, look like this and give you a very bold and messy look. It will be perfect for your wild and free personality. The blonde hair color makes this hairstyle more beautiful.
Using a high-quality hair product will help you achieve these perfect spikes. Your hairstylist will give you the spiked cut. And then all you have to do is use your product and create these finger-combed spikes and curls that stay strong all day.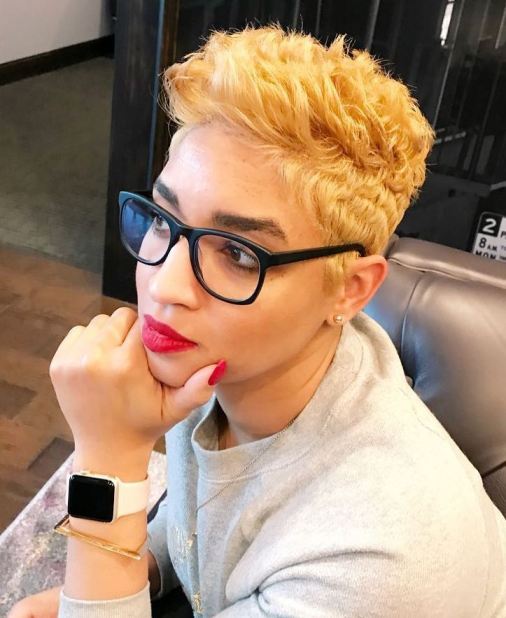 5. Pixie with Feather Spikes and Bangs
If you don't want to go much bold with the spikes, you can go for these feather-soft spikes. This is the feather cut combined with the pixie. Another essential element of this hairstyle is the feather bangs.
They are irregular and messy. The overall hairstyle will give you a very casual look. It is perfect for girls with a lazy personalities.
It looks gorgeous with the natural texture of hair and black color hair. But you can also try this with any other color hair- like blonde or platinum.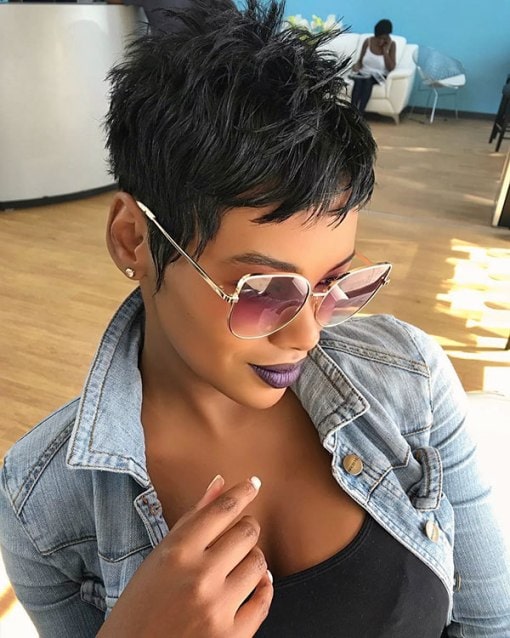 6. Funky Tricolor Pixie
If the regular hair texture is not enough, why not restore it to its maximum potential with a touch of modern hair color .use modern techniques of hair coloring to unleash a devastating look of brown, golden, black color.
This is still popular among African Americans, but some English women also prefer it to stay up to date with today's fashion to identify this look, it is a typical pixie cut with a mix of bob cut and a splash of different colors. All the hair hangs freely on the right side of the person.
7. Blonde Bombshell Haircut
A short haircut does not stop you from experimenting with different hairstyles. A simple pixie cut combined with normal makeup is enough to gather a crowd around you. In this hairstyle, the natural face look is brought forward by this bombshell.
Another important tip, it looks better on women who have natural blonde hair. In order to make this, just cut all the hair very short while leaving the upper hair as it is found on a normal bob cut. This will be the best decision ever for those who are tired of maintaining their hair.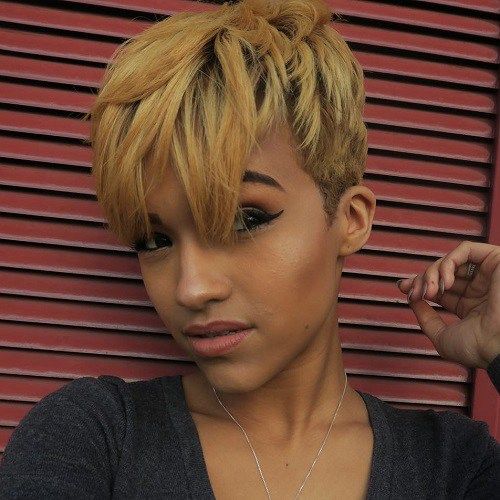 8. Black Round Curled Pixie
Curly hair is rich in texture and volume. But without maintenance, it looks so bad and frizzy. If you don't have time to style your curly hair, then don't worry!
Go for this short hairstyle. It gives a round shape to your head. Front and sides are short than the top part. The texture and beauty of rounded curly hair are simply amazing.
Black is a neutral color that goes with every skin tone and outfit. You can easily style your hair in busy routines; just use hair spray. Dark lip shade is perfect to style your pixie.
9. Choppy Pixie with Jagged Ends
Short haircuts are in style, especially for black hair. This edgier haircut with sharp ends perfectly frames the oval-shaped face. Pixies are comfortable and summer-friendly. Most of the famous celebrities support short hairstyles and give styling tips to girls.
This sophisticated hairstyle is versatile and works for every aged woman. The top and bottom parts give a spiky touch, which needs some time to style. Bold eye makeup looks fantastic for a chic look. Girls who have thin, short, damaged hair will go for this hairstyle.
10. Go & Get a Blonde Pixie
Pixies are a huge deal in Hollywood just because they are so versatile. This hairstyle is longer on the top with very short bangs whereas; it is short on the sides .this hairstyle was popular in mythological films especially "the tinker bell" movie.
Women who take this route do not follow conventional beauty standards because they want to look unique.
11. Faux Hawk Inspired
Try some different and creative hairstyles. Faux hawks are firstly popular in boys or men. In the list of modern hairstyles, a hawk is on the top of it. It is not a regular hairstyle for working or college-going girls. Side sharp lines add creativity to your puffy hairstyle.
You need styling products to style which takes time, so most of the models and beauticians wore this haircut. The hairstyle is a part of your nature or personality so this gives a badass and fearless look. Make sure you use good conditioners or hair masks for proper growth.
12. Eva Pig Ford Short
The simplest haircut can be termed as some sort of military woman haircut. This haircut will save a ton of money, which is spent on hair products to style the hair. Moreover, it will bring out the facial features of any girl who has a short face.
This hairstyle will also reduce neck sweats which are caused by long hair and these sweats cause a lot of problems on a hot and sunny day.
At last, it also makes you look like a daredevil because all the female actors in action movies can be seen with a short haircut. A great example is the matrix trilogy and terminator series.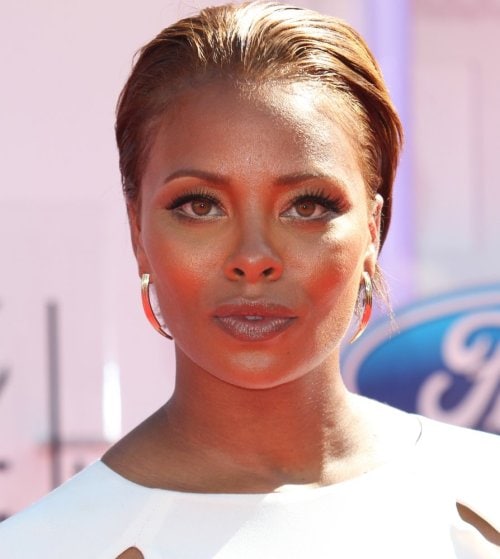 13. Fiery Pixie Platinum Cut
Platinum is rare but alluring color. Change your natural hair color with a bright platinum golden color. This sleek and neat haircut looks like an animated princess. It is a little long pixie with side-swept bangs. Remove all the frizz and damaged ends to enhance your overall look.
Wear a cute gown with a shiny pair of earrings, and you are ready to dance at the party! This hairstyle is only for teenagers with a fair skin tone. Decorate your hairstyle with colored hairpins or headbands.
14. Front and Forward
Start your day with a sassy hairstyle. It is a type of very short hairstyle for fine black hair. The front hair is sleek and trimmed according to the type of your hair. The top and the bottom part is like forwarding waves.
This hairstyle is amazing for thin hair. It is ready to go hairstyle for dark skin tone. If you want some bounce or volume, then use an iron rod to curl your strands.
The best advantage of short hair is you can wear any jewelry or accessory without worrying about your hairstyle. This is the best option for professional meetings or jobs.
15. Scarlet Short Pixie
This one is best suitable for women who love to wear earrings, especially diva hoops. This one is highly recommended for women who have a diamond face shape. It is a messy very short hairstyle and gives you a boyish look.
Women who have thick wavy hair and do not have time to maintain it; this one is for you. This refreshing style is great for every season. Moreover, it is better to have small hair rather than having a messy mop on your head.
16. Bowl Cut Round Pixie
Every facial feature is different, and every hair type is also. The bowl cut is not in trend because very few girls try this hairstyle. Like its name, it looks like a bowl on your head. The front hair is equally cut to cover which covers your forehead.
It works for every hair type from curly to fine hair and does not need time to style but is suitable for the only triangle-shaped face. It is a simple hairstyle so make sure your outfit compliments your style.
17. Curly Chic Pixie Cut Hairstyle
As we all know that pixie cut or short haircut is an impressive and versatile hairstyle especially for black women. This hairstyle is perfect to be an impressive as well as versatile hairstyle. The curly bouncy natural texture is nicely embarrassed by this chic pixie haircut.
According to the above image provided, we can see how the curly bouncy black short hair on one side is free and flowing with the wind. The other side has an undercutting style that in general, may be said as a shaved side to provide an edgy side to your chic personality.
This hairstyle is very easy to maintain long with its maintenance; it does not require much styling as a good hair bath and some protective serums will make it ready to go hairstyle.
18. Elegant Wavy Pixie Cut Hairstyle
If you are in search of a good pixie haircut to ease your morning styling and go with an easy to get ready hairstyle, then this hairstyle will put an end to your search. This hairstyle is a short pixie cut that is easy to maintain and style along it is versatile and elegant to wear every day.
Leaving the crown hair, both sides of the head have a tapered cut. The curly bouncy hair in the upper porting is providing an elegant vibe to the hairstyle. The curls or hair are un-comb or you can say have a messy look which is reasoned for its easy-to-maintain hairdo.
This haircut surely will reduce your morning styling routine to a minimum. This hairstyle provides you an advantage to let you show off your cosmetic skills which allow your gorgeous sharp features like your lovely eye makeup and fabulous dazzling red lip color.
19. Pixie Hair Cut with Wavy Bangs
To have a feminine as well as a bold boy cut at the same time is a difficult and challenging hairstyle to achieve but here with this hairdo, I think we can make your versatile wish come true. The bangs in this hairstyle are a feminine addition along with tapper cutting all over the head.
From the above picture, we can see how the waves are added to the front bangs. This latest trending hairstyle can practically work on different kinds of hair; if you have tight curls or have soft waves or have silky smooth straight hair, you can go with this hairstyle without any doubt.
20. Tapered Uneven Comb Pixie Hairstyle
If you are a woman who just wants to flaunt your natural texture hair to the world but is not confident enough then this hairstyle is the best to start with this good thing. These hairstyles have natural texture but because of their tapered cutting that is not visible enough.
Give a glance at the above-provided hairstyle; you can see a messy gorgeous tapered hairstyle. There is nothing much to style just a touch of serum to enhance and protect your natural hair texture. This hairstyle is a stand-out haircut; that's why we save it for the last one to discuss.
The hairstyle does not give a bold and feminine look but also touches your sporty personality. If you are athletic then don't look further we suggest you choose this hairstyle for your next fresh look for the spring games.
21. Elegant Sweeping Bangs
Perfect for work and formal events, this look has the bangs sweeping low across the forehead, touching the eyebrows. The hair is very dark brown and there's visible texture at the top with some wispy hairs standing up.
22. Ruffled Side Part
This trendy look is beautiful if you want a semi-messy ruffled look. The hair has a side parting and one side of the hair stands tall for lots of volume and interesting texture. It's a great look for everyday wear.
23. Bleached Natural Curls
This blonde pixie cut is delightful for a black woman who wants to keep her natural hair texture. The cut is blunt and a little squared off at the top, and the hair is dyed light blonde to add some uniqueness to the style.
24. Mega Short Pixie
For African American women who want super short hair, this pixie style is perfect. It's so short that the bangs barely sweep down onto the forehead. It accentuates a long and pretty face, and it's highly elegant.
25. Beautiful Bown Bowl Cut
Bowl cuts are commonly seen as uncool, but they can be incredibly flattering as pixie cut.
The hair is sleek and light brown, cut in a pleasant and voluminous bowl shape. It's shiny and has some light layers at the front.
26. Messy Fluffy Cropped Look
If you want a little fluffiness to your hair, then consider this slightly messy, fluffy-haired cropped look. The hair is cut bluntly and is kept thick. Some hair falls across the forehead, down to the eyebrows, and the back has a tapered cut.
27. Short Bleached Hair
This blonde look is simple and low-maintenance. The hair is short and gelled down against the head, but there's still some light texture to it. It's great for accentuating the face while still drawing some attention.
28. Coppery Light Waves
This bold look has lots of dimensions to it. The hair is light copper on top and dark copper underneath, and the top has lots of loose waves brushed toward the forehead. This is perfect for a fun, casual look.
29. Textured Light Brown Spikes
Pixie cut looks great when they're full of texture. With this cut, the hair on top is long and thick, styled with spikes that curl back away from the face. The light brown style has a little hair left on the forehead to lay flat.
30. Lightly Layered Red Cut
If you want to show off some texture in your hair, then consider this lightly layered look. The sides have layers and the top has a few curls that add dimension to this bold, shiny red cut.
FAQs
How to sleep with black pixie hair?
The best thing you can do for your pixie cut is to cover it down before sleeping on it. Wrap your hair in a simple mesh headwrap before bed each night. Doing this will ensure that the back and sides of your haircut remain straight. It will also help in keeping bedhead to a minimum.
How often should I relax my short hair?
As a rule, you should relax your hair every 6-8 weeks. With short hair, this may not seem like enough, but you can supplement this with a partial relaxer or two in between your full relaxers. This means you'll be getting a partial relaxer every 2-4 weeks.
Is it hard to maintain a pixie haircut?
Pixie cuts are fairly easy to maintain. The catch is that they need to be maintained more frequently than other haircuts. The trick is making sure you use the right product for your hair.
Does a pixie cut look good on everyone?
Yes and no. Not every pixie cut will look good on every face, but there are tons of different variations of this style. If you want a pixie cut, you can work with your hairstylist to find one that suits your unique face shape.
Is a pixie cut suitable for coarse hair?
Yes. As a matter of fact, coarse hair is ideal for pixie cuts! The secret to a good pixie cut is volume, and thick hair naturally tends towards being voluminous. Having thick hair will help to give your pixie cut the volume it needs to shine.
"SHORT HAIR DONT'T CARE" have you heard this motto? This motto has been a favorite of a woman with short hair for a long time now; it can be yours too with these 30 gorgeous pixie haircuts from black women.
These hairstyles will provide you both an impressive, bold, fearless as well as a versatile vibe to your personality. Nowadays, most women, including popular celebrities, are trading their hair for a short pixie cutting.
The short hairstyle gives you an advantage like not much maintenance less time to style lovely looks by flaunting your facia structure and the most important one is to flaunt your natural texture hair. All the above-discussed hairdos are adorable and give you a high styled and balanced look.
After seeing these 30 stunning short pixie hairstyles, you surely want them so what are you waiting on just make a decision and go for these spectacular pixie haircuts.