With so many colors in trend for this season, how can you forget about the grey hair colors? Though not much popular still once done looks great and outstanding. I simply love the grey color, it makes you stand out of the crowd making you look simply amazing. It compliments every skin tone and texture. The overall effect is laid back and very easy to wear. Before you go for the grey color, you can also think of the style which you want to carry with the color. Choose the style as well as the haircut to follow with the color.
Here are some of the outstanding Grey Hair Colors for 2023 to suits everyone:
Grey waves
This is most super stylish hair color, with black at the roots and grey loose waves this hair color looks super chic, done by professional with this style you can be the eye catcher of every party, these waves are easy to maintain and suits every face cut and texture. These shoulder length hair looks rocking when colored with this unusual grey color.
Fierce bob
These grey colored fierce bob gives you a billionaire look, this stylish grey colored hair gives such a cool look, suiting mostly round face cut and super textured hair. This cut is idle for the hair color as the bleach used to color the hair does a lot of damage, and you need to cut it short to give it a volume and style.
Full grey with bangs
These shoulder-length hair with bangs are sure to die for. It looks simply amazing on every face cut, and you need to have great volume for this style. Such bold lips and eyes make this color more attractive and wanting, these peacock blue lips with grey hair are complementing each other so much, you totally rock any party with this style and color.
Loose waves
Full grey hair with curls at the bottom is a very laid back hairstyle, can be easily carried casually at an office or any outing. It needs low maintenance and provides great texture and volume. Suits basically long face cut people, these loose waves look very nice whenever carried with style and elegance.
Half bun long waves
This hairstyle has a darker shade at the roots and very very loose waves at the bottom. Hair is styled by taking half of the hair and styling it up into a half bun. Super cool hair very easy to carry at any outing with friends and suits almost every face cut but you need a great texture and volume to flaunt this look.
Long razor cut with waves
The hair with a bit of dark shade at the roots and stylish grey color on the rest of the hair with razor cut looks amazing. These loose waves with layers give volume to your hair, and you need to have a good texture. This cut suits almost everyone and can be carried with style anywhere you want. This style and color do not need a lot of maintenance.
Side parted shoulder length
The side-parted hair wherein most of the hair falls on the right side of your face is pretty enough to cover your face. This suits mostly oval face cut. A darker shade of lipstick with matching shadows, however, compliment the look. Can be carried with ease and all you require to rock this look is great volume and texture.
Shoulder length waves
Great volume gives great waves, and you need great texture too, these shoulder length hair looks great on all occasion, formal or casual it looks great on all outings. It looks great on any face cut. Whether Indian or traditional you rock this look with any style you want.
Blue with grey side swept
The side-swept grey hair with a shining finish, and blue color streak looks amazing. The style is enough to make you stand out on any occasion. It mainly suits people who have a long face cut. For this style, not much volume is needed. All that you need is just great texture for this look. This side swept hairstyle covers your face from one side, mostly suits the modern outfit and occasion.
Bob waves
These waves and this bob cut is really really outstanding, no volume and not even that great texture is required to get this look. This cut mostly suits elderly ladies. This blackish grey hair suits the ladies who are carefree since this style doesn't require much effort and can be styled anywhere on any occasion. These side swept waves covers the right side of your face and give you a stylish look.
Stylish grey layers
The stylish grey hair is surely to die for; the amazing texture and volume is enough to steal the hearts. It is like a bonus if side parting is done, keeping more than half of your hair on the left side of your face and very little on the right side. That makes the style the easiest and sassiest one to carry with ease. You can go on an outing with friends or any official work with this style, and the color is definitely going to show its magic.
Golden grey curls
These long curls with grey color at the base and slightly golden highlights to give you a rocking look. The style also comprises of slight black and golden touch at the roots and later the golden color highlights are done on the rest of the hair. The grey hair color really levels up the oomph level. The style is stunning for party animals.
Sleek bob
You need a great texture for this hairstyle and color. This sleek shoulder-length bob cut look is easy to carry wherever you go. Casual or formal, this cut and color definitely serve all your purpose. With the help of a professional, this cut and color can be easily done and managed. The best part is that it suits almost all sorts of face cuts.
Black and grey wave
These black and white waves come under the category of beach waves. Perfect for summers, these beachy waves can also be carried daily while going out with friends or family. These waves give a completely laid back look. You need good texture and volume to get these waves. With black at the roots and grey from the other half, the style gives a dramatic look.
Layers in a bob
Super texture and great volume are all that you require for this hairstyle. The waves are dense and suits most people with a round face. This style helps them to create an illusion of a sleek face. It generally suits the mid-aged women and is very easy to manage and carry. It goes with all outfit and occasions.
Burgundy with grey
Black and grey as the base color and burgundy as highlights at the roots make a perfect combination of colors. The burgundy color used in the layers gives it an extra effect; you need to have a good volume and texture for this cut. Also, use a good serum to get that extra shine. The colors really blend well and can be carried well. The use of three colors in your hair can really act as a head turner at any event.
Purple and blue
Oh! wow what an amazing color technique is used in this cut; black and purple highlights and peacock green color on the loose waves at the bottom looks outstanding. Straight black and purple hair with loose waves at the bottom is something new and can be given a shot. This color can be styled in different hairstyle and can be carried everywhere with any outfit. You need good volume and texture for this style and color.
Romantic waves
These waves with grey color is really stunning. After side-parting, these romantic grey waves are one of my favorites. With most of the hair on the right side of your face, covering the forehead, it looks super stylish. These loose waves look so romantic and can work wonder. Whether in the office or with friends, these grey waves requires good volume and texture which makes it look lustrous. It looks great on oval shaped face cuts. It covers half of your face making it look sleek and long.
Grey long waves
These super shiny long grey hair along with the loose waves at the end looks quite pretty on everyone. This metallic grey color can be done at a decent parlor by a trained professional. You need volume and texture for this style. In this style half of your hair is turned into a braid looks which looks cute on any outing. Use hairpin as an accessory to enhance the look even more.
Long hair with side bangs
Long hair with side bangs are very common but what makes it uncommon is the color, blackish grey at the roots and grey at the rest of the hair. It is quite simple yet stylish in color and cut. It suits every face cut, all you need is volume and texture. Easy to maintain and can be turned into many other hairstyles that too with ease. Suitable for any occasion and goes well for all age groups. The side bangs are long enough to be tucked behind the ears which add a charm to your face.
Blonde and grey
Shoulder length hair with a mix of blonde and grey looks stunning. Here grey act as a base color with blonde highlights. It is very easy to carry and maintain and the style goes with almost all the outfits and occasions. Professional help is needed to straighten your hair but once done, the style can be easily carried. Just add the use of serum on your hair care routine.
Waves with bangs
Shoulder length hair with waves and bangs in the front complement each other very gracefully. This is a mix of modern cut and bangs which has nothing to say about the color. The bangs cover your forehead very well, and the waves cover the side of your face. Volume is all that you need to get this hippie look. It looks great on oval or long face people, generally goes with western outfits.
Side swept razor cut
Side swept bangs with a razor cut is something you call extra modern super stylish. Especially those hair strands near your ears add more charm to your overall modern look. Black at the roots and grey on the rest, as usual, looks very attractive. Volume needs to be there for this hairstyle. This type of style is generally for youngsters and is easy in maintaining and carrying. It is definitely a very rocking look.
White and grey
Elderly ladies mostly opt for white and grey shoulder-length hair as it can be easily carried and maintained. Here white act as a base and grey is used as highlights. Volume is not an issue, but the texture is a must in this style. Goes on all occasion and outfit this style and color is easily accessible for all age group.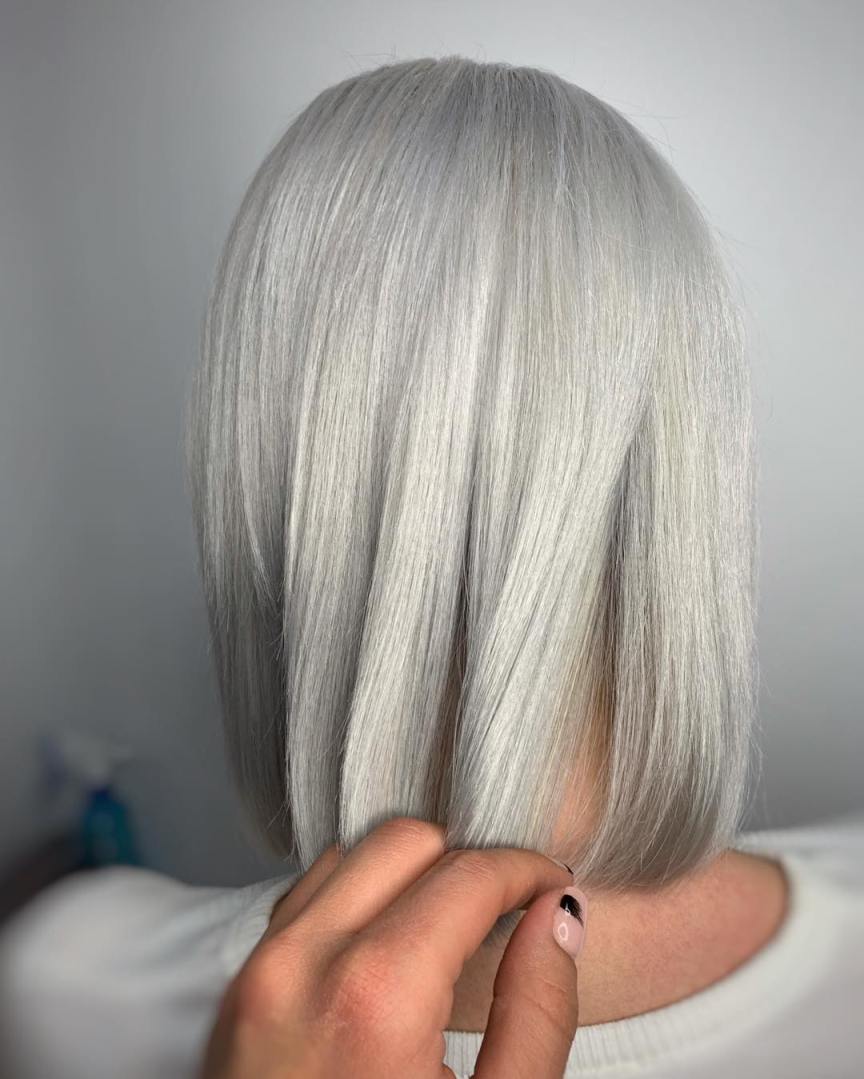 Grey side bangs with waves
This bob cut with side grey bangs and waves at the back is the most carefree look you can have. It suits all the age group and generally goes on all outfits and occasion. You can go for it, irrespective of the texture and volume of your hair.
Mid parted straight hair
These mid parted straight hair with a darker tone of grey at the roots and light tone or you can say with a grey coverage on rest of your long hair looks very simple and stylish. Very common one with great volume and texture, generally goes on all face cut and age group can be carried with ease anywhere and goes on all outfit.
Side swept bob
Here the white color act as a base and the grey is used for highlights, but the white color in this style is mainly used for the front hair and on both the side of the hair. This side-swept hairstyle with white color in front fringes goes well for ladies who have white hair. Easy to maintain and can be carried with ease and can be styled at home also. The rest of the hair is metallic grey which compliments the white hair.
Waves with v-cut
These waves with v-cut and grey color is being loved by all. Volume and texture, as always, is must over here. This hairstyle can be carried easily at an office or an outing with friends. Generally, it suits all age groups and goes well with all outfits. You can still look rocking with this simple yet stylish look.
Grey bob
This is a simple bob cut but what makes it rocking is the color combination of black and grey. It gives a very easy going look. Generally, this cut is for working women, but mid-aged to old aged ladies also rock this look. With more hair on the top and very little on the sides, this is easily maintained and carried by all.
Layers with curls
Mid parted with curls at the bottom along with the grey color, gives you a stunning look. The shades of black and grey blend well with each other. The curls look stunning as it compliments your look very well. The curls are the center of attraction of this style. The texture is very much needed, and the layers give volume to the hair. Can be carried with ease but a bit of serum is must to keep the curls in place. It is easily wearable everywhere.
Somethings can never change; the same goes with hair color. Irrespective of the color you choose, what you should keep in mind is whether the color is complimenting your skin tone or not. Something which does not go with your complexion, your personality and with your attitude can never look good on you. Another thing you should have is the right attitude to carry the color on your hair perfectly. Right attitude makes a big difference.