Caramel, the mildly sweet, nutty flavor just melts into the heart, right? And that's what you should expect when we say caramel highlights as its intriguing soft, outstanding warm tones. These are a good fit for any hair color, from blonde to brunette.
Caramel has a lively tone to match any skin tone, from dusky to fair. They can be a top pick to improve your face framework with any hair length. If you are into a soft look, go for a light, thin highlight or try a high-contrast highlight to get a bold, funky look.
Bewitching Caramel Highlights to Try
Caramel highlights are a warm, charming tone with many shades to choose from. Want to try some highlights? These are our top picks ahead, save and do give a shot.
Honey Caramel Curls
Honey caramel highlights are more noticeable if you have dark brown to brunette long hair.
However, they look more pleasing on any hair length and skin tone. The hair is flipped to one side, making a side partition, which gives you more volume.
Russet Brown Lob Cut
Lob cuts give you a sassy look. So if you have neck-length hair and a dusky skin tone, go for this one. It's a great style for thin hair, creating an illusion of thick hair.
Back comb your hair to add bounce and volume, then use your fingers to set the hair. Let the fringes fall on your face to give a charming look.
Ponytail with Toffee Hues
Ponytail gives you a rich, classy look. This also serves well in any high-end professional meetings or personal interviews.
The best part is that it is suitable for all hair types and easy to style. Moreover, it surely keeps the hair away from your face, bringing more attention to your eyes and smile.
Back Swept Pixie Cut
Pixie cuts are considered the best and most alluring red carpet styles. It even gives you a royal look.
You can style them with caramel highlights, giving a more charming look for any occasion. Simply backcomb your hair, use a spray, and you are all set to go.
Short Baby Curls
The style with gray and caramel hair highlights is an excellent fit for women looking for a fresh hair look in their 50s. Give it a try if you have short, shoulder-length hair with thick volume.
Dark Mocha Coils
Coils with bold streaks will definitely be a drop-dead gorgeous look. Most suitable for women looking for an ultra-astonishing hair transformation with dusky skin.
You can style them with middle partitions or side partitions with some loose curls or coils to look more modish.
Chocolate Curls
A fresh summer look is all you can see in this style. It's a perfect fit for people with any hair length and volume.
Highlighting them adds luster to the curls and defines them. Simply part them and let your hair fall freely, flaunting the colors.
Blunt Bob with Bangs
No doubt, rusty caramel highlights can give you a more subtle look. Also, it's a great style for women with thin hair, giving them an attractive look.
Moms who are looking for a post-pregnancy transformation can try these cute bob bangs. Easy to maintain, and style is what the style is all about.
Straight Blonde Streaks
A simple yet classy style for those who want to play with blonde highlights. Adding the streaks will enhance dull hair and give your face a more alluring look.
Keep your hair straight and open, and center part them to flaunt the color flawlessly. It's the best fit for a chubby face and fair skin tone.
Dewy Soft Waves
Soft waves with dewy tones have a soft, chic look with tinges of brown. If you have medium-length thin hair, this look can work like magic.
The dewy tones look more appealing and fresh for the date looks you are searching for. Even a great choice for format meetings to impress your boss and colleagues.
Peanut Caramel Knotted Bun
A knotted bun will do wonders if you are looking for a simple but elegant hairstyle. Create a low bun while twisting the hair after parting in two parts to get the look.
This looks pretty with the wedding attire and is easy to style with flowers like baby breath and daisies. The wedding veil is secured in the updo, leaving you to live in the moment.
Long Pecan Layers
Tired of your long hair? Go for a medium-length layered haircut with caramel highlights. The combination of streaks with dark brown hair gives you a cute look.
You can slightly curl your ends for this look. Keep the bangs till the chin and let them fall romantically on your face. People will love your new look.
Thick Ribbon Waves
Trying to experiment on your hair for the first time? Looking for something to match your dark hair? Well, dark caramel ombre with tight curls would be a cool fit.
It gives your hair a 3D look, making them look voluminous and bouncy. Easily blends with any hair texture or length and looks awesome on any attire. Simply use a hair spray to set the curls and rock any party with your look.
Streamlined Long Bob with Bangs
Love the 90s and looking for some retro hairstyles? Here is one for you with golden caramel highlights.
The hue surely draws more attention to your face and overall appearance. Teens would love it, as it requires minimal care and looks amazing on any outfit. Get your glamorous 80's or 90's look with this style.
Coffee Half Updo with Loose Curls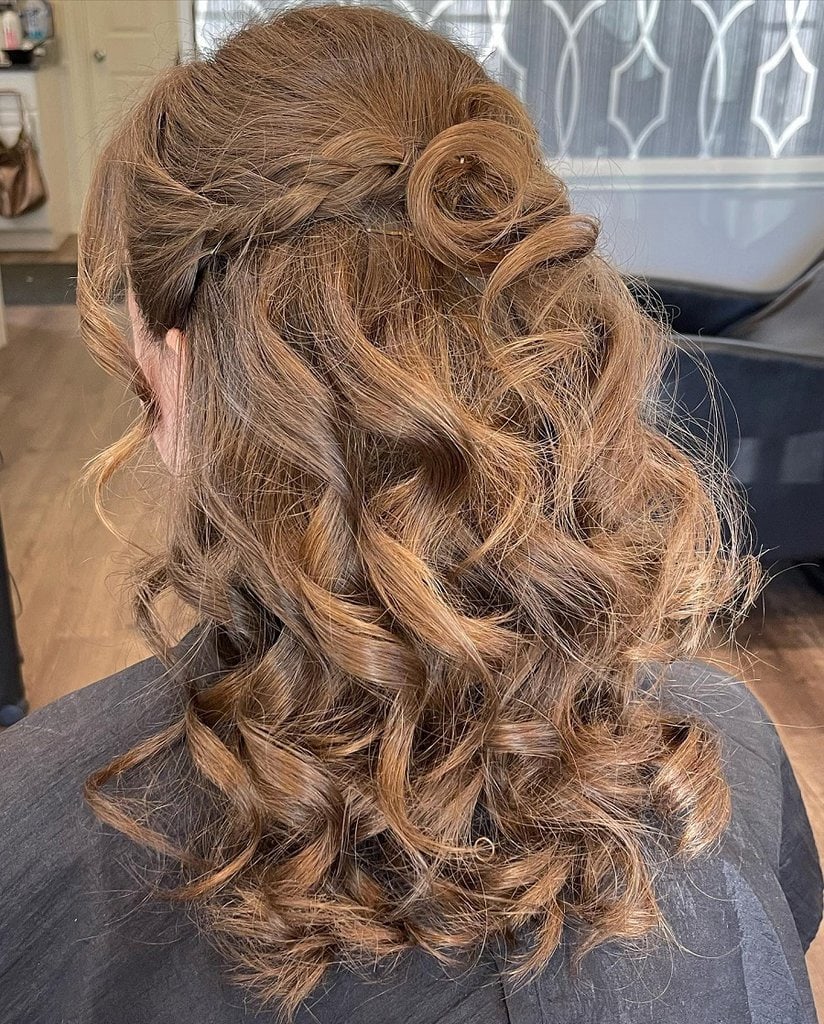 Try this classic half updo with braided strands and keep the rest of the curls open. Add face-framing fringes with it, and your look is all set.
This will add a glamorous look to your satin dress to ace the bridesmaid look. You can style it with small flowers and pearls to add that wedding glam to the final look.
Crimped Brown Hair
Crimped hairstyles are well-known back-to-school looks; having a little highlight on top of it is an ace card for the year. Caramel brown highlights will help you to finish the job.
This looks good on medium to long hair and can be styled with clips, clutches, tinsels, and scarfs like literally anything looks good on this style.
Beachy Blonde Waves
If you want an edgy urban look, you should see these lovely light highlights on your dark hair.
Keep the hair just an inch below your neck to get a natural bouncy look. Light caramel is a warm tone to brighten up your tribal cultures.
Shaggy Asymmetrical Bob
Women looking for a glow-up in their 60s can look at this style with caramel highlights. It is easy to maintain and requires minimum attention yet looks trendy.
You can transform yourself from a grumpy grandma to a trendy badass granny in minutes to enjoy that party with your grandkids.
Coily Afro Bob
Blessed with thick, super curly hair? Need something to add sparks to your curls? Why not try some highlights too?
You have various choices of tones, to begin with. Then, you can style them with classic hair ties, bungee bands, and bobby pins to make them more gorgeous.
Angled Blonde Caramel Waves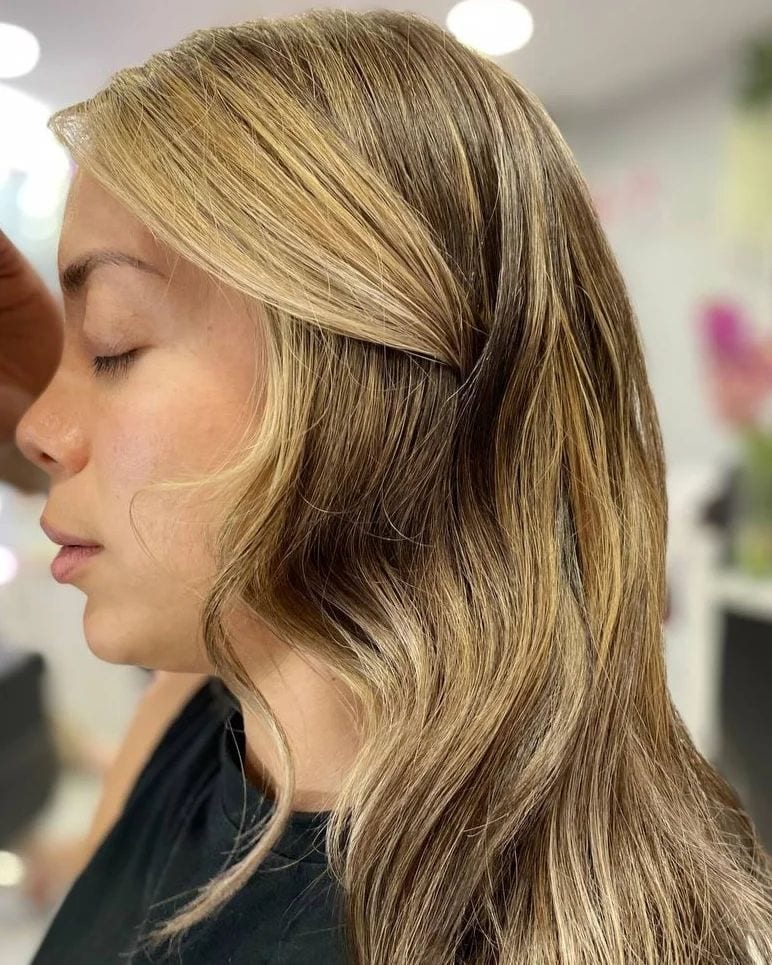 Angled Blonde Waves with light highlights are so appealing. You don't have to choose dark hair color to get highlights. It looks quite exquisite on light hair too.
Light Caramel balayage highlights can add a more edgy look to your angled waves to frame up the face, styling with beaded clips or embellished bobby pins.
Caramel highlights are something that goes good with any hair color or length. They are made up to match any skin tone and length. They can never go out of style, either a 60 years old woman attending her granddaughter's marriage ceremony or a teen attending her first prom.
These warm tones can warm up the culture and beauty. They add a rich, subtle, bold look to your outfits to charm the occasion you have been waiting for. They compliment any skin tone, hair color, and length, forming a natural blooming look.