Chestnut hair color is a rich mixture of colors that produces a great shade and brings life to your hair. In addition, it has a certain glossy appearance that totally transforms your hair and gives it a multi-dimensional look.
When looking for the perfect chestnut hair color shade, your undertones play a crucial role. As for the trend, opposites complement each other. Thus, a warm undertone will go well with a cool reddish-brown hue.
So, if you are thinking about dyeing your locks, then there is no other better option than this color.
Stunning Chestnut Hair Color Ideas
Here, we've provided you with inspirational hair color ideas that will definitely make you fall in love with them.
1. Long Layers
Chestnut hair goes well with every skin tone. Thanks to its warm and bronze base. Here, the hair is middle parted and is a bit wavy.
To get this kind of look, you will have to get some layers, blow dry them and use the right kind of hair products to get the exact voluminous look.
2. Messy Long Hair
In order to get a sun-kissed effect on your hair, go for this wavy chestnut brown hair. This warm tone is very subtle and natural-looking and is a perfectly balanced color if you don't want to dye your locks extremely red.
3. Long Crimped Hair
An ideal hairdo for any night party look is a curly hairstyle. It is a highly versatile dark red chestnut color that goes well with a variety of skin tones. Moreover, this combination is likely to make your hair look healthy and voluminous.
4. Orangish-Red Front Streaks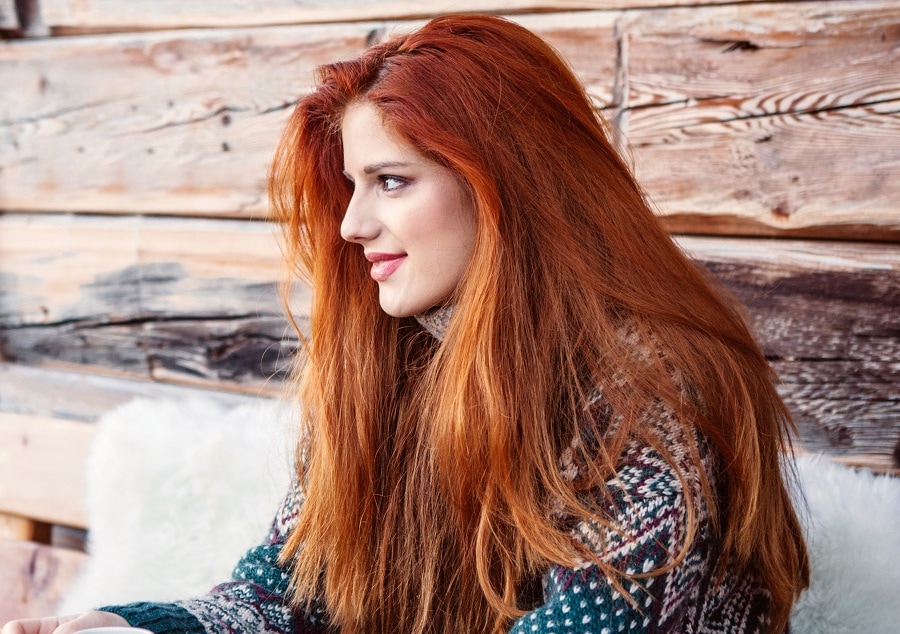 For all those having super thick hair, this is the ideal hairdo. It is a simple and easy-to-style look that just requires you to side part your thick locks.
Moreover, the chestnut shade will elevate your style and give you a classy look. However, you must use the right hair care products to maintain your locks.
5. Brown Hair with Highlights
Highlights are the ones that are likely to go well with any skin tone and hair type. This hair color is not too vibrant and, at the same time, gives you a different and astonishing look. You can wear this look to any casual as well as a professional event.
6. Subtle Chestnut Shade
This is the ideal hairdo for women over 40s with thin hair who want to try a different look.
This can, in fact, make your color last a bit longer and is much more natural-looking. It is likely to go well with a fair skin tone and oval or heart-shaped face.
7. Reddish Chestnut Hair
For all those having medium to thick hair and a fair skin tone with blue or green eyes, chestnut red is the most suitable shade to go ahead with.
You don't have to cut your hair short to get this look, and something layered like this will definitely make you stand out from the crowd.
8. Light Chestnut Bob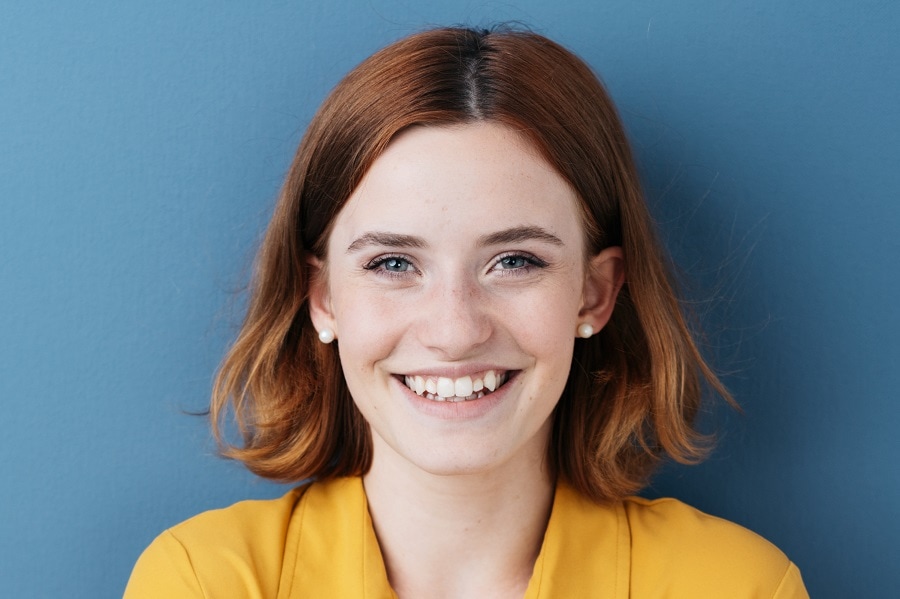 In order to get a young, cheerful look, go for this simple middle-parted bob that is easy to style and maintain.
If you want to stick to a balanced shade that is neither too dark nor too light, this is the perfect option. You can wear this look casually on an everyday basis.
9. Cool Space Buns
Go for this casual space buns look to attend a simple, informal event. But, this is not the look that you must go for if you are looking forward to attending a wedding.
Here, you just have to middle part your hair and wrap them up in a bun. Put on red lipstick, and you're all set to rock the event.
10. Marvelous Long Hair
If you have straight dark chestnut hair, thick locks and a fair skin tone with blue or green eyes, this is the perfect option. It will give you a natural and elegant look that will frame your oval or heart-shaped face perfectly.
11. Bouncy Curly Ends
Another ideal hairdo for fair skin tone and thin to medium hair is light chestnut curls.
If you have thin hair, then the loose curls at the end will give your locks a voluminous look. You can wear this look on a daily casual basis.
12. Tight Curls With Highlights
The brown curls with light chestnut highlights are suitable for women with any skin and hair type.
If you have thin and short hair, then this will be the perfect option as the curls will give you a voluminous, fluffy look, making it ideal for any occasion.
13. Pixie Bob With Bangs
If you have medium short hair and want to get a unique, super-short look, then go for this bob cut.
It is an ideal hairdo for women with fair skin tone, round faces, and blue or green eyes. The bangs here serve the purpose of covering your forehead and giving it a short look.
14. Middle Parted Curly Hair
In order to get a simple, cute look that will be ideal for any occasion, go for this funky look.
The rich chestnut shade makes the curls look fuller in the above look. Moreover, it is ideal for getting a warm and not-too-vibrant look.
15. Modern Shag
In order to get a classy style, you can ask your hairstylist to blend some mahogany red with a chestnut brown shade, starting from the roots. Although this is a bit softer than the auburn look but has enough vibrancy.
16. Choppy Layers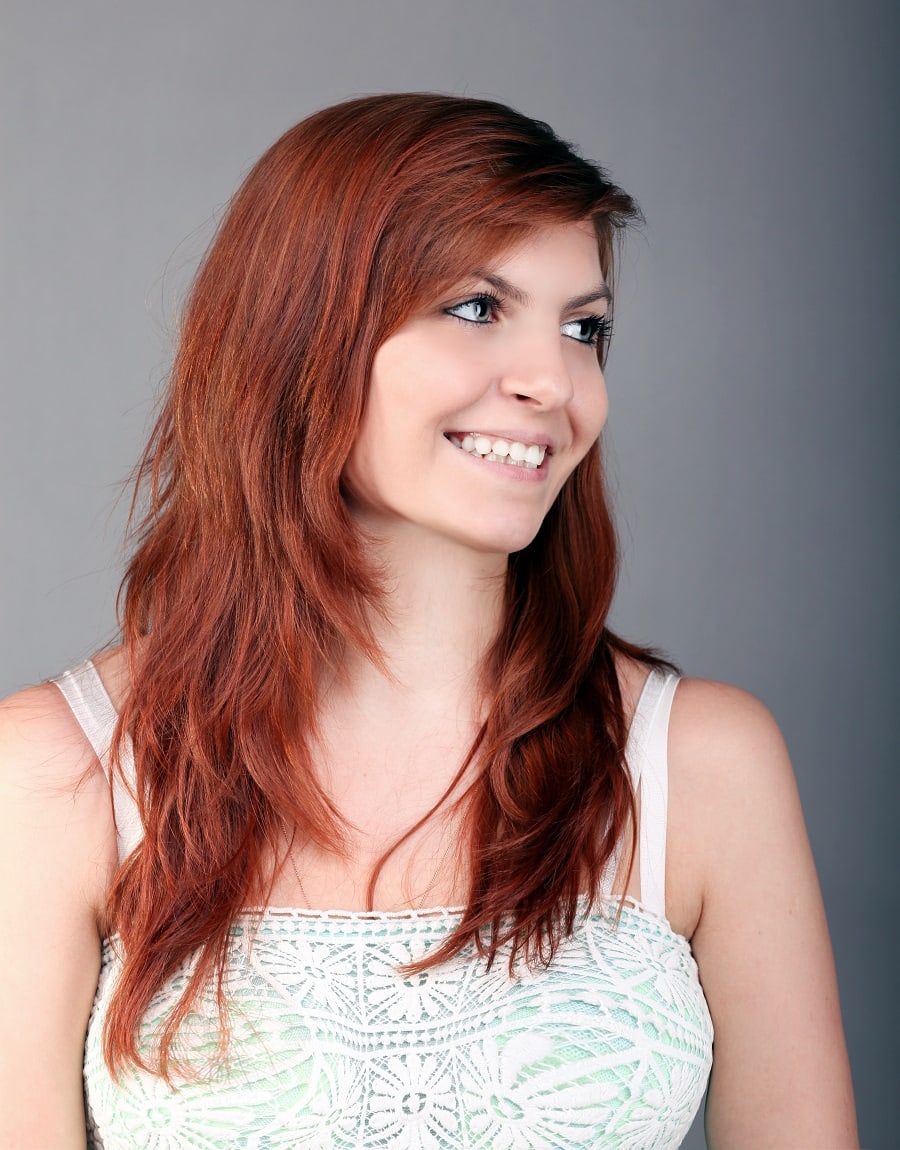 If you prefer a reddish shade, just take inspiration from this look. Get a layered cut with side-swept bangs for your medium-length hair. This is most likely to go well with a fair skin tone and a heart-shaped face.
17. Voguish Highlights
In order to get a chic, classy look that will be suitable for any special event, go for this shiny curls hairdo. The chestnut shade with golden highlights pops up perfectly, giving a fantastic look to your hair.
18. Chestnut Afro Hair
This is the best option for all dark-toned women who want to try a unique look. Go for this marvelous fluffy chestnut afro hair to elevate your style and look completely different.
You can see how flattering the chestnut hair color shade is and it suits almost all skin tones. Thus, you can try this shade without any worries and get a classic touch on your locks along with different haircuts and styles