When it comes to choosing a hair color, several things must be considered. Like your eyes serve as the best indication of your skin tone. For example, if you have blue or green eyes, you are most likely to have a cool skin tone. Based on this, the perfect approach will be to combine cool with cool and warm with warm.
From ash silver to honey and golden flashes, there are a number of gorgeous shades that go well with light skin tones. Among them, blonde is considered the best hair color for blue eyes and fair skin. In addition, blonde is a natural hair color solution for pale skin and blue eyes and turns out to be quite flattering.
Beautiful Hair Colors for Blue Eyes And Fair Skin
Before choosing a hair color, you must always consider your skin's undertone. And, once you've done it, you will be able to find the perfect color for your hair easily.
1. Light Brown Wavy Hair
Great hair color for blue eyes and fair skin is light brown, which looks gorgeous when paired with long wavy locks. It is a perfect complement for cool skin tones with red or pink undertones.
You can achieve this shade by asking your stylist to lighten the dark hue of brown with a toner. Additionally, light brown is a popular shade among pale skin tones.
2. Blonde With Darker Roots
Here comes one of the most common shades among fair-skinned beauties. With yellow or olive undertones, you can go for a warm blonde color with darker roots.
Since ashy blonde is likely to wash out your olive skin, go for a warm shade that will perfectly go well with even blue eyes.
3. Messy Copper Red
Women with fair skin tone are usually born with natural reds. Thus, making copper-red tresses paired with fair skin look exceptionally well with blue eyes too. Go for this copper red shade, paired with messy curls, and rock your gorgeous locks.
4. Golden Blonde
If you are into golden hues, consider getting this idea for your next hair appointment. Golden blonde with subtle sun-kissed highlights can be the best hair color for blue eyes and fair skin.
The soft touch of blonde will make your hair look more natural and flattering, along with adding a glow to your face.
5. Straight Champagne Blonde
If you're looking for a blonde shade that will suit your light skin tone with warm undertones, then this is the perfect option.
Champagne blonde is just your shade as its warm hue will perfectly suit your warm skin. You can either go for all blonde like this woman or blonde highlights.
6. Brown Bob With Bangs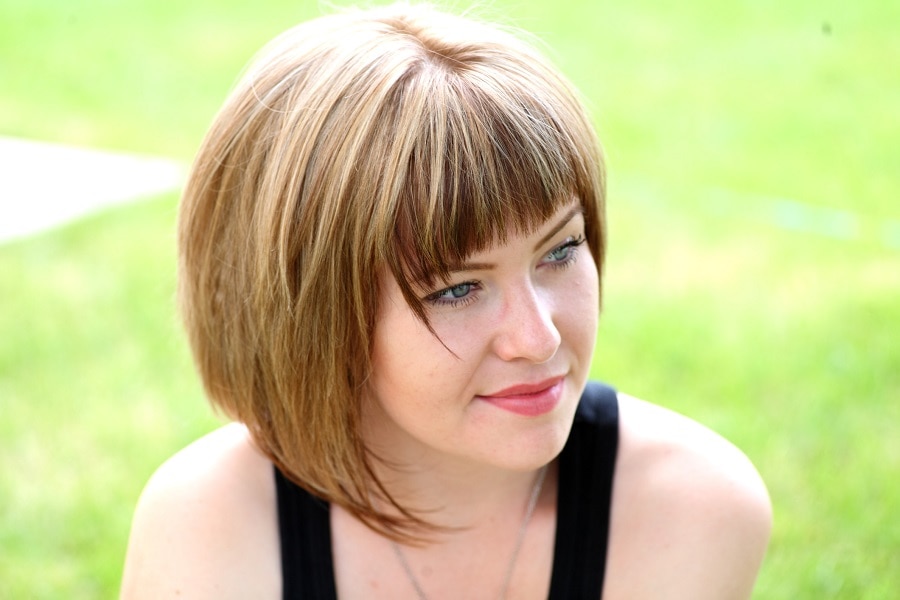 If you have cool undertones, a brown shade to add warmth to your hair will never go wrong. Just go ahead with experimenting with the highlights and texture to get the best results. If you have a round face, this bob cut with bangs is likely to suit you very well.
7. Long Blonde Bob
This creamy blonde lob is flattering for any skin tone but looks best on pale complexions. In fact, with this shade, you won't have to worry about the undertone, as it goes equally well with warm and cool tones. It is a fabulous look that will give you sunny vibes all year round.
8. Pastel Pink
Go for one of the hottest trends with this gorgeous hot pink shade. It incorporates dark and light tones, as it is darker at the roots and gets light pastel by the ends.
It is one of the best hair colors for blue eyes and fair skin. But still be careful while choosing the shade, keeping in mind your undertone.
9. Chunky Blonde Streaks

Pale skin with warm undertones looks great with these blonde highlights. These highlights will add depth to your natural hair and a natural glow to your fair skin tone. So, consider getting this shortcut with curved ends and blonde highlights to get a beautiful look.
10. Auburn Red Quiffed Updo
If you have pale skin with cool undertones, consider getting this auburn shade. This shade features a perfect balance of cool and warm tones that looks adorable when paired with a curly updo.
In order to create this style, curl your locks from the roots and then pin them up in a messy updo that can be worn to any special occasion.
11. White Blonde Ringlets
White or ashy blonde is a great complement for fair skin with red undertones. This goes by the concept that any light blonde will neutralize pink skin.
Thus, making it the best blonde hair color for blue eyes with fair skin. Moreover, if you have naturally white-blonde hair, these well-defined curls will best suit your face.
12. Pale Blonde Messy Hair
Pale blonde is a perfect low-commitment option for those who do not want to jump into getting a vibrant hue.
It beautifully goes well with fair skin having warm undertones, and accentuating your facial features. Moreover, if you have red undertones, this shade will be a perfect neutralizer.
13. Long Brunette With Bangs
Opt for this look if you're looking for hair color for blue eyes and fair skin that does not fall in the blonde family. Try taking your look to the other with this brunette shade.
It is an ideal look for those with warm or olive-toned skin. This contrasting shade will make your skin look smooth and beautifully suits blue eyes.
14. Mermaid Blue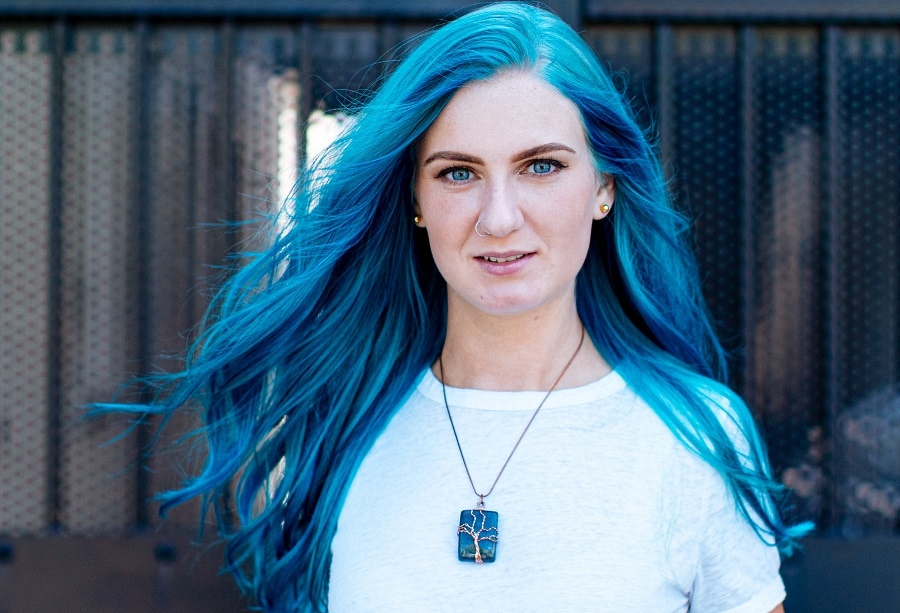 To get some mermaid vibes, go for this beautiful blue. However, not everyone will want to go for this shade as it suits just a few.
If you want to go for a playful hue that will best suit your fair skin with a cool undertone, this is the perfect option. Add some waves to your long, healthy locks and pair it with a blue stone jewel, and you'll get the exact look.
15. Red Blunt Bob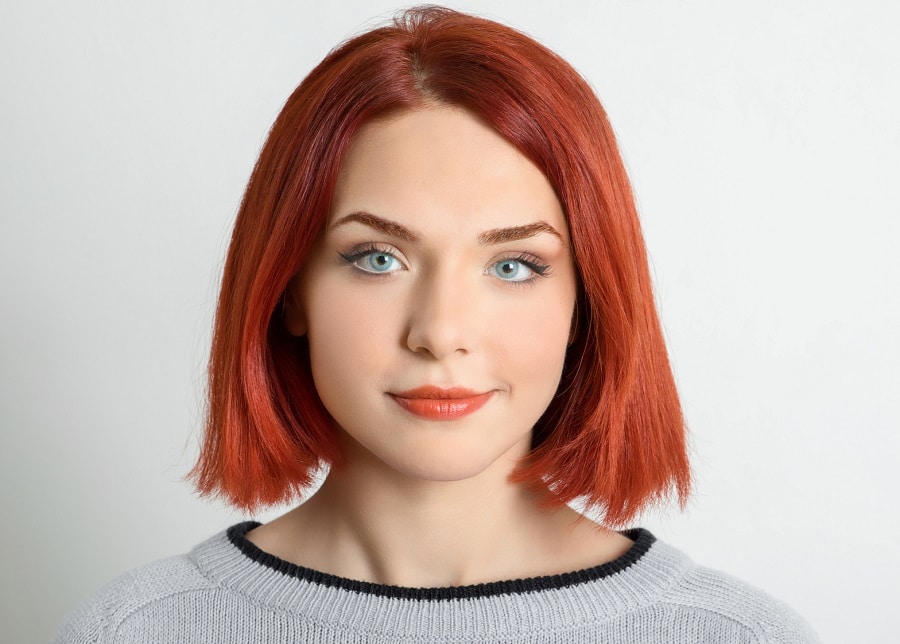 If you don't want to keep your hair in its natural shade and want to try a unique look, go for this red bob look. It is most likely to go well with warm skin tones and a round-shaped face. Although it falls in the red family, the shade is unique for its flexibility in skin tone.
16. Orange Copper Bob
This eye-catchy orange shade is specially created for girls with fair skin tone and blue eyes. Fresh and vibrant, it is a great shade that does not overpower your skin color and creates a perfect balance. However, if you have a cooler skin tone, opt for a darker shade, like cherry.
17. Sleek Black Ponytail
Black is another shade that goes well with fair skin tones with blue eyes. Wearing your black tresses in a sleek ponytail will give you a classy and gorgeous look. This look is best for all those who do not want to get a vibrant look but an elegant and simple style.
18. Bright Pink Blunt Bob
This bright shade is the best choice for women who want to stand out from the crowd. It is one of the shades that were created just to turn heads.
However, you need to be careful while opting for this shade, as it can turn out to be bad if paired with a warm undertone.
19. Peacock Green Ombre
This ombre shade is best if you want to stay between black and a unique, vibrant shade. The green shade will likely give you peacock vibes and will best suit straight long locks. This shade can flatter almost any complexion and give a stunning look.
20. Caramel Blonde
Strawberry, rust, and caramel blondes are among the best hair colors for blue eyes and fair skin. Women with cool undertones can definitely go for this light blonde hue that'll look equally beautiful whether worn with long or short hair. In fact, it will bring out your features in a striking way.
Thus, plenty of colors go well with fair skin, which acts as a neutral background for most of them. With the variety of shades, the best hair color for blue eyes and fair skin will be the one that complements the undertone.