Dying your hair can be really tricky. Sometimes things don't go according to plan, even if you visit a hair salon to get the work done.
Getting a different tone than your desired hair color isn't uncommon, and sometimes bleached or dyed hair will turn pink. The good news is it's not unfixable, either.
So if you're left wondering how to remove pink tones from hair, then look below because we've got the answer for you.
Why Did Your Hair Turn Pink?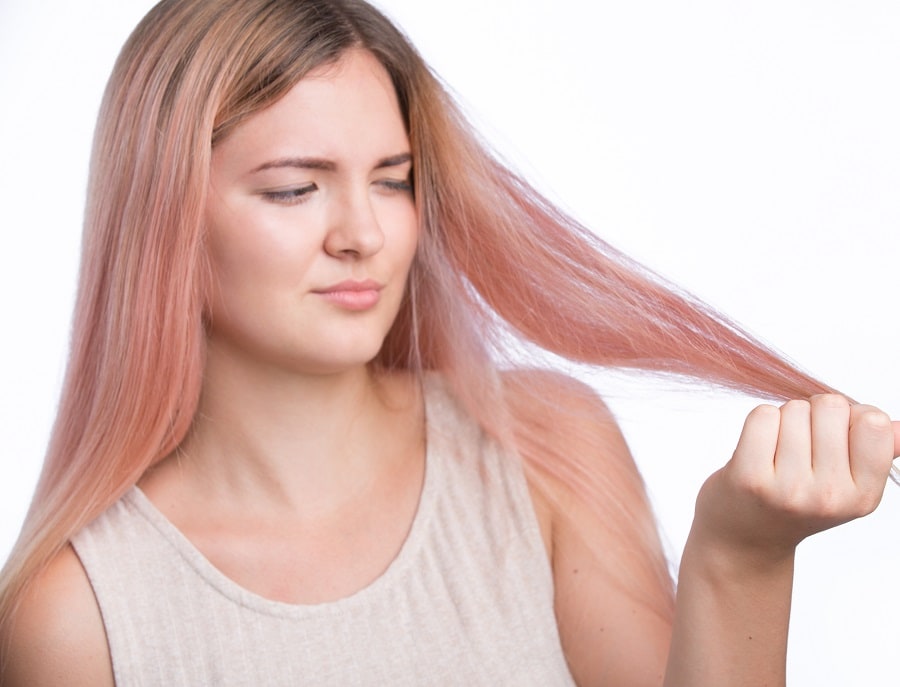 Chances are that if your hair turned pink, you're a brunette and you bleached it.
You didn't do anything wrong while following the instructions to bleach your hair. There's no need to worry about that.
Your hair color is simply difficult to bleach because it has natural red and purple undertones.
These undertones can lead to pink tones being left behind when you remove the natural color from your hair.
If you're planning on dying your hair light brown, then the pink tones won't always be visible when you apply the new color.
However, if you want to go blonde, especially silver or ashy blonde, then the pink will probably show through as an unwanted hue discoloring your desired shade.
There are several other reasons for hair to turn pink.
Sometimes, people try to dye their hair one color, and it turns out pink. This can happen if the hair wasn't lightened enough before the dye was applied, or if a red or purple dye fades over time.
Chlorine can sometimes give light-colored hair a greenish tint, but it can also interact with dyes (especially red ones) to give hair a pink hue.
Some shampoos, conditioners, and other hair products can leave a pink tint in the hair, especially if they're meant to enhance red or purple tones.
There's no need to worry, though, because there are many easy solutions to this little problem.
How to Remove Pink Tones from Hair
First of all, if your hair has turned pink after toning, dying, or bleaching it, don't dye it again straight away.
Specially bleached hair needs moisture and proteins before it's bleached again. Take a few days to remove the pink tones by following the steps below.
Do a Good Clarifying Wash
Sometimes the pink pigment left behind in your hair isn't that strong.
A clarifying wash can remove some of the pigment so that the pink isn't noticeable when you apply dye or toner over your bleached tresses.
You'll want to use a clarifying shampoo with lots of sulfates in it, as these are what strip your hair of pigments, oils, and chemicals best.
Don't forget to take care of your hair by deep conditioning or using a hair mask after you clarify. Sulfate-heavy shampoo can fry your strands.
Bleach Again
Before you reach for the bleach, stop! Under no circumstances should you bleach your hair twice on the same day. Ideally, don't even bleach your hair twice in the same week!
Wait at least two weeks before you bleach your hair again. A second bleaching session may be all you need to turn your hair white instead of pink so you can apply your desired color on top.
Leaving the bleach on a little longer than the instructions say is inadvisable, by the way, as you may damage your hair. So don't be tempted if you think it'll help!
Tone It Out
Applying a toner after you bleach your hair can be effective enough to decrease or remove pink tones from your hair.
Neutralizing using a dye designed to neutralize colors or using a toning shampoo can also help you.
To remove pink tones, you'll want to use green. There's a variety of green shampoos and conditioners available that you can buy.
But if you have a lot of very strong pink, then shampoo and conditioner won't be that effective, so tone your hair with green dye or toner instead.
After using the green toner or shampoo and conditioner, then you should be left with an ashy blonde color.
Dye Your Hair Darker
When you bleach your hair you usually want to dye it a nice light blonde. However, not everybody can go straight from brunette to blonde in just one session.
Consider dying your hair a medium tone of ashy brown. Wait around four weeks then bleach your hair again.
This time, there should be no pink tones left behind as there are no pink, purple, or red pigments used in ashy hair dye.
Now you can dye your hair the lighter shade that you desire and there should be no pink showing underneath.
If a little pink still shows through, then use neutralizing shampoos. They should get rid of the problem easily.
So, that's how to remove pink tones from hair if they've been left behind after you bleach it.
Neutralizing the color and stripping as much of the unwanted pigment as possible will help you considerably in reaching your hair goals.
Related Topics:
5 Ways to Remove Purple Tones from Brown Hair
As always, consult a professional if you think something has gone too wrong to fix at home.