While creating your style, it is important to take your complete look into account. We all have different hair colors and eye colors but the most flattering combination is blue eyes and brown hair which of course is rarely seen.
For women with olive or a darker complexion, a dark brunette is likely to make your eyes pop and elevate your facial features. Here, we've tried to create a list of hairstyles that will surely awe with the color and style combination. It will even help understand the hairstyles you can consider if looking for a personalized styling experience.
From dark brunettes to light brown hues, here are some of the stunning hairstyles for brown hair and blue eyes you can choose for any occasion.
1. Loose Coffee Curls
With darker hair, your eyes are more likely to pop up. Loose coffee curls will surely give you a great look if you have medium-length locks. The hairdo perfectly suits an oval-shaped face and is ideal for any occasion which can easily be maintained for a longer period.
2. Straight Lob Cut
This sleek and straight look is understated yet impactful which gives your locks the best look. The simple middle-parted look is easy to maintain as well as style, giving you a joyful, summer-fresh look that can be worn on a daily basis.
3. Short Ringlets
In order to get a cool, youthful look that will add volume to your locks, go for this ringlet style.
Although the brown shade is likely to suit any skin tone with blue eyes and is easy to maintain, the pumping curls need much more maintenance. This style goes well with a heart-shaped face but requires proper hair care products.
4. Metallic Highlights With Blunt Bangs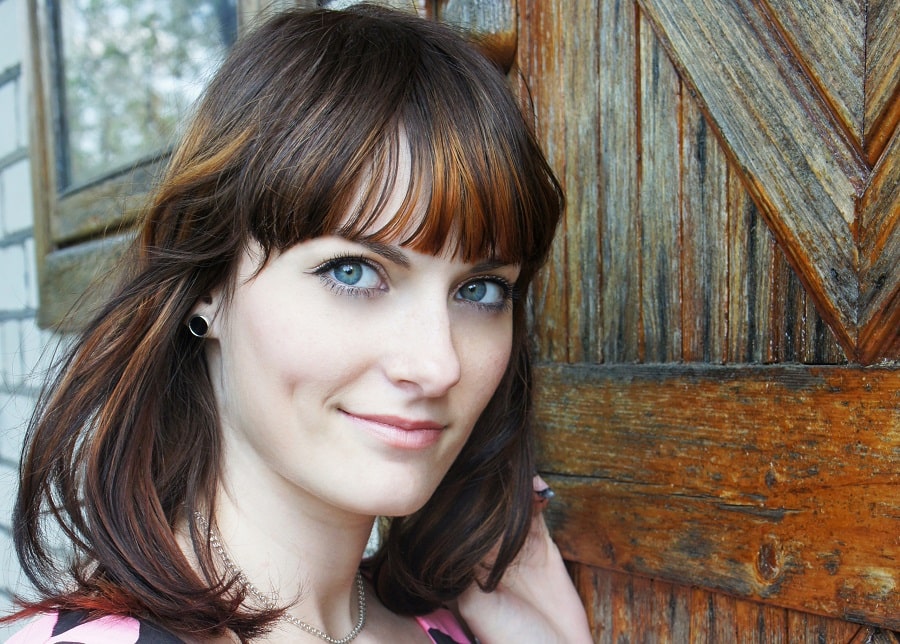 Short brown hair looks cute on women especially the ones with blue eyes. To help frame your face, you can consider adding a fringe to your cut.
Then add metallic highlights on your bangs and some of the other strands, to get a more attractive look. Women of any age can wear this style irrespective of thick or thin hair.
5. Bronde Updo
In order to get a royal, aesthetic look, go for this bronde updo which is clean yet shiny. This look will likely go well with fair skin tones and straight, shiny locks.
Pair this hairdo with red lipstick, and you will be able to wear it on any special occasion. It not only enhances your features but also adds more depth to your blue eyes.
6. Copper Brown Bob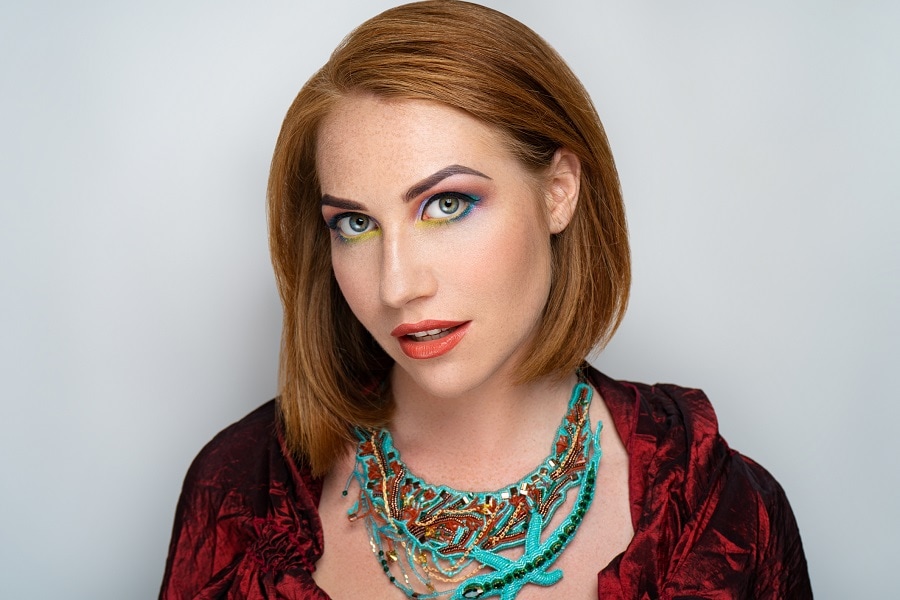 Copper brown is neither too vibrant nor too light which goes well with medium to fair skin tones. With the bob cut, you will be able to style your hair easily, but if you have naturally dark hair, you will have to get regular touch-ups to keep the look fresh.
7. Caramel Curls
Caramel is everyone's favorite color, it looks hearth-throbbing if you have blue eyes and fair skin tone. To make it look a bit shiny, hydrate your locks with a moisturizing cream or serum and then style your hair.
You will need minimal makeup with this, no accessories needed and you are ready to rock any party or date night.
8. Messy Chocolaty Hair
To give your long locks a simple, natural look, go for this chocolaty shade. It is likely to go well with any skin tone and is easy to maintain. You can wear this messy look to your college or school or on a casual outing.
9. Honey-Brown Hair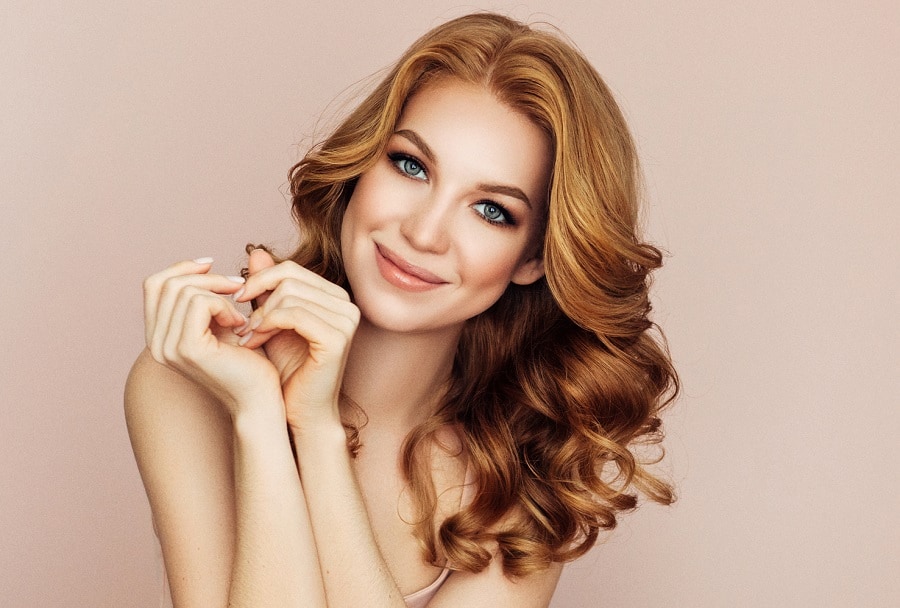 The style surely creates an amazingly vibrant and sun-kissed effect which goes to the next level if you have blue eyes.
Since the shade is vibrant, you can pair it with soft nude makeup and get an ultimate look. It is likely to go well with pale skin tones and can be worn to any special occasion or for a portrait shoot.
10. Light Copperish-Brown Hair
We mostly have seen people going for blonde color to enhance the beauty of their blue eyes but with this copperish brown hue, the look is even fabulous. It gives a soft, classy yet very attractive look.
You can add some blonde balayage highlights if you have naturally brown hair to brighten up your locks. Pair it with a nude lip shade and a black top, and you're all set for the event.
11. Medium Length Wavy Brown
Another normal daily wear style that can give you a different look is this simple wavy brown hair. Although the brown shade gives you a completely different and beautiful look, a layered cut will add to the beauty of this shade.
12. Sandy Waves
Go for this sandy brown shade to get a subtle effect for your long locks. The long, luscious brown locks with blue eyes are likely to give you an astonishing doll-like look.
Your hair will look great when you add a few loose waves to it. This look is best for attending a ball dance or wedding or any special event.
13. Pixie Cut
If you want to get a simple, super short look that'll require low maintenance and styling, then this is the perfect option. This pixie cut on dark brown hair is likely to elevate your facial features and reveal the depth of your gorgeous blue eyes. Moreover, it will give you a younger look.
14. Shiny Space Buns
If you don't want to bear the burden of leaving your tresses open and yet want a stylish look, then go ahead with this style. The middle-parted space buns on brown hair are a great way to wrap up your hair in a stylish and sporty way.
You can create this look by simply center parting your hair and then wrapping the length of your hair around the base of your ponytail or braid. You can even leave some strands from the front to frame your face.
15. Messy Teenage Look
A light skin tone makes your dark brown hair and blue eyes stand out. This relaxed tousled look is best for thick hair and can be worn casually daily by teenagers or school-going girls.
In this, you will be flaunting your naturally wavy hair freely. Use your fingers to detangle your hair or to remove it from your face from time to time.
16. Bronde Twisted Updo
Nothing will draw attention to your face than a twisted updo that too if it's a combination of brown and blonde colors, perfect for formal events and weddings.
This elegant brown updo sits on your head perfectly, giving your blue eyes all the attention you want. You can wear it to any party, special event, date night or to impress anyone.
17. Light Caramel Straight Hair
This caramel shade is most likely to go well with light complexions and blue eyes. Keeping them sleek and straight will be perfect if you have long, healthy locks. But, you must use proper hair care products to maintain your hair.
18. Sleek Ponytail
Take all your hair backward using a comb to give a sleek look, then tie it in a ponytail but do not keep it at a height. It will draw all the attention towards your face and lovely eyes, giving you a more elegant, sophisticated look.
Moreover, the ponytail suits women of any age, regardless of their hair color. For a western look, you can wrap your tresses in a high ponytail, while for an ethnic outfit, a low ponytail will be best.
These are some hairstyles that you can easily try with brown hair which will surely add more charm to your blue eyes. But, remember to consider your skin tone and face shape while incorporating these styles. It is recommended to consult your colorist or stylist in-person to ensure that you achieve the desired and best results.