Have you ever met someone with both black hair and blue eyes? Not yet? Well, that's because this hair and eye combination is quite rare and pretty stunning.
That's why it doesn't come as a surprise that it has been quite a popular trend in the beauty industry. If you don't believe us, then take a look at most of the anime movies and comics characters.
Don't believe us? Just take a look at all the beautiful women with mesmerizing black hair and blue eyes in our list below:
Beautiful Women with Black Hair and Blue Eyes
A black hairstyle is easy to spot, but not everyone can be born with blue eyes. So if you have this rare eye color or you're planning to put on a blue-colored eye lens to achieve this trend, here are some electrifying looks you can try:
1. Wavy Hair with Highlights
If you want to add a more stylish touch to the plain jet black hair, donning on highlights is your best bet. And to fully achieve carefree and sexy looks, keep your hair wavy and fabulous.
2. Blunt Bangs
If jet black hair doesn't look sophisticated enough, blunt bangs will make it look even more stunning. In addition, the bangs will surely make your overall look more mysterious and exciting.
3. Messy Braided Bun
You can keep your fabulous black hair looking classy and elegant by pulling it into this gorgeous bun. The entire look is perfect for making you stand out at various formal events and gatherings.
4. Middle Part Low Ponytail
A low ponytail always works if you wish to keep things low-key yet still classy. For a more regal touch, go for the middle part look. It will never fail!
5. Wavy Long Hair
Are you attending a party or getting ready for a wedding? You can wear beach waves on your long black hair. Just put on an elegant accessory like this vintage hat.
6. Braided Low Ponytail
Donning on braids is the most stylish way to achieve that carefree boho look. But if you want to keep your overall look balanced (carefree yet structured), finish off your hairstyle with the low ponytail look.
7. Face-Framing Ringlets
Do you want to sport the curly hairstyle but still want it to look polished? Then, ringlets are the way to go! And if you're going to show off your beautiful facial features, make sure that the curls will perfectly frame your hair like this.
8. Braids and Curls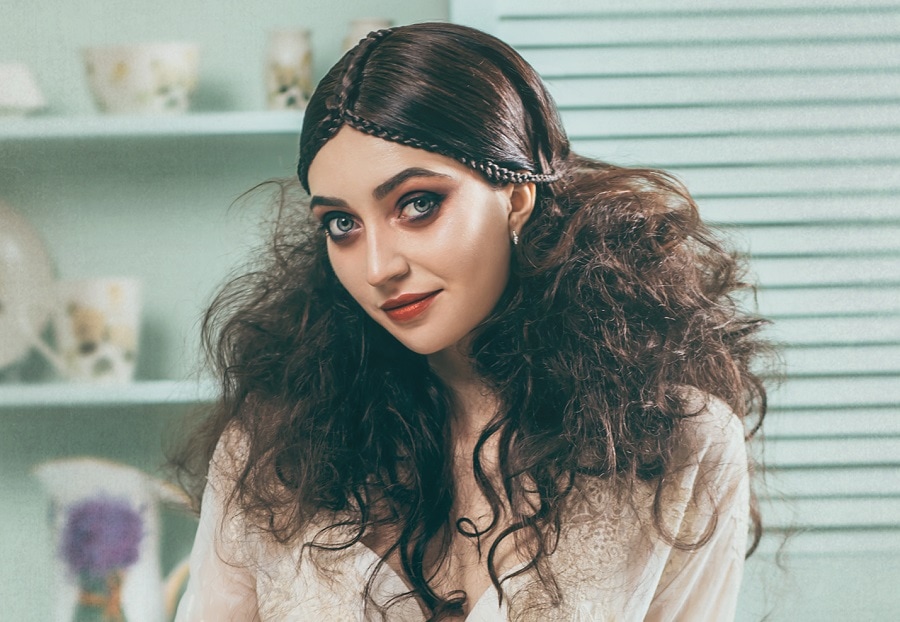 If this isn't the perfect boho look, we don't know what is! While many things are going on (which can sometimes look a bit overwhelming), it's surprising how all the three different hairstyles (straight, curly, and braids) worked well together.
9. Voluminous Wavy Long Hair
Simplicity is beauty, and this saying stands true today no matter how cliché it sounds. This gorgeous yet straightforward wavy hair just proves how true it is!
10. Curly Hair
Curly hair is surely not the same as wavy hair. But if there's one thing we can't deny, it's the fact that both hairstyles will look gorgeous and beautiful on a girl with black hair and blue eyes.
11. Side Part Lob
Fancy having short hair? Well, why not! Everything will indeed look good on your beautiful black hair. If you want to make your hair look more stylish, the side part is always a good idea!
12. Top Bun
Have you always wanted to go for that effortless yet chic look? Then, the top bun is the hairstyle for you. It will keep your hair out of the way, allowing your beautiful face to shine through and sport a stunning hairstyle at the same time!
13. Messy Half Up and Half Down Hairstyle
Can't seem to find the best wedding hairstyle? Well, the half up and half down hairstyle is an elegant option for you. But you can add more oomph to it by adding volume at the back and keeping the hair looking slightly messy.
14. Layered Lob
There's truly nothing a good layering can't do! So if you find the traditional lob to be a bit boring, layer it up! Not only will it make your hair look more stylish, you get to have face-framing layers as well!
15. Pixie Cut
As if your black hair and blue eyes aren't rare enough, we want you to add another unique feature to the list—a pixie cut! Not everyone can indeed pull it off, so if you're one of those blessed few, you'll surely stand out!
16. Curly Bob
Who says the curly hairstyle is only for those with long hair? We beg to differ! This mesmerizing curly bob works quite well, if we might say. Plus, it will show off your jawline.
17. Sideswept Bangs

Another fringe you shouldn't miss out on is the side-swept bangs. It became popular a couple of years back, but now it has come back with a bang. And to be honest? It looks like it's here to stay.
18. Really Short Pixie Cut
Try on this short pixie cut for an edgy and classy look. It can indeed get pretty intimidating, but if you can pull it off, why not?
19. Curly Ends
If the black hair and blue eyes combo will forever look stunning, well, the curly ends paired with side-swept bangs will always look trendy. Both the side bangs and curly ends frame the hair beautifully but in a more polished manner.
20. Black and Blue Hair
Since you already have blue eyes, then why not inject a splash of blue color on your hair to sweeten your overall look? The blue color in your hair will certainly make your blue eyes pop even more (as if it's not eye-catching enough!).
There's no denying that the combination of black hair and blue eyes are pretty gorgeous. But unfortunately, not everyone is blessed to have blue eyes.
The good news is you can still have all these looks. All that you need is to dye your hair jet black and put on a pair of blue-colored contact lenses, and you'll instantly be the girl with black hair and blue eyes!