Have you seen a rainbow-like resemblance in water bubbles? That looks beautiful, and what if we tell you that you can get it on your hair. It's known as holographic hair, and it looks so beautiful, you'll only know when you try it.
The shades of color can be light, medium, or dark as per choice; you'll look beautiful in each style. We bet you haven't tried it before so why wait, try it out now. Check out our list of holographic hairstyles.
Inspirational Holographic Hair Colors
Enjoy styling with any of these inspirational ideas and become the center of attraction wherever you go.
Funky Long Hair
Are you running out of ideas to style your hair? Try a color combo of pink, purple roots, and light blue on your hair this time.
A unique combination of holographic hair colors you've never seen before. You can cover the front of your hair in pink color and the back part with blue color. It's an idea worth trying.
Semi-Circle Braid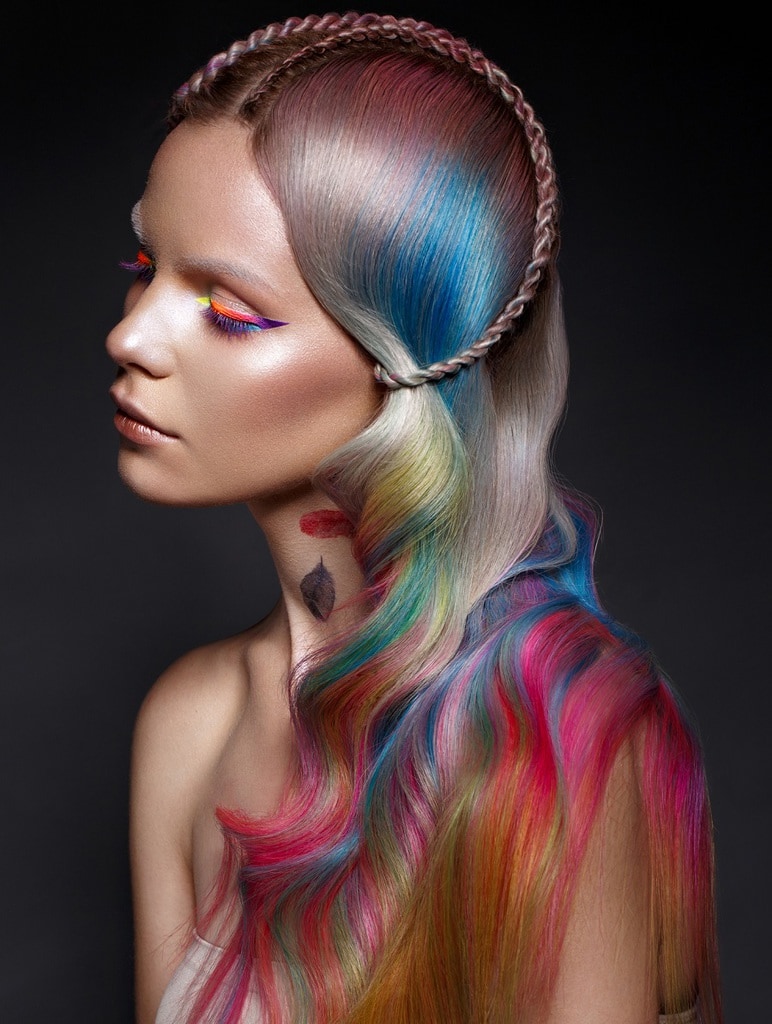 Loved the rainbow effect on the water bubbles? It's time to try this effect on your hair too. You can cover the ends of your hair in the color combination of pastel shades on your blonde hair.
A semi-circle braid would fit just right here. Make a thin French braid from the front of each side, braid them together and form a sem-circle by attaching it with a hairpin.
Okay, this one is completely unique. The front portion is holographic hair, and the back portion is as usual.
You can color your hair green, purple, yellow, green, and blue in a zig-zag style. If you don't know how to do it, ask your stylist, and they will fit blend the colors perfectly.
Wavy Colored Lob
Waves separate and show each layer of hair very beautifully. So when you decide to color your hair, get a lob haircut.
Again, light color combinations would work perfectly here. We suggest you mix baby pink, sky blue, and emerald. A pinch of purple would also suit perfectly.
Multicolored Thin Hair
Getting waves on thin volume is a great choice, but it looks dull in the ends of your hair. But when you have holographic shade, it makes the waves look so good on your hair.
If you have naturally blonde or black hair, opt for darker colors. Leave some area of your hair uncolored too.
Edgy Hairstyle
The combination of bangs and holographic hair is so beautiful. You can start coloring your hair, starting from the roots to the ends.
It would look like a beautiful color explosion that started from the top of your hair and lasted till the end. Get the color in straight layers on the bangs and zig-zag form on the rest.
Half Knotted Bun
If you like brightness in your life, why not add brightness to your hair.
We mean to get a package of bright colors delivered on your hair. You can tie your hair in a half bun and get bangs on the front. It's a beautiful risk you can take if you have courage.
Neon Half Bun
Color all your hair in turquoise color, tie it in a big half-bun.
Now the hair that is left color the lower middle portion in shades of bright colors like yellow, orange, pink, and green. It looks so beautiful, trust us. You can also encourage your friends to try it.
Dark Blue Ends
Holographic hair doesn't mean you have to color your whole hair. You can leave the roots natural and the ends in dark blue color.
If you have middle-length hair, then it's even easier to do it. Just make sure every color is perfectly blended, and you can also make your hair wavy.
Holographic Color Flow
If you slowly put liquid colors on something, you can notice how beautifully they flow downwards.
You can create the same color flow effect as graffiti hair. Choose two to three lighter colors and use them in such a way that it looks they're flowing through your hair.
Zebra Effect
Zebra's skin has only two colors, black and white, and you can create the zebra effect on your hair but with more than two different colors. This works on naturally black hair.
Choose bright colors like pink, orange, green, blue, and yellow. Color the bottom of your hair like a zebra crossing.
Light Pink Hair
Color your whole hair in any one color, let's say, pink. Now, you have to color a certain portion of your hair in different layers of bright color.
Keep the colors limited to 3-4 colors, and make sure the layers are thick. This way, they are easily noticeable and look beautifully unique.
Straight Bob
Have you ever tried holographic shade on short hair? If not, then it's time to do it now with this colored bob.
You can keep the front portion of hair in layers of color just like there are layers of flavor in ice cream. Color the rest of your hair in a bright color. Light colors in between the hair will look good.
Shiny Holographic Hair
Let the different colors flow from each side and merge into the center.
Straight hair makes the layers of the color show clearly, and when you run your hands through your hair, the colors slide through your hands. Keep the main color purple, and other colors can be yellow and blue.
Candy Pop
Color combination plays an important role in making your holographic hair look beautiful.
A combo of different bright colors and wavy hair is what you need for the day. Starting from the roots to the ends, leave no hair uncolored. Make sure the colors are blending properly.
Holographic hair can be of any color combination because that's the whole point. You get to choose what colors you like or want and then put the combination in your hair.
So you get to color your hair, and it looks like you highlighted your hair in different colors. It's a style that will get you a lot of compliments. But, it's time to do something unique, so why not try one of our ideas for your hair.