If you're looking to add a bit of color to your hair but aren't sure where to start, the rainbow will make you exceptional. Moreover, there are endless possibilities when it comes to multi-colored hairstyles. Whether you're in search of a change or just want to add a pop of color to your look, rainbow hair color is sure to inspire.
From the classic red, orange, yellow, green, and blue to more daring shades like purple and pink, there's a hue that will perfectly complement your unique personality and style.
Rainbow Hair Ideas: From Classic to Crazy
Whether you're looking for something bright, summery, or something more subtle and understated, these 21 shades will have you covered.
Pastel Rainbow Hair
If you're looking for a unique way to show off your personality and express yourself, go for a pastel rainbow hair color on your middle-parted hairstyle. This color will add a pop of brightness to your look and will make you stand out from the crowd.
Colored High Bun
There's nothing like a rainbow color on a big bun to brighten up your day. Whether you're rocking multicolored locks or just looking for a way to add some extra flair, these big bun hairstyles are perfect for any occasion.
Crimped Spectrum Hair
This coloring technique is used when hair is bleached or dyed in a way that leaves natural hair colors at the tips. With the spectrum, the gradient of colors moves toward the root. Crimping can give a variety of looks, including angular highlights, candy striping, and sunburst hues.
Long Holographic Multicolored Hair
Holographic multicolored is a beautiful and mesmerizing sight that can be seen on long straight hair. This phenomenon occurs when light waves reflect off the hairs in a certain way, causing them to form a multicolor pattern.
The colors of the rainbow are reflected in different directions, which causes the holographs to look like a spectrum.
Half Up Half Down
Looking for a trendy and eye-catching half up, half down hairstyle? Rainbow hair is the perfect way to go! With different colors cascading down your back, this style is sure to put a smile on everyone's face.
Multicolored Box Braids
Bring the beauty of the multicolor to your locks with a box braid hairstyle. This style is perfect for those with medium to long hair. And the colorful braid that covers your hair adds an eye-catching look.
Long Rainbow Waves
The different colors will visually stay together on your long hair, and you'll have a very vibrant look that will stand out.
This hairdo can be achieved with a number of different color combinations. For example, it can be done using red or orange hair dye with green highlights or purple hair dye with pink highlights.
Long Curly Ponytail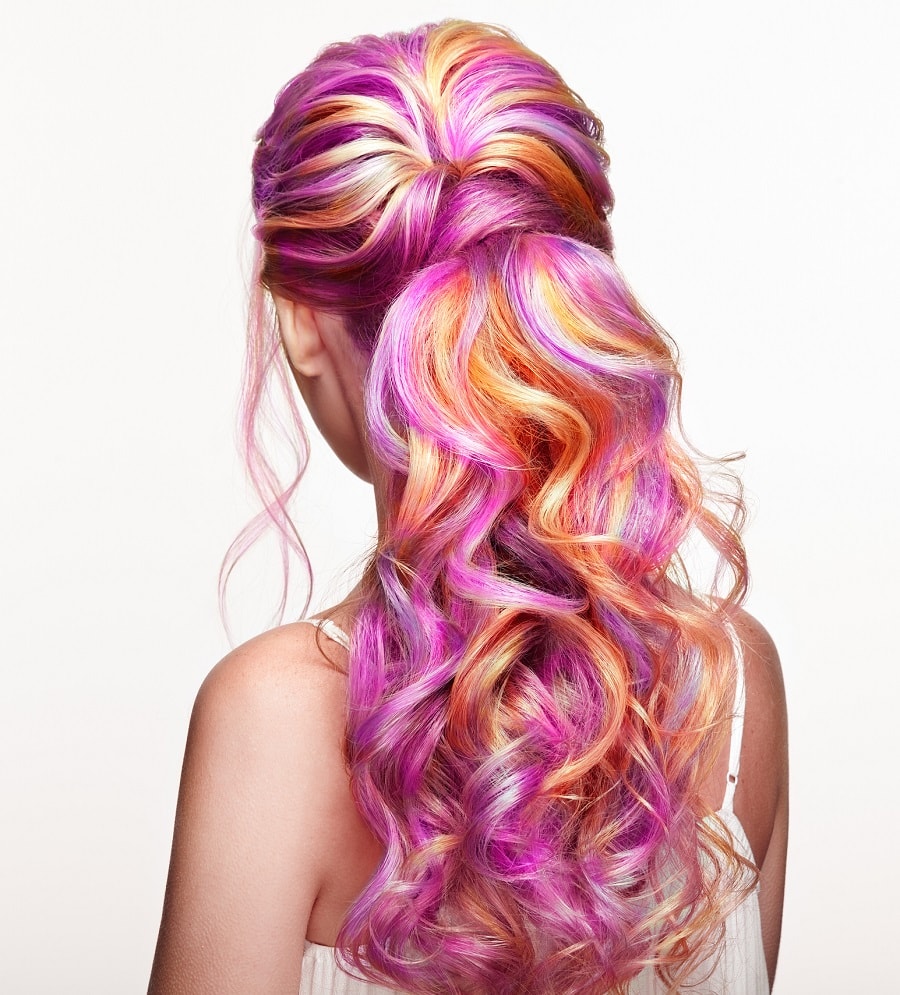 To get this look, you have to color your hair. Next, use a curling wand or a flat iron to achieve the desired curls. Then just make the half updo. The colors create a fun and vibrant look that is perfect for summer.
Rainbow Hair Streaks
This style works great on women with wavy or slightly curly hair. You can start dividing your hair into different sections and color each section a different color. Finally, use a curling iron to curl each section.
Colorful Highlights
Multicolored hair with a curl at the bottom is beautiful and unique. Whether you have naturally curly hair or you want to add some curl to your existing locks, using a curling iron or wand is the best way to achieve this look.
Prismatic Hair
Prismatic hairstyles are often seen in anime and manga artworks, but they can also be found in real life.
The hair is dyed with a pale brown color, and then it is highlighted with different colors. The highlights are in the form of short lines that give the hair an interesting texture.
Bright Rainbow Hair with Bangs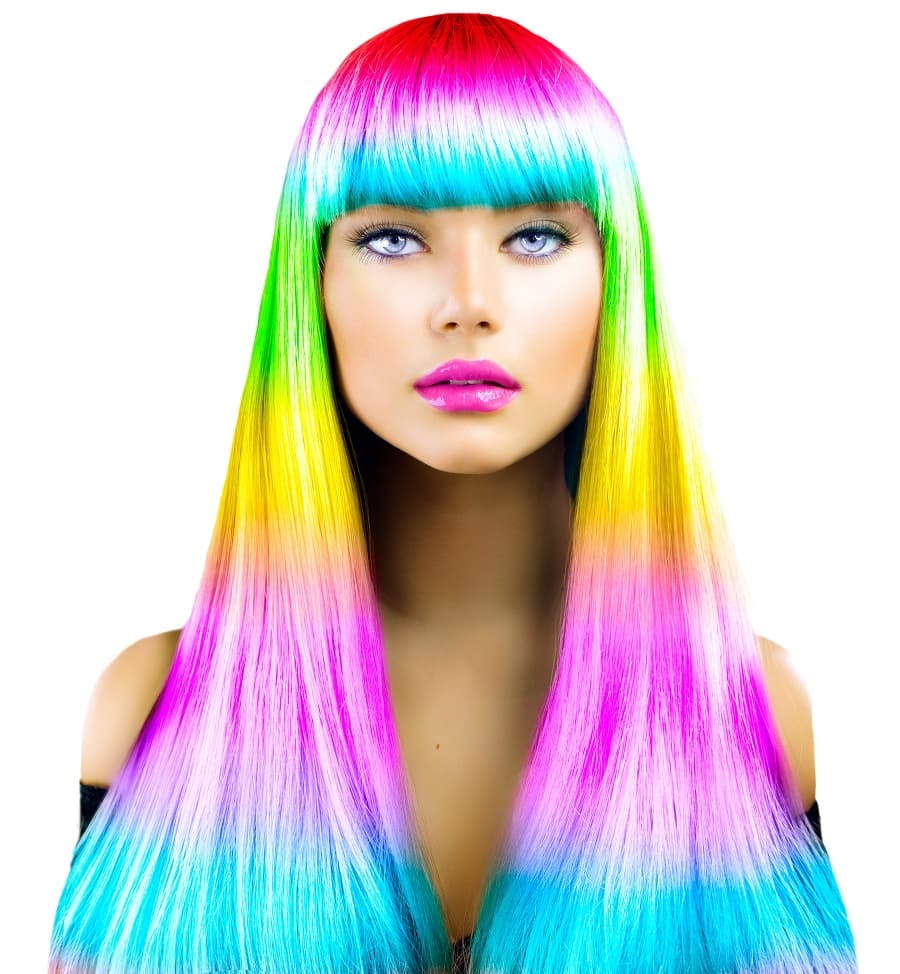 If you're looking for an attention-grabbing look that's sure to turn heads, consider opting for this bright hair look. This unique style works well with blunt bangs, giving you a youthful appearance that is both unique and striking.
Playful Long Hair
This style is especially fun to try out if you have medium or dark hair color because it will create a beautiful gradient effect. Start by coloring one section of your hair at a time with a light-colored hair dye, then wait until the dye has had time to set before proceeding to the next section.
Rainbow Highlights on Dark Hair
Highlighting your naturally dark hair with a rainbow color is a great way to add some brightness and life to the hair. This colorful look is achieved by adding very light hues of color to the dark hair in a way that creates a colorful effect.
Side Part Grey Hair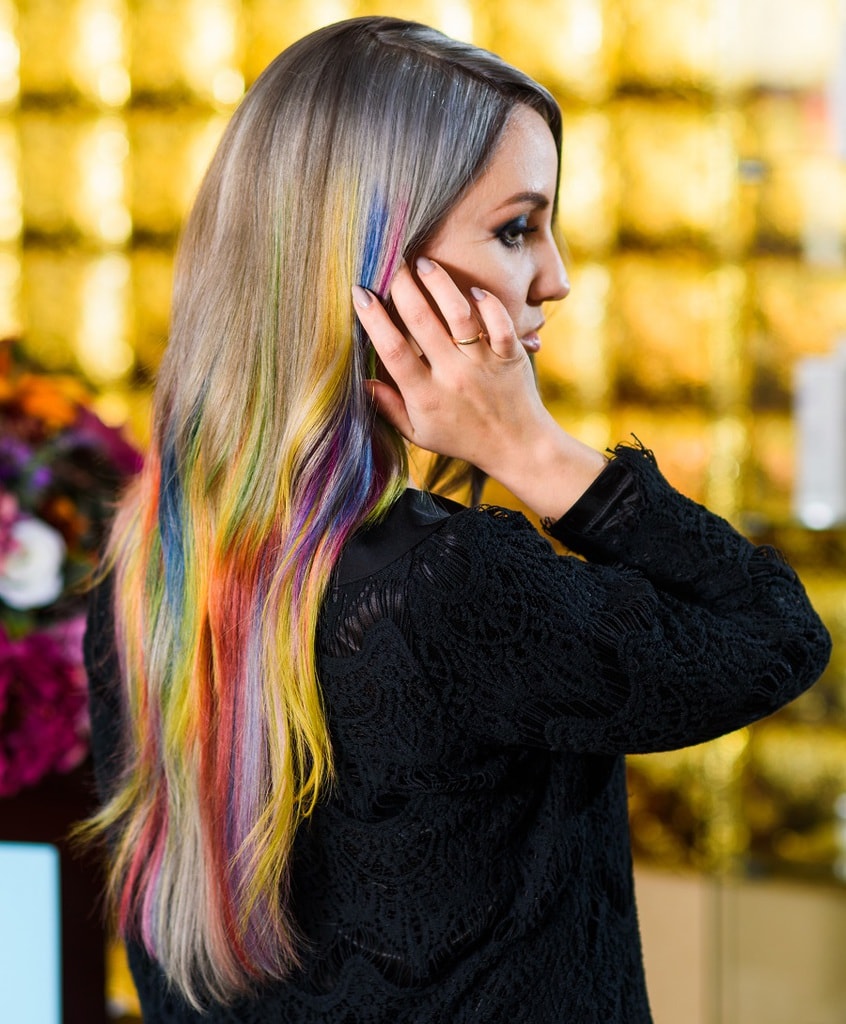 If you're looking for a change of pace when it comes to your hair color, consider lightening up your look with highlights. Whether you want to go for a natural look or add some extra brightness to your aspects, rainbows are perfect for giving your hair some life.
Asymmetric Pixie Bob
It is a short haircut that features a pixie with partial balayage colors. This layered bob has a combination with long bangs, which is a stylish way to show your creative side.
Straight Shoulder Length Hair
This type of hair can be created by dyeing the hair red, then adding different shades of hue y to create a unique color palette. This hairstyle can be worn with many different outfits, making it versatile and stylish.
Messy Short Hair
This is a fun, edgy, and carefree look that works well with any outfit. Whether you're dressing up for a special occasion or just going out with friends, this color and style will add some brightness to your look.
Silver Hair With Braids
There is nothing more captivating than beautiful long wavy silver hair with colorful highlights. When done correctly, these unique hairs can create an elegant and hot look that is sure to turn heads.
If you are looking for a change of pace in your hairstyle, consider going for something a little out of the ordinary.
Wavy Bob Cut
If you want to add a pop of color to your bob hairstyle, try adding spectrum highlights. This style looks best when paired with colorful makeup, which can be as dramatic or subtle as you want.
Rainbow Balayage Hair
Colorful balayage hair is a lightning technique that uses multiple colors of hair dye to create a rainbow effect. The process will take away all the brown, black, and gray hair on your head, leaving behind a bright, cheerful hue.
This unique hairstyle is perfect for women who want to add some extra sparkle to their look and go something different from the traditional black or brown hair color palette.
Whether you want to go all out with a bright and colorful look or keep it more subtle with pastels, there is a style for everyone. So why not experiment with different shades of rainbow hair and see which one makes you feel the most confident and beautiful?