There are several reasons you may wish to consider partial balayage hairstyles when you're trying to find a new look.
One, they're absolutely stunning. Two, you won't have to use as much bleach as you would if you got a full balayage. Less bleach is definitely a plus for your hair, as it will keep it healthier and stronger for longer.
Many celebrities and models are choosing to wear this partial balayage hairstyle more and more. Plus, there are lots of colors, textures, and hairdos that you can play with. If this excites you, then it may be the hairstyle most suitable for you.
Stunning Partial Balayage Styles
Without further ado, let's take a look at some of the best ways you can wear your hair in this style.
Dark Caramel
Dark caramel can add a pop of color to so many different shades. It looks wonderful when you wish to lighten up natural brunette hairdos.
Let your hair grow long and wear it wavy to help the colors catch the light. Begin your partial balayage midway down your tresses as hairstyles like this are low maintenance.
Subtle Ombre
You can add so much color to your tresses by getting an ombre style. Create a gradual transition between a darker and lighter tone as your hair grows out.
Add a few highlights to the top section of your hair to add even more death.
Highlighted Curls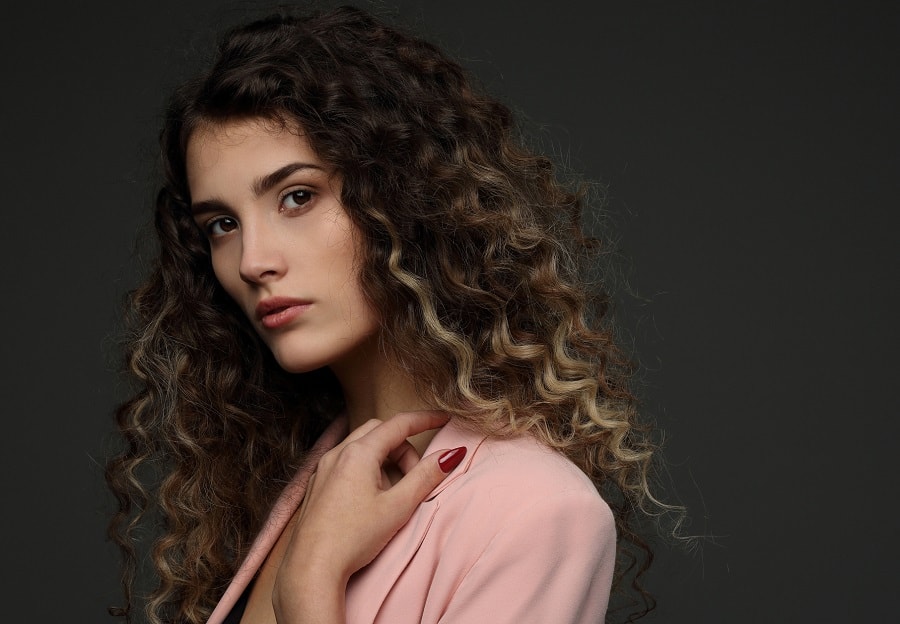 You have to be extra careful when leaching curly hair as it can get damaged so easily. That's why only partially lighting it is the best way to go.
Add a lighter shade of brown to the back and add blonde at the front of your hair. It'll create a lot of dimension in your dark curls.
Loose Wedding Hairdo
Wedding hairstyles need a little more glamour in them. Leave the back loose and add some curls or waves as it falls down your back. Wave your bangs and pin them in place, then add an accessory.
The partial balayage and highlights to the sides and front of the hair will make most people turn their head.
Face Framing Highlights
If you don't know where the best place is to highlight, then always do it around your face. You'll help bring your features to life.
You can also add a few more pops of lighter color through your long and slightly wavy tresses. However, the lightest shade should be near your face.
Brown Lowlights
Sometimes you may wish to darken your hair without dying it fully. That's where you can have some low lights painted on.
Keep the hairstyle simple by wearing a bob brushed towards the back of your head.
Curtain Bangs
Curtain bangs are very much coming back into style. It's a great hairstyle to wear a partial balayage with as you can lighten the bangs to draw even more attention to them.
Ash Blonde
If you have dark hair that's not very saturated, then you should definitely get ash-blonde highlights. They're very grey toned and not too vibrant so they go well with your natural hair color.
This will make any regrowth look natural and it keeps the style low maintenance.
Fully Blonde
Fully blonde balayage locks can often make you look pale and washed out. Add in a couple of extra blonde shades to help bring some depth back into your look.
Auburn Locks
People love redheads because their hair color is so unique and eye-catching. You can improve its appearance by getting a couple of lighter tones put in. Wave the ends so your hair looks its best.
Middle Part Balayage
If you want to keep up with the hair trends, then consider getting a middle parting. Add some highlights around your face so your features don't get lost.
Once again it will also help bring dimension to blonde tresses.
Purple Waves
Do you prefer unnatural hair colors? That's totally fine. Get lots of shades of purple put into your hair to achieve the partial purple balayage hairstyle of your dreams. Also, make sure to wave your hair so all of the colors of a chance to shine.
Blunt Bob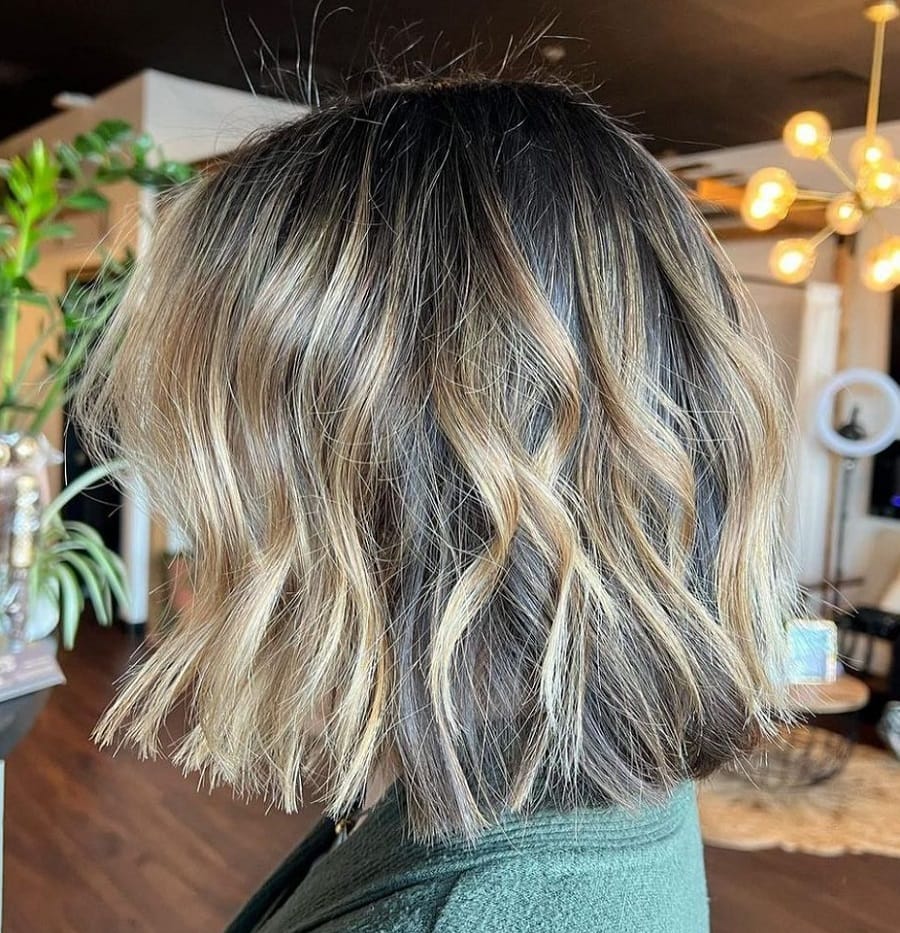 A balayage bob is one of the easiest hairstyles you can wear. However, some women find it boring. Shake it up by getting waves and adding a blonde tone mixed with a darker grey tinted color.
Fire Balayage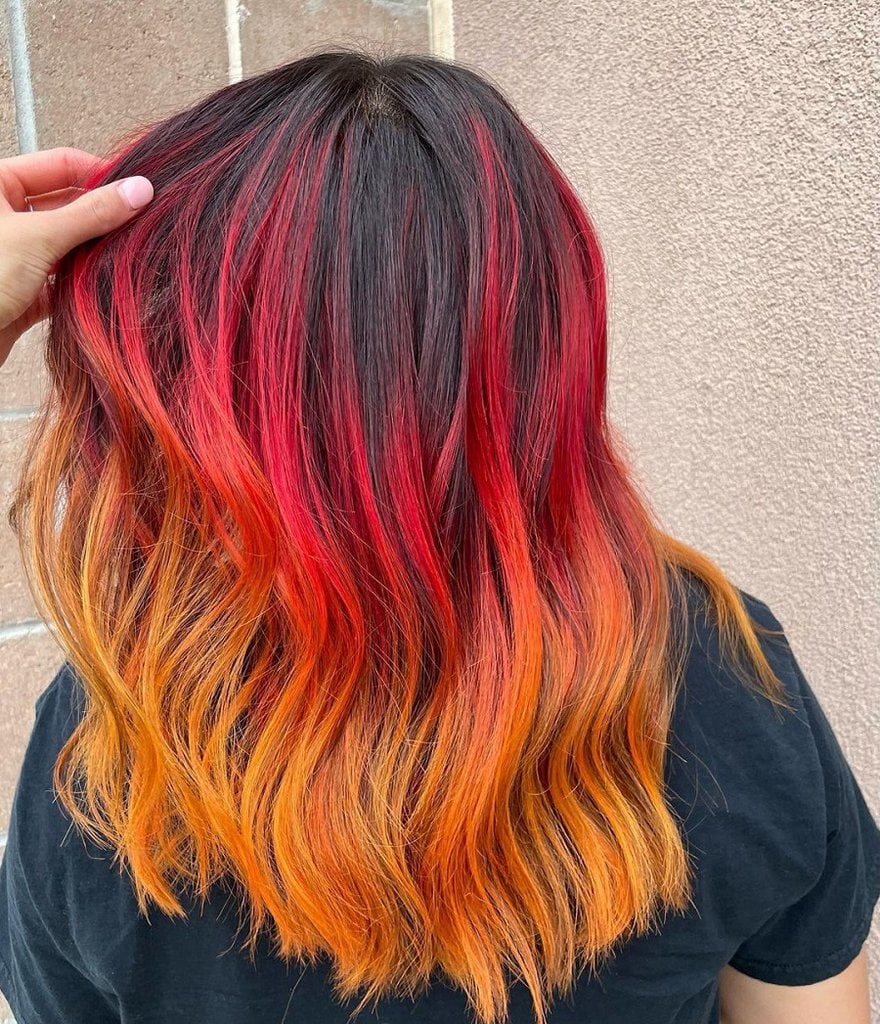 Here's another look for people who want to stand out. Let your natural dark brunette hair grow in then get red and orange tones put on top.
Lots of young people these days say "fire" when they think something looks good. With this hairstyle, they'll mean it more literally!
Thin Waves
Do you have thinner hair? Get some waves to add texture and volume, then get a partial balayage hairstyle. Having multiple natural tones in your hair automatically makes it look fuller.
Shag with Bangs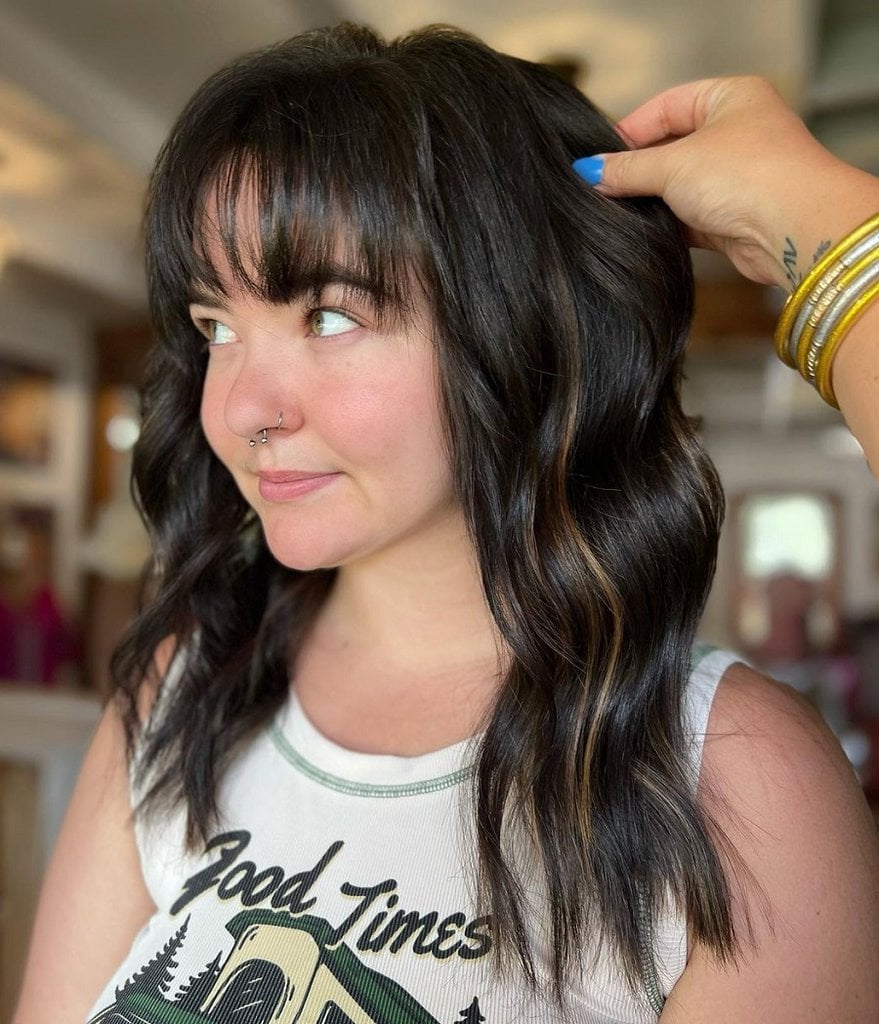 Everybody should try out bangs once in their life. Get a thin layer of shag haircut across your forehead. Give the rest of your hair a wavy texture.
Add an extremely thin pop of a lighter color on each side of your head. It'll create a somewhat edgy appearance. Consider adding a few more streaks to the back for a fuller look.
Pink and Purple
Pink and purple go hand-in-hand as complementary colors. Start with a base of purple and highlight it with deep pink tones.
Make sure your hair is wavy so all the different hues get a chance to shimmer in the light. Wavy textures also add a lot of movement to your hair that people who want to stand out will enjoy.
Black and Blue Bob
It can be hard to bring a little lightness to black hair if you want to keep a cool toned hairdo. Don't highlight with brown or blonde. Use blue instead. It's perfect for women seeking an alternative style.
The slightly blunt ends of the bob go well with this color combination. It's also a great look for spooky season.
Rose Gold
One common hair trend is getting rose gold partial balayage darker locks. Wear your hair medium to long then add a mixture of curls and waves.
A varied texture will make it easy for people to admire the pinkish, goldish tone. They'll also be able to see the darker color that adds so much life to your locks.
Black and Red
Women seeking an edgier style should always consider black and red. Add most of the red to the top layer of hair as this will have the most impact.
Ensure you wear your hair long and get side bangs or curtain bangs to round out the front of the look.
Both natural and unnatural tones are common in partial balayage hairstyles. Most women choose to wear their hair medium to long length with the style. However, there are several ways to style a bob so it looks great too!
You should consider what type of partial balayage is easiest for you to maintain and wear every day. Then, pick the one on the list that matches your needs and desires best. Any talented hair stylist should be able to copy the image and give you the hair you want.