A pixie cut may seem like only a dream for many women, and the main reason for this is that not everyone is up to taking the plunge by chopping all of their hair and getting a very short haircut.
But we can assure you that it might be one of the biggest things you do in your life. So if you are someone who is just about to get a hair makeover, then we ask you to consider some pixie hairstyles as we have listed here. Before we look at the different styles, let us know more about the pixie cut.
What Is A Pixie Cut?
Pixie cuts are short women's hairstyles that have longer layers of hair on the front while the back and the sides feature shorter hair.
Usually, most pixie hairstyles are no longer than 3 inches so you need to consider that you'll be chopping off a considerable length of your hair. Some pixie haircuts also feature a shaved or partly shaven undercut along the back and the sides.
What Makes Pixie Cuts So Popular?
The reasons why pixie cuts have become so popular in recent years are as follows. They have some fantastic benefits that are simply not available in any other hairstyle. They are as listed below:
They are very convenient
They are a comfortable style
They don't require styling to be done every now and then
They are not expensive and can be done at your own home itself
They can be done in a variety of styles
They allow for creative freedom and expression
Now let us look at some pixie cut hairstyles for thick hair that you can try out.
1. Black and Pepper Style Pixie Cut
A black and pepper style haircut is not just ideal for older women, but anyone who loves to try out different and versatile hairstyles like this one. This style basically features long layers of hair cut asymmetrically.
The deep layering done on the hair ensures that if there is too much volume of hair, it stays toned down so that the hairstyle looks neat and is also easily manageable.
A few layers on the front have also been casually swept to the sides to give this style a more formal look.
2. Messy Layered Pixie Cut
A classy pixie cut has been made much more fun and outgoing by simply cutting it into a layered style that messily leaves all the hair. The hair has enough texture so it's ideal when you want to try out a messy hairstyle like this one.
Surely it gives you a cool-girl look with just a simple pixie haircut. The deep layering also helps to create an overall tapered silhouette that makes it look very tres chic.
3. Shaved Side With Long Layers
An absolutely dope hairstyle that will bring out the hipster inside you. The hair has been neatly tapered into an undercut on one side and the back also.
On the opposite side, the hair has been maintained in long layers that have been very casually sweeping to the sides to create this ultra-chic look. This haircut will surely help you to flaunt your wild side with enough style and glamour.
4. Blonde Pixie and Feathered Layers
Nothing to spice up your look other than feathered layers that simply add a touch of coolness as well as elegance to your look. The hair has been cut in medium-length layers that are very glam.
The feathered style is also a cool way to show off your naturally beautiful tresses in the most flattering way.
If you have a round or flat face, this hairstyle will surely help you to elongate your face attractively. The thickness of the hair would definitely also make the hair appear more full.
5. Short Layered Style
Short hair is great at making all eyes turn on you. They are very cool and sleek so most short hairstyles have grown so popular due to this reason itself.
And apart from that, they are also quite easy to maintain too. Combining your short hairstyle with a layered pixie cut like this one makes your hair look top-notch and effortlessly classy.
The faded blonde highlights done against the contrasting color of the natural black colors are a versatile and fun look.
6. Crispy Layers Pixie
To make your pixie cut look puffier, you can cut it in several crispy layers that will make it appear more full and voluminous. On the front too, the hair has been cut in asymmetrical layers and gently touching the area around the ears as it falls on the face.
You can also notice a cool undercut at the nape of the neck that makes this hairstyle more amazing. The bang-like layers are surely helping to create a look that is also vaguely similar to a buzz cut.
7. Boyish Pixie Cut
Add a touch of charm to your look with this simple and adorable pixie cut hairstyle. It's a very cool hairstyle that you can create from very short hair, and it will also make you look quite sophisticated enough.
Not only is this style quite easy in styling and maintenance, but it will also surely give you an edge over other short hairstyles that are done in a basic way.
On the top front portion, short sections of the hair have been lifted in a fluff style. You can also get this look by trying out short pompadour bangs on the forehead itself. The hair is really textured making it look really beautiful.
8. Tapered Pixie Cut With Short Bangs
With hair that has enough texture and dimension as well as thickness, a cool style that you could try out is by tapering your hair into a cool and messy pixie cut style.
Simply cut your hair in short and choppy layers that will make your hair look full and then style it with short side-swept bangs on the front to complete this look.
A very low-maintenance hairstyle that is ideal for your everyday basic look book. On the upper part in the middle, the hair stands up in a lifted manner thanks to the choppy style.
9. Round Stacked Pixie Cut
Now here is a stacked hairstyle that will surely blow everyone's minds away with its sheer simplicity and beauty. Quite an ideal hairstyle that is suited for your professional look.
It can easily be styled with many types of outfits and different kinds of events thus ensuring that no matter where you go, you look classy enough.
If you are afraid to get a flat pixie cut, then this style would surely suit you. The round appearance of the overall hairstyle would also make your face look bigger and brighter.
10. Choppy Grey Pixie Hairstyle
A cute and adorable way in which you can style your hair simply by cutting your pixie cut into several choppy layers on all sides.
Instead of the usual style where normally the layers are done in a swept-back or pulled-back style, this haircut is different as it primarily features many layers of hair that have been swept to the front in a cool and fashionable manner.
A completely rocking hairstyle that has then been highlighted in a premium grey shade to make it look totally dope.
11. Grey Layered Style
For older women, more than the length of the hair, what they really look for while getting a haircut is for a convenient and comfortable hairstyle that also looks classy enough.
This hairstyle is best suited for those who have medium-thickness hair with enough texture if you really want the layers to stand out in the most flattering way possible.
Styled in asymmetrical layers with a feathered crown section, this style also featured short feathered bangs of various lengths that fall very neatly across the forehead.
Overall, the hair has been dyed in a salt and pepper style and the look is complete.
12. Feathered Haircut With Layers
When having thick hair, maintenance is quite a task, and for some people, the most convenient thing may be getting a short haircut. It doesn't have to be boring and you can do it in the utmost style by chopping all of your hair into a very cool pixie cut that features feathered layers.
The long layers here have been casually swept to the sides to make a very dope and hipster look. The hair has also been subtly highlighted in a dark brown color, which contrasts against the brunette hair.
13. Curly and Wavy Pixie Cut
This is an ideal hairstyle for women who have curly and textured hair. The side bangs done in the wavy style are also an adorable style that is not usually seen sported.
Dark brown babylights done on some random sections of the hair only add to the glam quotient of this look.
A bold and wild look that will bring out the adventure enthusiast in you, this look is great for anyone who loves to try to put a fun and creative look.
14. Edgy Pixie Cut
For all of those who are craving to get dope and hipster looks without spending too much money on clothes, accessories, etc., then this hairstyle is sure to suit you.
The hair has been maintained in a very short and choppily cropped length at all the sides and the hair stands in a lifted and zig-zag manner at the top which makes it look very edgy.
The strands are all no longer than one or two inches at the maximum making maintenance a very easy thing.
15. Bold Curly Pixie Style
Have you made the chop and taken this bold decision of styling your hair in a pixie cut? Well, now that you have made a bold decision, there is also no harm in trying out a bold new hairstyle that will surely suit your lifestyle.
The hair has been cropped very shortly in wispy layers that totally create some texture and dimension to this look. With finer hair, you can still try out this hairstyle and make it bang by adding hair products that will increase the volume significantly.
16. Chestnut Brown Layers
More than this amazing hairstyle, what truly makes us go in awe is the beautiful shade in which the thick strands of hair have been done.
The hair is also an elegant style where it flows freely and flawlessly making it a look that everyone will be jealous of. The pixie has been cut in long layers and the layers swept to the sides.
17. Short and Cute Curly Pixie Style
The hair has a naturally curly texture and has been cut in many short layers, which helps to create a very good tousled effect on the hair.
With enough volume and dimension and some thickness to your hair, you can surely have all of the worlds beneath your feet and this style surely slays in all aspects.
This is a kind of messy hairstyle that is ideal for when you need a low-maintenance everyday go-to look.
18. Shaggy Bangs With Gilded Highlights
Just take a look at this hairstyle that is sported by the fashion queen Zendaya and you will surely be amazed by the fact that shaggy bangs, as shown in this picture, have never looked better than this.
A lovely pixie cut that has been done on blonde hair, it also features dark gilded highlights which are simply serving looks.
19. Short Curly Locks
The beauty of short and curly ringlets is simply unmatched and this is why everyone needs to try out a pixie hairstyle at least once in their lives because they suit all different kinds of hairstyles.
Curly hair is very sweet and always manages to look classy without being too trashy. The curly hair has been gorgeously styled as long bangs on the front and the rest of the hair has been pulled back in a sleek look.
20. Curly Blonde Hair
A hairstyle that simply makes us gush about its sheer beauty. The hair is a beautiful shade of brownish blonde that looks quite irresistible.
The hair is not too thick and actually of fine thickness, but the great texture it has is what makes it appear quite voluminous. The hair has also been cut in several short and cute layers making the overall look quite adorable.
21. Shaggy Textured Cut
Say hello to amazing and gorgeous texture with this simple shaggy and messy haircut. The hair has been dyed in a grayish blonde shade, and the undercut is clearly visible in its natural black roots.
The top and the sides have been kept longer than usual which created an interesting look. Doing so will also help to make your hair and face look more shapely and accentuated. This style is one that equally works for short and long hairstyles as well.
22. Choppy Pixie With Long Side Bangs
You can see that this hairstyle features extra-long layers of hair on the front that has been casually swept to the sides.
The overall pixie is maintained in a choppy cut with shorter layers of hair on the back and the sides.
The hair has also been shaped and cropped in such a way that more than a pixie cut, the style resembles a short bob haircut.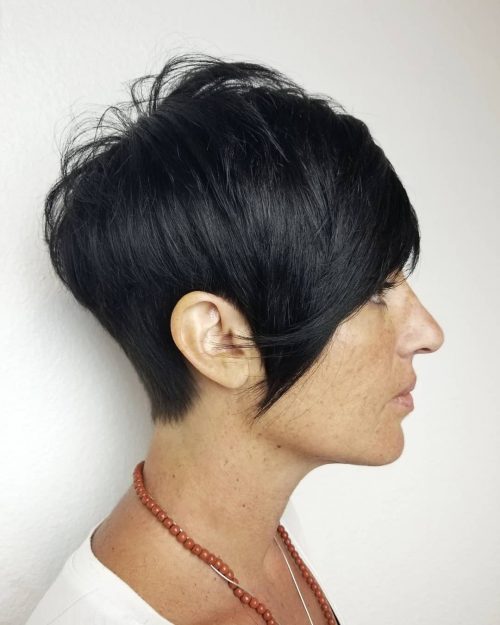 23. Layered Haircut For Thick Hair
This pixie has been styled as a short and layered pixie, which is an ideal hairstyle for thick hair. Since the style is short more layering will help to create a perfect fullness to the look.
On the front and the forehead, the hair has been cut in short and crispy layers that fall asymmetrically across the forehead. It helps to make the whole face look much more defined than it actually is.
24. Short and Classy Pixie
The model looks absolutely stunning in this short pixie cut hairstyle which is a great style that is suited for thick hair. The hair has been cut in asymmetrical layers and then styled in a lifted style.
The hair is of significant thickness which helps to make the hair stand in the lifted manner as mentioned. This hairstyle is more suited for straight or wavy hair as this will help to perfectly show off all the volume of your hair.
25. Short Pixie With Side-Swept Bangs
And finally, we come to the end of this list of hairstyles with a cool and banging look that is full of texture and thickness. The best way to flaunt all of these amazing features of your hair would be in a short and adorable pixie cut.
This cut helps to create a very soft look that is full of glam and to be honest, one hairstyle that is glowing. all those who have straight hair will surely not be disappointed with this adorable hairstyle.
26. Short Choppy Pixie
This messy brown pixie features a height on the top achieved with tiered layers, so you don't have to worry about flat hair. Add this side-part cut to your inspirational gallery, as this hairstyle is easy to manage and unique.
27. Funky Cyan-Blue Pixie
This next pixie cut will absolutely catch some eyes and turn some heads wherever you go.
Embrace the strong features of your square or diamond-shaped face by adopting a daring, short pixie cut. Don't be afraid of experimenting with colors, as the pixie cut will grow out before you know it.
28. Wavy Pink Pixie
You can easily make your haircut unique by playing around with different fashion colors.
Dyeing your thick hair pink is a feminine and bold way to make a statement with your pixie cut and show off the texture of your waves.
29. Feathered Pixie
The best part about this feathered pixie haircut is that when this pixie grows out, its original asymmetrical cut will remain interesting and edgy.
In fact, it gets better the more your hair grows, ensuring that there aren't too many visits to the hairdresser.
30. Blond Balayage Pixie with Waves
A long tapered pixie cut provides enough length to play with texture and colors. Adding wavy bangs will make this haircut even more gorgeous, especially if you have thick hair.
This pixie cut looks best in tousled styles with a dab of root-lifting products and a quick blow-dry.
31. Long Red Pixie with Side Buzz
This phenomenal haircut and the alluring color, including the side buzz, make this red pixie cut ultimately unique and daring.
Besides being one-of-a-kind, this hairstyle is still manageable for everyday wear. Applying a color mousse or a toing shampoo will keep the vibrancy of your hair as fresh as ever.
32. Pastels and Brown Pixie
Modern choppy pixie cuts are all about blending lengths, textures, and hues, resulting in swoon-worthy thick hairstyles that don't pass unnoticed.
This highlighted pixie cut is one of those haircuts which make you stand out in a crowd in the best possible way.
33. Classic Pixie Bob
A shaggy pixie-bob cut is a perfect transition if you do decide to start the process of growing out your hair. Having a layer of longer and thicker hair on the sides which frames your face to look more defined and structured.
34. Auburn Pixie Fringe
A beautiful crimson or auburn hair dye is the perfect way to add a pop of color to your pixie cut. Make sure to invest in a color-enhancing hair mask or shampoo that protects your color and keeps your color-treated strands from getting dry and brittle.
35. Silver Statement Pixie
The main reason we're smitten with the pixie cut is its versatility. Knowing you can quickly grow out the color with shorter hair, means making more confident color choices, and possibly experimenting with the symmetry of your cut.
This silver pixie is timeless, classy, and the head-turning statement you've been looking for.
FAQs
Is a pixie cut good for thick hair?
Yes, thick hair is good for pixie cuts. One of the keys to a perfect pixie is volume, and thick hair is naturally more voluminous than other hair textures. Thick hair is especially good for heavily layered pixie cuts.
Can I get a pixie cut with thick curly hair?
Yes! When you're deciding on what style of pixie cut to get, feel free to embrace your natural curls. There are tons of variations on the pixie theme, including cuts that rely on thick curls to work.
One popular style for curly hair pixies is to shave the sides of your head. This accentuates both your facial features and your thick curls without them clashing.
Who looks good with a pixie cut?
Pixie cuts are most commonly seen on older ladies or women with an edgy style. However, anyone can look good with a pixie haircut. There are many different pixie cuts, and each of them is suited to a different face shape and hair texture.
With a little bit of forethought, research, and experimentation, you can most certainly find the right pixie cut for you. Ask your stylist to frame your face based on your specific facial features.
Are pixie haircuts low maintenance?
Pixie cuts are typically pretty low maintenance in terms of day-to-day care. However, the trade-off here is that pixie cuts require more frequent maintenance in the salon than longer hairstyles.
Depending on the cut you get, you may need to pay a visit to your hairstylist once every 3-4 weeks.
I hope you like this list of pixie hairstyles that we have curated for you. Before simply selecting a hairstyle, make sure that you also go through the tips that we have listed on how you can style your pixie haircut.
With all these factors considered, you are definitely ready to get your hair chopped into a beautiful pixie cut.