It's common for straight hair to be thin, but that doesn't mean you can't make any hairstyle on them. Girls with thin hair always worry about their scalp showing while styling their hair.
Well, girls, these hairdo ideas will cover your worries and look very beautiful on you. There's no problem having thin hair as long as you know how to make it look gorgeous.
Beautiful Hairstyles for Fine Straight Hair
Let's explore 25 different hairstyles for fine, straight hair that you knew existed but never took the risk to make them.
Blonde Balayage Hair
Girls who have less hair volume are often worried about bringing more volume to their hair. Balayage is a hair coloring technique that brings the impression of volume to your hair.
Get a brown to blonde balayage and see how gorgeous you look in it. This is suitable for a professional environment too.
Sleek Ponytail
Having straight fine hair is the biggest advantage for anyone. You can easily make any neat hairstyle without using any hairspray or gel.
Take this sleek ponytail look, for instance. You'll look so gorgeous when you flaunt your long hair in this hairdo. A hair wrap around the ponytail will be perfect.
Long Ginger Hair
To get the perfect hairstyles for fine straight hair, you should take the risk of coloring them. Hair color will bring some depth to your hair. Ginger hair color is a gorgeous shade that'll bring texture to your thin hair. A center-partition will give a very decent look.
Short And Grey Hair
Yes, grey hair can be made beautiful with the right styling tips. For example, getting a short haircut like a long pixie will be perfect for less voluminous hair.
Grey hair shade will make everything about your hair just better. Your hair will be settled while framing your face beautifully.
Middle-Parted Hair
Most girls keep their fine hair loose as one of their hairstyles. Though nothing can beat the beauty of loose hair, the right partition can make a huge difference. A middle partition without your blonde hair tucked behind your ears will look wonderful.
Sleek Angled Bob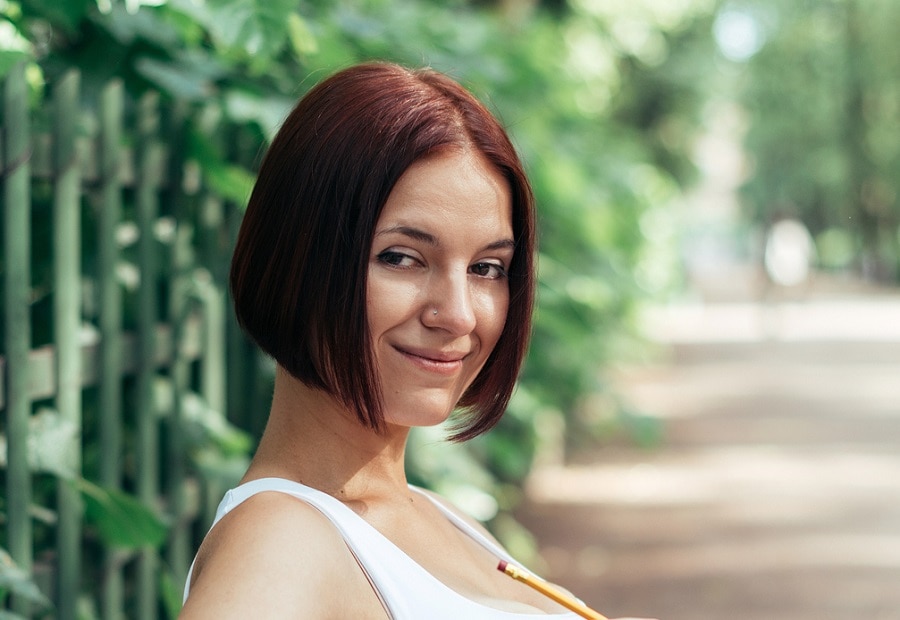 Sure, age has thrown maturity to your face, but you can still experiment with your hair. A straight angled bob will not be a bad idea to start experimenting with your fine hair.
You'll get a whole new look and feel good about yourself. You can also try coloring your hair in a dark shade like red.
Platinum Blonde Hair
Experimenting with your hair in different shades is a good thing till you find the one you like. For example, platinum blonde is a great hair color if this is your first time.
Plus, your thin hair can make every hair color look beautiful. Keep the look simple and subtle with center-parted hair.
Casual Sleek Bun
Don't have time to color or make complex hairstyles for fine hair? Just make a casual high bun, and you're good to go. Buns will always remain classic and goes with any outfit. Grab your hair, and you've got a hairdo in just a minute.
Edgy Bob With Side Bangs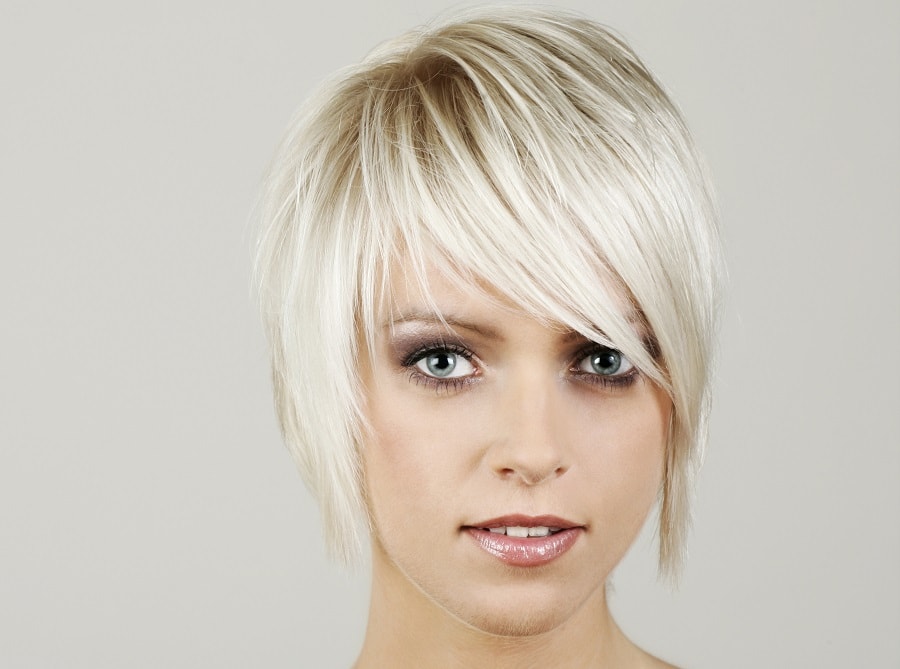 When you're still in your 20s to 30s, you've got time on your hands to go funky with your looks. This bob haircut looks so different and especially funky. Deep side bangs will suit the haircut and give you a unique look. You'll look like the part of a rock band.
Bold Emo Haistyle
Presenting another funky haircut for you, emo haircut. This will make your thin hair look more voluminous by creating an illusion.
Add more funkiness to this look by getting bright shades like purple or violet for your hair. Color your eyebrows in the same bright and funky shade too.
Double French Braids
Long hair becomes troubling, especially in the summer season. Get rid of this trouble by making double-long french braids on your fine hair. You'll look beautiful and side by side, keeping yourself cool. It's a casual as well as a party look, so try it anywhere you like.
Thick Blunt Bangs
Stop right here if you're looking for hairstyles that can make you look super cute. This straight haircut is a very pretty way to style your thin brown hair.
Plus, the blunt bangs will suit your haircut and texture of hair. Wear a thin matte hairband to make you look even cuter.
Side Swept Lustrous Hair
Get party-ready by making a beautiful side-parted hairdo. Yes, it might be a simple look, but your blonde hair color will make it stylish. You can also do bold makeup or wear heavy jewelry if you want a more stylish look. However, keep your look subtle if it's an office party.
Chin-Length Bob
It's time for you to step out from your usual haircut. Instead, give your hair a major transformation by getting a chin-length bob haircut.
It'll look beautiful on girls with square-shaped faces. Wispy bangs will be a perfect combination for this hairdo. A dark hair shade will match the vibe of this look.
Light Blue Medium Bob
Bringing glow to your can work in different ways; sometimes, you go natural and have to create an illusion.
Light blue hair color with a straight bob haircut will bring the much-needed glow to your face. But, of course, your thin hair texture will play a major role in making this hairdo beautiful.
Pastel Pink Hair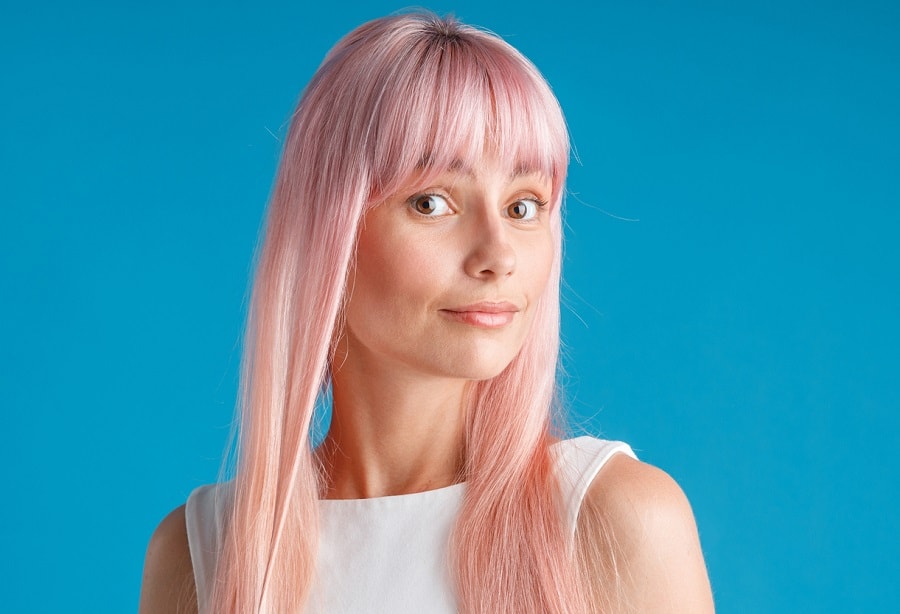 Get your hair colored in a pastel pink color if you haven't already. This is a must-try color for every girl with long hair.
Wispy bangs will look beautiful in this majestic hair shade. Tolerate the heat this summer because this shade needs to be shown off with loose hair.
Blonde Pixie
Pixie haircuts have the magic of looking casual, funky, messy, and subtle. For your fine hair, keeping them straight will give the pixie a subtle look. Blonde hair shade with your hair neatly swept back will look very beautiful. Side part your hair in the end for a perfect look.
Ash Blonde Hair
Any woman up to the age of 40 can try the ash blonde hair shade for their long hair. This color has the magical powers of making your face glow differently. A deep side part of your hair to achieve a glamorous look. Don't tuck your hair behind your ears.
Pretty Pink Bob
Why not color it when you've decided to get a beautiful haircut like the bob haircut? Why not color it too? It's not that a bad idea if you think about it.
Pink is a very beautiful shade to opt for hairstyles for fine straight hair. Of course, wear a matching color outfit too.
Medium Updo with Flowers
Style your middle-length hair in a medium bun for a neat look. Then, add some style to the look by using a floral hair accessory like the one shown above.
A simple and beautiful hairdo idea for casual occasions like shopping or going to the movie theatre.
Buzzcut for Older Women
Older ladies with fine hair, it's time for you to rock with this amazing hairstyle. Get a short haircut when you can't manage to style long hair daily. Short hair will be easy to manage and style daily. Plus, it looks stunning on mature faces.
Stacked Bob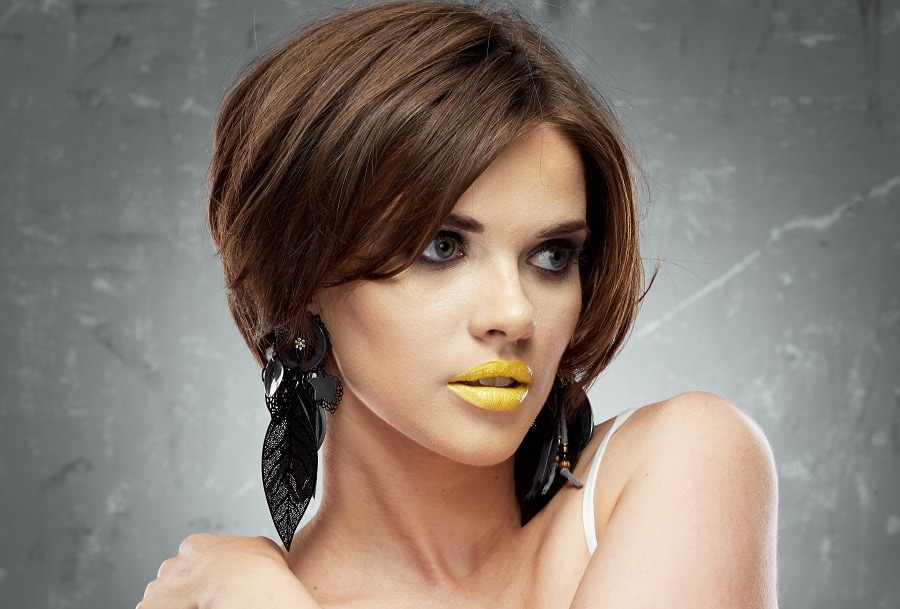 Going for a party, but it has a funky theme? Well, fit into the funky theme with your stacked bob hairdo. Slightly center-part your hair to create some style. Long bold earrings with bright-colored lipstick will make you look very funky.
Red Mohawk Hair
Make a punk hairdo for your straight hair this time, even if you have thin hair. It might be out of the comfort zone for some of you, but at least give it a try. Get the crown area of your color in a red hair shade to do justice to the punk look.
Chic Purple Highlights
Highlighted hair looks beautiful, especially when the color contrasts your existing hair shade. Purple highlights are one of those shades that can contrast grey hair color. A lob with a center-partition will be a gorgeous hairdo.
Warm Blonde Ombre
Get the same look when you were a teenager. Ombre straight hairstyle with fine hair texture can help you get that look. Create a deep side partition while keeping your hair loose.
You must be thinking, where were these hairstyles for fine and straight hair till now? They were right there before you; you just didn't know how to make them until now. Now, flaunt your beautiful thin hair in front of everyone.
People who tease you for having thin hair will now appreciate your fashion sense—no more keeping your hair styled in one way only. Instead, other girls will get inspired by seeing your unique styles. You've got a style for almost every day, so that's huge.