Your journey to having the perfect blonde hair doesn't stop with just one bleaching session. Since your hair grows, you'd have to dye your hair blonde every now and then to maintain your desired color.
But to protect it from potential damage, you should answer this question- how often should you dye your hair blonde? The answer is right here, so keep on reading!
How Often Should You Dye Your Blonde Hair?
You should dye your blonde hair not more than once every 32 to 40 days. On the other hand, root touch-ups should be done every 16 to 24 days.
Aside from your hair color goals, you'd also have to consider your target bleach level. As a rule of thumb, the lighter you want your hair to be, the more often you need to dye your blonde hair.
You need to dye your hair every 18 days for very light blonde hair, every 24 days for the light to medium blonde, and every 30 days for dark blonde.
What Happens if You Dye Your Hair Blonde Too Often?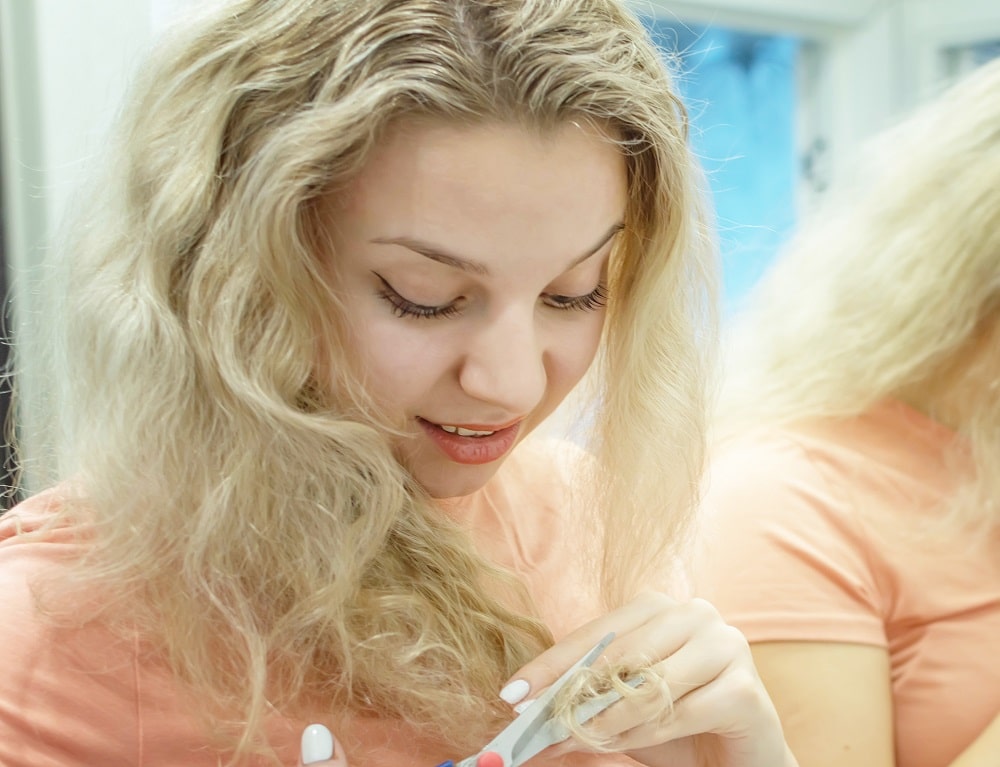 If you dye your hair blonde more often than the recommended frequency, your hair may exhibit the following signs of damage:
Dryness and brittleness,
Dull and lifeless appearance,
Excessive tangling,
Split ends and breakage,
and Rough texture.
During the bleaching process, your hair is exposed to harsh chemicals that can alter and damage your hair's structure.
If you subject your fragile hair to another harsh bleaching process without enough recovery period, it may get severely damaged. Worse, it might be already beyond repair at that point.
What to Do Before Re-Dyeing Your Hair Blonde?
During the recovery period, here are some of the ways you can prep your hair for another bleaching process:
Hydrate, Hydrate, Hydrate
Your primary focus during recovery is to bring back your hair's lost moisture and nutrients. You can do this by:
Using deep conditioning treatment once weekly.
Nourish hair with protein-packed oils like coconut and argan oil.
Invest in moisturizing and sulfate- and silicone-free conditioners and shampoos.
Apply shampoos specially formulated for bleached hair.
Don't Use Shampoo for A Day or Two Before Bleaching
This is to preserve the natural oils that add a protective layer to your hair strands and scalp.
Shy Away from Heat and Chemicals
Both heat and harsh chemicals can strip your hair of the moisture it needs to repair and recover, so avoid using heat-styling tools and hairsprays as much as possible.
But if you must use heat styling tools, apply heat protectant spray before you do so.
Dry Your Hair Gently
Since your hair strands are already fragile, pay extra attention to how you dry your hair. Instead of rubbing and twisting your hair, try using a soft towel to squeeze the water from your strands.
Use Cool Water when Washing Your Hair
Same with heat, hot water can flush out moisture from your strands, so stick with washing your hair with lukewarm to cool water.
Recommended For You:
18 Strawberry Blonde Hairstyles to Dazzle Everyone
16 Timeless Honey Blonde Hair Color Ideas for Women
Top 20 Champagne Blonde Hair Color Ideas
So, How Often Should You Dye Your Blonde Hair?
If you wish to totally change blonde hair, you can only dye it once every 5 to 6 weeks, while root touch-ups are recommended every three weeks.
You also need to consider your hair's blondeness. The lighter your hair, the more frequently you need to touch it up—every 18 days for the lightest blonde shade and every 30 days for the darkest blonde color.